From Tuesday 27 October until Sunday 13 December 2020 the History of Science Museum, Oxford, is hosting an exhibition on time and time-keeping called "The Heartbeat of the City: 500 Years of Personal Time".
It is presented by the History of Science Museum and the Institute of Digital Archaeology (IDA) in conjunction with Vacheron Constantin, who have loaned twelve pieces from their heritage collection. Other watches and clocks in the exhibition are from the IDA and the Charles Frodsham & Co. collections. The exhibition list can be seen at this link and ranges from Patek Philippe to a Dent pocket watch chronometer, a WWI Hamilton torpedo watch, and a Tudor Submariner issued to commandos of the Israeli Defense Forces.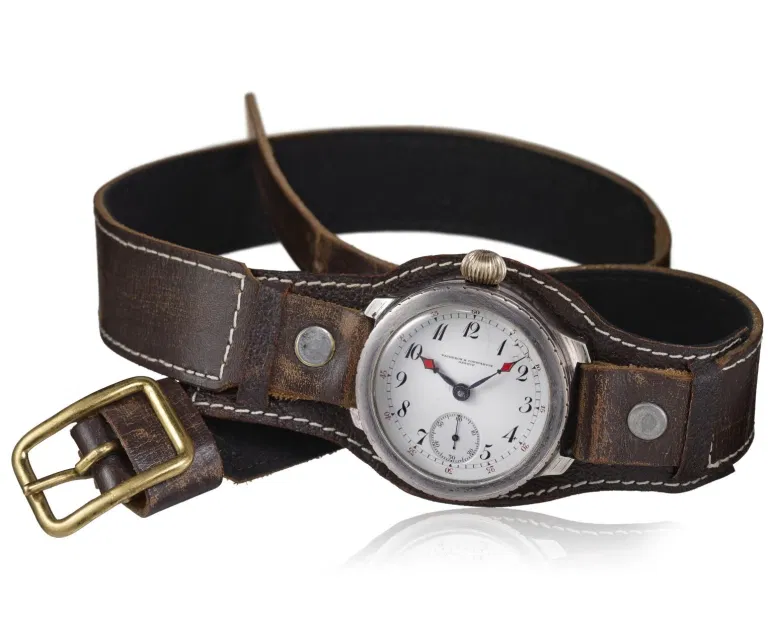 The Vacheron Constantin-loaned pieces include a 1903 steel aviator's watch enamel dial (above), and a rare 1964 pink gold watch with gold-plated dial, raised applied hour markers for those with impaired vision (see below) that features a pusher releases the hinged bezel/ crystal, to allow for tactile reading of the hour markers and hands). There is also a pink gold quarter-repeater pocket watch with guilloché-engraved gold dial with enamelled cartoushes for the house dating from 1816 which is signed Vacheron Chossat & Cie. Charles-François Chossat was a Genevois steel merchant who was a partner of Jacques-Barthélemy Vacheron for several years before the latter teamed up with François Constantin in 1819.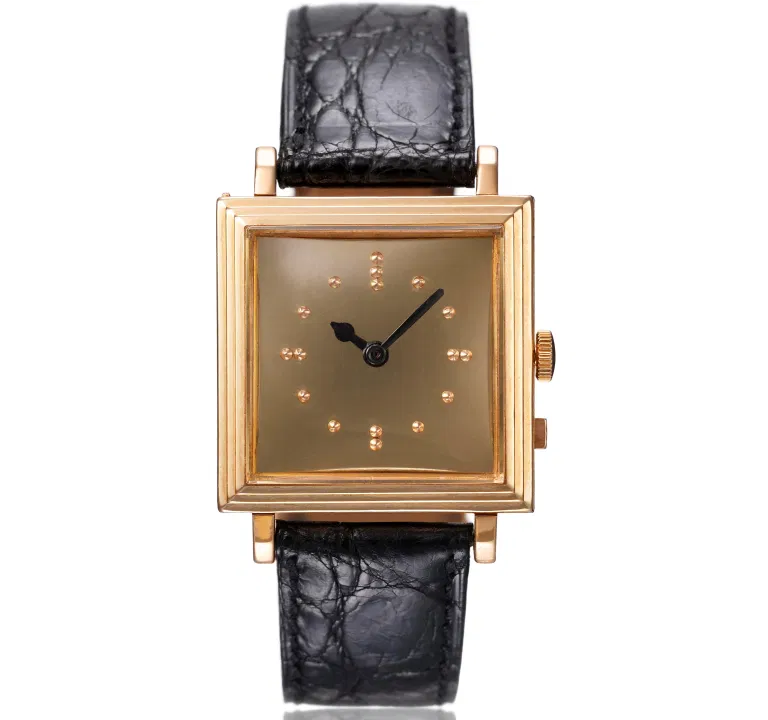 There are also some Vacheron Constantin pieces from the IDA's own collection, such as a 60mm sized deck watch used aboard the HMS Belfast during the D-Day invasion. It has a gilt-finished lever-escapement movement, 21 jewels, large Guillaume balance with gold poising screws, micrometer regulator, silver cuvette engraved "Certificat de 1re Classe l'Observatoire Astronomique de Geneve," silvered matte dial, Arabic numerals, blued steel spade hands, subsidiary seconds, hallmarked (Birmingham) silver case, case, cuvette, dial and movement signed.
Timepieces from the collection of Charles Frodsham & Co. include a marine chronometer used on HMS Wilberforce during the Niger River Expedition of 1841, and a "Golden Welcome" pocket watch presented by J.P. Morgan to William P.G. Harding, who would become the second Chairman of the. It is an18 kt yellow gold 63mm pocket watch with a minute repeater, split-seconds chronograph and tourbillon watch c.1898 (see below).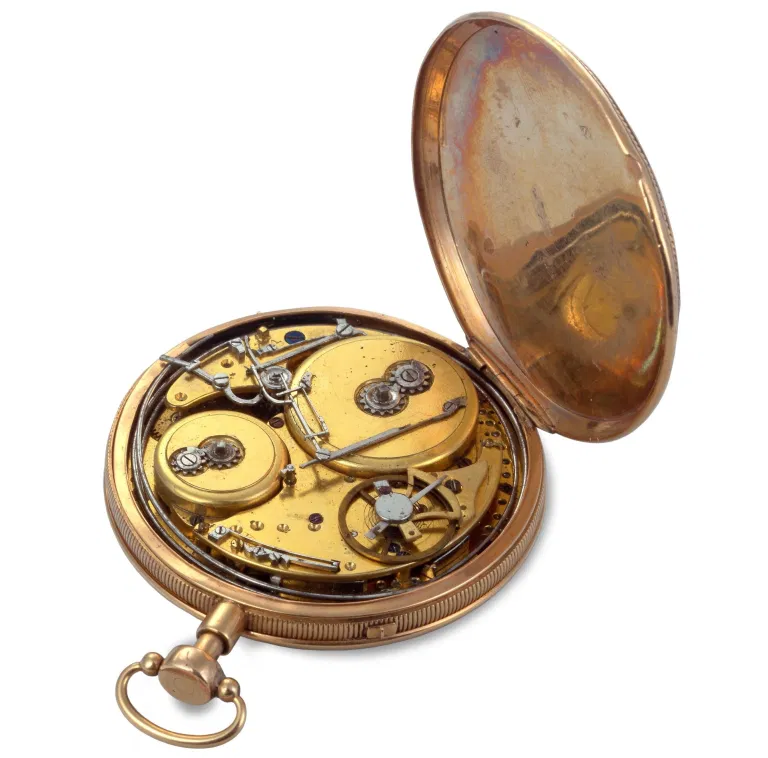 Fans of the Polarouter/ Polerouter will find a Special Edition Universal Genève Polarouter model 20217-6 with the Caliber 138SS bumper automatic movement. Produced in 1954, the Polarouter (later Polerouter) was created to commemorate SAS's (Scandinavian Airlines Systems) first over-the-pole flights from Copenhagen to Los Angeles, Universal Genève produced a small number of these special edition watches, with the SAS logo on the dial, that were distributed to the pilots, crew and some VIPs on the first flights.
There are even pieces with an Australian angle. The first is the Omega Speedmaster (Ref. 145.022-69ST) with the Calibre 861 owned and worn by Australian adventurer Denis Bartell OAM during his solo walk across the Simpson Desert in 1984. It took him 24 days to walk 390 km.
The second, also from the IDA's collection, is a 9kt rose gold 1930s Rolex with a sunburst champagne dial and luminous markers that belonged to aviator Charles Ulm. Ulm is best known for his partnership with Sir Charles Kingsford Smith, and was Kingsford Smith's copilot on many of his famous flights, including the 1928 first crossing of the Pacific in the Southern Cross. Lying about his name and age, at 15 he joined the Australian expeditionary force (AIF) in September 1914, was wounded at Gallipoli in 1915, repatriated, and discharged as a minor. He went back to the Western Front in 1917 under his real name.
Ulm returned to Australia after the First World War and ventured into commercial aviation, including Interstate Flying Services with Keith Anderson and Charles Kingsford Smith. Ulm and Kingsford Smith decided to fly around Australia to gain publicity and support for their venture, and in June 1927 completed the journey in 10 days, five hours and 30 minutes, setting a new record.
He purchased a surplus Avro X aircraft from Australian National Airways and re-named it 'Faith in Australia'. It was in this aircraft that, in 1933, he flew from England to Australia in a new record time of 6 days, 17 hours and 56 minutes. His other aviation achievements included carrying the first New Zealand to Australia official mail in 1934, and founding the Great Pacific Airways. In December 1934, while piloting a heavily modified Envoy aircraft, Ulm and his flight crew disappeared over Hawaii in heavy weather. No trace of the plane and its passengers have ever been found.
You can read more about Ulm here.
The exhibition's programme also includes lectures, virtual reality experiments reflecting IDA's mission, and a 'Time Trail' looking at how humans have marked the passage of time and travelled both their planet and the skies. Astrolabes, sun dials, and clocks, including a pendulum clock by Thomas Tompion and the Cyril Beeson collection of Oxfordshire clocks that are part of the History of Science Museum's collection also form part of the exhibition.
Tickets are free but are timed and must be booked. Face masks are currently legally required to be worn inside the museum. Photographs (no flash) are permitted. To book your ticket, go to this link.
The exhibition will have a worldwide tour, with the first stop planned for New York in spring 2021.
To read more about the exhibition and browse its online content, click on the links above and the exhibition's main page.
It is also worthwhile looking at the explanation of what informs the IDA's Ptangible Project, which includes a horology library, collection, and events. It is definitely a place to visit when travel is possible again.
[Photo credit: IDA, Vacheron Constantin, History of Science Museum, Oxford]
---
---
Categories: Charles Frodsham & Co, chronograph, Clocks, Divers watches, English watchmaking, Longines, Military watches, Minute Repeaters, Panerai, Rolex, Tudor, Universal Genève, Vacheron Constantin, Vintage Longines, Vintage Omega, Vintage Rolex, Vintage watches, Watch shows, watches, Watchmaking, Women's watches