Very occasionally, I find myself worrying about a watch before I see it.
Before seeing today's watch, I worried.
I wasn't worried about dropping it. I wasn't worried about something happening to it when trying the crown. I wasn't even worried about whether the opportunity to see it might suddenly fall through due to unforeseen circumstances.
For some watches, the ones that have a semi-mythic quality, I find myself (overly?) mulling and musing over how I will respond to it. I wonder if I will be able to 'get' what it is about. I wonder whether I am capable of fully appreciating it.
For something like a George Daniels/ Roger Smith watch, it was quite a different proposition altogether.
Here I was with the opportunity to see and handle a watch I never actually thought I'd see, and with expectations so high and my tendency towards understatement, I was worried.
Earlier this year I had the good fortune to see a Daniels Anniversary watch, but the the moment never seemed quite 'perfect' to' to post about it until recently, with the announcement by Bonhams that one of (number 24) the thirty-five (when completed) Anniversarys will be sold on September 19, 2016 as part of an auction of mostly cars and bikes that were owned by photographic retailer Robert White. The proceeds of the auction will go to the late Mr White's local hospitals in Dorset.
Such an announcement seemed to make this the perfect time to launch this post and in so doing, also think a bit more about my experience with the Anniversary.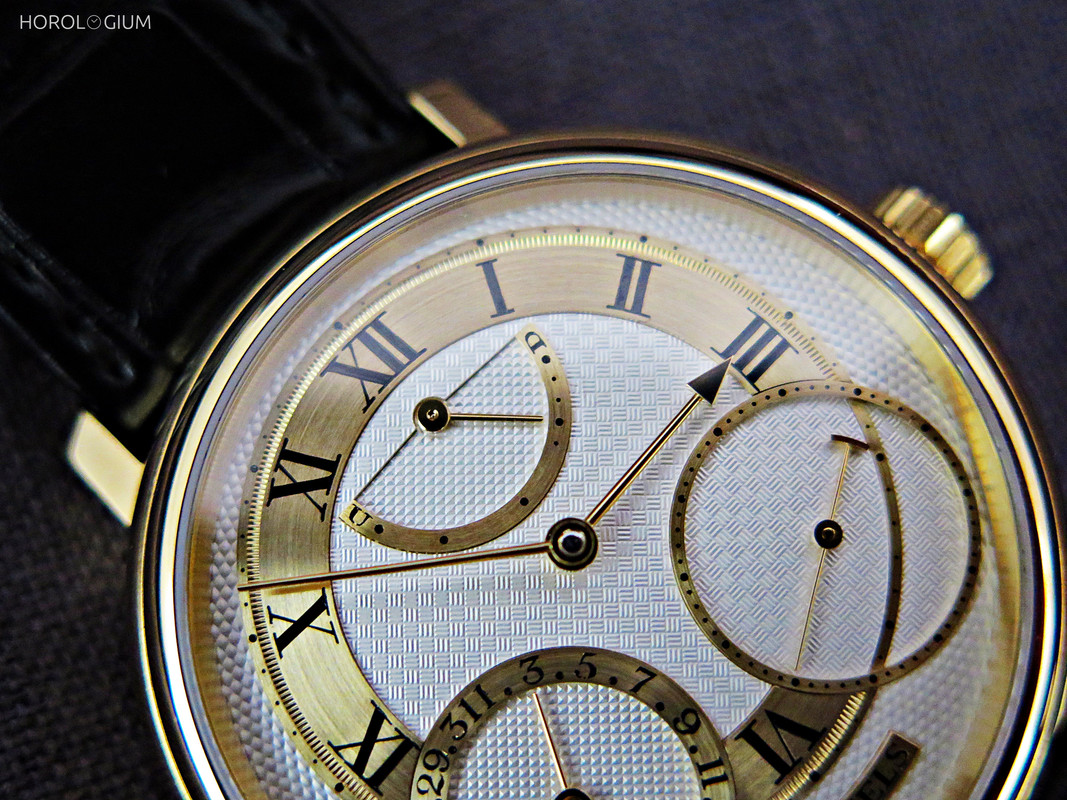 Dr. George Daniels C.B.E (1926 – 2011) is widely regarded by many as one of the greatest watchmakers to date. He did not complete his first watch until he was almost fifty, and with a scant twenty-seven pocket and wristwatches to his name plus the more widely known Roger Smith collaborations (the Daniels Blue and Daniels White also made by Smith for Daniels) of Millennium and Anniversary models with limitations of fifty-eight and thirty-five pieces respectively, to see (let alone own) something with a Daniels name is not just an issue of money, but also of availability.
Self-taught, he established the 'Daniels Method' by becoming the first person to have mastered thirty-two of the thirty-four skills necessary to craft a watch entirely by hand.
The Millennium watch was not just to fulfil his desire to produce a series of Daniels wristwatches with his own movements, but also to celebrate his creation of the co-axial escapement, which gave him a certain amount of heartache before it found a home at Omega, who now proudly use it across many of their watches. In 2010, a dozen years after the Millennium, Daniels decided to mark the 35th anniversary of the co-axial with a series of watches by asking protégé and renowned watchmaker Roger Smith to partner with him in the creation of the Anniversary watch.
Co-designed by both watchmakers, the goal was to create an English-designed and English-made production wristwatch; in this instance primarily on the Isle of Man but with some parts (more on that later) made in London. Unfortunately, Daniels died only only a year or so into the project, but he saw and approved the final prototype before his death and his name remains very much is alive on the dial as it is in its design.
In looking at the Anniversary watch it is vital to bear in mind that it is about commemorating the co-axial and handmade English watches, but that it is also an homage to Dr Daniels' legacy and position in the horological pantheon.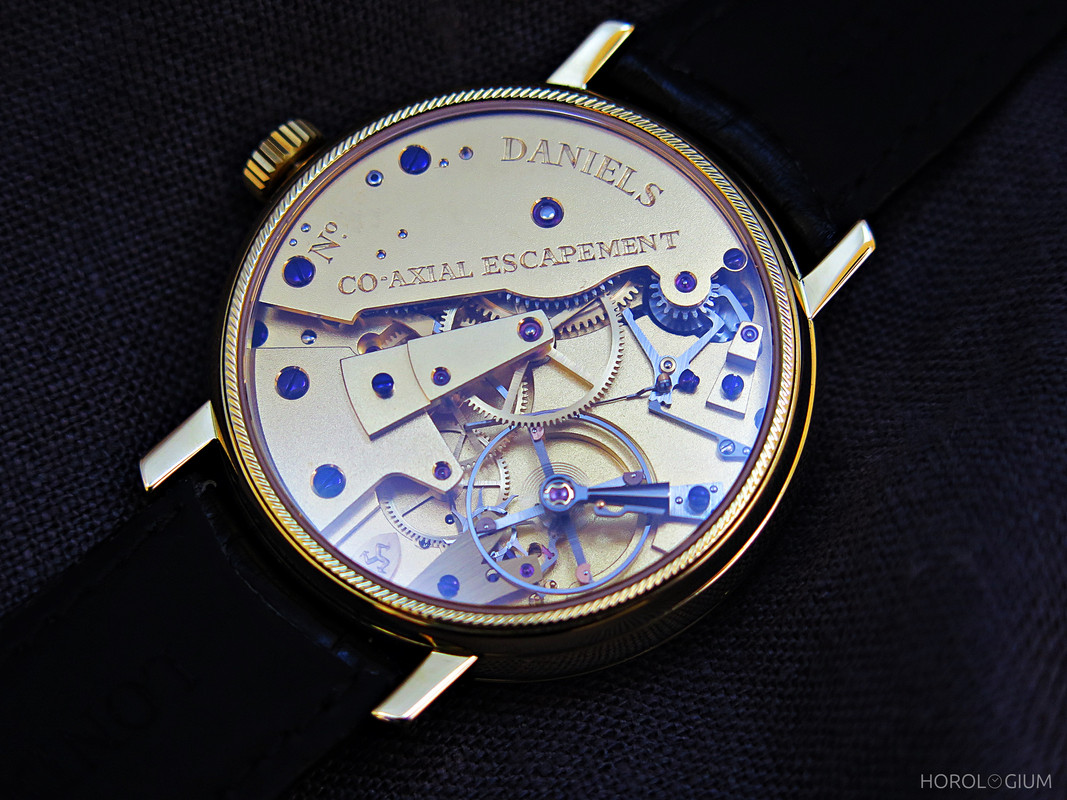 Made by Roger Smith and his team, it is important to note that although the watch is a celebration of the co-axial escapement, the movement in the Anniversary is the result of Daniels and Smith working together to create a new English calibre to be produced by Roger W. Smith Ltd.
It is not the Daniels co-axial 'Mark 1', so to speak, but what is called a 'single-wheel Daniels co-axial' as developed by Roger Smith. In a nutshell, this means that the double wheels of the Daniels escapement has been combined into one by adding raised teeth to the lower wheel. You will find this in Smith's own watches, and its use reinforces how much of a nod to the past as well as to the future the partnership leading to these watches was, and arguably still is.
The movement is otherwise designed by Daniels and signed Daniels, with a free sprung balance, 18,000 VPH, and thirty six hours of power reserve. The movement is finished in the traditional English style with gilded and frosted surfaces.
If you think the power reserve sounds on the lower side, this is because another Daniels feature on the Anniversary is the 'Stop Start' mechanism which restricts the power reserve by disengaging the mainspring after thirty-six hours to ensure stable torque.
The watch restarts when sufficient power has been restored to the mainspring allowing the switch to release, freeing the balance. This feature was used only once previously, in Daniels' 1975 fifteen-second Remontoire pocket watch. In handling this particular piece, I got to see this in (non) action. If you don't know about this movement feature, it can be a little unexpected to see that the watch is not 'moving' when other watches might be, until you have it explained to you.
So let's take a look at the exterior.
With a construction time of two weeks and parts made both in London and the Isle of Man, it is a 40mm yellow gold case hand-fabricated using the Daniels method as described in George Daniels' 'Watchmaking'. The official material provided regarding its creation states that three strips of gold are rolled to the correct size then bent to form a rough circle. The rings are then individually gold soldered together and driven under great pressure into a tapered form into three circles of gold for the back, middle, and front. The front and back rings are then machined to form the profiles and male threads are cut onto each component. Lugs are hand soldered onto the middle ring and then female threads are cut to take the back and the front. In its final form it is 2.4mm thick and weighs approximately 48g.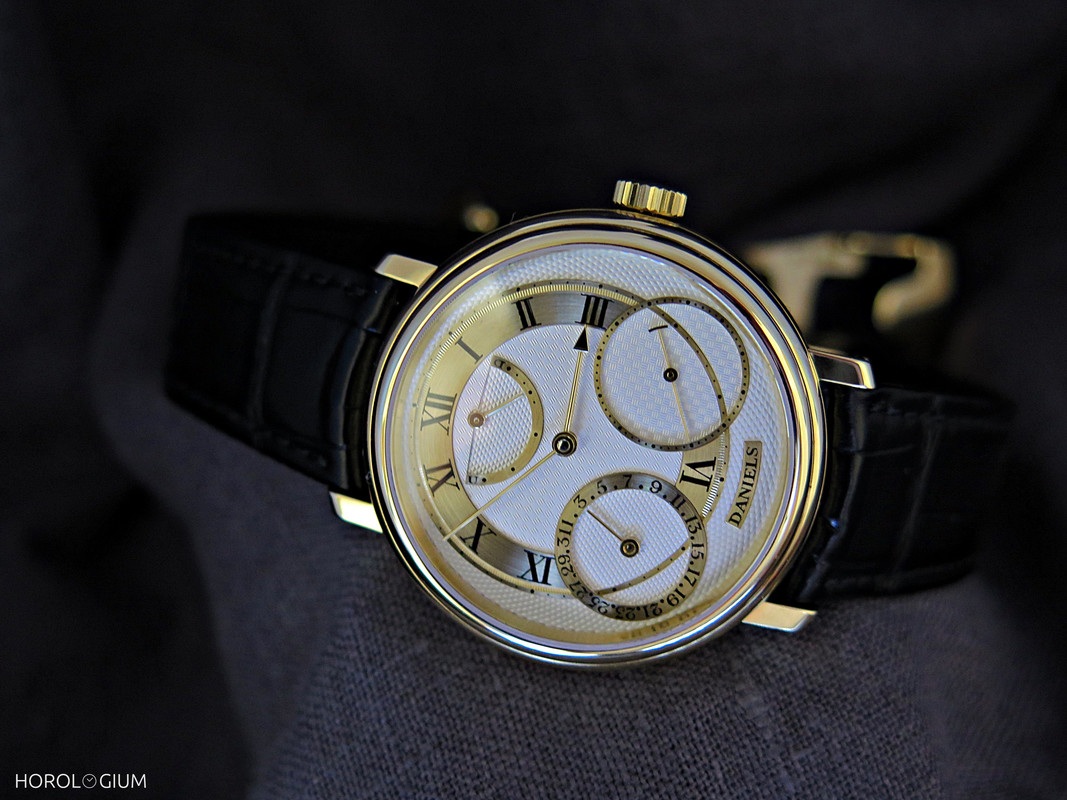 The dial takes three weeks to complete and is constructed of a combination of hand engine-turned silver with inlaid 18 carat yellow gold chapter rings against a flame-whitened background. Numbers and letters are hand engraved and inked in by hand before being coated with lacquer which is applied by hand using a Squirrel hair brush.
There are twelve components to the dial, which are assembled together by a combination of silver soldering and securing with screws from the reverse. The dial is made in Isle of Man and engraving done in Clerkenwell, London, as engraving was one of trades that Daniels did not devote himself to learn.
So what about those distinctive hands (used on every Daniels wristwatch since his very first)? They are 18K yellow gold, made on the Isle of Man and take a full week to complete.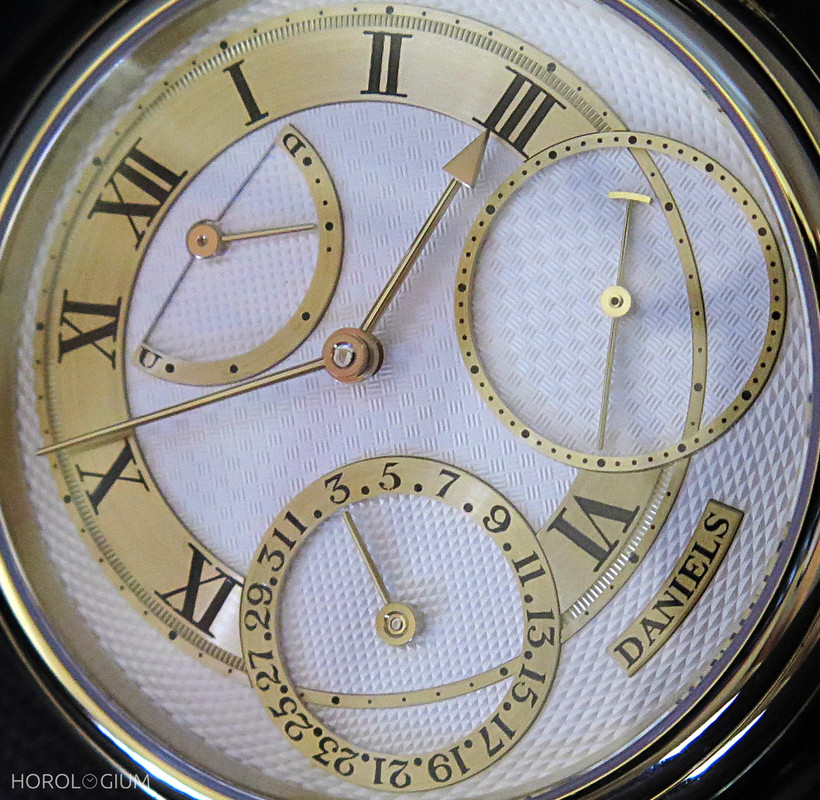 As well as the hours/ minutes/ seconds functions and the power reserve display, the watch has an instantaneous calendar function that comes with its own rather glorious hand-fabricated yellow gold chain fitted to a Daniels pendant and bow with a long blued steel corrector. It takes a full three days to make just this corrector (in Hatton Garden, London, and the Isle of Man).
The strap is alligator and on an 18K yellow gold deployant clasp that is also made in Hatton Garden, the gold centre of London.
It all comes in a suitably classically-designed leather-bound gold-embossed box made in London, but each watch is personally inspected and signed off by Roger Smith before it is placed inside and delivered.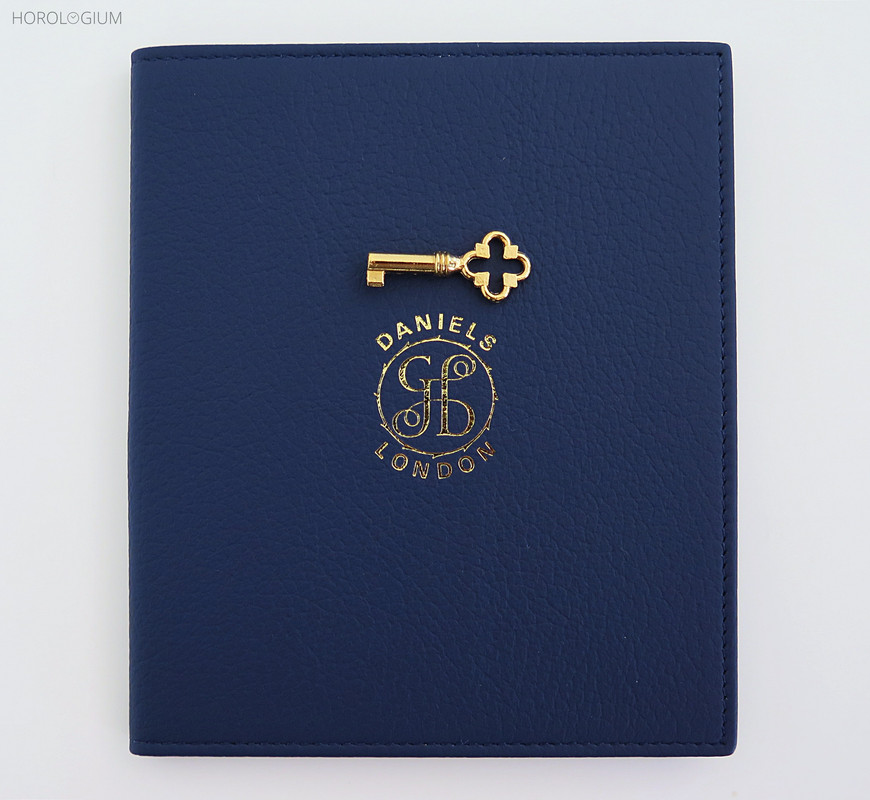 The result is a manually wound wristwatch with power reserve indicator, calendar mechanism and seconds dial whose design is a direct nod to Daniels' pocket watches of 1991 and 1994. Its design pays direct homage to the one-off 4 minute tourbillon chronograph watch, which is nearly identical in design except the crown placement.
So, what is it like to look at and (albeit it briefly), wear?
To some degree I didn't have any expectations about how I would take to this watch, but in handling it, I found that my response was not what I could have anticipated. The overwhelming feeling at the end, and even in thinking about it now, is that this is a watch that is meant to be worn.
I mention this because in a way, I had thought that it might be the sort of watch that is best kept in a safety deposit box and taken out to admire and wear on special occasions only. There is little doubt that this is a special watch for special occasions, but what struck me is that it has a notable sense of warmth to it, and the fact that you can tell that it's handmade gives it a charm that invites you to wear it despite the concerns of having such a rare watch on your wrist. It was a privilege to be able to have a play with it and to try it on. It's a comfortable size and height, as well.
In retrospect, we were missing one thing – Mr Kipling's Bakewell Tarts.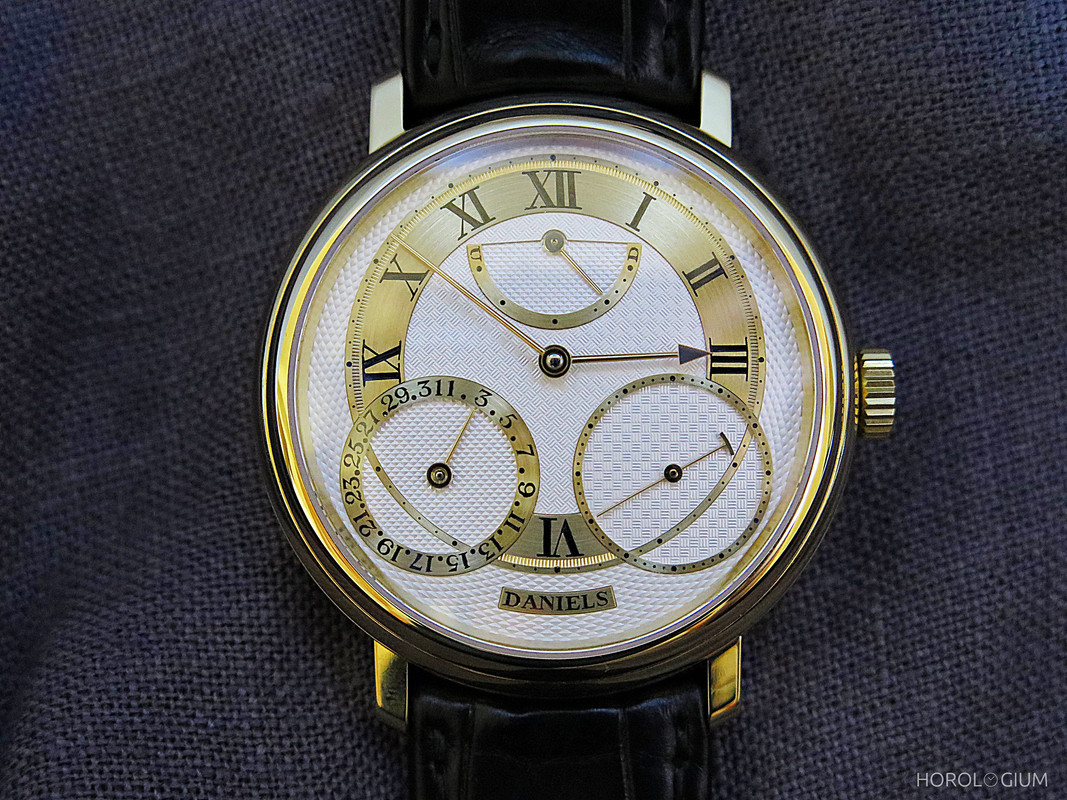 So back to the watch coming up for sale at Bonhams. They have set what I think is a conservative estimate of £70,000 – £100,000 for a watch that had a retail price of £142,000 (excl VAT) when it was announced. In my discussions with some who are interested in such things there is a strong feeling that it will go over the upper end of the estimate. Our guesstimates vary wildly from £150,000 – £220,000. One thing we do agree on,however, is that this is a rather special opportunity to not only get a Daniels but to also contribute to a good cause – building new cancer facilities at Poole and Dorset County hospitals.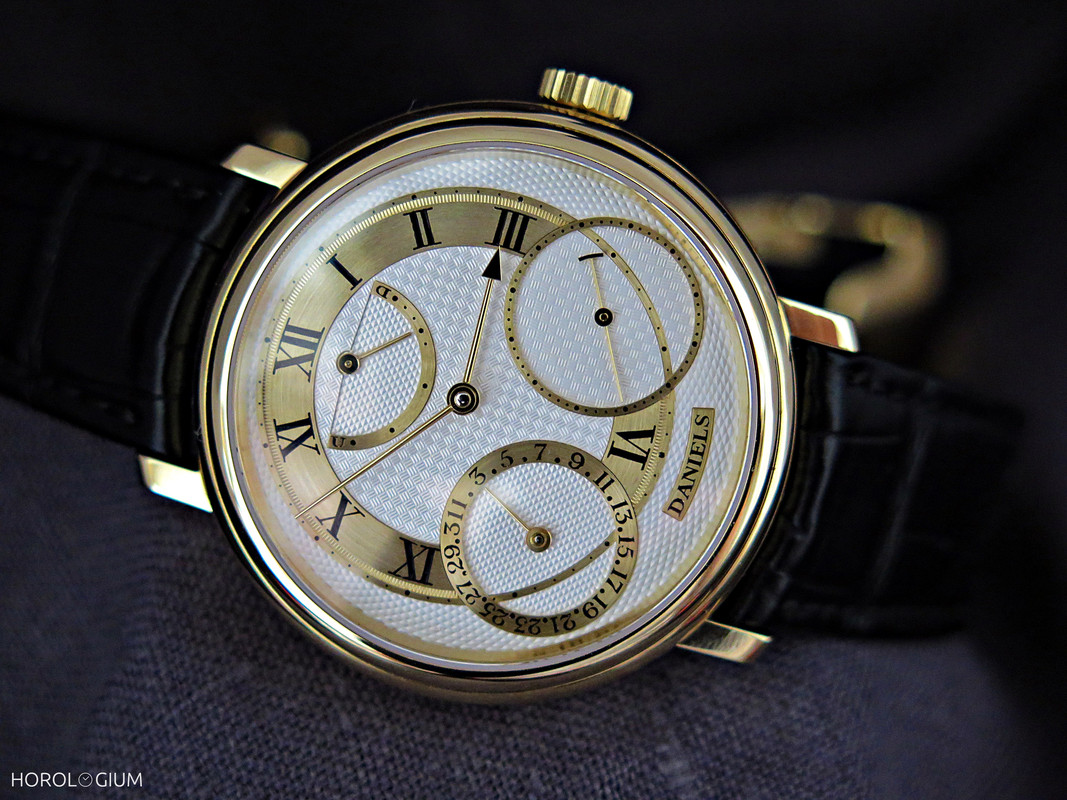 At its launch in 2012 you could order yourself one of the thirty-five yellow gold pieces (you can also get one of a limited edition of four sets of four each in yellow/ red/ white gold and platinum on special order if you find yourself with the extra pennies), but given that all them have been spoken for and some delivered, to find one for sale is something of particular note.
For more information about the auction piece, or to place a bid, go to this link. For details about the Robert White Collection auction, click here.
——————————-
UPDATE : Daniels Anniversary auction result
So the much anticipated auction of this rather special watch is now over, with the Robert White Collection Daniels Anniversary reaching a hammer price of GBP 185,000 with the total of GP224,500 including the commission, well above the listed estimate, as expected. Congratulations to the new owner and to Roger Smith.
---
---
Categories: Auctions, English watchmaking, George Daniels, Limited Editions, Roger Smith, Watch movements, Watch Profile, watches