I recently had the opportunity to spend some 'wrist testing' time with Jaeger Le-Coultre's Master pink gold Ultra Thin 1907 courtesy of Jaeger-LeCoultre Australia. This was a watch I'd already seen; if memory serves me correctly I'd crossed paths with it twice. At this point I should probably confess that whilst I'd definitely noticed it, it hadn't made any dominant impression, as there were other watches from JLC that had captured my attention at the time, plus I still had its Pt Jubilee sibling in my thoughts.
There was also something else.
I have great admiration for ultra-thin watches and the astonishing technical achievements that go into their creation. However, I am unaccustomed to wearing very thin watches, preferring to feel some presence, some heft (yes even for dress watches). Perhaps there is an unconscious bias on my part, and not just in terms of what stays in my memory when I am shown a number of watches, most of which are not ultra thin.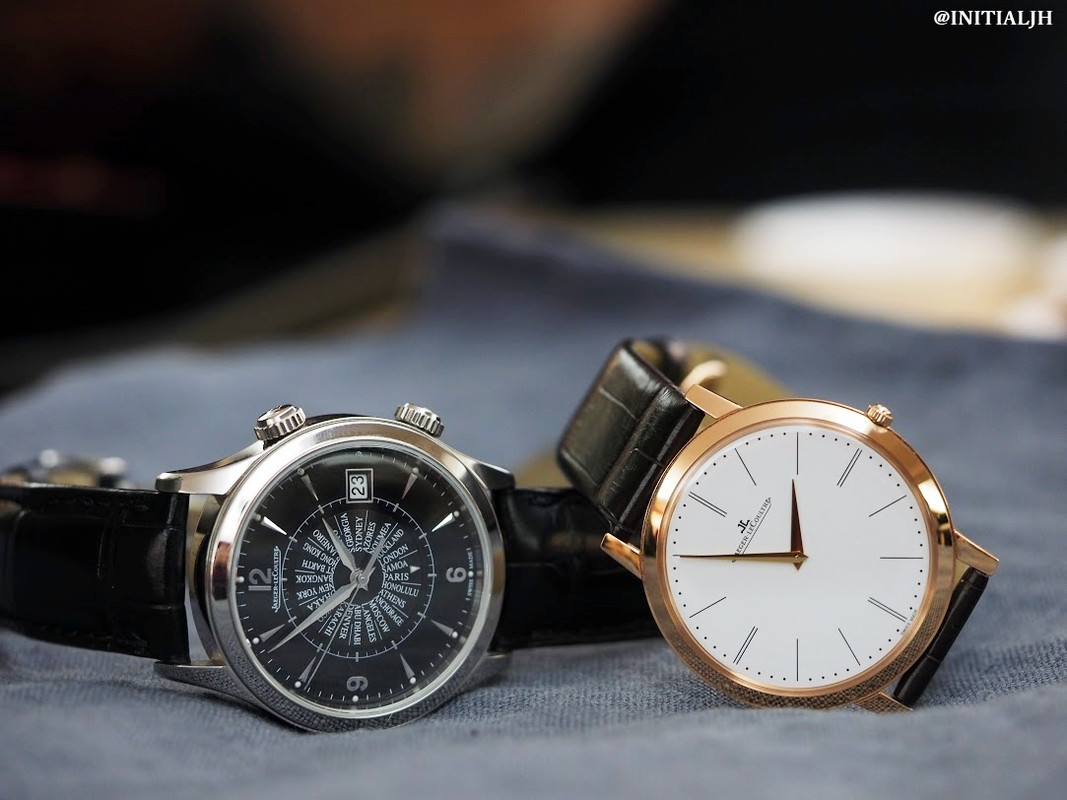 Comparison with the Jaeger-LeCoultre Memovox International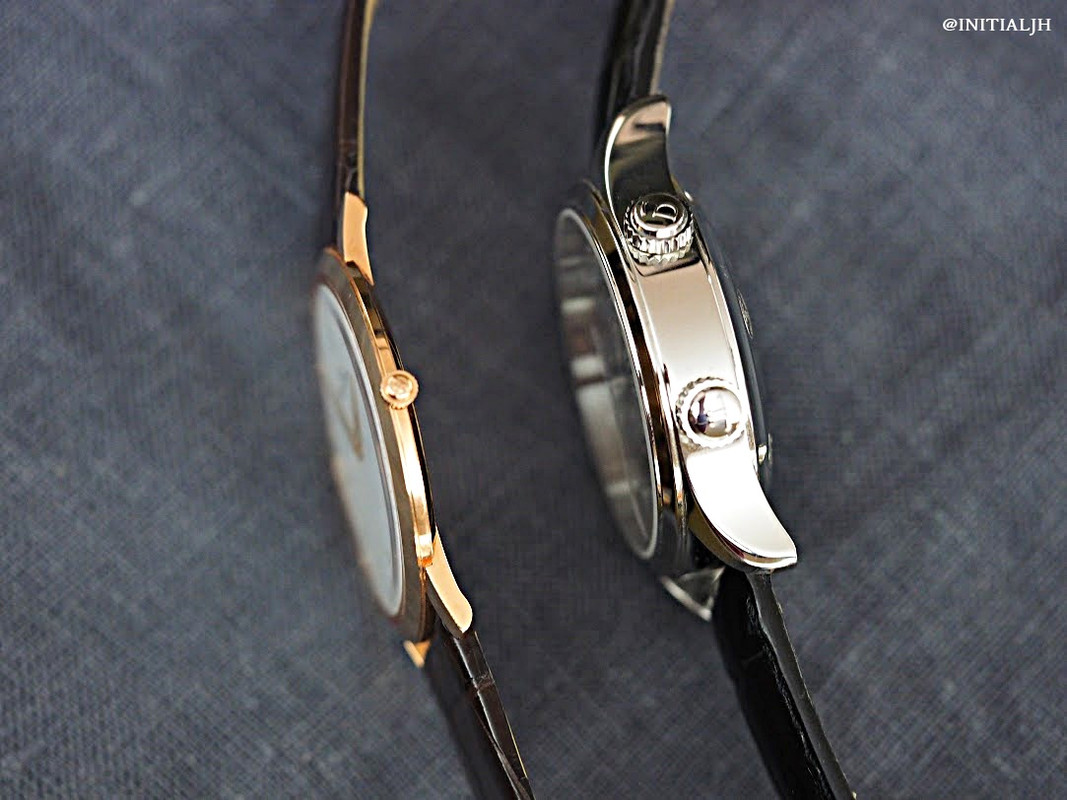 With this in mind, when I was offered the chance to be able to wear the 1907 for what was meant to be a couple of weeks but ended up being for a month, I jumped at the opportunity. After all, what better way to test one's horological biases than to confront them head on?
THE WATCH
This pink gold Jaeger-LeCoultre Master Ultra-Thin 1907 was introduced at SIHH 2014. Sharp lines, stylish, thin. 4.05mm thin. Thinner than the pocket watch that inspired it. Not just any old pocket watch, but a 1907 timepiece that created a new record as the thinnest pocket watch movement put in production, a record that still stands.
So, how did it come into being?
In 1903 French watchmaker and engineer Edmond Jaeger (1858-1922), who was known for his instruments for aviation, shipping and automobiles, issued a challenge to Swiss watchmakers – that they bring into production the ultra-thin calibres he had invented. The gauntlet having been thrown down, Jacques-David LeCoultre (1875-1948), LeCoultre's founder's grandson, decided that he was the man for the job.
Not content with just doing a passable job of meeting the challenge, he created many movements, including minute repeaters, chronographs and double complications. His most famous creation was the 1.38mm thin LeCoultre Calibre 145, which ended up being in production for the astonishingly long period of 1907 to the 1960s, but which totalled approximately four hundred in number. The rapport and mutual respect between the two men lead to their partnership and birth of Jaeger-LeCoultre in 1937.
So, back to this watch, its descendant.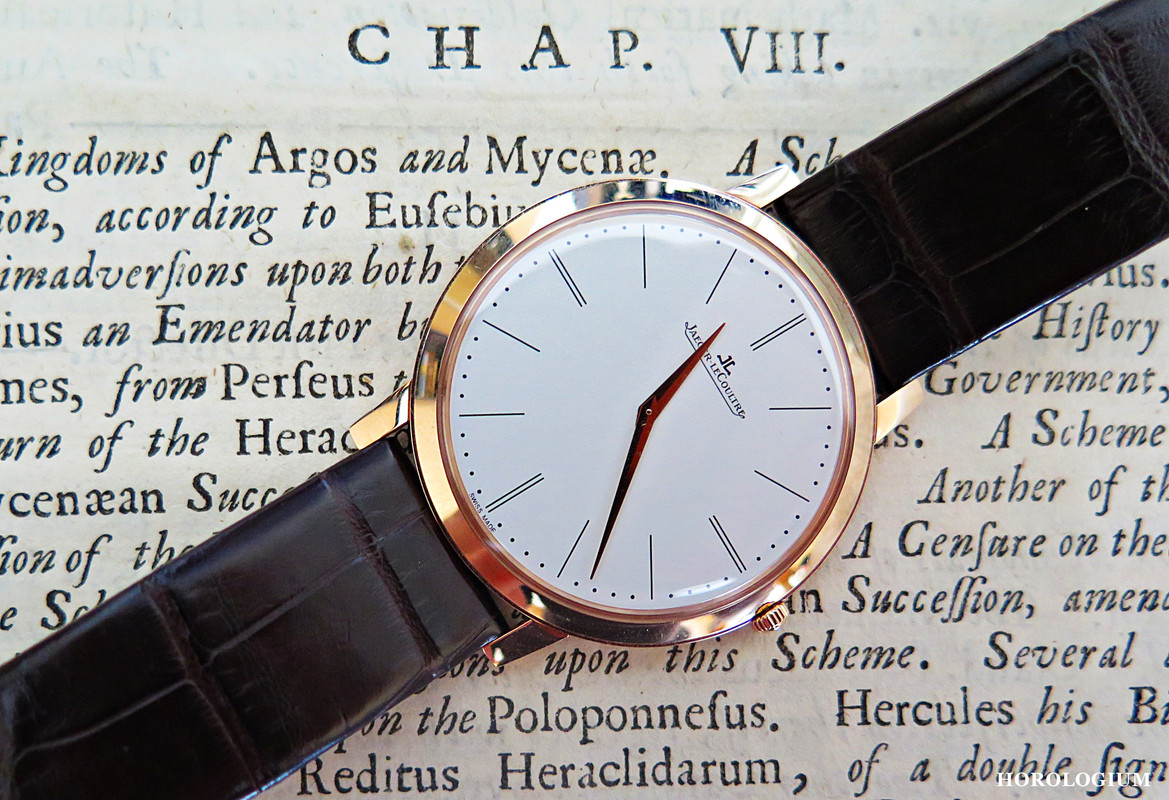 The overall height of the Master Ultra Thin 1907 is 4.05mm; the movement is 1.85mm, which leaves only 2.2mm for the glass, hands, dial, and case back. The hands are only 0.16mm away from the crystal. Think about that.
The use of a knife-edge case on this watch is part of what gives it such a particularly svelte figure, but of course there's the movement, the Calibre 849. There are 123 parts in this 1.85mm thick calibre, and when fully wound it has a power reserve of 35 hours.
At the time of its introduction by Jaeger-LeCoultre, the Master Ultra Thin Jubilee was the thinnest manually-wound wrist watch in the world. It has since been beaten by Piaget's Altiplano 900P which in turn has just been beaten by (you guessed it) Jaeger-LeCoultre, with a newly released a 3.6mm thin Master Ultra Thin Squelette, whose non-set model is 0.05mm thinner than Piaget.
But seriously, when we get down to this level of thinness, there's a point at which it almost becomes a blur.
The dial is white with a finely grained surface and features printed minute dots and single stick hour markers, with double stick markers at 12, 3, 6 and 9 o'clock. This was a point raised by a few people who saw this watch during my loan period – why printed? Well it's all about the 'thin' thing. Applied markers, which are arguably more attractive, will add height. More height means no record for thinness, plus it is the 'Master Ultra Thin', not the 'Master Thin'.
The dauphine hands are polished on one side and micro-blasted on the other, giving them an attractive ever-changing look when light (particularly sunlight) hits them.
WRIST TIME
During the month or so during which I had the Master Ultra Thin 1907 I wore it about 90% of the time, a more than long enough period to give one a pretty good feel for it.
The start of my 1907 adventure was, unexpectedly, one of constant concern, a state that lasted for the first 36 hours straight, but which re-appeared a couple of more times during the first week.
Why? Well I had not expected an adjustment period.
What happened was that I needed to get my head around wearing such a thin watch. I was simply not used to it and, daft though it may sound, irrational thoughts went through my head about it snapping in half, so to speak. Not literally of course, as I knew that there was no risk of that, but it taught me that I have been conditioned to certain type of wrist wear, and it taught me that such habits can run deep.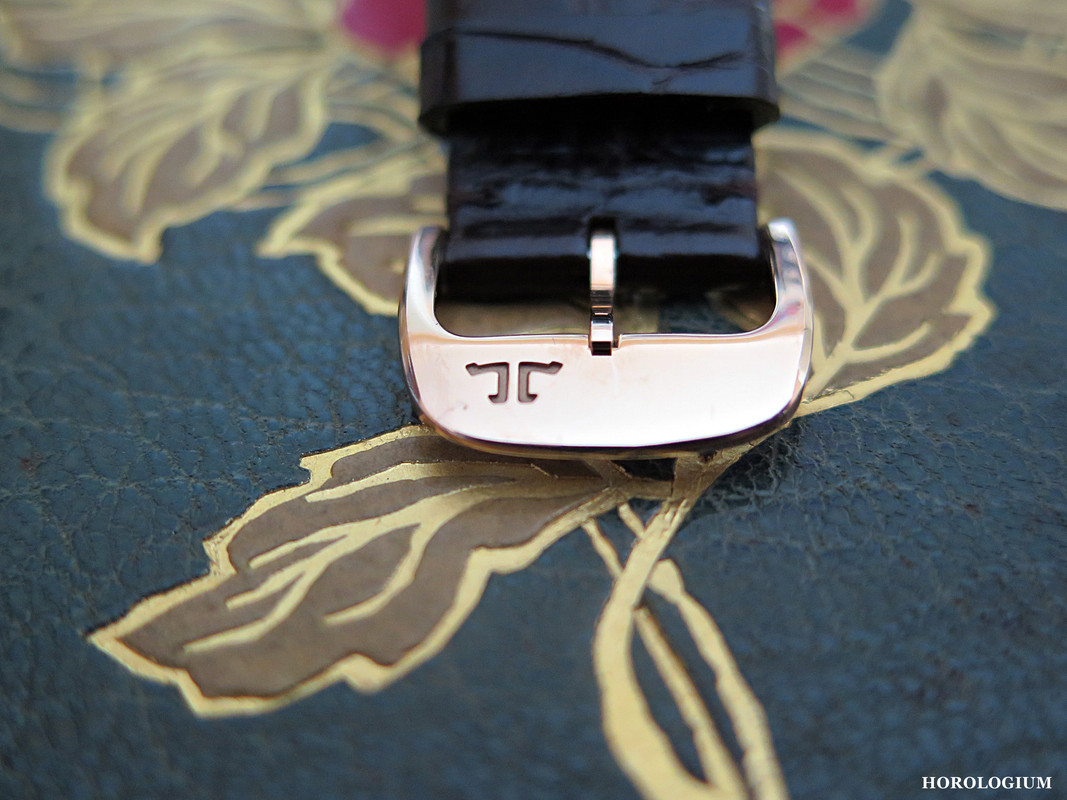 For the time during which I had it on loan I also wanted to see how watch people responded to it. Quite a few local collectors and enthusiasts had the opportunity to see the 1907, at GTGs and a Jaeger-LeCoultre dinner. What was interesting was that many of them had the same immediate reaction (to mine) when I handed it over – worrying (the word 'snap' was mentioned a few times) until they put it on their wrist, let it sit there for awhile, and became accustomed to it.
It proved to be a broadly popular piece amongst both men and women. For the women, the thinness meant that even if they were normally wearers of women's watches they found this watch both attractive and comfortable, even for those with petite wrists. For a photographic example of this, click on the link above to the dinner post.
CONCLUSION
In wearing the Master Ultra Thin 1907 there were several things that I thought about that weren't related to the technical aspects. One of these was versatility. I know many people who own multiple watches, but I also know many who only have the watch that is on their wrist, and one of the most important things for them is that it can be worn when dressed up or down, with suits, evening outfits, or jeans.
The reality is that most people who own a watch only own a single watch, so if they are going to invest five figures in it, they will want to feel that it is suitable for most of their wardrobe and lifestyle. I say 'most' because swimwear, diving gear, heavy gardening work involving powered equipment etc probably require a different sort of watch. I may of course be wrong, but I'd wager that most people who only own the one watch tend to choose a dress one.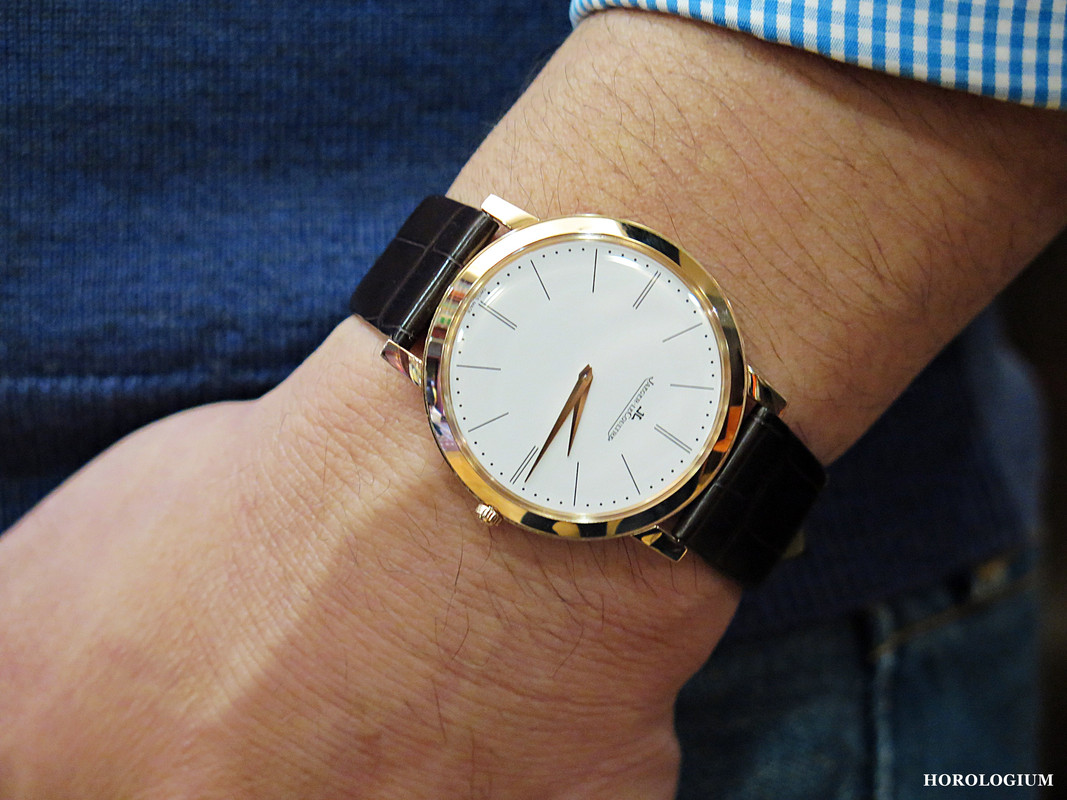 I wore this 1907 with a variety of outfits, in particular to see if I would feel that it was too much to wear with jeans and sneakers. My instinct at the outset had been that it would be far too dressy to wear with (black) jeans and sneakers, that it would somehow not feel quite 'right'. I do wear classically-styled dress watches with jeans, but they are ones with more heft.
Unexpectedly, it did not feel somehow 'inappropriate' to wear it with casual clothing. It stood out more and its dressy elegant presence was felt more strongly when I wasn't in jeans, but I realised that I was enjoying it so much that it was all about that, and not about my outfit.
This is a very comfortable watch to wear once you become accustomed to its thickness; in fact you almost forget that it is on your wrist. This is not a bad thing. It is probably important, nonetheless, to bear in mind that this has been worn during a Sydney winter, and thus wearing long sleeves. Had it been during the 30+ degree heat of Summer, in short sleeves, I may have been more conscious of having it on my wrist, of its thinness.
This is a watch with a discreet presence, but it generates interest when attention is drawn to it. Although we appear to be veering towards slightly smaller watches again, ultra thins are still an anomaly, so when its presence is noted, people are intrigued and want to try it on.
If you're looking for a thin, elegant luxury watch that you will be able to wear for years without looking dated then the Master Ultra Thin 1907 is one that you can put on your short-list. There was a boutique white gold version that was also released, and if I was to choose one from the two metals I would probably choose the white gold because I find white metals more versatile, but the pink gold version has a lovely warm glow to it, and I found myself missing it after its return.
The Australian RRP is $21,200.
---
---
Categories: Hands-on, Jaeger-LeCoultre, On the wrist, SIHH 2014, Sydney, watches