As part of Jaeger-LeCoultre's 180th anniversary in 2013 it has been holding dinners and events around the world. A few weeks ago the celebrations hit Sydney, with a gala dinner held at Guillaume at Bennelong, one of Sydney's finest restaurants with a view of the city skyline and Sydney Harbour Bridge from its location in one of the 'wings' of the Sydney Opera House.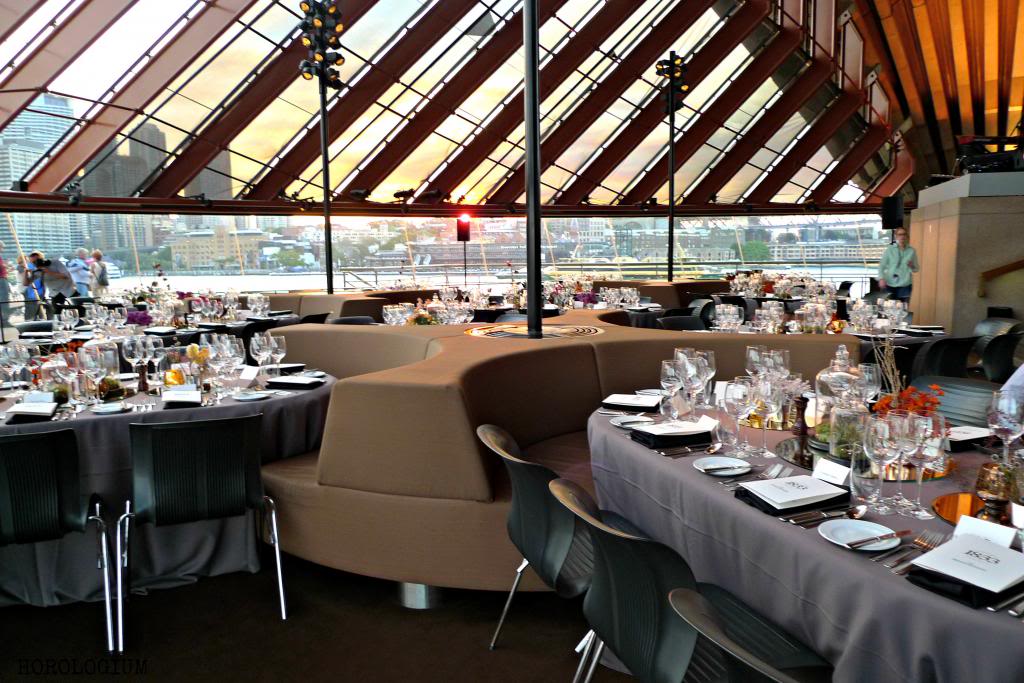 Guest of honour Janek Deleskiewicz, Jaeger Le-Coultre's chief designer and Artistic Director, came to Australia from Switzerland with a special travelling companion to join in the festivities with just over 100 invited guests. Alexis De Laporte, Managing Director of Jaeger-LeCoultre (South East Asia and Australia) also flew in for the occasion, which was hosted by Pierre-Etienne Durand, Brand Manager for Australia.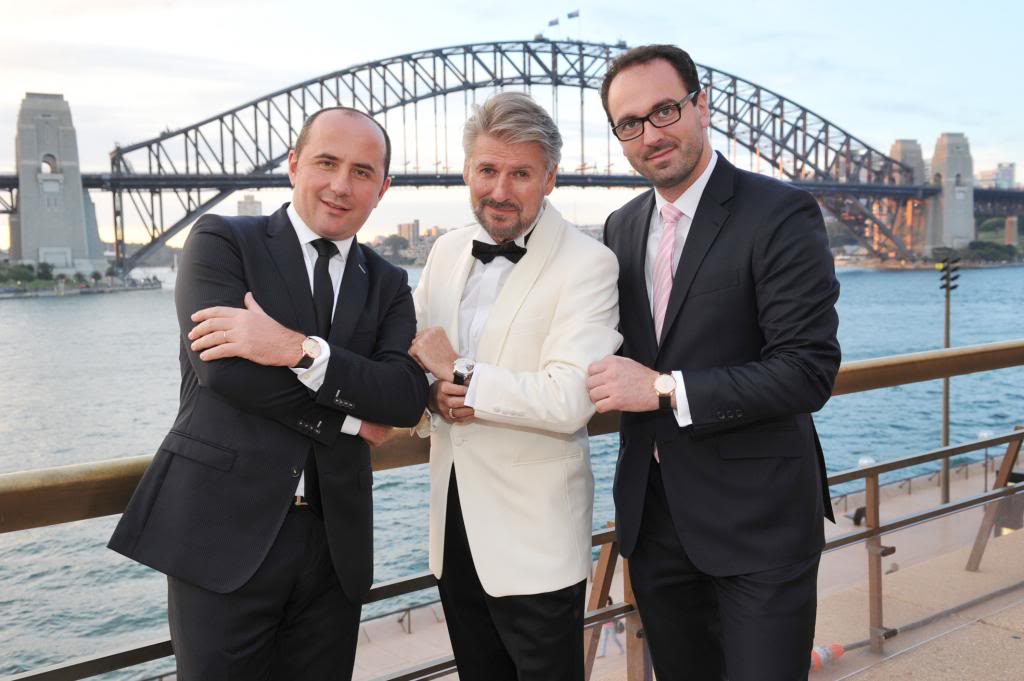 Guillaume's upper level was converted into one of two display areas, with this section containing displays of some of Jaeger-LeCoultre's modern complications and watches of note.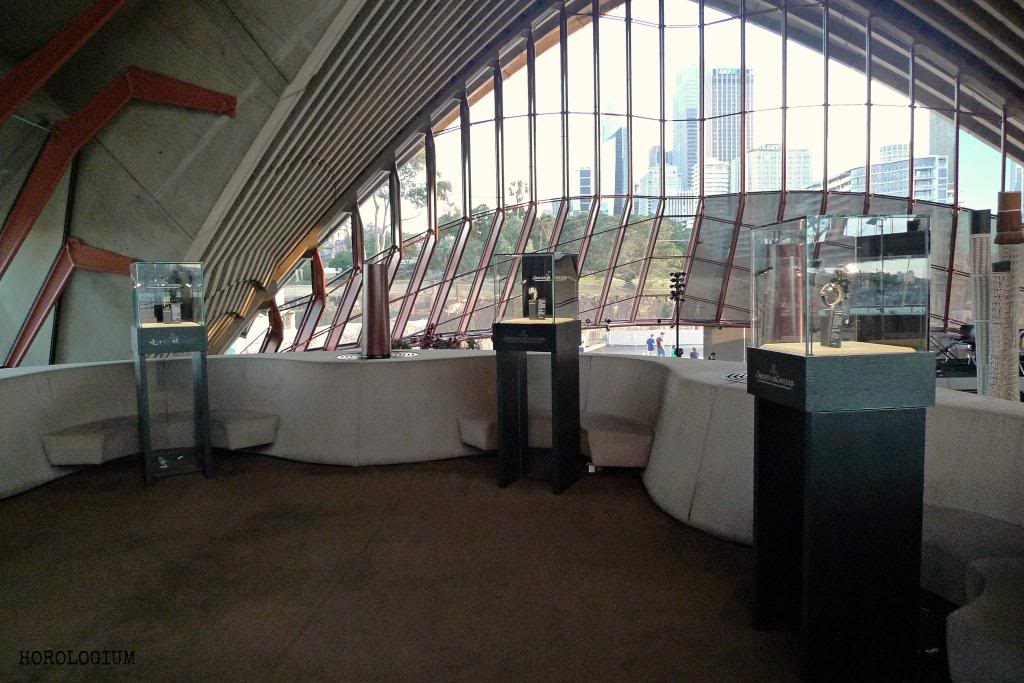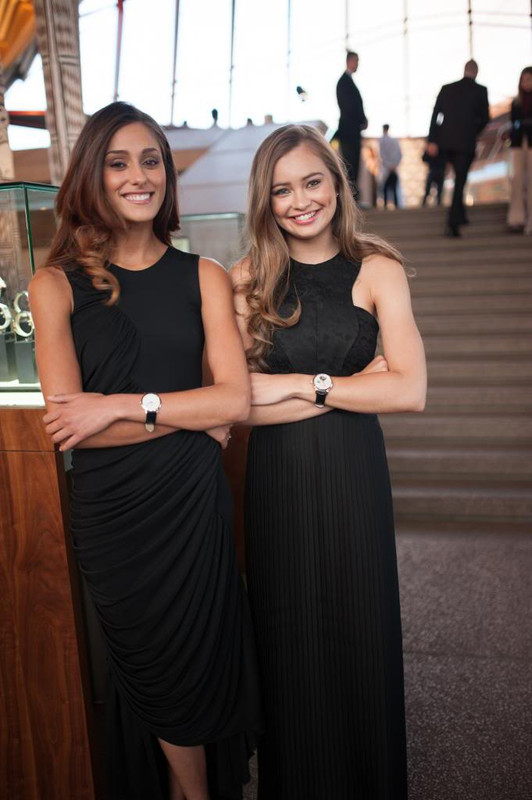 Watches in this area :
The Gyrotourbillon 1- the limited edition (75) platinum skeletonised version of this groundbreaking watch. It contains the manual winding Calibre 177 and is a mega-complication of tourbillon, perpetual calendar, double retrograde date, retrograde month, equation of time and a power reserve indicator in a 43mm case. The Gyrotourbillon 1 also came in a few other limited edition models, including non-skeletonised versions.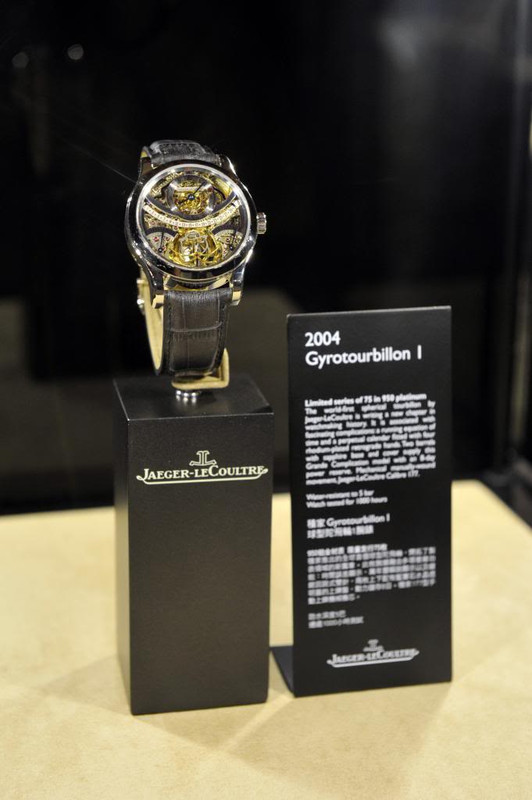 The Master Grande Tradition Grande Complication – this watch has a 'mere' three complications: a minute repeater, a flying tourbillon and a zodiac calendar courtesy of the calibre 945. Appealing to the skyward looking in all of us, the tourbillon rotates around the deep blue sky-chart dial. The tourbillon itself counts the sidereal day, which is almost 4 minutes shorter than the solar day. A small sun rotating around on the outer spheres of the dial, where zodiac signs and an indication for the twelve months round off the display, indicates the 'normal' time that we use on a day to day basis, aka 'mean solar time'.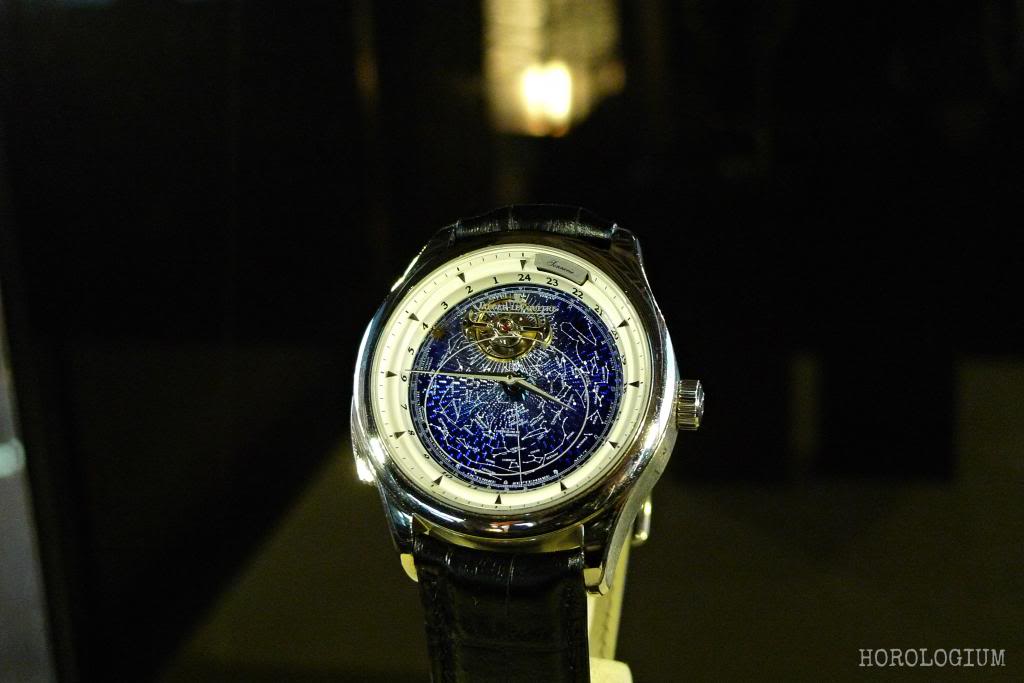 The piece also has a minute repeater with its sound generated by a'crystal gong' system. Together with a striking mechanism called 'trébuchet hammers', the repeater is activated via a slider.
The Reverso Répétition Minutes à Rideau ('minute repeater via curtain'). One of this Reverso's two dials is covered with a sliding metal shutter, another example of which I covered here. The cover can be pushed aside to reveal one of the two dials, and it also activates the minute repeater complication. This complication utilises the manual wind Jaeger-LeCoultre Caliber 944, and pushing open the blind/ cover activates the minute repeater. The 18-carat white gold case incorporates a total of 270 parts, most of which are centred on moving the curtain and charging the winding system of the minute repeater. The movement alone has 340 parts to it.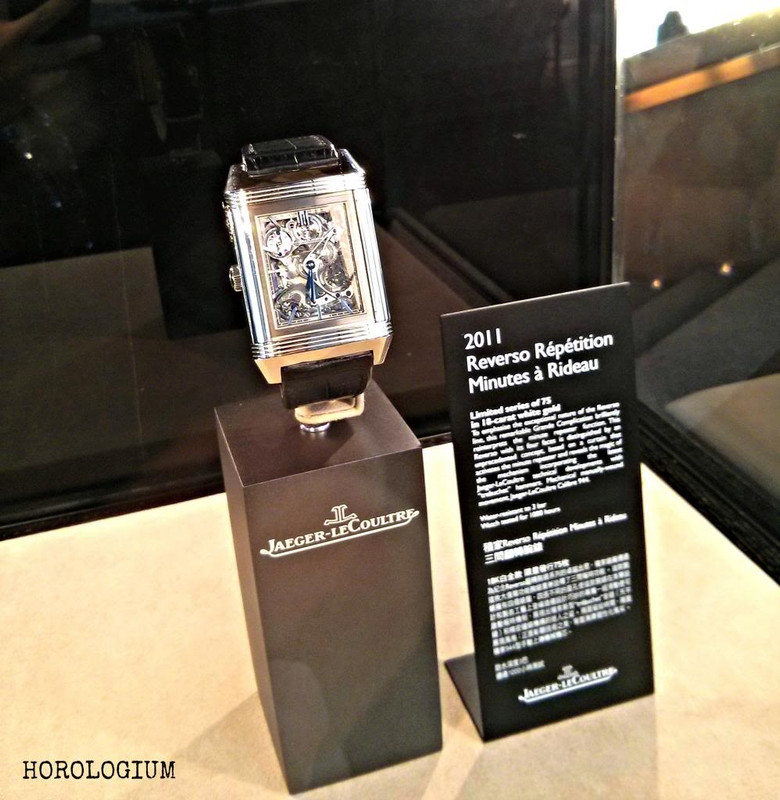 The Reverso Grande Complication à Triptyque, the first watch to feature three moving dials powered by a single movement. Not just any dials, either. The front shows the 'normal' time, the 'astronomical' dial shows the sidereal time, astronomical charts for the wearer's hemisphere, sunrise/ sunset, a zodiac calendar and sidereal time. The third dial is the perpetual calendar which requires a manual correction in 2100 and, for good measure, the watch has a patented tourbillon escapement. Only 75 of these were made in 2006, to commemorate the 75th birthday of the Reverso.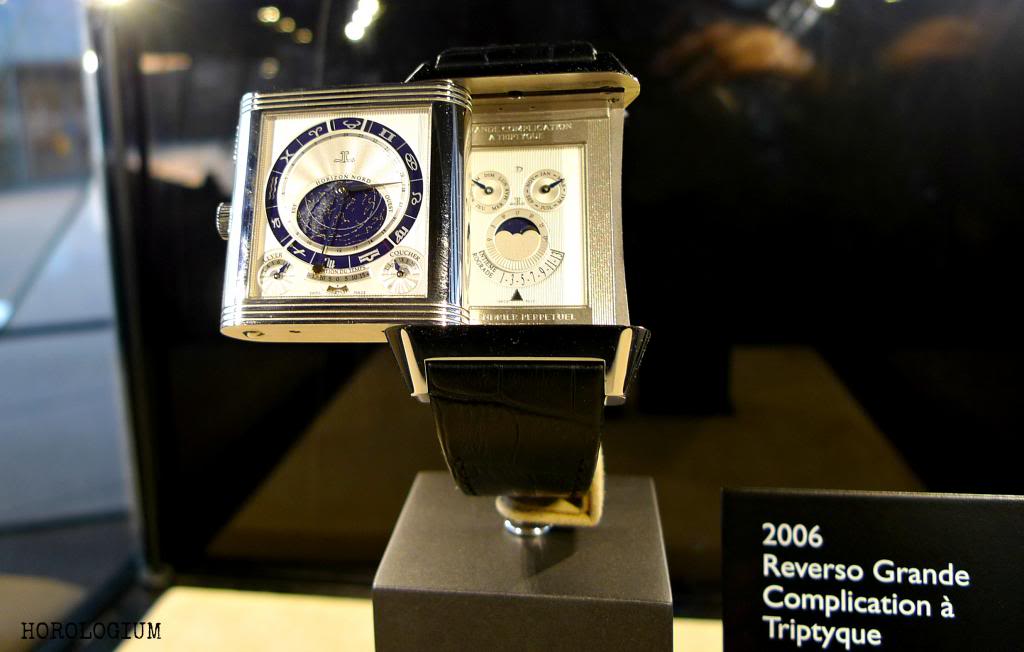 Master Compressor Extreme Lab – it's all about lubricants, the lack of them. Six patents and the Jaeger-LeCoultre Calibre 988C that is able to run for years without any wear or deterioration, purportedly even at -40°C, and which has a tourbillon with an ultra-light magnesium alloy carriage, two time zones, a pointer date display which jumps over the tourbillon carriage, and an AM/PM indication at 12 o'clock.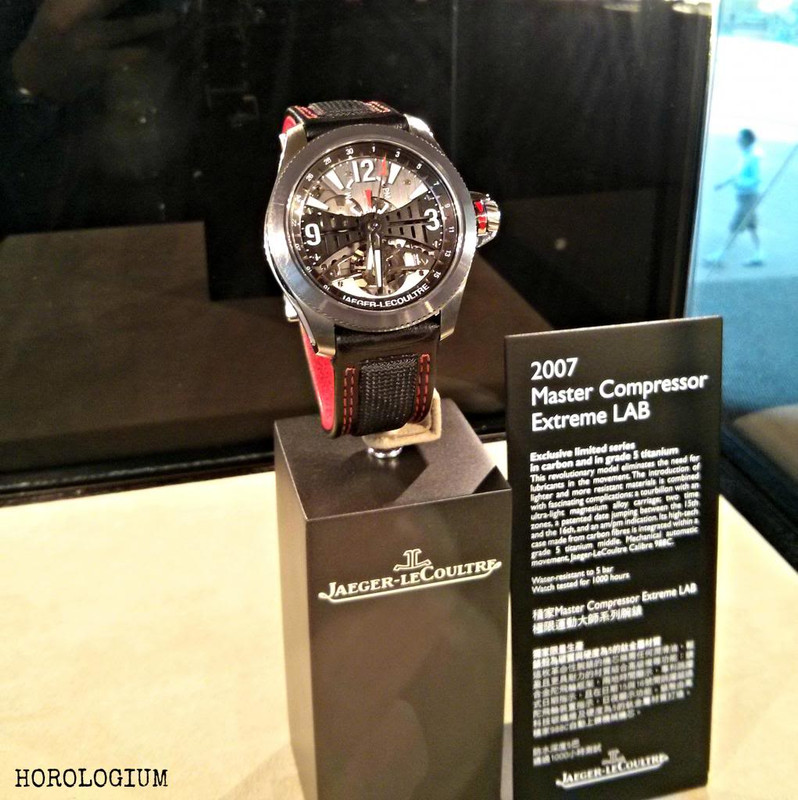 Hybris Mechanica à Grande Sonnerie – One of the most complex watches ever realised, this very rare piece has, in addition to the time keeping function, a retrograde perpetual calendar, grand sonnerie, minute repeater and tourbillon all somehow living closely together in a 42mm case.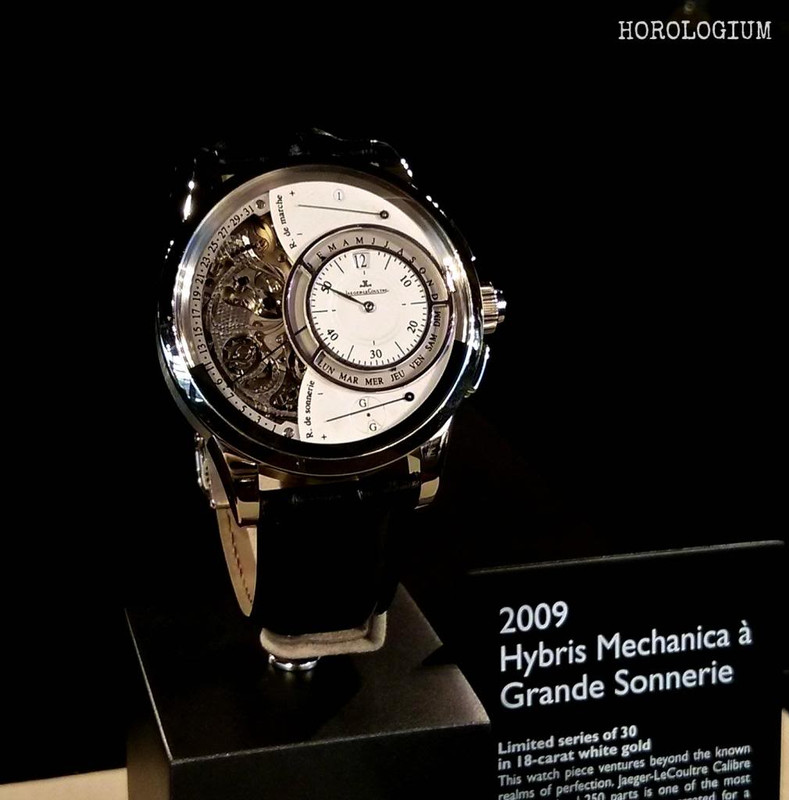 Actually, it has twenty-six complications and over 1,300 parts. That's right, 1,300 parts in a 42mm case. The complications?
1 Westminster Carillon
2 4 crystal-gongs
3 Grande sonnerie
4 Petite sonnerie
5 Silence(yes, this is what it is called – it refers to turning off the minute repeater and to have it in a 'vibrate' mode)
6 Minute repeater
7-8 Flying tourbillon
9-10 Perpetual and instant calendar
11 Days
12 Retrograde days
13 Months
14 Retrograde months
15 Date
16 Retrograde date
17 Jumping hour and minutes
18 Regulation device with inertia-blocks
19 Strike power reserve indicator
20 Watch power reserve indicator
21 Secured incremental hours setting (forward)
22-23 Secured incremental minutes setting forward and backward
24 Striking mode selector
25 Instant minute repeater activation
26 Automatic modes' switch
It is unusual to have these complications together at the same time, and especially so in Australia, but in the middle level of this three tiered horological extravaganza of an evening, there were more displays of some historically important models, and some modern pieces as well.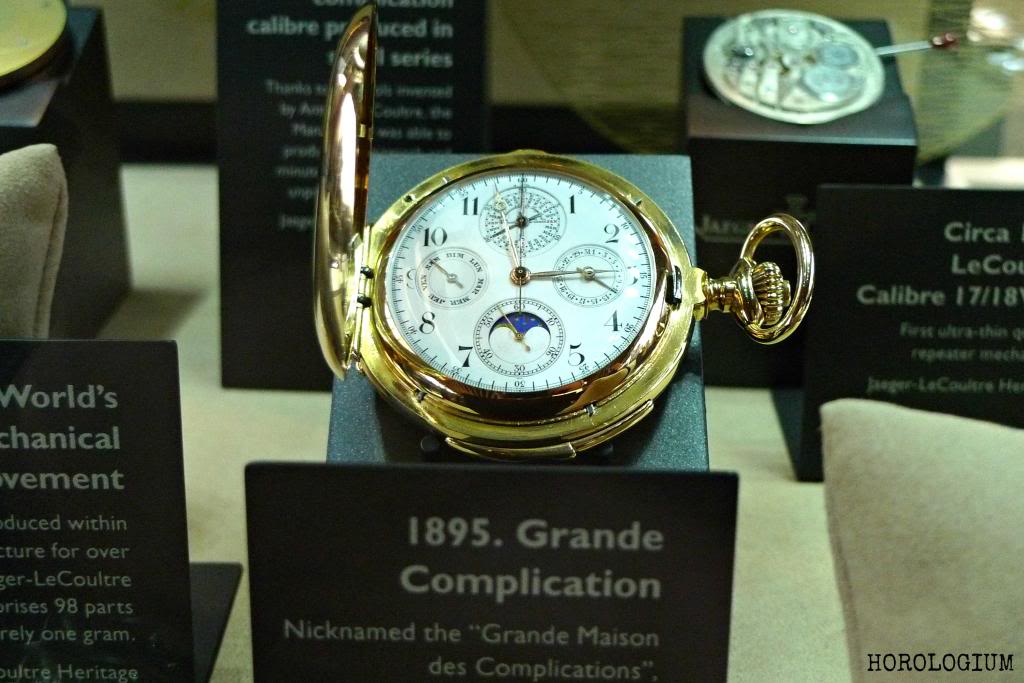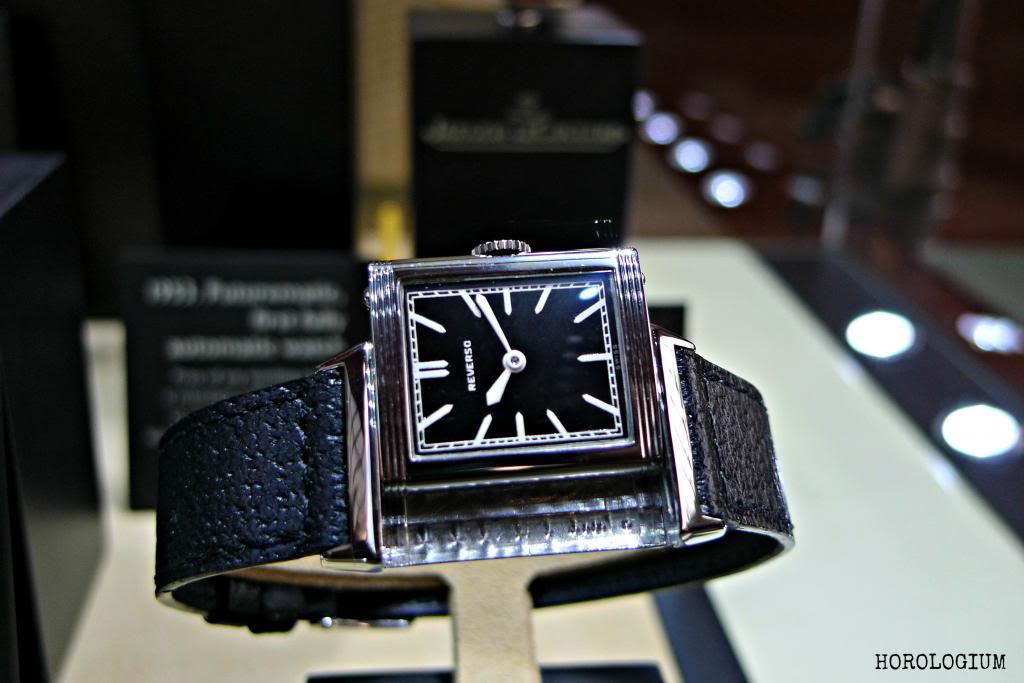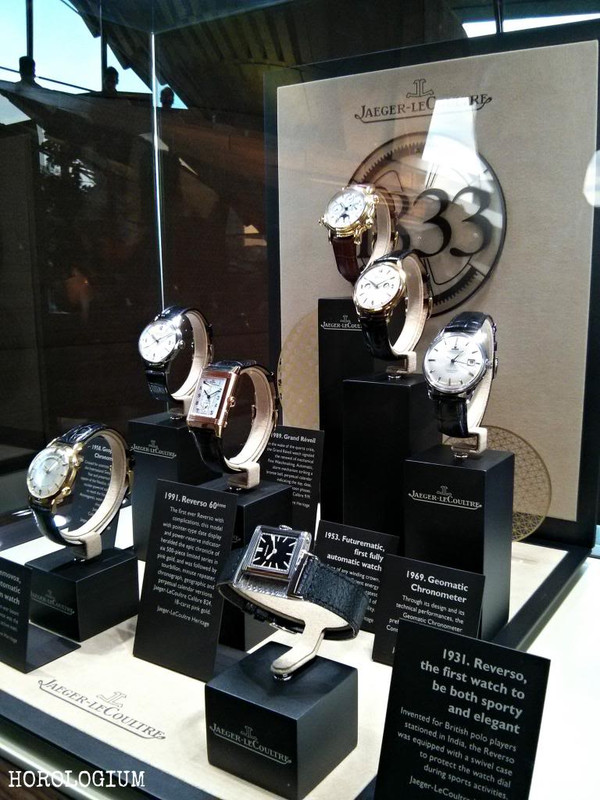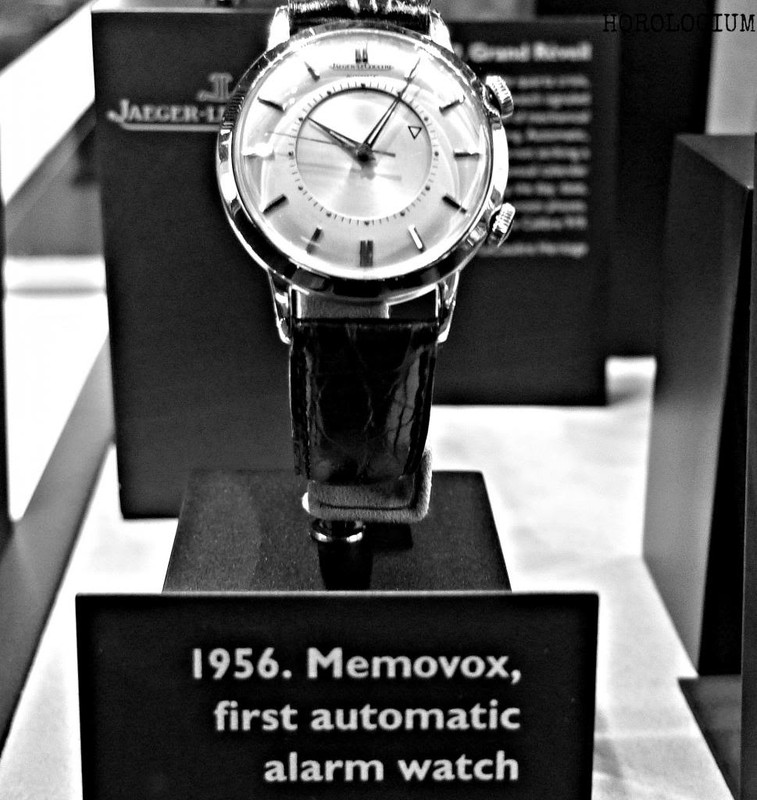 The historical pieces included a number of travelling pieces which form part of this year's international 180th anniversary celebrations. Each of these pieces represents milestones in Jaeger-LeCoultre's history. Some are more well-known than others, but each of them is key to understanding JLC, and in looking at these you get a sense of what is important to the Maison in terms of its historical identity in pure technical watchmaking terms and in aesthetic and design terms. What choices will they make for a 200th anniversary display and how will it compare to this year's? That will be interesting.
One of these watches was a rare beast, the Geophysic. In 1958, Jaeger-LeCoultre commemorated the International Geophysical Year by creating a robust utilitarian watch that was protected against magnetic fields (600 gauss), shock- and water-resistant, as well as extremely accurate. Fitted with Jaeger-LeCoultre Calibre 478b, the Geophysic chronometer was presented the commanders of the Nautilus and Skate, the first atomic submarines to go under the North Pole, with a gold Geophysic chronometer specially engraved for the occasion. Only 1,290 of these were made, and it remains a highly desirable and sought after piece. You can find out more about it here.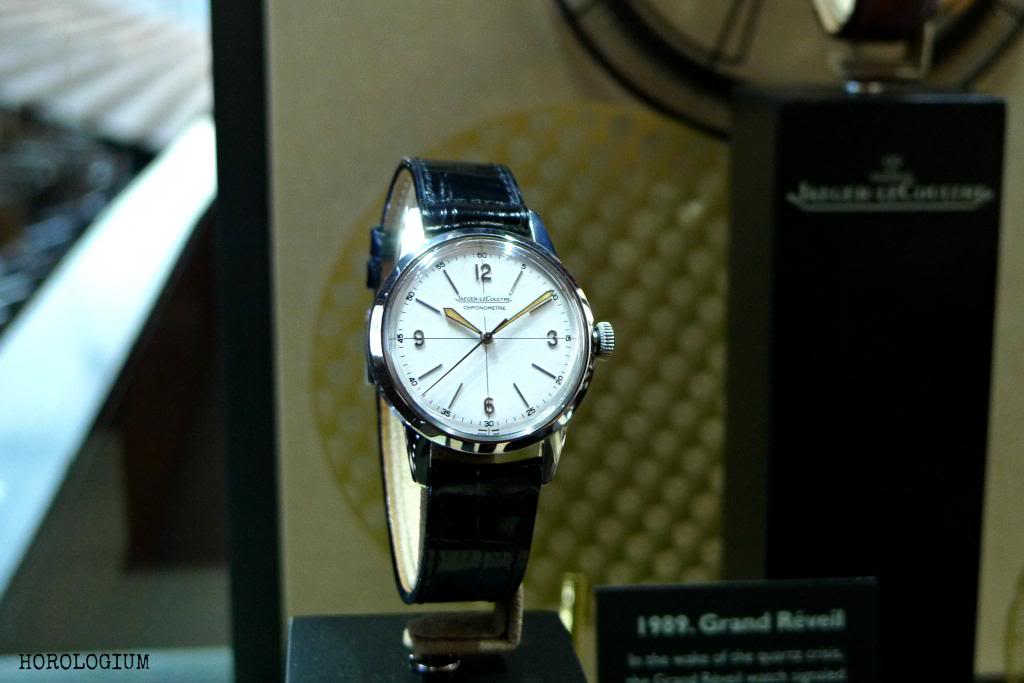 As well as these mechanical displays, there was also a human element in the form of watchmaker Aurelian, who spent the evening teaching guests about watchmaking and answering questions.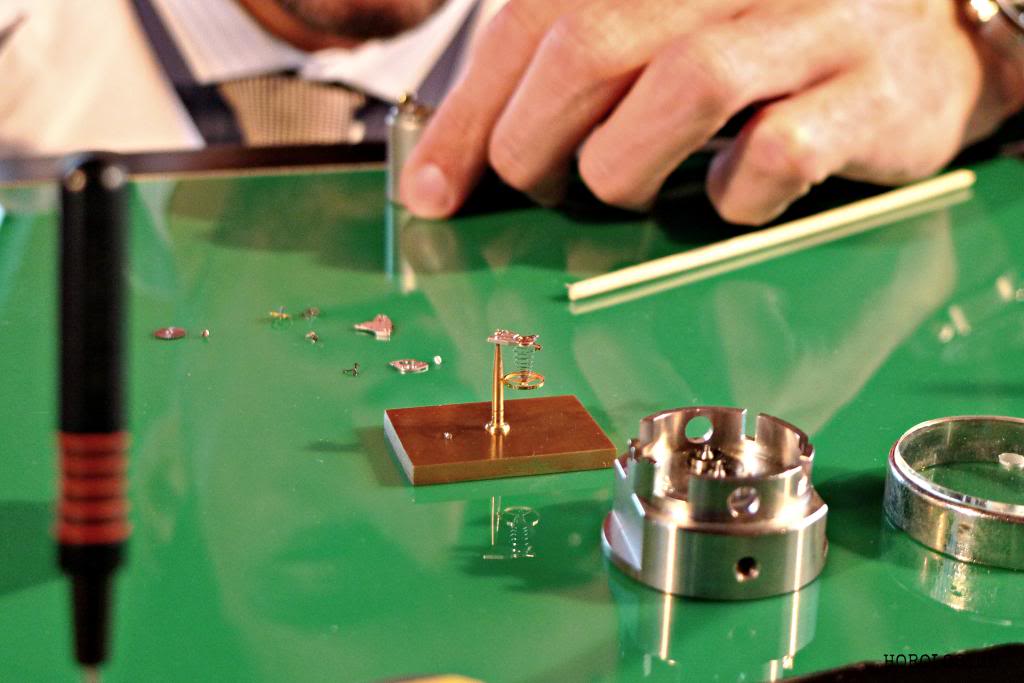 Each table was decorated with especially commissioned table settings– bell jars commemorating Jaeger-LeCoultre's historical achievements via both text on the jar itself, and in the accompanying decorations inside, such as watch faces. Quirky, unexpected, and educational as well.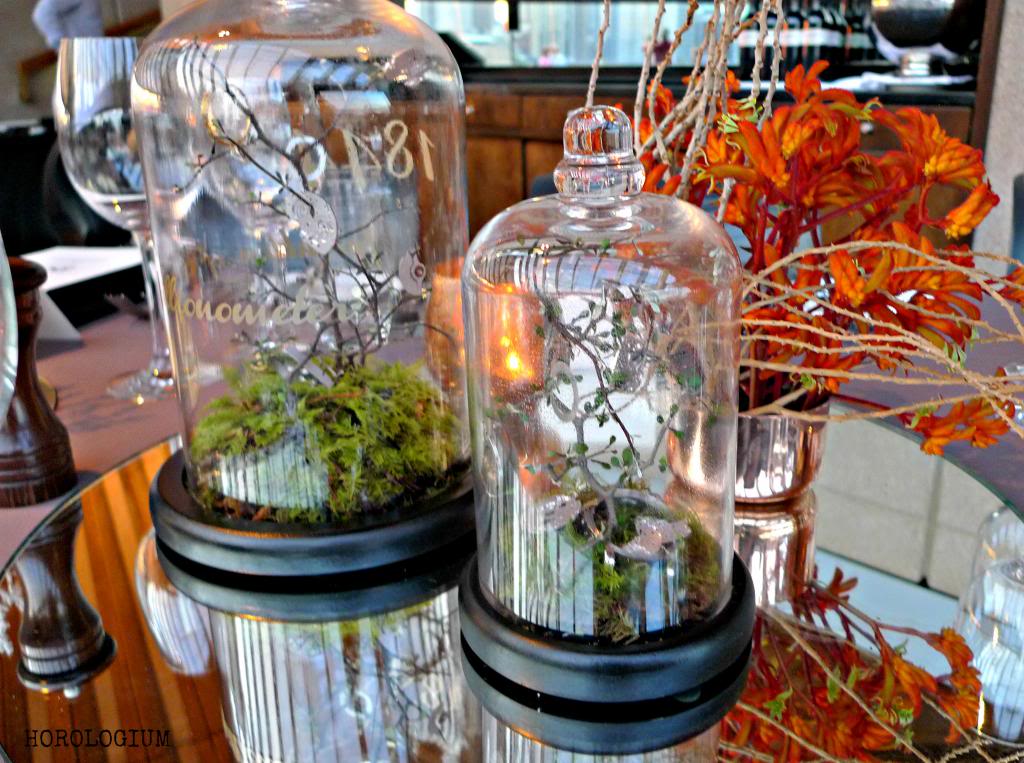 After dinner speeches were by Alexis De Laporte, Managing Director of Jaeger-LeCoultre (South East Asia and Australia) and Janek Deleskiewicz, as well as a short Q&A session.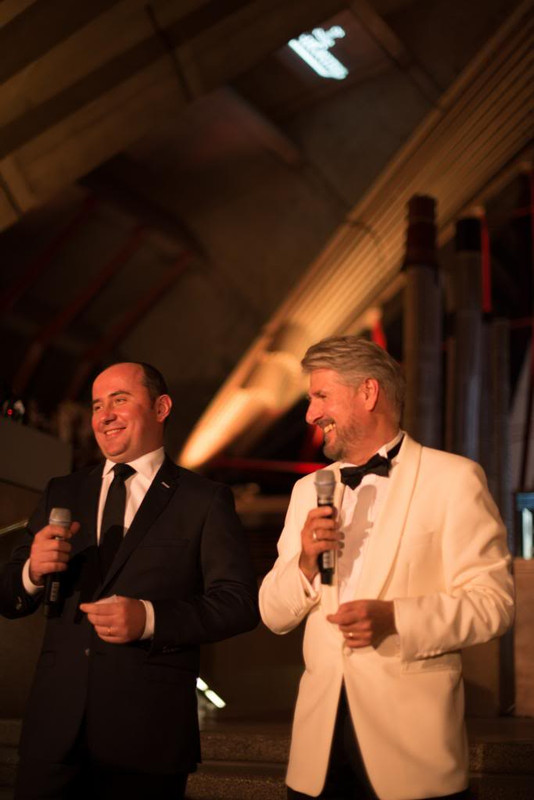 After both scheduled and unscheduled performances, the latter an impromptu duet by two guests (Michael Cormick and Julie Lea Goodwin) who have starred in 'The Phantom of The Opera', the surprise 'guest' that travelled with Janek Deleskiewicz was revealed- his saxophone. A keen jazz musician, it was a rare treat to hear him play 'Smile' and 'Blue Moon' before the evening drew to a close. Perhaps on his next visit, there could be late night jam sessions at local clubs?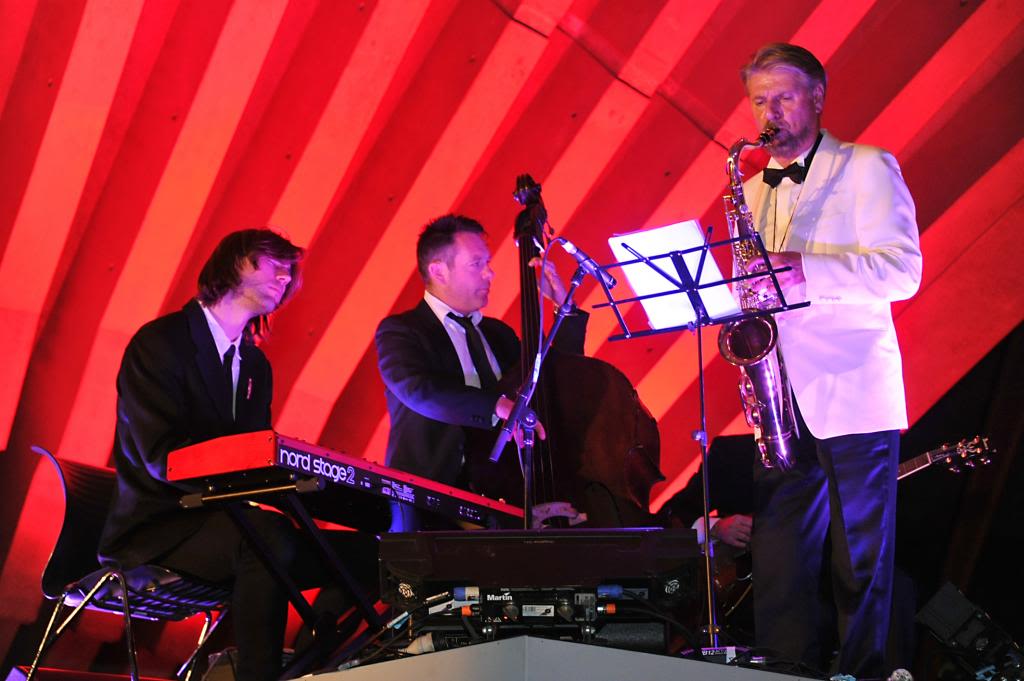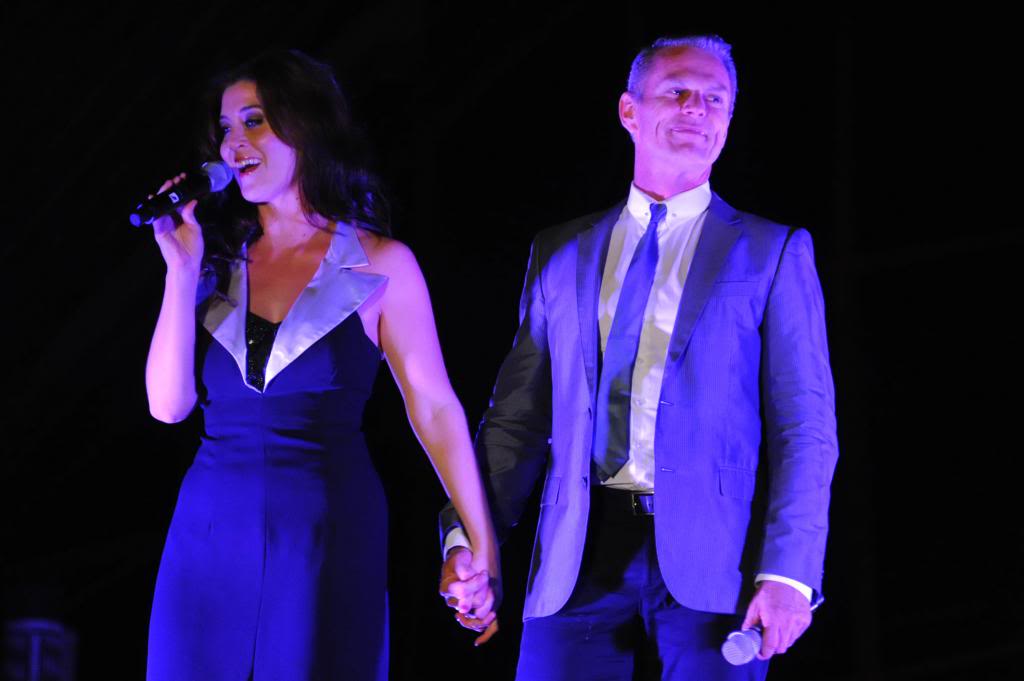 My thanks to Pierre-Etienne Durand (Brand Manager) and Sam Kan of Jaeger-LeCoultre Australia for the invitation to a memorable celebratory evening.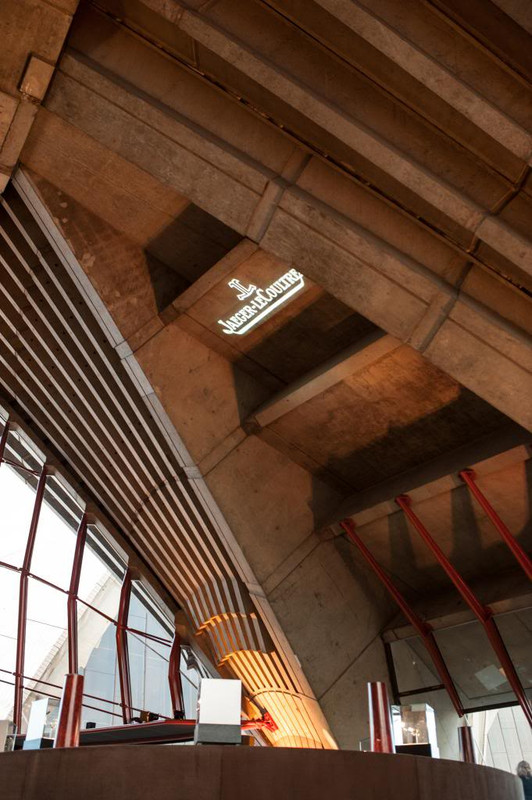 [Note : all photos not marked 'Horologium' were provided by Jaeger-LeCoultre Australia]
---
---
Categories: Ephemera, Events, Jaeger-LeCoultre, Limited Editions, Minute Repeaters, Platinum, Sydney, watches