One of the most engaging (and perhaps marginally frustrating) parts of the watch world is that sometimes, you are confronted with so many interesting things on people's wrists and appearing miraculously out of hidden jacket pockets that you aren't quite sure which way to look first.
Sometimes, you get even more lucky and find yourself unexpectedly meeting the friendly and down to earth Heike and Thomas Prescher and being confronted with a multiplicity of tourbillons.
For those new to them the tourbillon, which means 'whirlwind' in French, was invented by Abraham-Louis Breguet in the late 1700s (and patented in 1801) with the aim of counteracting the effects of gravity on a watch by mounting the escapement and balance wheel in a rotating cage, to negate positional gravitational effects on a timepiece and improve accuracy.
As I've noted before, whether tourbillons are necessary or not in modern timepieces is a moot point. People love looking at them, wearing them, and making them. After all, what's not to like about a whirlwind on your wrist? Their creation is a watchmaking art, which is why they command a premium, and their popularity in modern watchmaking bodes well for the continuation of this level of craftsmanship, skill and micro-engineering. It has also meant that with more watch brands creating tourbillons, more complex multi-axis ones have become the goal to aim for, with independent watchmakers and small brands at the forefront of this progression. It is very much arguable that Thomas Prescher has his own special place in this pantheon.
Thomas Prescher traces his own horological influences to Anthony Randall and Richard Good, British clockmakers who produced two and three-axis tourbillons in the 1980s, interpreting Good's work in creating a triple-axis tourbillon carriage clock for firstly pocket watches, and then wristwatches. The third axis would revolve hourly.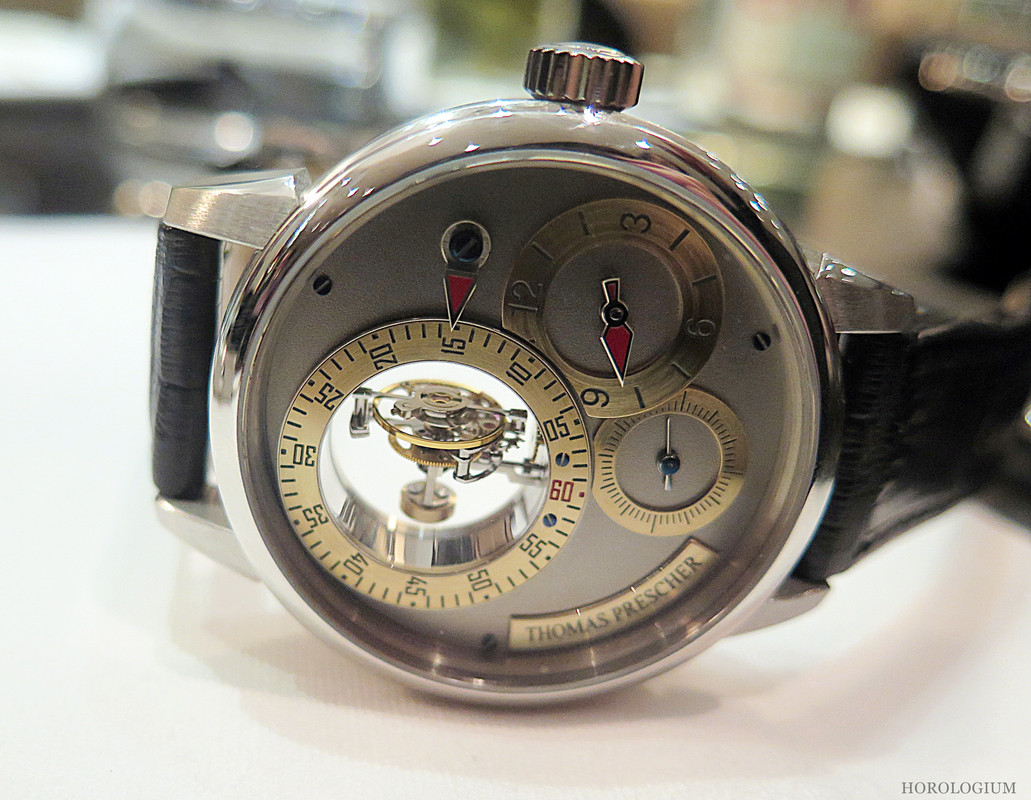 Meet the Triple Axis Tourbillon Regulator Sport. 'Sport' not in the sense that this over half a million dollar watch is for all your hiking/ diving/ cycling/ paragliding activities, as I'd really not recommend this, but 'sport' because it is more informal than his other creations.
The first impressions of this watch are that it's actually surprisingly discreet. At 43mm and 17mm thick, when you get to to terms mentally with having it on your wrist, you will find that it's comfortably sized and weighted. It can be ordered in 18k gold or 950 Pt, since it's able to be customised, so the weight will vary accordingly. Bearing in mind that it is housing a triple-axis tourbillon, the thickness is to be expected. A triple axis tourbillon with its spiral-shaped movement takes up a certain amount of space.
Movement wise it uses an in-house manual wind calibre 3W6A.3 beating at 21,600VPH and with a power reserve of forty hours. The plates and bridges are gold-plated brass and wonderfully hand-engraved/ guillochéd; it's a very interesting juxtaposition of clean lines and intricate handwork. The tourbillon itself is visible through both sides of the watch, mesmerisingly so. The first axis is that the entire tourbillion spins around at its point of connection; when it hits the red arrow indicator, this is the minute revolution. The second and third axis points of the tourbillion are that it spins vertically and horizontally in its cage. The height of the tourbillon rotation is 12.2mm and the size of the cage, 13.4mm.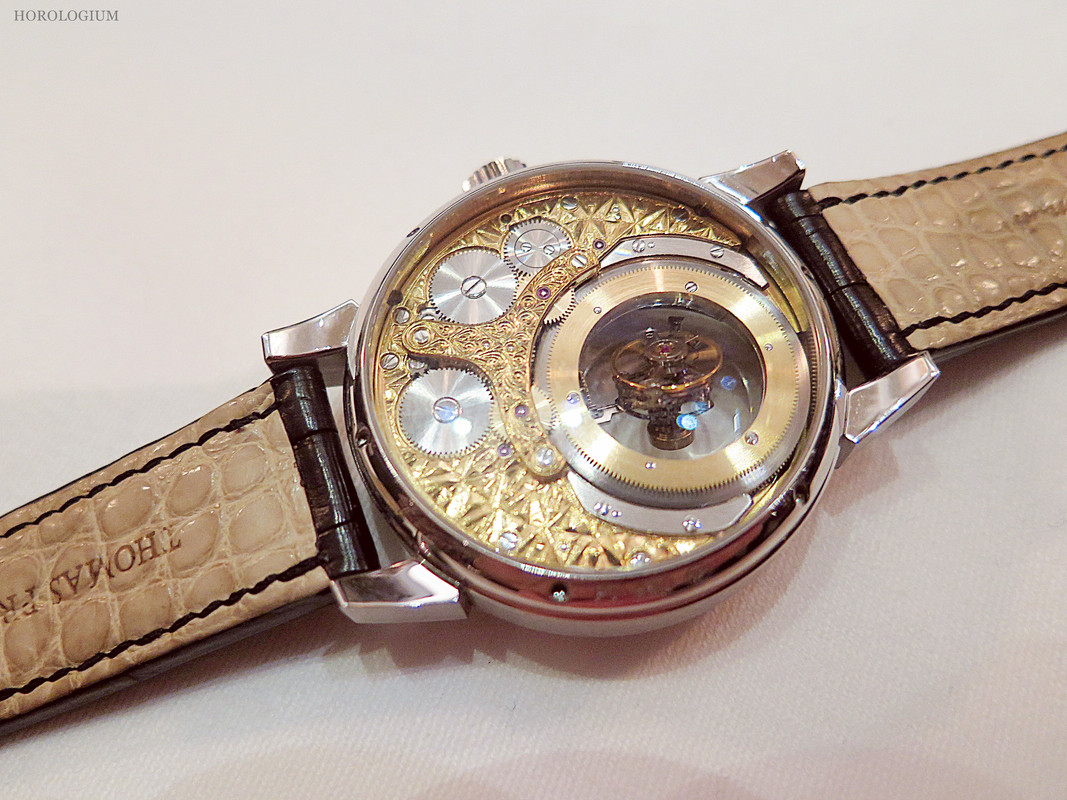 Thomas Prescher created the first flying double-axis tourbillon with constant force in the carriage in a wristwatch, which was presented at Baselworld 2003 and 2004. The tourbillon is powered by a constant-force mechanism called a remontoire. He created this constant-force mechanism to equalise the effects of a wound and unwound mainspring, friction, and gravitation, thereby ensuring that an even force is always supplied to the oscillation regulating system of the double-axis tourbillon. The constant force reloads six times per second.
The Triple Axis Tourbillon Regulator Sport is, as the name indicates, a regulator with sub dials, and its functions are confined to hour, minutes and seconds.
As mentioned earlier, the case is available in either 18 carat gold or Pt 950. Both versions have a crystal sapphire crystal on front and back, and are individually engraved with a watch number. The dial is 1.2mm of solid silver, hand guillochéd, with 18kt gold applied indices, dauphine-shaped hands, and what he calls a "hand-engraved name and number-plate".
The thing about triple axis tourbillons is that they are ever so rare 'in the wild'. To see one unexpectedly takes a certain amount of time to get one's mental faculties around, and somewhat to my regret, it has only been in the time following my unfortunately all-too-brief interaction with it that I've thought more about it and had the time to properly appreciate it, albeit without the actual watch in front of me. If I'm lucky, perhaps I will have another chance one day to 'have a play' with it, as they say.
A 'protip', as they say – if you are fortunate enough to find a Thomas Prescher watch in your hands, step away from everyone for a few minutes to somewhere silent (or less raucous) and take the time to have a proper look at it.
---
---
Categories: Hands-on, Switzerland, Technical, Thomas Prescher, Watch Profile, watches, Watchmaking