What was arguably the biggest new release during Baselworld 2013 was neither an expensive complication nor an exciting new brand, but the Swatch Group CEO Nick Hayek announcing the new 'Swatch SISTEM51' automatic movement, to be used in an entirely new line of Swatch watches to be launched in October 2013.
A movement developed by Swatch with the combined research and resource power of the Group behind it, the SISTEM51 comprises, as the name indicates, of 51 components. These form modules welded into a single unit centred on a single screw – assembly takes place on a fully automated assembly line. However, because of its design architecture, if something goes wrong you won't be able to pop along to your local watchmaker to get it fixed, as it is sealed within the watch's case.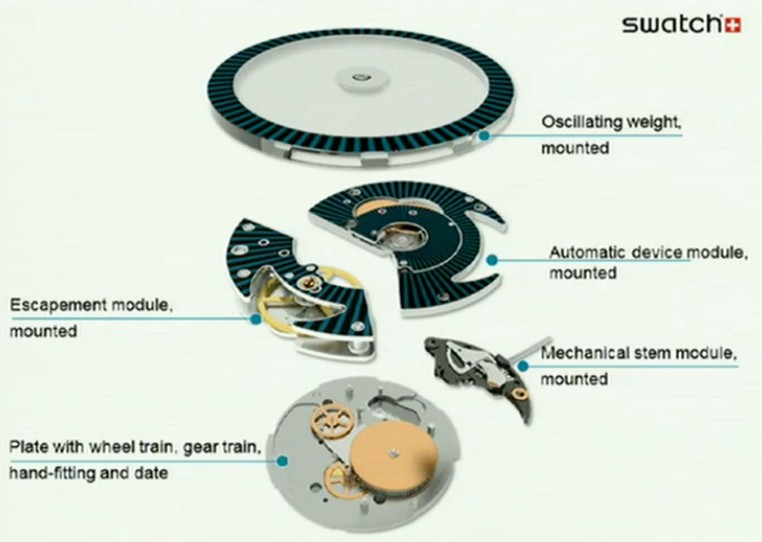 During his announcement, Mr Hayek drew an analogy with the parlous state of the Swiss watchmaking industry prior to Swatch's appearance in 1983. The revolutionary 51 component quartz movement introduced by Swatch at that time was designed to deliver huge numbers of very affordable watches for a public whose interest in timepieces was rather minimal. This new '51' is intended to similarly democratise automatic watches and to be as successful. For a 30th anniversary announcement, it has certainly generated a suitably loud buzz.
This new technical innovation by Swatch has involved the filing of seventeen new patents. It will be a 100% Swiss made mechanical automatic movement of 51 components made from ARCAP (alloy of copper, nickel, zinc), antimagnetic with an accuracy of 5 seconds a day and a 90 hour power reserve.
The Sistem51's rotor is a bi-directional rotating disc (rotating around that single screw). This will all be able to seen through the open case back. This first model's design has been, to quote the press material, influenced by Copernicus – "When Copernicus put the sun at the centre of the solar system, he changed the whole way we perceive and understand life. Sistem51 is a Copernican idea in contemporary terms!".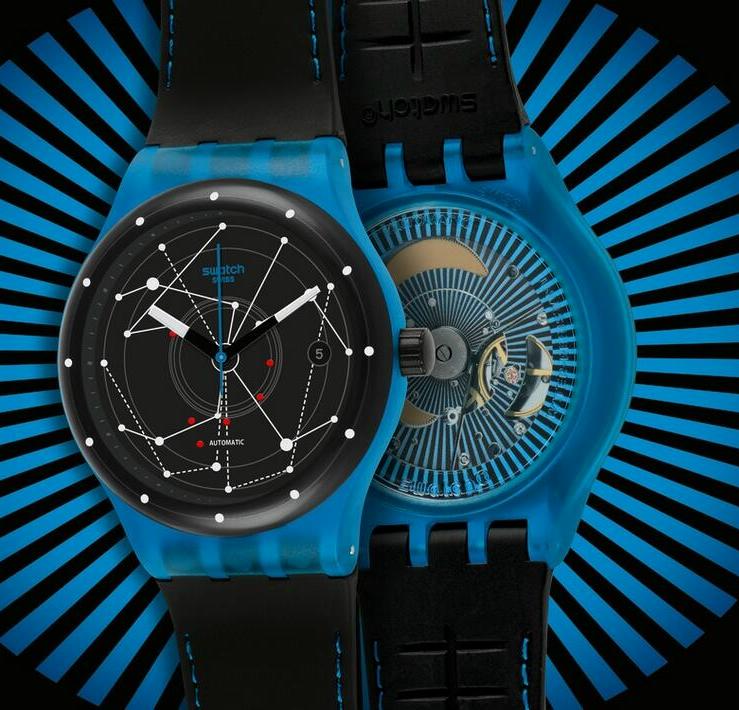 There is a high degree of automated machine-made work that goes into contemporary movement and watchmaking, even amongst expensive watches. Finishing and assembly may be done by hand, but the assembly line is where most of the stuff happens. Swatch has simply turned this up a notch, with the whole process automated. Was it merely going to be a matter of time before this happened? Well friends have certainly mused aloud about this possibility to me in the last few years.
However much I think about it, I keep on coming back to the fact that it is not only disposable, but that it is designed to be as such. I suppose that I am more used to the idea of 'disposable' quartz watches than I am of automatic ones; perhaps it is merely a case of becoming accustomed to the idea.
How long do quartz Swatches last, on average, before they require some sort of servicing? Providing, of course, that the cost of fixing it proportionate to the cost of the watch means that the decision to service rather than replace is taken. Although the SISTEM51 watches are designed as 'disposable', will they in fact end up, on average, outliving their quartz siblings?
There is also the environmental cost of potentially huge numbers of them ending up in as landfill when they reach the end of their natural lives. This brings to mind how in-built obsolescence, especially for electrical and electronic goods, has become the prevailing state for many products. In the past few decades it has increasingly become cheaper to replace than repair, assuming we can even find someone to repair the item, or that they are able to be repaired.
The pricing for the Swatch pieces containing this new movement will be within their usual range (estimate is a starting price point of just over CHF 100).
I expect that a lot of watch enthusiasts (including myself) will be amongst the first throng of people who will buy the first SISTEMI 51 pieces when they come out later this year. However, for a similar sort of outlay, will the average person walking in off the street in search of a watch to wear buy an automatic or a quartz Swatch?
UPDATE – 19 November 2013 : the first shipments of the Sistem51s were meant to be out by now, but aren't, so I asked a local Swatch boutique for some further information. The model will be released on 22 November 2013 in Switzerland, with the rest of the world to follow in June 2014. They told me that the interest in the watch exceeded expectations, and they are producing (and stockpiling) in anticipation of a run on them come next June. However, in addition to this blue model, it is anticipated that there will be other colours available by the time they are available, including green. Put your name down now, or if you are travelling to Switzerland, you will be able to get one there instead. The price in Australia is estimated at this point to be around $160 or thereabouts.
UPDATE – 17 December 2013 : After a further delay, the Sistem51 was launched in Geneva on 15 December 2013. The 'rest of the world' launch is now estimated to be 'early next year', whatever that may mean. The colours avilable in this first release are blue, red, black and white. The price of the Sistem51 is 150 CHF/ 120 EUR.
UPDATE – 4 September 2014 : The wait is over. The Sistem 51 will be available in Australia from tomorrow (5 September). For further details see this post.
---
---
Categories: Baselworld 2013, Industry news, News, Swatch, Technical, Watch movements, watches, Watchmaking