We have had the 'something new' from Cartier, and today is about the 'something old' – the relaunching of the Cartier de Pasha.
As a collection, Cartier's Pasha in the modern form was introduced in 1985, but its name and concept goes back to 1932, when the then Pasha of Marrakech, Thami El Glaoui, commissioned Cartier to make a watch that would be able to suit his jet-setting lifestyle and also be water resistant, so that he could swim in his pool without having to take it off.
Gérald Genta, the name responsible for so many classics, created the modern Cartier Pasha. The collection has several core characteristics – smooth round cases, round crowns with a cabochon stone, a square inner minute chapter ring, large 12,3, 6 and 9 numerals, sword-shaped hands, and distinctive connections to the bracelet/ strap. There have been variants that have abandoned some of the dial features, even the square, but at a minimum the case has remained the same and immediately distinguishable.
Until 1985, the mythical Cartier Pasha was purely associated with Thami El Glaoui. Genta's design was in an 38mm sized case, and in addition to the features mentioned above, it kept El Glaoui's idea of having a watch with some degree of waterproofness courtesy of the chained crown protection cover. These first Pashas were all in yellow gold and made in limited quantities but covering everything from time-only pieces to chronograph, GMT and perpetual calendar variants. Steel Pashas did not arrive until the late 1990s. There have been various limited and unlimited collection models since then, but it isn't until this new collection that there has been a comprehensive reboot of the Pasha since the 1980s.
The relaunched 2020 Pasha retains the case shape, the square inner chapter ring framed by a round case, Arabic font, sword shaped hands, fluted crown cover, and stanchion bracelet connectors. It has a slightly amended version of the original chained crown cover, now with a blue sapphire on the crown plus the option of having a personalised engraving of initials underneath which is visible only be seen when the cover is removed.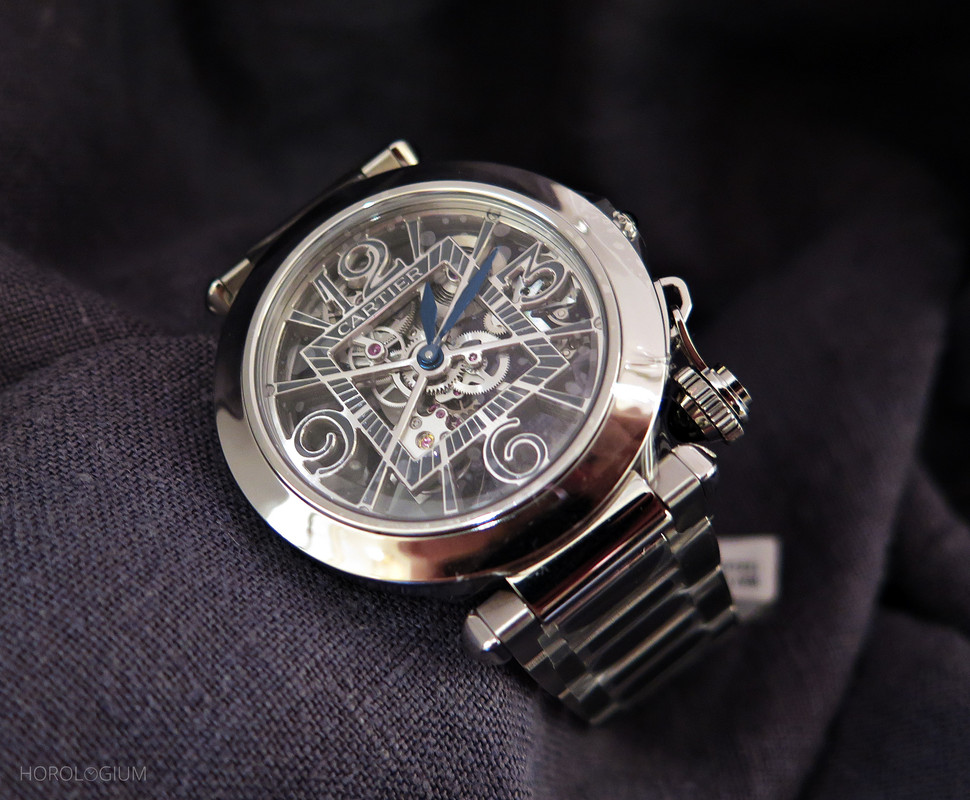 Although there are obviously a range of new Pasha models released this year, mostly in the classical time-only vein, we are looking at the Skeleton today.
Why? Not just because it was what grabbed my attention and because I quite like a skeletonised piece, but also because the open-working highlights the distinctive square inner chapter ring. Also, unintentionally, I found my thoughts turning to the Pasha 'Grid', which had a protective cage over the dial/ face. It must be noted, though, that there was a 'recent' limited edition Skeletonised Flying Tourbillon released in 2011, which was a significantly larger 46mm in size.
In comparison, this year's new Pasha Skeleton comes in a far more manageable 41mm case in either pink gold or stainless steel (thickness of 10.45mm), and it is the latter which I had the opportunity to see. The skeletonised movement is the automatic Calibre 9624 MC, which beats at 28,800 VPH and has a power reserve of 48 hours.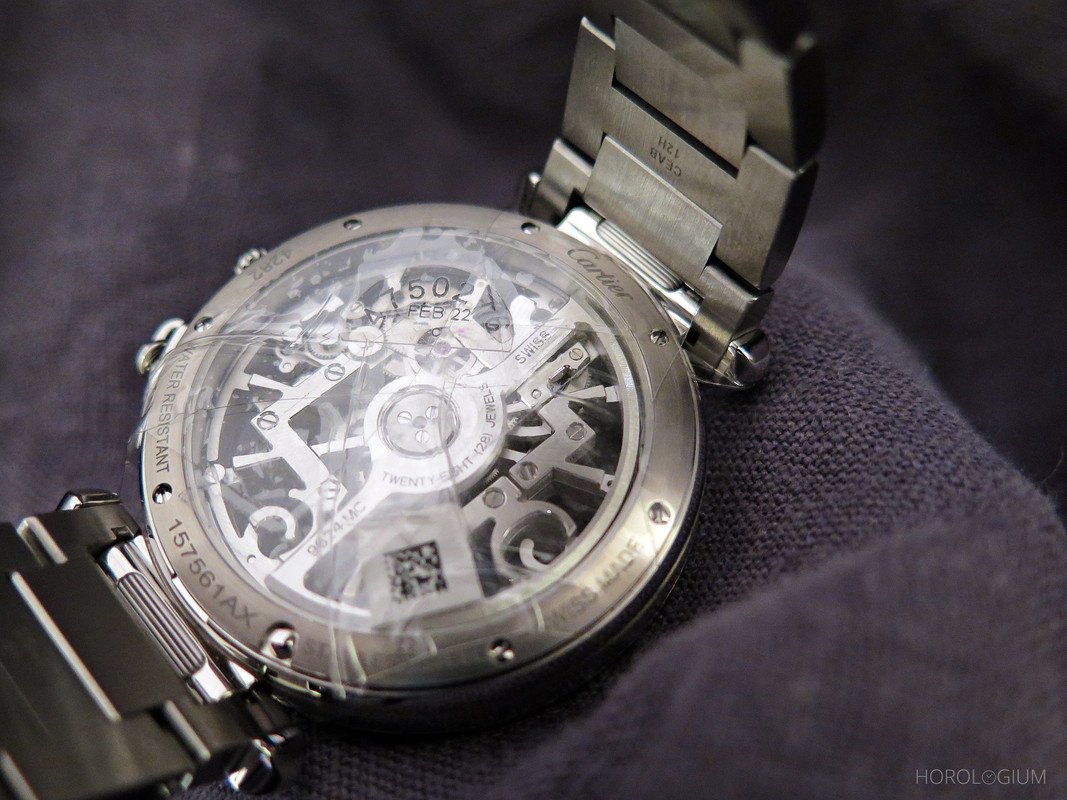 As is the case with all the new Pasha de Cartier, the Skeleton has the proprietary QuickSwitch system which enables an easy strap or bracelet change simply by pressing a button under the case. In the bracelet form, as per these photos, there is also the SmartLink size adjustment system which is also operated by a button that releases the bar to allow for removal/ addition of the links. My personal preference for the steel skeleton model is on the alligator strap rather than the bracelet simply because I think it looks better and highlights the Pasha case and lugs a bit more, but the bracelet is as one would expect from Cartier – it is solid quality, and sits comfortably.
The steel model has an RRP of AUD 38,100. It is also available in pink gold (RRP AUD 144,000) and there is an 18 kt white gold model set with brilliant-cut diamonds that is AUD 207,000. Unfortunately neither of the other two variants were in the boutique during my visit.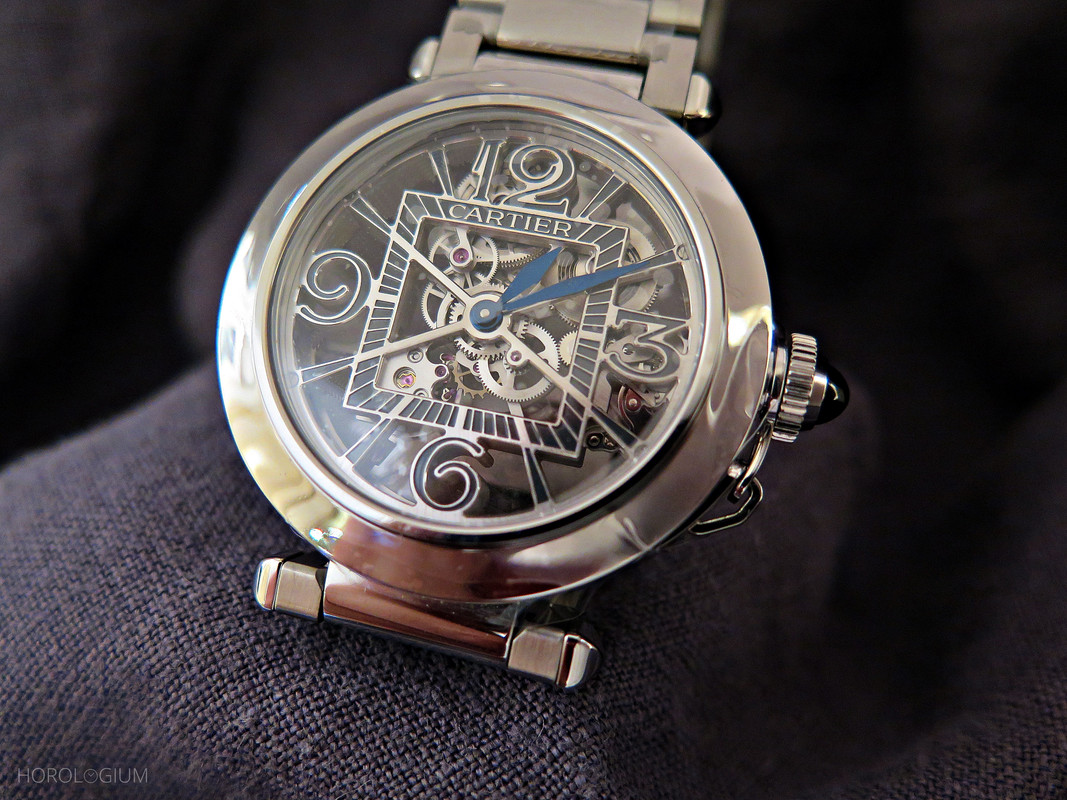 The title of 'Pasha' is an honorary one, and was a higher rank in the Ottoman political and military system. Thami El Glaoui was the Pasha of Marrakech during the French Protectorate, and a supporter of colonial rule. Marrakech was for many years administered by the Glaoui family, of which Thami El Glaoui was the last. A close ally of the French, he played a pivotal role in helping them overthrow Sultan Mohammed V, although he eventually apologised and repented for this when Morocco became independent in 1956 and Sultan Mohammed was reinstated. He had form in the 'overthrowing of Sultans' game, having been involved in the dethronement of Moulay Abdelaziz in 1907. 'El Glaoui' refers to his chieftainship of the Glaoua tribe of Southern Morocco, but his his family name was El Mezouari.
El Glaoui had an ostentatious unrestrained lifestyle and was one of the world's richest people at the time. He owned significant stock in French-run mines and factories, and obtained his wealth through various means, including from tithes of the almond, saffron and olive harvests in his domain (he had a monopoly on the southern markets for olives, hemp, and oranges), and import taxes on certain goods that came into his region.
---
---
Categories: Cartier, Sydney, watches, Women's watches