Two years ago, I wrote a post about the Daniels Anniversary watch, which you can read at this link. Less than a year before the Anniversary, at Salon QP 2015, Roger Smith announced new Series 1, 2, 3 and 4 watches, scheduled for delivery commencing in 2018. It is one of these new pieces that is the focus of today's post.
Firstly, let's go back a bit. In 2010, Smith created a single-wheel version of George Daniels' co-axial escapement, This improvement enabled more accurate escapements which led to improvements in actual timekeeping. He did not sit on his laurels, but continued to work on it. Smith found that the lighter the escape wheel, the better it performed.
The next major evolution was the one used in 2013's Union Jack adorned GREAT Britain. The escape wheel, now 23% lighter and leading to improvements in timekeeping, was as light as he could make it, so he decided to reduce its size, which meant that the rest of the escapement, main plate, and bridges, also needed to change. This watch also lead to enquiries about the possibility of a time-only wristwatch sans the flag.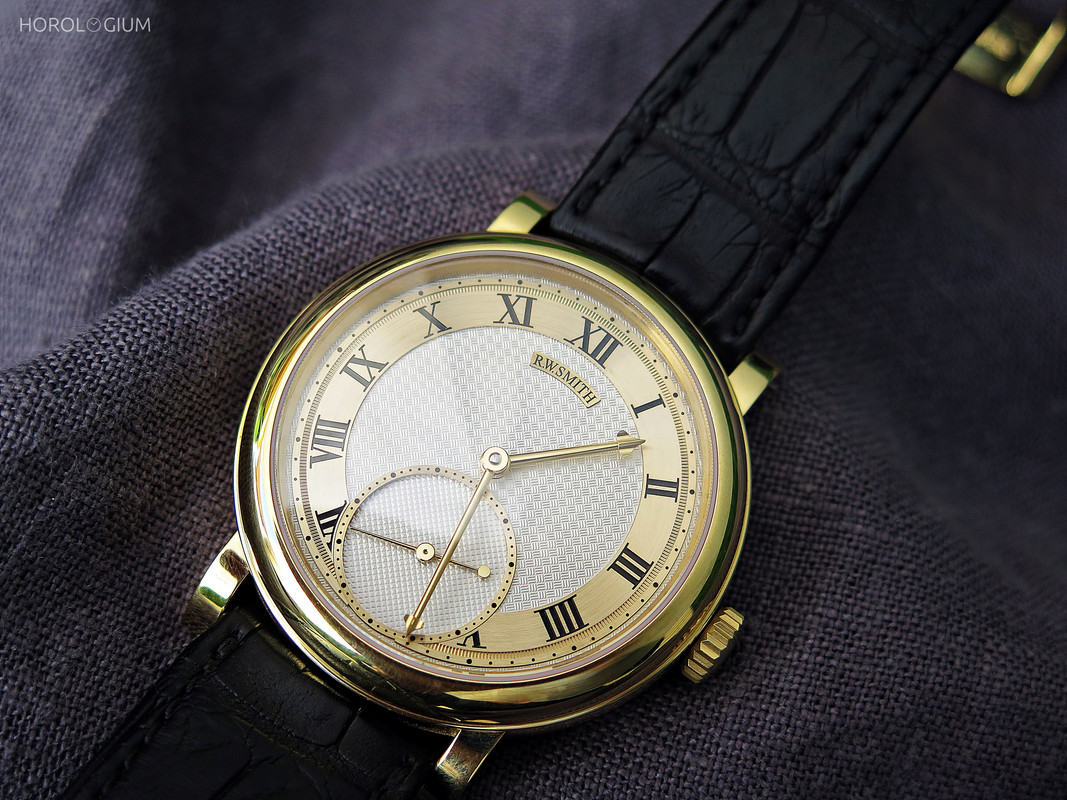 It now exists, in the form of the new Series 1. The original Series 1 featured a retrograde date, a complication which is now situated within the new Series 3. The current (new) Series 2 has hours, minutes, and seconds, and a power reserve indicator and the Series 4, has day and month indications/ markers along with a moon phase. This additional calendar complication has also resulted in the Series 4 being 44mm as opposed to the 40mm size of the others.
The result of these years of work are this current collection, all of which include the latest version of Smith's co-axial escapement. This movement development meant a chance for him to re-examine at his entire collection, and a 'refreshing' of the Series to include his horological development. All the new manual-wind Series are based around the same train of wheels, new escapement, winding and setting mechanisms, but each watch has its own individual base plate.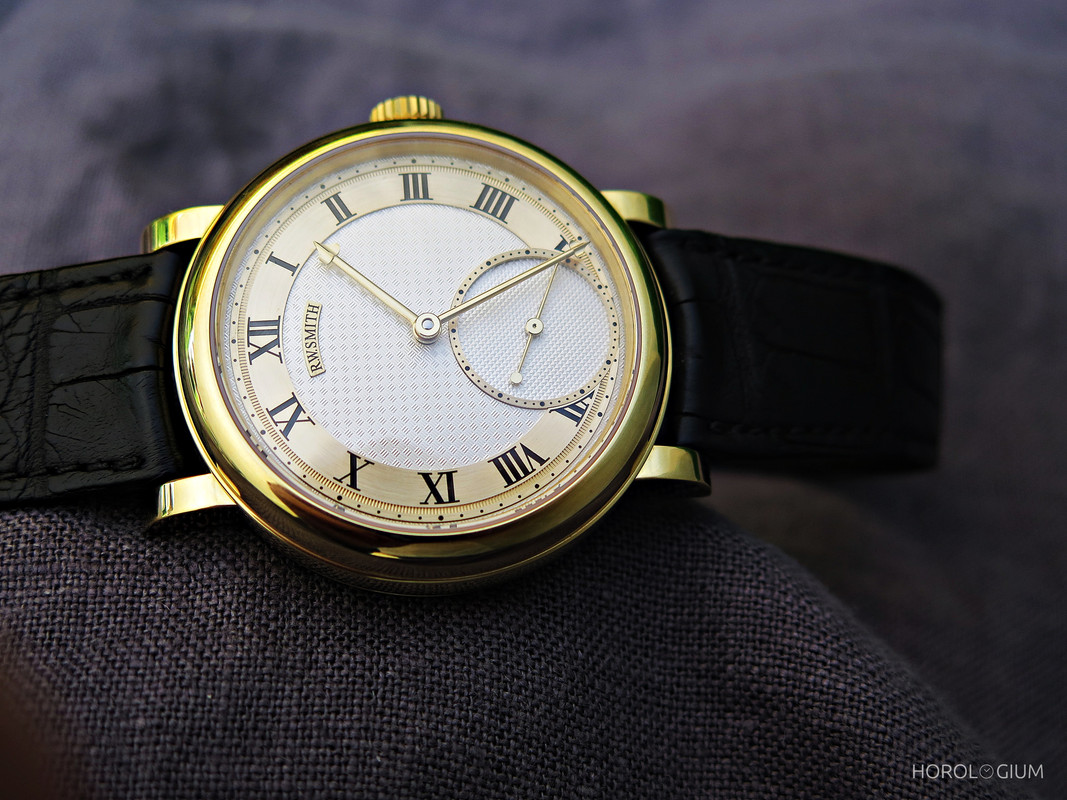 I had the good fortune to be able to see one of these new pieces.
All of his current range watches come in a choice of platinum or 18 carat yellow/ red/ white gold cases. The owner of this Series 1 decided to go for yellow gold case, hands, and chapter ring. The engine-turned dial in this example is not the only option available, you can also discuss an engraved dial.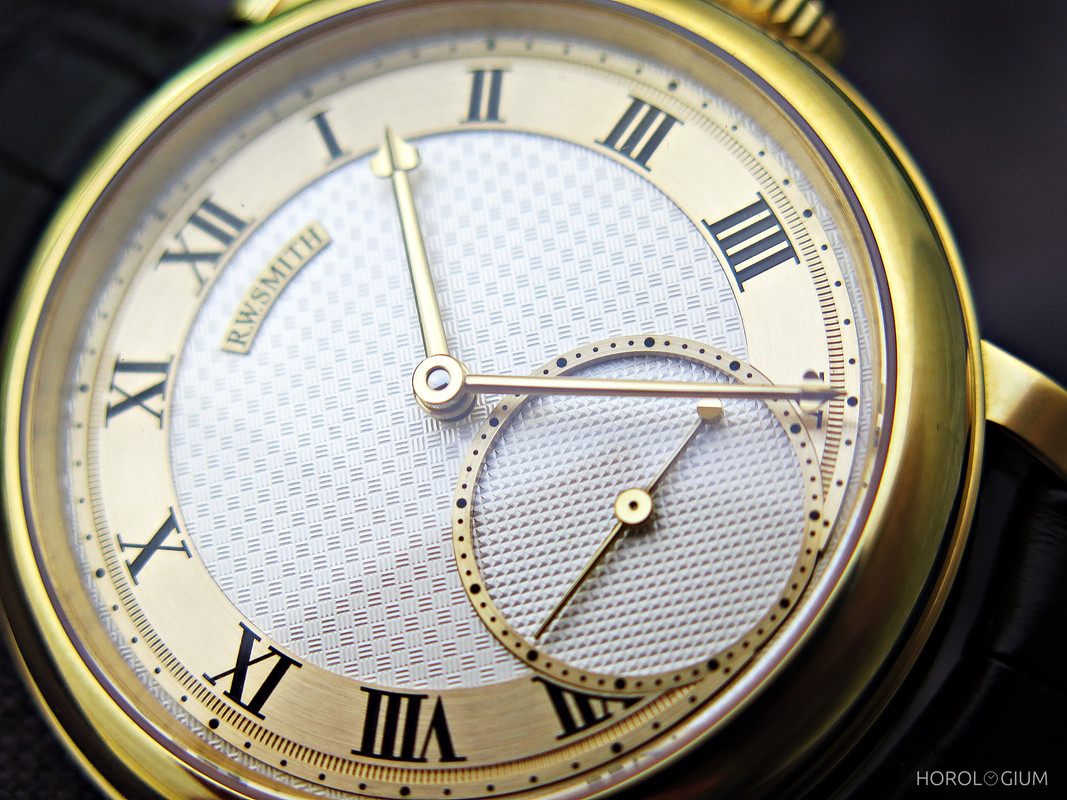 This time-only watch contains, as mentioned, a movement with Roger Smith's latest single wheel version of the Daniels Co-axial escapement, a free sprung Quadrajust balance, raised barrel bridge, and a balance cock which is engraved with an English floral design. The movement beats at 18,800VPH and features classic English finishing, and frosted and gilded plates. Screwed are flame-blued to a blue-purple shade. As you can see, it is numbered and signed, as well as dated.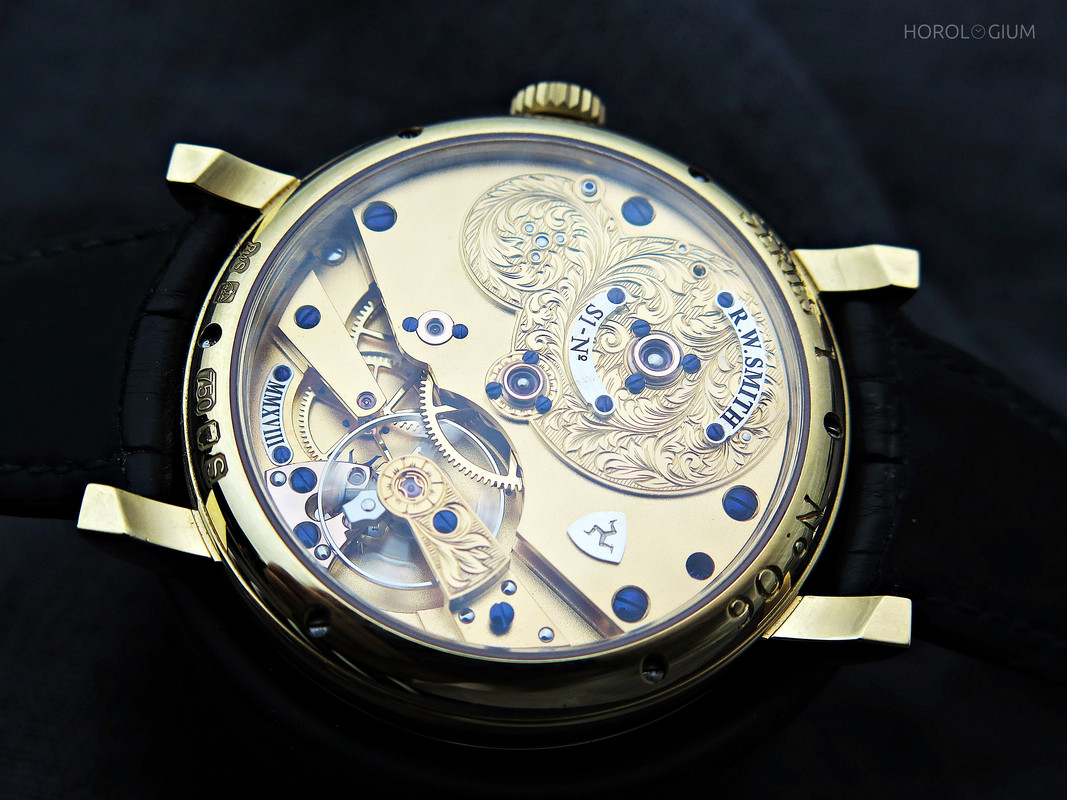 For the average person, it is a rare thing to be able to handle one watch from the workshop of Roger Smith, let alone two. Since his first Series 1 timepiece in 2001, fewer than one hundred pieces have come out of his workshop. Against all expectations even two years ago, I have now been able to see and handle two pieces, the Daniels Anniversary and this new Series 1. I can't speak to the other other case metal options, but in comparing this yellow gold Series 1 to the yellow gold Anniversary, what surprised me was that they 'feel' quite different.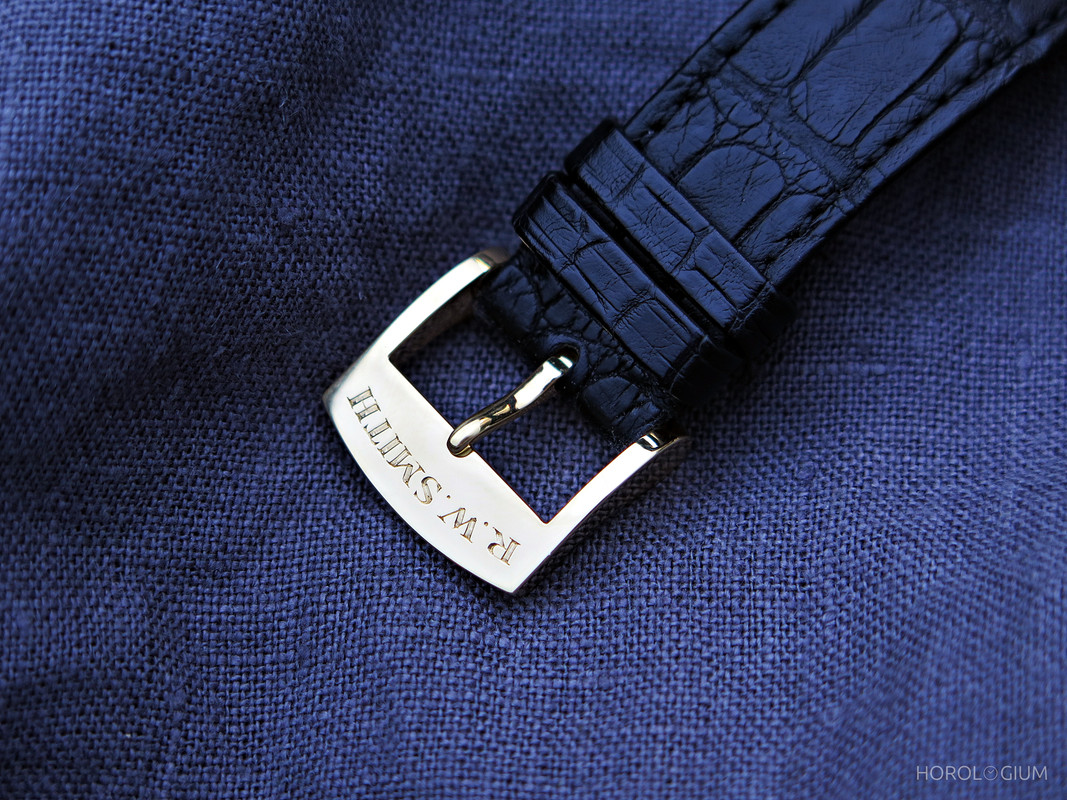 They are very clearly closely related, but it is as though they are step siblings. In terms of overall impact, the Series 1 is brighter and more 'shiny' as it were, than the more subdued Anniversary. The dial, a combination of hand engine-turned silver with inlaid 18 carat yellow gold chapter rings against a flame-whitened background, is now familiar. As with the other Roger Smith watches, numbers and letters are hand engraved and inked in by hand before being coated with lacquer which is applied by hand using a brush. Dial wise, it is in the engraving and inking that there is the most obvious difference between the two watches, with the inking less obviously done by hand in the Series 1. One of the charms about the Daniels Anniversary I saw is, in fact, that its dial idiosyncrasies make it possible to identify from other exemplars.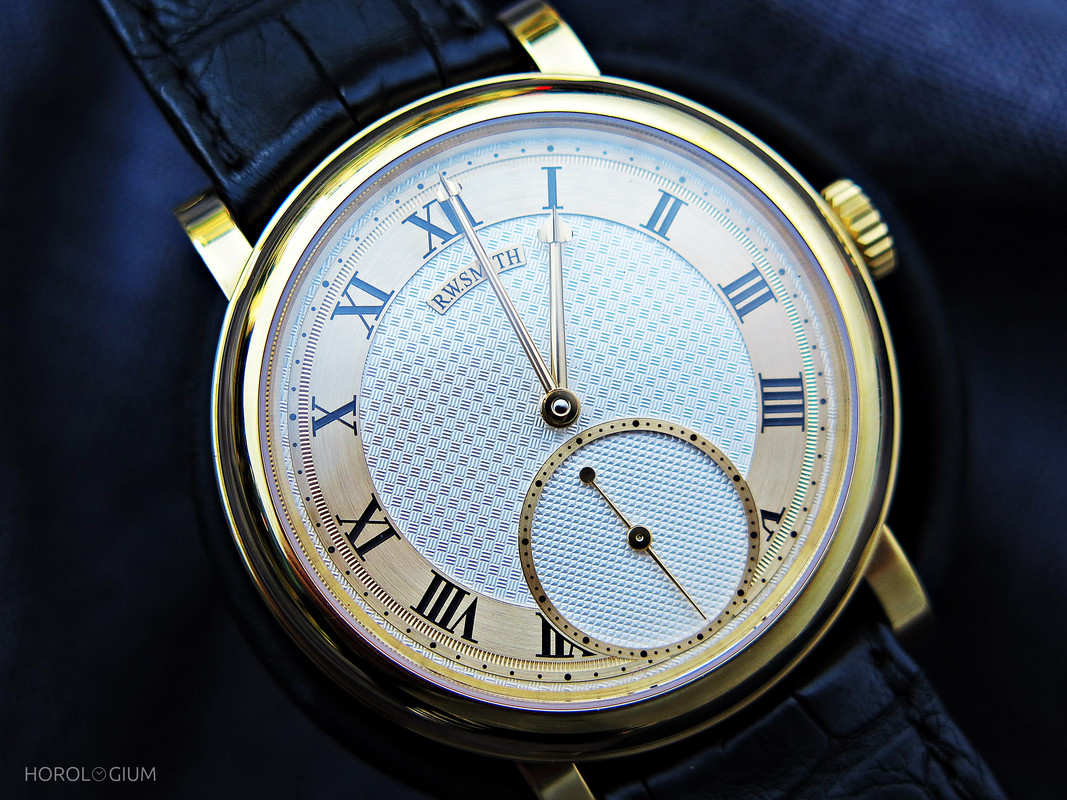 Turning over to the movement side, there is also a difference that goes beyond that of a different (and new) movement. The finishing of the frosted and gilded plates has been further finessed and refined. The watch's owner commented to me that for those accustomed to the movement on Swiss watches, this style of finishing might require some mental adjustment, but it really is very sharp, clean, and shows beautiful workmanship.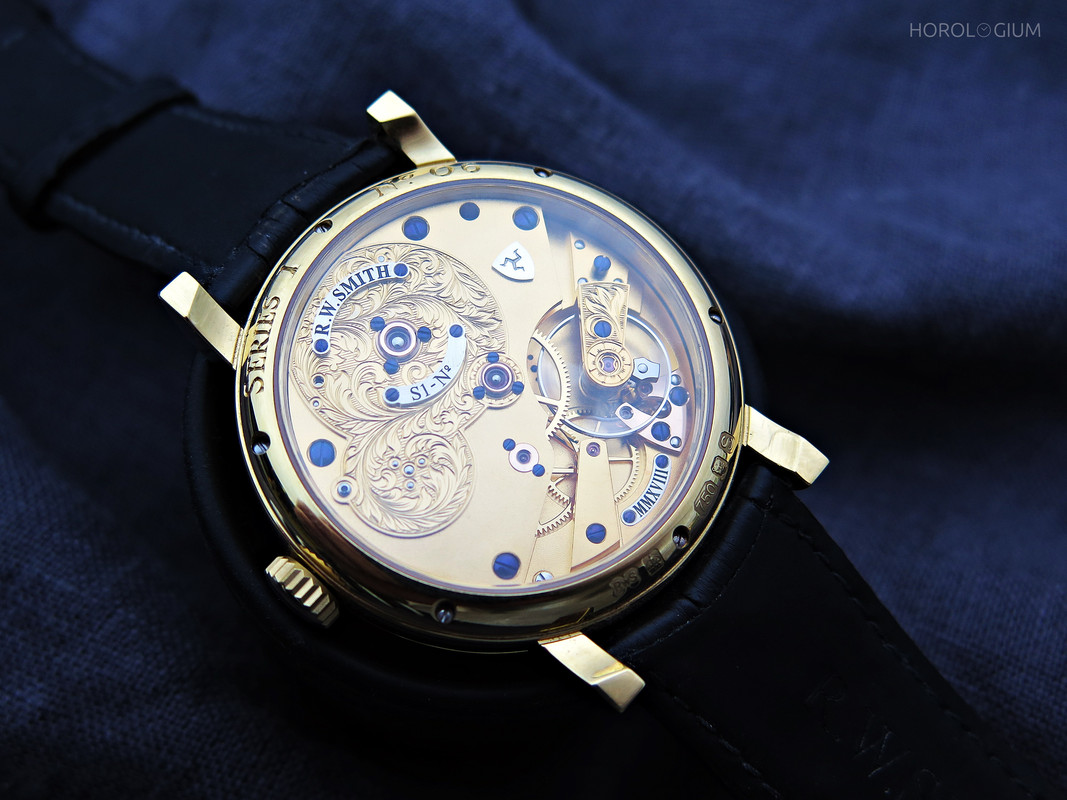 I often write about how different a watch can appear 'in the metal' to photos of it, whether these photos be amateur or professional. This watch also fell into this category for me; in daylight, the case has a glow to it that I did not pick up in photos, and which it was difficult for me to capture. It would be interesting to be able to compare it in all the metal variants.
I mentioned in my Anniversary post that something that took me by surprise was how wearable it was, in the sense that it felt like a watch to be worn rather than just kept in a safe, in spite of the price tag. It felt 'wrist accessible', for want of a better way of putting it. This Series 1 has proven to be the same for its owner, who has been wearing it on a very regular basis. There is a place for special occasion watches, but it is always good to see that watches that were made for regular wearing, worn.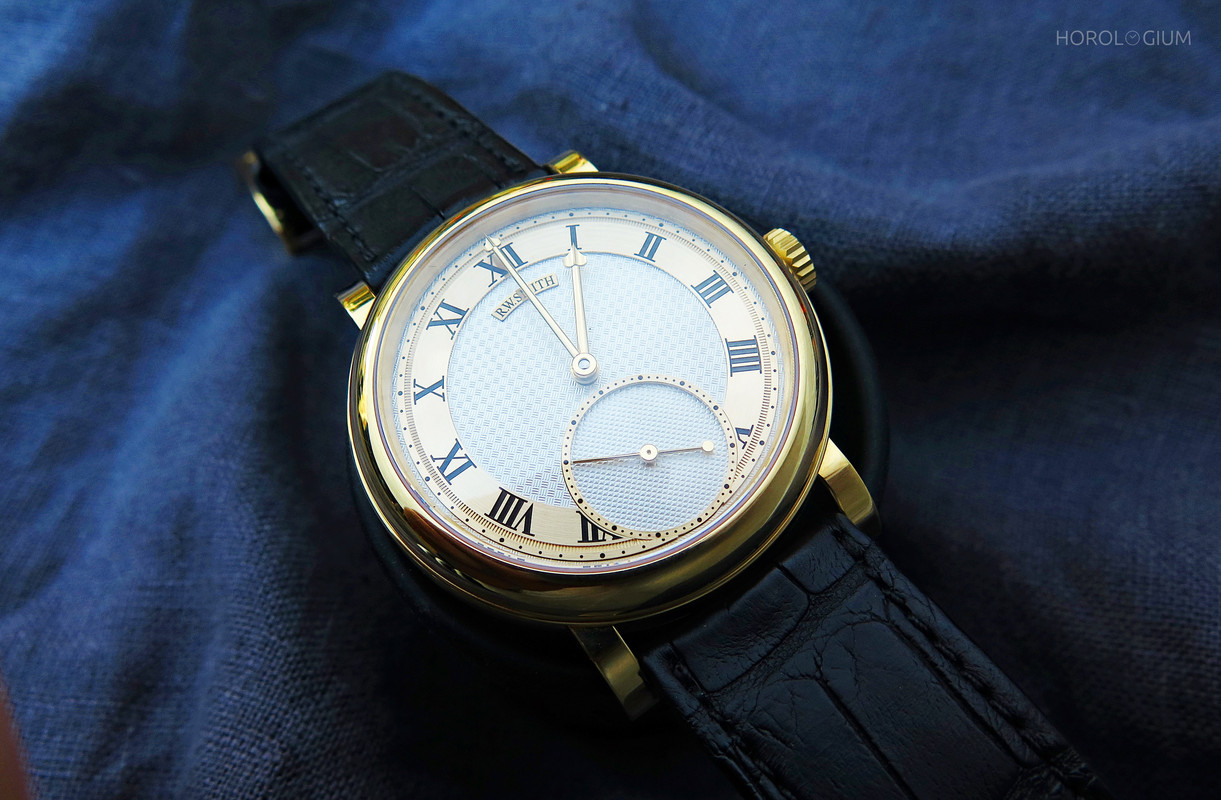 In December 2017, Roger Smith was a guest speaker at the Horological Society of New York (HSNY). His talk was titled 'The Development of a Practical Watch Escapement'. The HSNY shared the talk online, and you can view it below.
---
---
Categories: English watchmaking, Hands-on, Roger Smith, Watch movements, Watch Profile, watches, Watchmaking