Today's featured watch is not a watch that you happen across every day. Nor every month, for that matter. Having heard that it was newly arrived at Sydney boutique J.Farren-Price, I grabbed the opportunity to look at the 'ne plus ultra' (as they say) of Reversos – the Reverso Gyrotourbillon 2, in pink gold.
This is, quite simply, a huge watch. The case has to be of a certain size to contain the spherical double-axis tourbillon; the movement alone is 11.1mm thick, in a case 15.8mm thick and with dimensions of 55 x 36mm. In fact the watch case is so large there's a secondary integrated lock slider near the crown to prevent accidental reversal.
Functionally, the watch has hour and minutes, a 24-hour display, seconds and power reserve indicator at the back courtesy of a hand integrated within the movement. The dial side shows the hours and minutes through two heat blued hands on a sapphire dial at 12, and the 24 hours is shown on the upper left of the dial.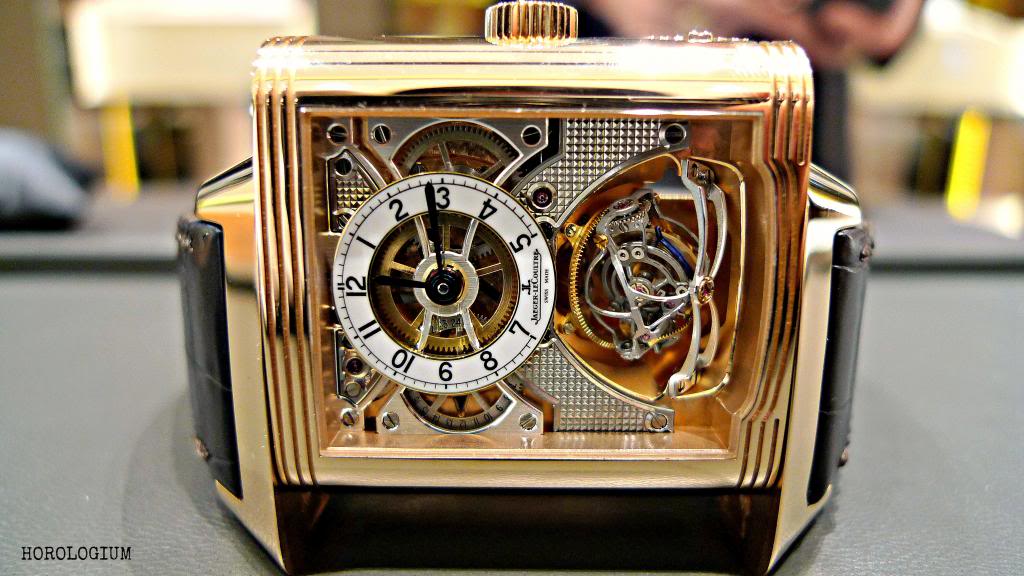 The Gyrotourbillon 2 uses the hand-wound Jaeger-LeCoultre Calibre 174 movement – 371 parts, 58 jewels, 50 hour power reserve and a hefty 11.25mm in height.
The movement forms the dial, allowing the various types of finishing (clous de Paris, anglage, perlage, matte, brushed, polished) to be viewed. The front dial is white with yellow gold and the back dial features rhodium-plated white gold. Both front and back hands are baton-style. There are nickel silver bridges and plates, drawn and chamfered bridges, and blued screws.
The Calibre 174's frequency is 28,800 VPH i.e. 4Hz, compared with 3Hz of the Jaeger-LeCoultre Calibre 177 of the Gyrotourbillon 1. The balance-wheel is made of 14-carat gold. This second Gyrotourbillon is distinguished by the presence of a cylinder-shaped balance-spring with end curves, invented by English watchmaker John Arnold, who had it patented in 1782.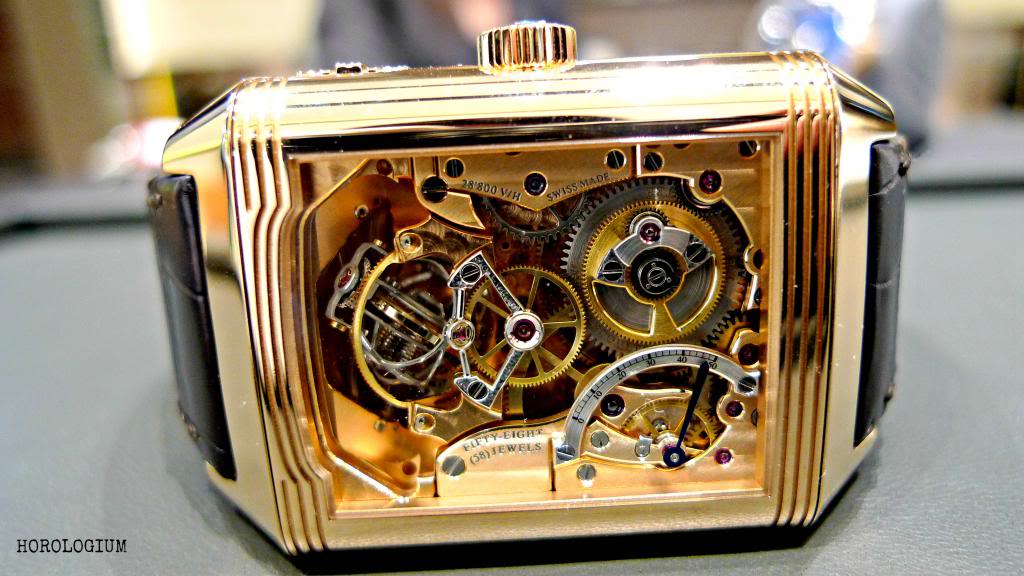 The Gyrotourbillon 2 has two intertwined tourbillon cages. The titanium and aluminium inner carriage which supports the balance-wheel, balance spring and escapement rotates every 18.75 seconds and the aluminium outer carriage performs one complete turn about its axis every 60 seconds. The combination of the two axes set to a 90 degree angle creates an ellipsoidal movement of the regulator that is said to isolate it from gravitational effects in any position. The total weight of the 100 part spherical tourbillon is a mere third of a gram.
Another attribute of the Gyrotourbillon 2 is its torque-limiting device that limits the power reserve to 50 hours. This also locks the manual winding if there is a risk of too excess energy being supplied by an over-enthusiastic owner.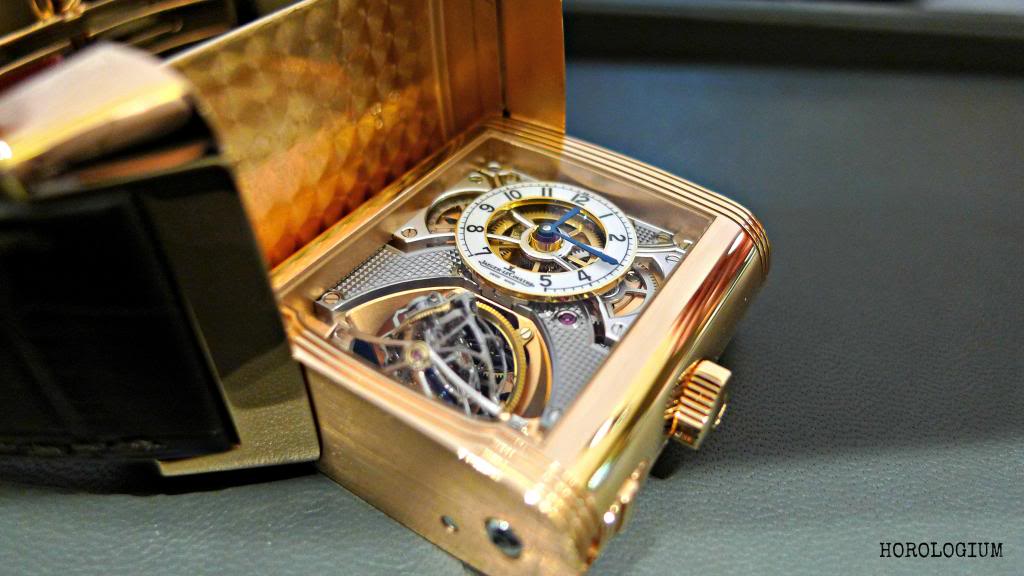 As mentioned earlier in this post, at 55mm x 36mm this is a watch with a fair amount of bulk to it. Along with this heft is a degree of weight as well, and I say this as someone who finds Sinn's tegimented U watches moderate in weight. Sometimes the weight of the watch goes beyond a mere issue of grams, and becomes also a matter of how heavy it seems to sit on the wrist. The Gyrotourbillon 2 is one of those watches which sits in both a large and weighty fashion, although the reasons for this are easily understood by the pure logistics of its movement as mentioned previously, and how to fit it into a Reverso case. You probably need an above average sized wrist to properly bring this piece off.
There is no denying that this is a very impressive watch both unto itself and as a successor to the Gyrotourbillon 1, and when you're playing in this horological league, watches come with a similarly impressive price tag. There is also a Gyrotourbillon 2 in platinum and both are in a limited edition of 75, but the PG one is more easily obtained – simply place and order and wait a few months. The platinum one is sold out.
---
---
Categories: Jaeger-LeCoultre, Limited Editions, watches