Today Horologium brings you a post about a model that we wanted to mention when it was launched at Baselworld 2013 but were unable to do so due to the lack of press photos available. For me, this was the standout model of interest and the one I was most interested in seeing – the new Seamaster Bullhead.
The first Omega Seamaster Bullhead was introduced in 1969, and vintage Bullheads remain a sought after watch for collectors and enthusiasts. This year Omega has re-issued this collectable, with the design of the 43mm x 43mm stainless steel piece very similar to the original and having already generated positive feedback online from collectors for its fidelity to its roots.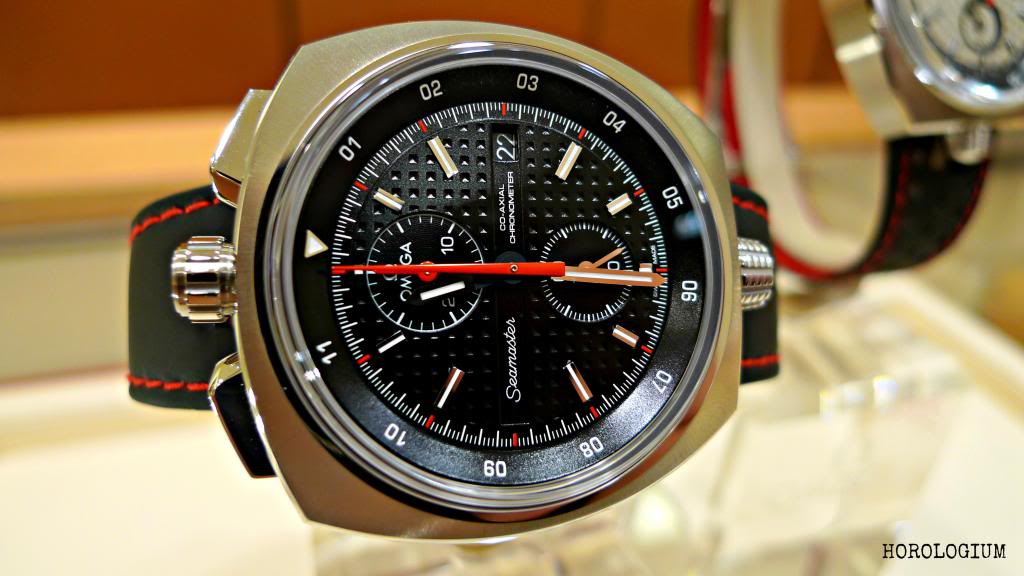 The dual register chronograph dial and two crowns (one at 12 o'clock which sets the time and one at 6 o'clock for the internal bezel) in this new model are as per the original pieces but instead of the round pushers of the original pieces, the 2013 ones are flat. The original case was a bit smaller, at 41.5mm x 42mm, and of course a sapphire crystal is a new replacement.
These 2013 models have a fine-brushed finish, an outer ring with 12/ 24 hour numbering, and a fixed steel case back, inside which is another point of difference to the original model. The new Bullhead is automatic (the Co-Axial Caliber 3113 movement) whilst the original one was a manually wound Caliber 930. The presence of a co-axial movement (and its chronometer status) is noted on the dial at 3 o'clock adjacent to the date window.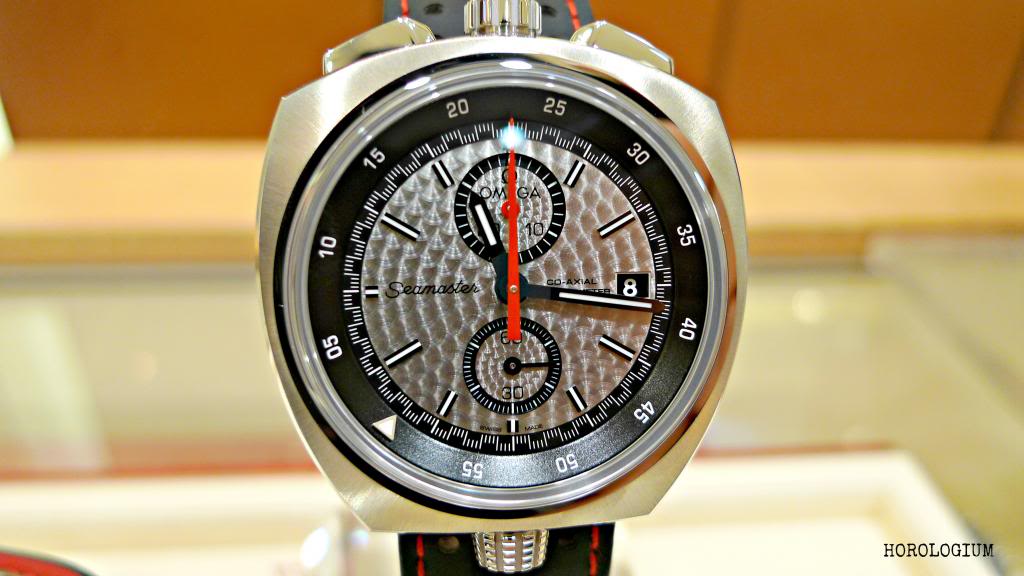 One of the most noticeable aspects of the Bullhead is its bulk. 43mm watches are not large by contemporary standards, but this watch has a height of 14.85mm, which adds a fair bit of heft to it. It also makes it an interesting proposition for those who find thicker watches 'ding magnets' and would have to become accustomed to this height.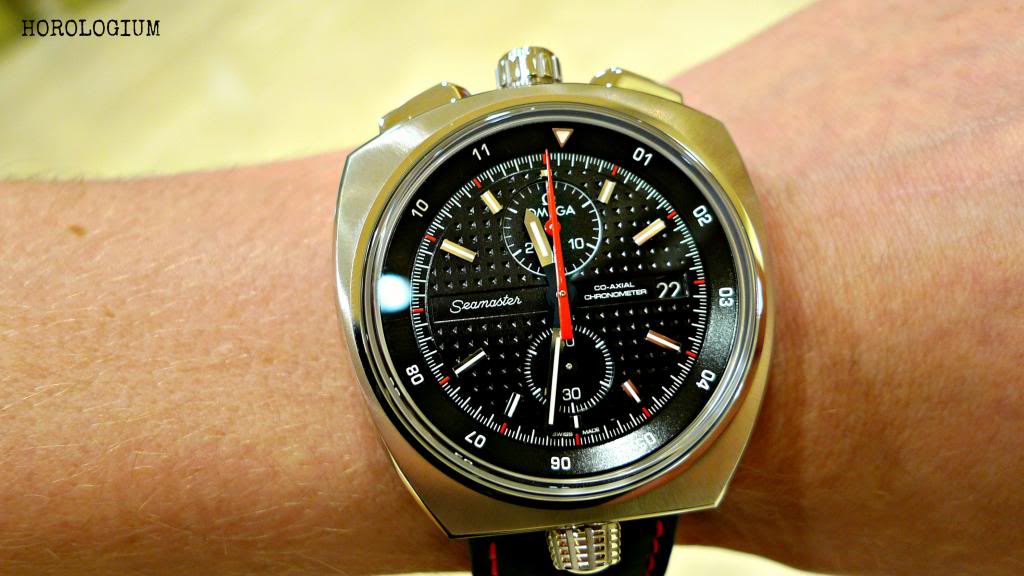 It is not a heavy watch, and as you can see it sits well even on a woman's wrist (my thanks to the model), but if you fall into that category of watch wearer for whom 'ding magnets' are an issue, this is a piece best seen and tried first.
There are three iterations of the new Bullhead: black dial with a square guilloché pattern and black leather strap with red contrast stitching, white dial with a brown leather strap, and a silver dialled model with perlage on a black perforated leather strap with red contrast stitching.
There were only two models available on the day of my visit to the Omega boutique, so apologies to those for whom the white dialled version was the one that they were more interested in seeing. Based on the photographs that I had seen online during Baselworld 2013, I had been swaying towards the white and black dialled ones, the silver dialled one looking a bit too 'raw machined' for my personal preferences. In seeing it 'in the metal', it was not as 'machined' looking as I thought it would be, but given the choice between the two I saw, I find the black one more engaging both because I like dark dials and because the guilloché work makes it texturally interesting, with the play of light on the 'studs' of black giving it a shimmer. Hopefully, I shall get to see the white dialled version later this year when the Bullhead starts appearing at Omega boutqiues and retailers.
One aspect of note about the watch about which there was no information on the day of my visit was the straps. They are leather, but there appears to be some sort of treatment applied to it which gives them an almost rubber-like feel that is quite soft and moulds comfortably to the wrist.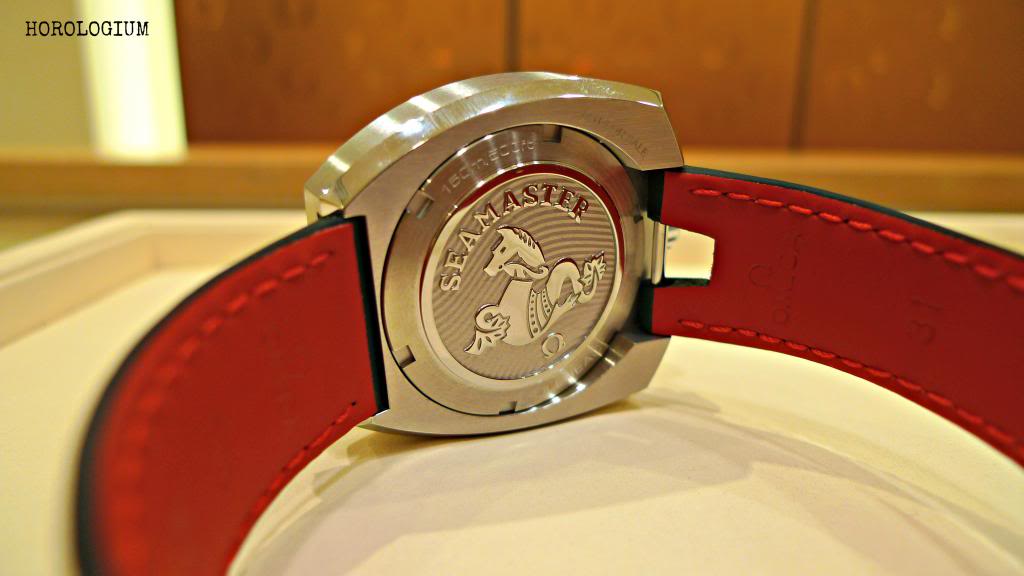 As mentioned at the beginning of this post the vintage Seamaster Bullheads are much loved both amongst Omega enthusiasts and vintage watch collectors, so it's great to see that this popular watch has been re-issued in a faithful way.
For those who don't know why this watch (and in fact this style of case/ crown design) is called a 'Bullhead', it is named thus because of the configuration of the crown at 12 o'clock with the two chronograph pushers on either side, resembling a bull's head with horns.
---
---
Categories: Baselworld 2013, Hands-on, Omega, watches, Women's watches