For admirers of German watchmaking the brands that most commonly seem to first spring to mind are A.Lange & Söhne if we're talking luxury, and names such as Glashütte Original, Sinn, Stowa and Nomos to name but a few, when covering other points on the spectrum. One brand that is very much still under the radar, which on one level I can understand but another, not, is the small independent brand Lang & Heyne.
Situated in Saxony, Lang & Heyne is small and resolutely committed to a particular aesthetic and watchmaking style that is self-evident in their pieces and which would have not have looked out of place a century or more ago, especially in the pocket watches that inspire them.. Even the names that they choose for their models, those of Saxonian rulers, are in tune with this very classical and perhaps to some, old-fashioned philosophy.
So who are Lang & Heyne? Well the 'Lang' is Marco Lang, a fifth generation watchmaker whose father Rolf has a histroy as head restorer in the Mathematics and Physics Cabinet (Mathematisch Physikalischer Salon) collection and as an instructor at A. Lange & Söhne amongst other things.
Marco Lang started off his watchmaking career in Glashütte before working on pendulum clocks for seven years and then returning to Dresden, where he started a business restoring watches. It was Rolf Lang who introduced his son to Mirko Heyne, his first apprentice at Lange.
Thus Lang & Heyne was born, with Marco Lang's restoration business shutting shop in 2003. Mirko Heyne long ago left the brand he co-founded (and ended up at Nomos, but I do not know whether he is still there, so if you have an update to this please leave a comment), but Marco Lang is still very much there, and the classical watchmaking vision remains in this very small company that only produces perhaps three or four dozen watches a year.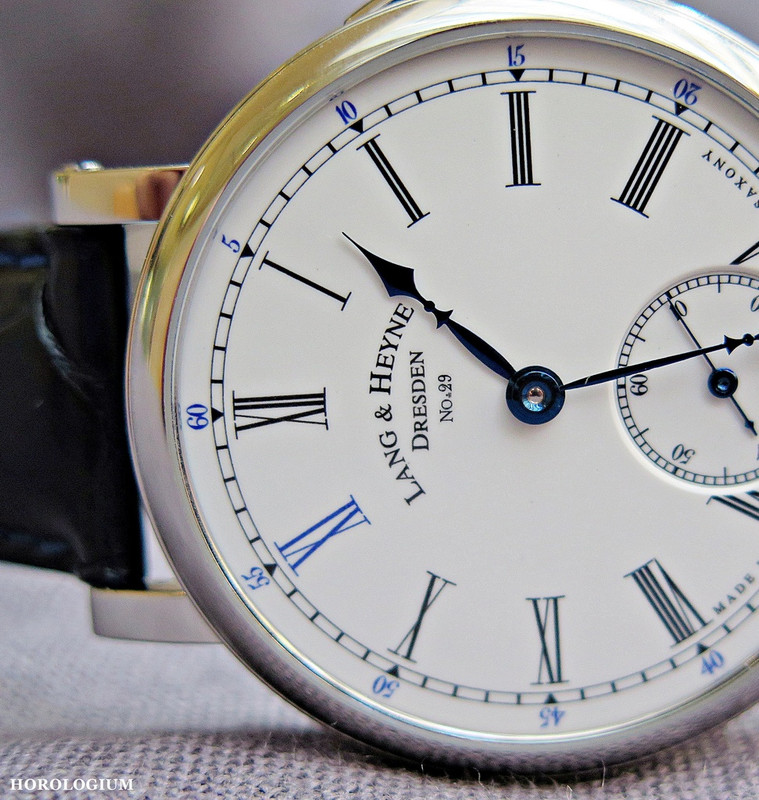 In 2013 he released the Friedrich III, which was essentially the same as the steel Friedrich II but with a roman numeral black dial. If you look at his website you will notice a rather distinctive centre lug to his models, but watches can be specially ordered without the center lug. Today's watch started off as a Friedrich III but with the addition of various customised features such as a special order fired enamel dial with customised layout and double lugs.
So what are the core features of the Friedrich III? Well it is 40mm, and this watch is a lot thinner than I had expected. For some reason I was anticipating a watch with a very strong wrist presence, when it actual fact it is fairly slim, light, and very much as the 'dress watch' vibe on the wrist.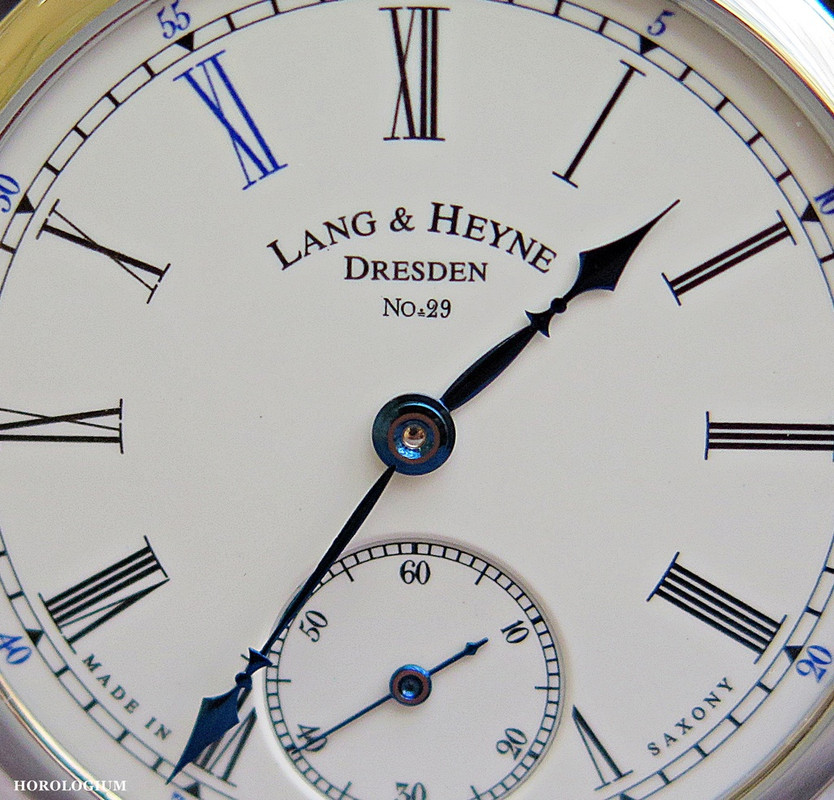 The enamel dial on this piece is white (which may at first glance make it look like the Johann model) unlike the standard black and silver dial of the Friedrich III, with beautiful elongated Roman numerals and polished blued cathedral hands. The blued minute numerals are also custom to this piee.
Inside is the manual wind Calibre VI (18,000 VPH) with its Breguet spring and swan neck regulator. Power reserve is forty-eight hours. As is the case with the dial and lugs, Marco Lang can do customisation of the movement in terms of engraving.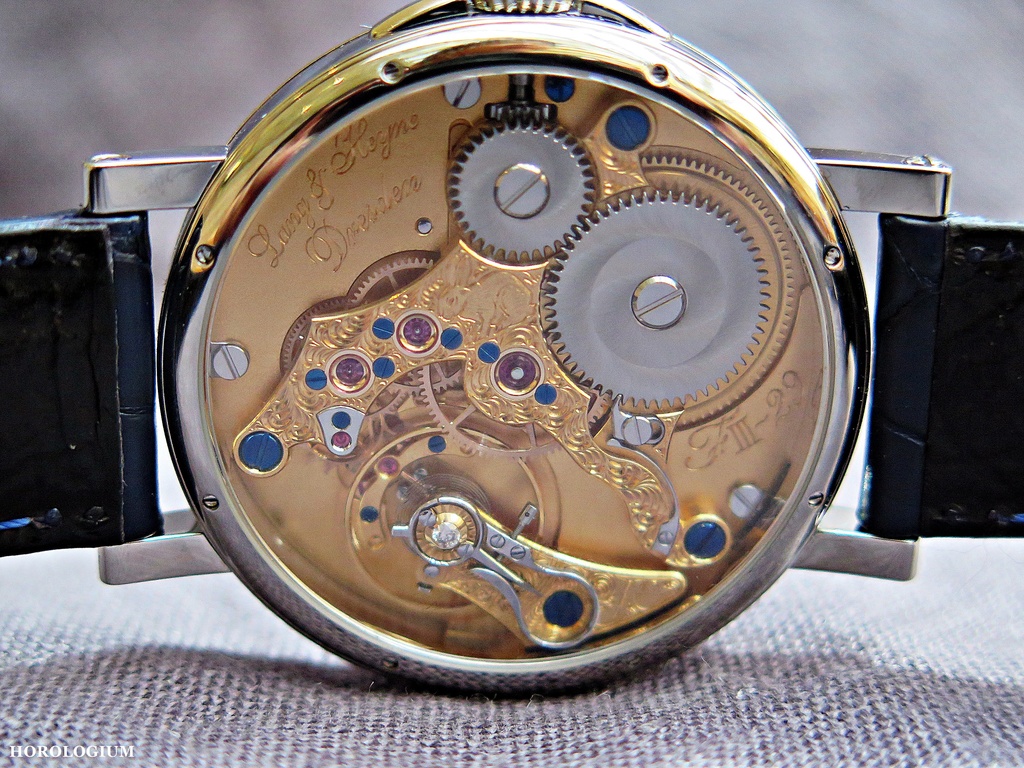 Lang & Heynes truly are one of those brands that you have to make a concerted effort to seek out in terms of having a hands-on experience. They don't exactly have a large worldwide network of authorised dealers and I doubt that their small annual production would be able to cope with more than the dozen odd they have worldwide (of which nine are in Germany/ Switzerland/ Italy). I made one failed attempt to see some of their pieces at The Lavish Attic in Hong Kong, so it was good to be able to look at this piece at leisure.
So what did I think? Lang & Heyne are a brand which has been on my radar for a couple of years because their aesthetics appeal to me, but due to lack of 'in the metal' experience, they have been in the background. Being able to handle one increased my admiration for them – this is a beautiful looking watch that radiates quality and craftsmanship, and from all reports, the ordering process was professional, friendly, and smooth.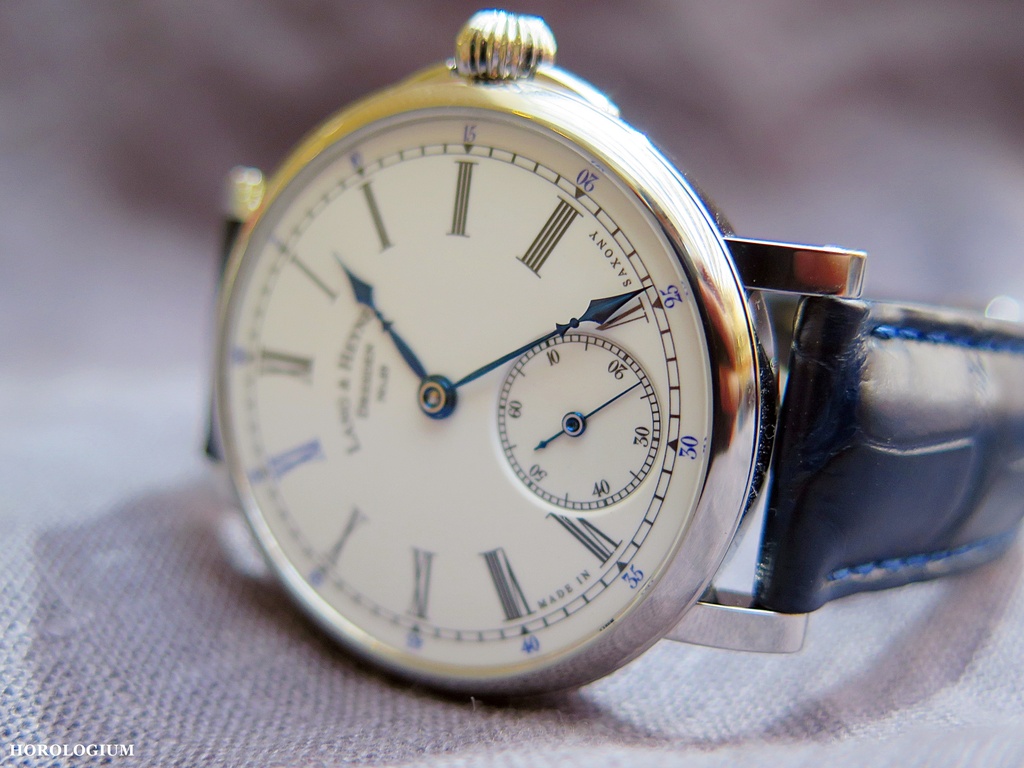 Watch people often like to muse about a 'one watch'. What this 'one watch' would be, for those of us who are fortunate to own more than one and struggle to work out what we'd choose if we had to get rid of all but one, is going to be very much dependant on budget, lifestyle, and personal preferences, but if you are looking for the 'one watch' that is a versatile dress watch and pretty much guaranteed to still look fresh in a few decades, you could do a lot worse than looking at a Lang & Heyne.
---
---
Categories: German watches, Hands-on, Independent brands, Lang & Heyne, Watch Profile, watches, Watchmaking