Webster Clay Ball (October 6, 1847 – March 6, 1922) was a jeweller and watchmaker in Ohio, and the first jeweller to use the United States Naval Observatory's time signals i.e. Standard Time. His foray into what would become Ball's most famous collection of watches had its genesis in a collision between Lake Shore and Michigan Southern Railway trains at Kipton, Ohio, in 1891, caused by the failure of an engineer's watch.
Webb Ball was commissioned by the railway to become their Chief Time Inspector, with the responsibility of manufacturing and maintaining sturdy, reliable and precise timepieces and establishing a reliable inspection system for railroad chronometers. This new position lead to the expansion of his jewellery company into the Ball Watch Company, and his system would end up covering some 75% of the nation's railroads and over 175,000 miles of rail tracks.
I can't recall how and when I first heard about Ball watches, but I do recall that it was during a period of research into watches with a good level of luminosity. If you look at the brand's collection lines – Railroad, Engineer, Fireman, Conductor, Trainmaster, you get an indication of their continued focus on function-driven models, but apart from the Railroad watches on which their history is based, one of the things for which they are most well known in modern times has been the quality of their lume.
When selecting a watch where its night time visibility is of primary importance, there are a lot of options. Many of these options use SuperLumiNova, but a number of brands such as Ball Watch and Luminox use tiny glass tubes of gaseous tritium (GTLS or Gaseous Tritium Light Source) sourced from MB-Microtec.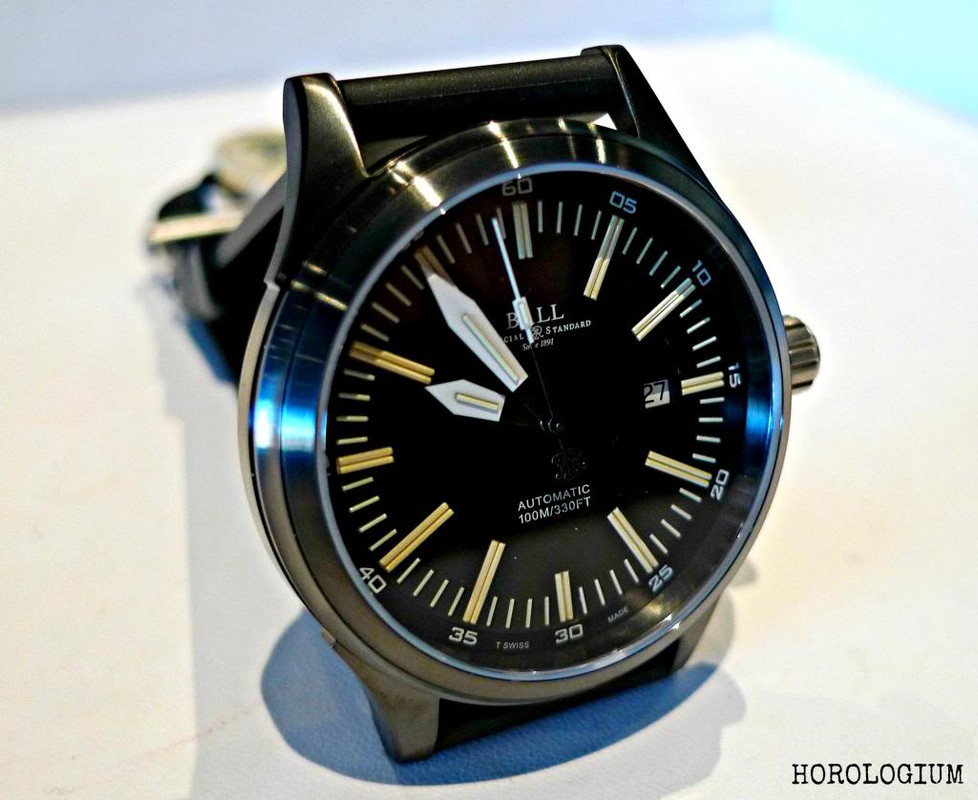 Ball was, in fact, an early proponent of the use of tritium tubes in watches, increasing the amount of tritium used in a watch by four times and for some time, the only company producing watches with this level of tritium illumination. Tritium tubes do not need an external light source for luminosity, unlike the aforementioned SuperLumiNova, which loses its glow after a certain period of time. However, this also means that they have a shelf life, although at about a quarter of a century, their replacement probably need not concern you much, though obviously the tubes can be replaced by Ball.
Today's watch is Ball's Fireman Night Train DLC with, as the name suggests, DLC coated stainless steel, which is about five times the hardness of stainless steel, harder than PVD, and with that 'stealth' look much loved by watch folks. The use of DLC makes the watch tougher and more durable than were it just stainless steel.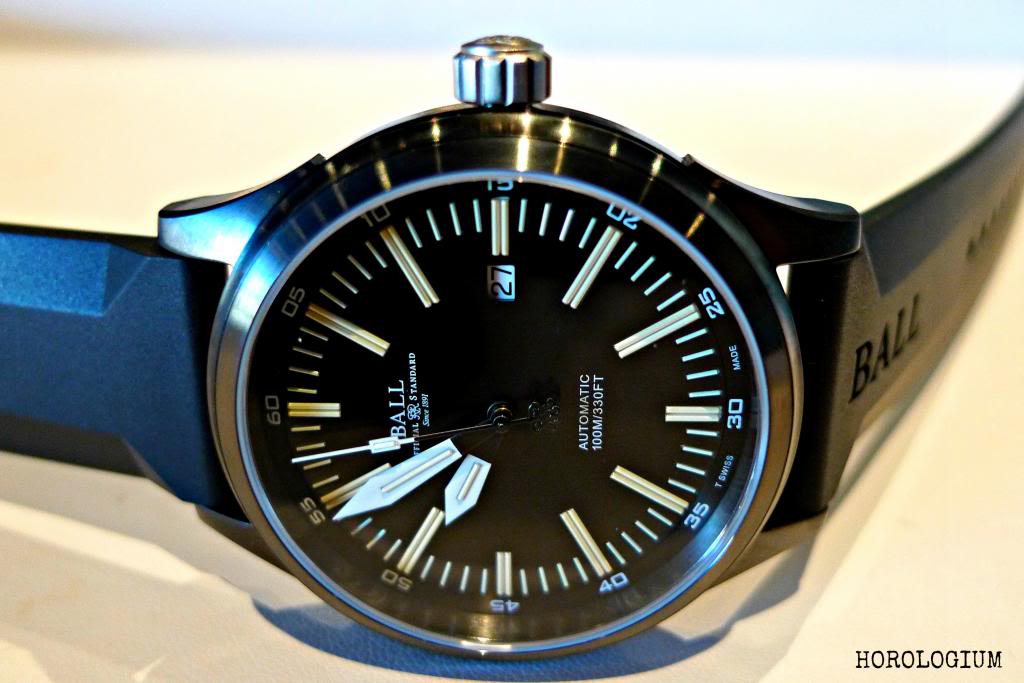 At 45mm with a height of 11.65mm it is not a small watch, but both because it isn't overly thick and because it is DLCd, it is more discreet looking than say a 45mm stainless steel white dialled watch of the same size would be, and it also sits close and comfortably on the wrist on a rubber strap.
The dial is clean and sharp and lume works really well even during the day, as you can see from the photo below, which was taken with the brief use of a small torch to bring out the lume. There are in fact 75 micro gas tubes on the hours, minutes, sweep seconds and date, in three different colours (green, orange and yellow).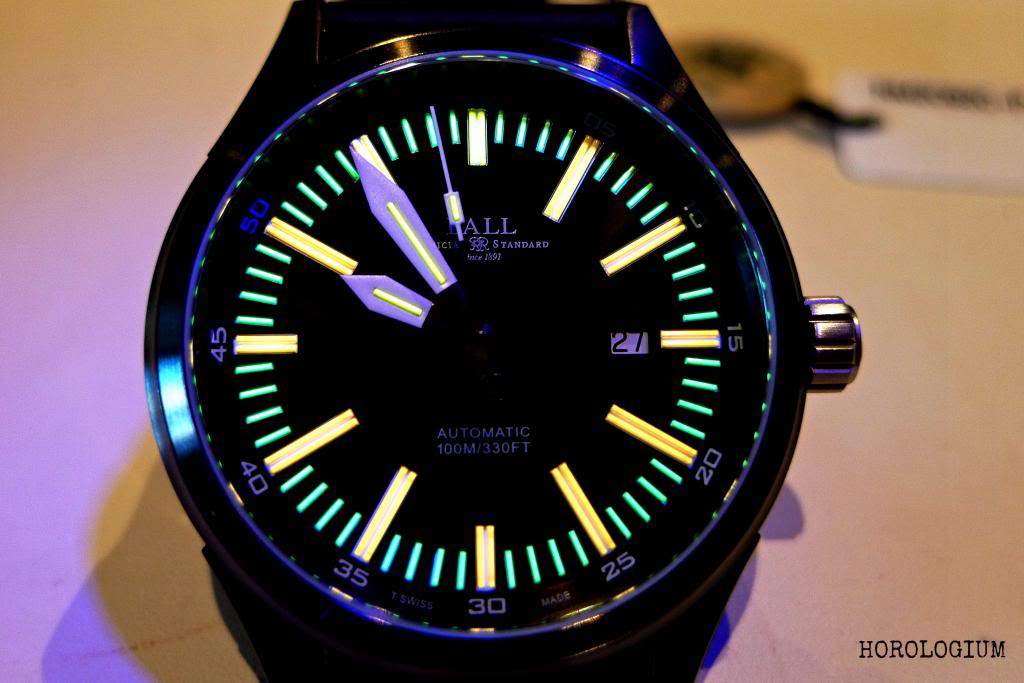 The Fireman Night Train DLC has a water resistance of 100m. Inside is the ever reliable ETA 2824/2 calibre.
Although a brand widely known in the U.S. and amongst watch folk, especially for the quality of their lume, Ball is not yet a very visible brand in Australia, although there are authorised dealers here. These are not flashy watches but good solid functional timepieces at a reasonable price point; the Ball models that I like best are, of course, the ones with the tubes – after all, you can never have enough good lume.
The RRP for the Fireman Night Train DLC in Australia is $2,100.
---
---
Categories: Ball, Hands-on, Watch Profile, watches