Last year Svend Andersen launched a new collection called 'Art & Culture' and with it, a limited edition (twelve pieces) launch model called 'Vita Vinum' ('life wine' in Latin). It was one of the six finalists in the GPHG 2019 'Artistic Crafts' category.
A year later, and he again has a watch in competition for the this 2020 GPHG awards in the same 'Artistic Crafts' category – the Andersen Genève 40th anniversary Jumping Hour.
Throughout the forty years of his eponymous brand he has been primarily known for his horological erotica automatons, his world timer, and of course the Montre à Tact collection of watches with two time windows, one on the dial and one between the lugs. Personalisation is a key part of his watchmaking, particularly for the Montre à Tact, but he has also made over 100 pièces unique since he launched Andersen Genève.
In 2020, to mark these four decades, he is presenting four new celebratory timepieces. This Jumping Hours is the third of these.
In January came the first piece, a variation on his Tempus Terrae. One of his most well known watches, this new world timer has thirty-six baguette diamonds in an invisible setting in the bezel. He has a long history with this complication and the Tempus Terrae, launched in 2015, was his fifth generation of them. It was a commemoration of the first world time watch featuring two crowds developed by Louis Cottier in the 1950s. The Tempus Terrae's crown with the 'A' logo sets the time. The second, with a "TT on a globe", sets the reference time zone.
The 2020 anniversary Tempus Terrae highlighted his classic Blue Gold in its centre in a hand guilloché scale pattern that is also familiar in his watches. His Blue Gold is created by heating a 21 ct gold which has iron in it, to a blue colour. For this piece, the Andersen Genève logo was removed from the centre of the dial and replaced with the 'A' logo on the outer ring.
The second piece was the Andersen Genève & Konstantin Chaykin Automaton Joker, a limited edition of twenty pieces in white gold and a follow-up to the limited edition (also twenty pieces) in a 5N red gold case. This watch has the Chaykin Joker at the front and at the back, Andersen's 'Dogs playing Poker', an adaptation of his Montre à Tact inspired by Cassius Coolidge's painting "A Bold Bluff". Its miniature painting scene on the dial shows a scene of "Dogs playing Poker", but for this Chaykin collaboration, only one of the dogs from the Montre à Tact is retained, now playing poker with the Joker and two other human companions. The automaton aspect is activated by a button at 8 o'clock, which makes all four players move, in different ways, for two minutes.
Now, we have the third 40th year watch and the focus of today's post – a jumping hours.
Its lineage goes back to 1995, when a collector commissioned a pièce unique minute repeater with a jumping hours displaying 24 hours and minutes on the dial. There have been numerous jumping hour pieces since then, but perhaps the most well known has been those made by Andersen called "Grand Jour & Nuit" for Cartier within their Pasha collection. They used a base Frederic Piguet Calibre 15 movement, to which was added the Andersen jumping hour mechanism, and you can read about it, along with the subsequent pieces that they made under their own label, here.
Jumping hours are probably my favourite form of time display complication, so I am predisposed to wanting to like them, but how it is realised and the design of the watch are obviously still important. Of the three 40th anniversary pieces thus far, this jumping hour is by far my number one.
It is in a 38mm sized 5N red gold case (thickness of 9.22mm) with a combination of polished and brushed finishing and comes on an alligator strap with a 5N red gold buckle/ clasp.
The dial is 21 kt Blue Gold with an unusual and stunning hand guilloché decoration that they have called "magical lozenges" (diamond shapes) that requires not one but three different machines to create. The angles, the straight lines with the repetitive pattern that allow for focus on different aspects at different times, make it quite hypnotic.
The time display is a very classical form of jumping hours, with the hour in the aperture at 12 o'clock and the minutes indicated on a small sub dial at 6 o'clock by a brushed 5N red gold hand. There are two small plaques with "1980" and "2020" to mark the two significant dates. If I was to change one thing about this watch, it would have been to leave this off the dial and to incorporate the dates onto the back.
Visible through the open case back is the Frédéric Piguet 11.50 movement with the jumping hours mechanism developed by Andersen. It beats at 21,600 VPH and has a power reserve of sixty hours. The rotor has an 18 kt yellow gold hand guilloché 'barley grain' decoration and 'A' logo. Around the sapphire is a 21 kt Blue Gold ring with "40 years of independent timepiece creation" hand engraved on it.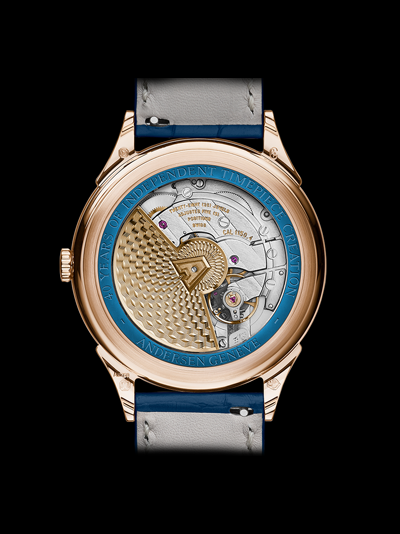 The most 'dressy' of the three anniversary watches to date, this elegant piece, like the two before it, shows off the diverse range of watchmaking and artistic skills at Andersen. To find out more or to order a piece (unique or otherwise), go to his website at this link. In the meantime, that's three watches down and one to go before the year is out.
A handful of years ago I had an unexpected opportunity to see a number of Andersen watches in London with #thewatchnerd. Because it was a bit of a last minute invitation, unfortunately I did not have the opportunity to take anything other than some quick phone photos, so only those following me on Instagram would have seen the pictures and videos, but if given the opportunity to see them 'in the metal', I'd encourage you to grab it. #thewatchnerd also visited Svend Andersen in Geneva, and you can read about that visit and more about his clocks and watches, here.
[Photo credit: Andersen Genève]
---
---
Categories: Andersen Geneve, Limited Editions, Watch Profile, watches, Women's watches