It wasn't that long ago that connected smart watches made by established watch brands (and especially Swiss ones) was considered a novelty, but they continue to grow in number. Today's post is about two very different new additions to this sector of the watch market which are also at very different price points, from Frederique Constant and Hublot.
First up is the one from Frederique Constant.
Since launching their first Horological Smartwatch in 2015, with its classic watch aesthetic of an analogue dial on top of the electronic 'connected' module with two years of autonomy, they have followed it up with the Horological Smartwatch Notify (2016) which added call and message notification functions, and the Classic Hybrid Manufacture (2018), which pushed their desires to combine a traditional watch with modern features – it combined a Manufacture movement along with electronic 'smart' watch functionality.
Now, they have announced their latest connected watch, the Smartwatch Vitality. The analogue dial, with its hand-polished hour and minute hands is present, but is accompanied by a digital on-demand time display. It also features a new integrated sensor developed by Philips Wearable Sensing which measures the wearer's heart rate directly from their wrist.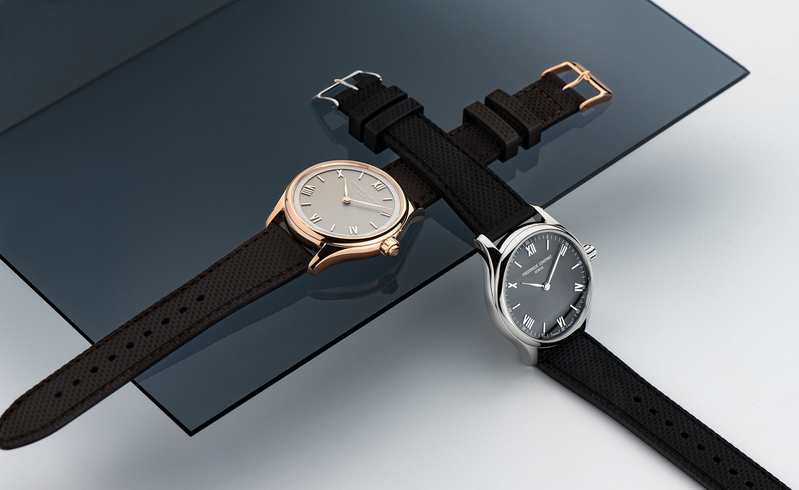 The new Smartwatch Vitality model is connected to the Frederique Constant Smartwatch App (iOS and Android), so all the functions can be configured via the application. The user can choose to display all or a selected number of the timepiece's connected functions. All functions are accessed, customised, and adjusted via the crown.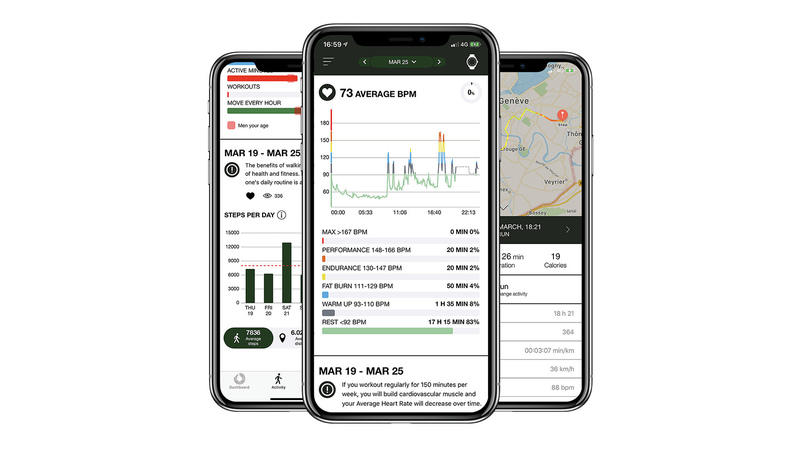 The new Smartwatch Vitality has a wide variety of features that can be defined via the App directly. Some of them are existing Frederique Constant Smartwatch features – activity tracking and reminders, a personalised fitness 'coach', sleep monitoring and 'smart alarms', world timer, and the usual call and message notifications. The new functions are as follows :
– Workout: measures the user's pulse when taking exercise. Once the function activated, the heart rate is measured every 10 seconds. Statistics from the training session can then be viewed in detail via the app.
– Chronograph: activated and stopped by pressing on the watch glass. When training, the digital dial display will automatically switch to the minutes and seconds countdown timer. The minute hand will show the passing of the seconds.
– Heart rate monitoring: developed by Philips Wearable Sensing, the wearer's pulse can now be taken directly from the wrist every minute. This new function also provides information on physical activity and training performance.
– Heart rate notifications: if the user's heart rate is too high or low, there will be both visual and vibration alerts. If a pattern emerges of extended highs or lows, this warning can be turned into an alarm.
– Breathing exercise
– Messages review: the user can select apps from which they wish to receive notifications, for which they will be able to view the last five messages/ notifications.
– Weather: displayed instantly on the dial.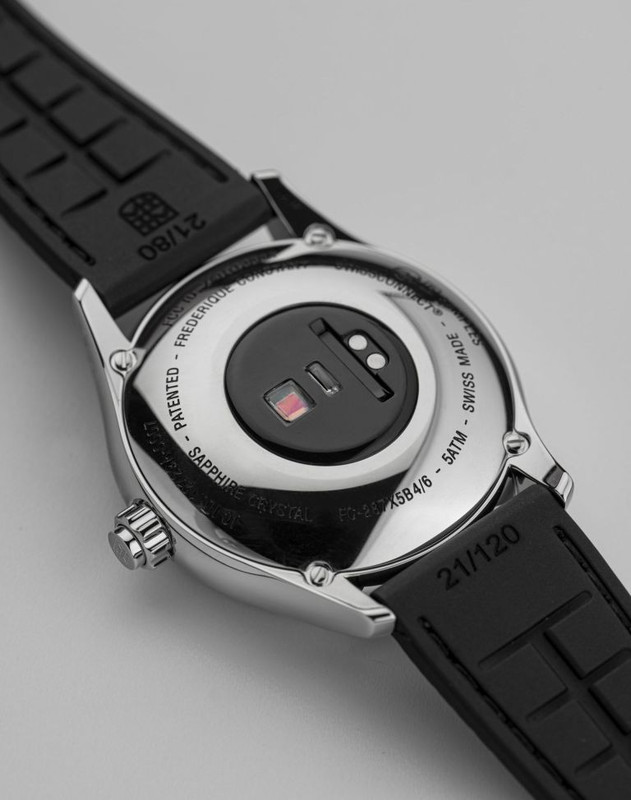 The new Smartwatch Vitality uses the quartz FC-287 movement. The battery is rechargeable and lasts up to 7 days for the 36mm sized models and 11 days for the 42mm sized models, depending on usage. Both the 36mm and 42mm models have identical functionality.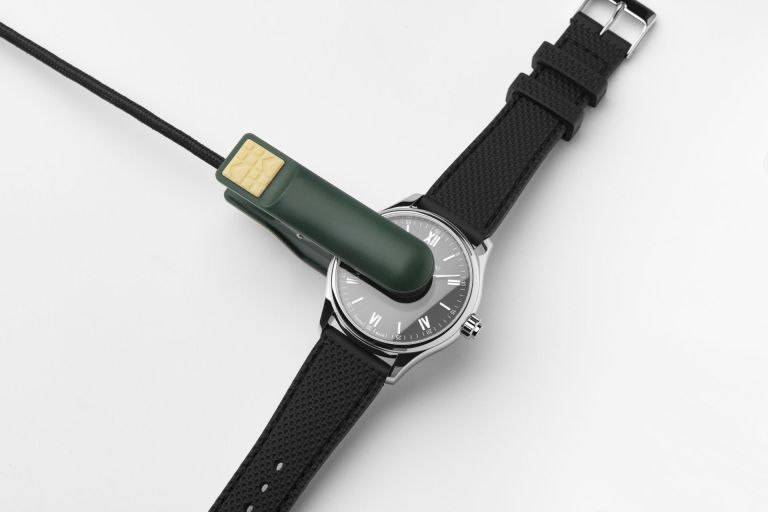 Each size has four models. The 36mm sized models are in polished stainless steel, rose gold-plated, or two-tone gold and stainless steel. They have a floral pattern on the dial and eight diamond-set hour markers. The 42mm sized models are either in polished stainless steel or polished rose gold-plated.
In terms of straps, the smaller models comes with a leather strap or steel bracelet but there are five other options available. The larger model comes with either a dark brown rubber strap, black rubber strap, or a stainless steel bracelet.
Pricing for the smaller watch is as follows:
36mm rose gold plated polished stainless steel (chocolate or blue dial) with diamonds and applied rose gold plated Roman indices on a brown rubber or navy leather strap – EUR 1,095
36mm polished stainless steel and rose gold plated on two-tone bracelet – EUR 895
36mm polished stainless steel (navy dial) on bracelet – EUR 795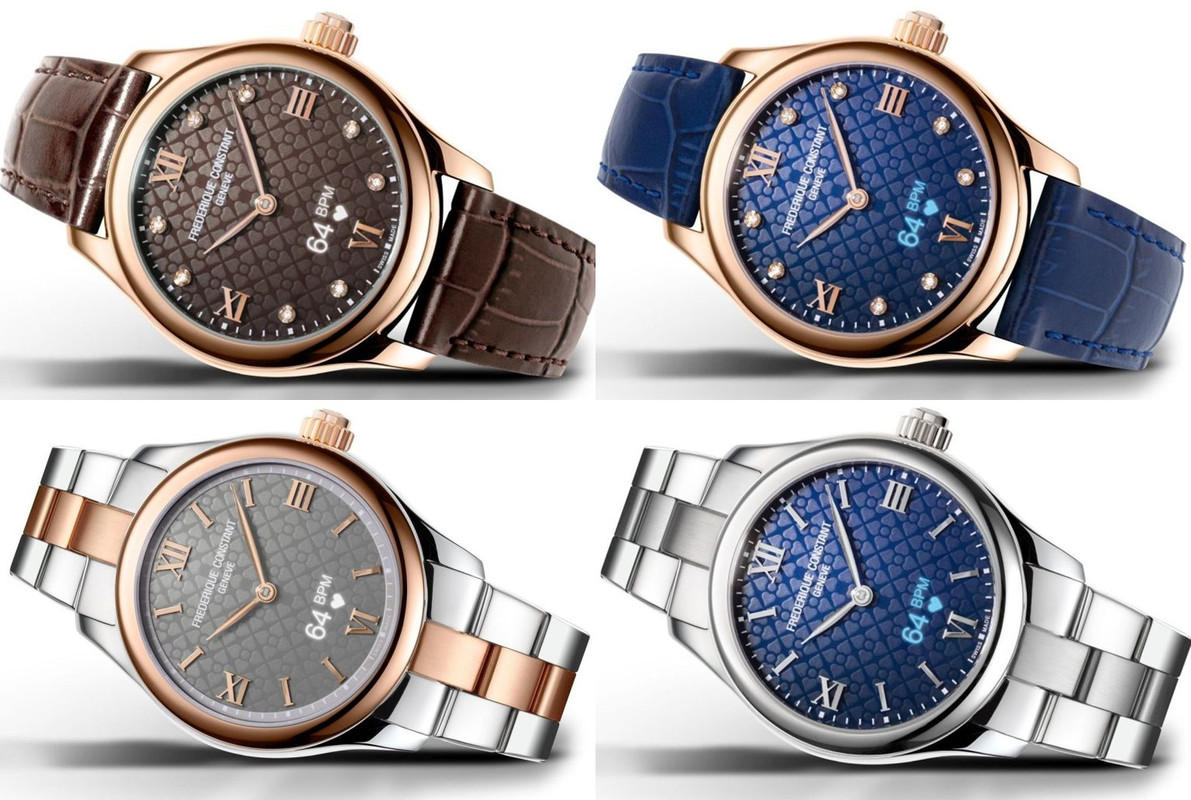 These have the further option of one of five rubber strap colours for EUR 195.
For the larger model, the prices are:
42mm polished rose gold plated polished stainless steel on a brown rubber strap – EUR 1,195
42mm polished stainless steel (navy dial) on a bracelet – EUR 995
42mm polished stainless steel (silver dial) on a black strap – EUR 895
42mm polished stainless steel (black dial) on a black rubber strap – EUR 1,195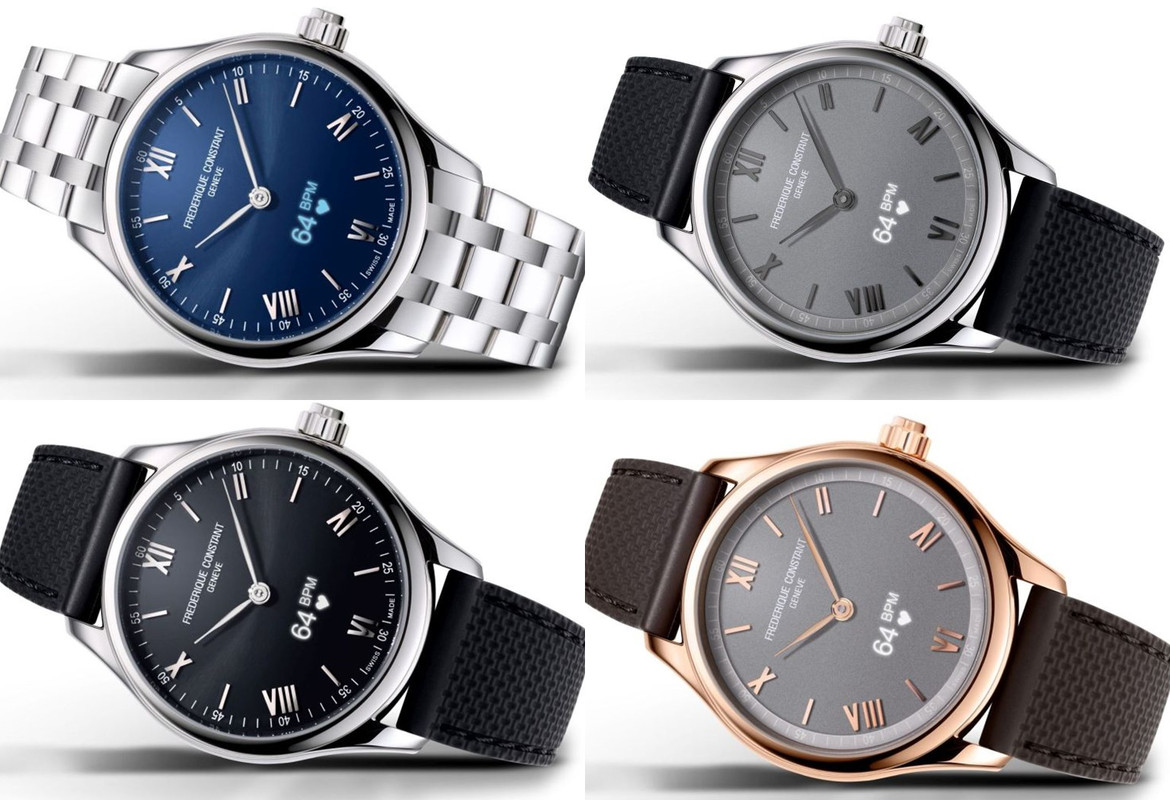 At the other end of the price range is the new Hublot Big Bang ℮. Two years ago Hublot launched their first connected watch to mark the 2018 FIFA Football World Cup, which included football-themed features. It sold out. Now, featuring the classic Big Bang features such as the screws, pusher, case materials and rubber strap, comes the ℮.
The Big Bang ℮ comes in a 42mm case in either satin-finished and polished titanium or micro-blasted and polished black ceramic, with a water resistance of 30m.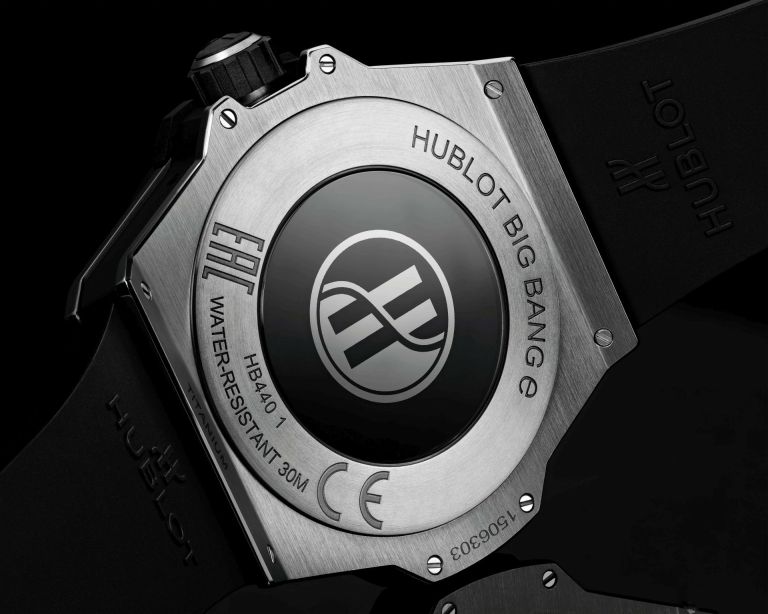 Underneath the scratch-proof sapphire crystal, which is covered with an AMOLED high definition touch-screen, are the 'metal' hour numerals. The crown with an integrated pusher is used to activate the controls for its electronic 'smart' functions, and it is Bluetooth compatible. Battery life is one day and it has the following sensors: accelerometer, gyroscope, DC motor (vibration), LLOB (Low Latency Off Body), ALS (Ambient Light Sensor), OTS (Optical Tracking Sensor) for the crown, and a microphone.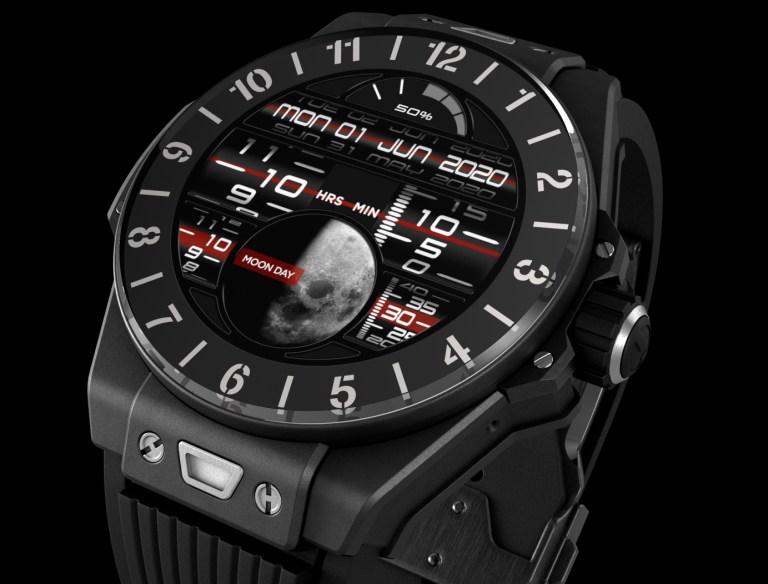 Apart from traditional looking dial options, there is their take on a perpetual calendar dial complete with moon phase, world timer, and other familiar analogue watch features. Powered with Wear OS by Google™, the user can access apps on Google Play and use Google functions such as Google Pay.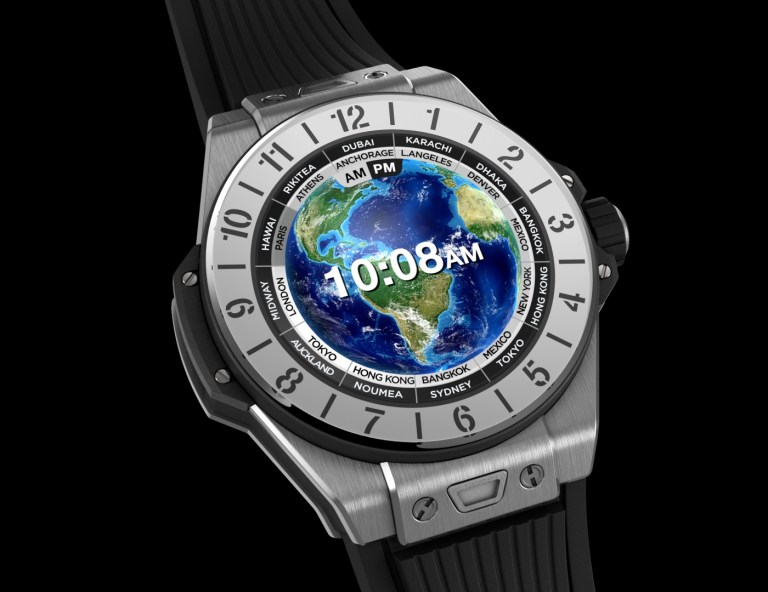 A big part of Hublot's identity is their relationships with brand ambassadors and friends of the brand. This new smart watch will feature a series of dials created by some of these partners. The first of these is part of #HublotLovesArt movement – a series of eight dials by artist Marc Ferrero. Every three hours, the dial changes colour. Each of these is based on a specific colour: Happy Yellow, Magic Blue, Orange Dynamite, All White, Lucky Green, Magic Red, Rainbow Spirit and Black Magic. Every full hour is marked with the appearance of an animation that lasts five seconds.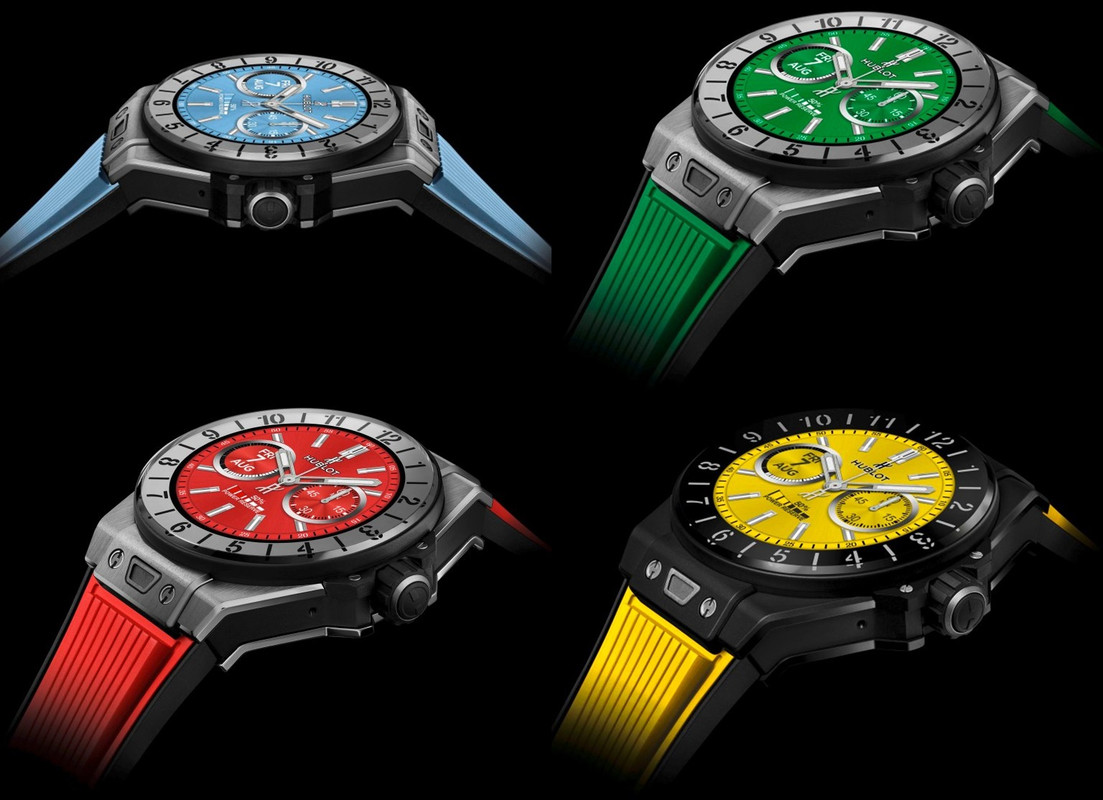 The RRP for the Titanium model is 4, 900 CHF/ 5,100 EUR/ 4, 300 GBP/ 5, 200 USD and the Black Ceramic model is 5,500 CHF/ 5,700 EUR/ 4,800 GBP/ 5,800 USD. They are now available via their website as well as WeChat and will be available in boutiques and authorised retailers. Although they both come on black rubber straps with a titanium clasp you can, of course, buy a differently coloured one.
[Photo credit: Frederique Constant, Hublot]
---
---
Categories: Frederique Constant, Hublot, Smartwatch/ wearable tech, Watch Profile, watches, Women's watches