At 0200 on the 25th of April 2020 Sydney time the first Watches & Wonders digital fair opened its press portal, at an hour which was probably better suited to other time zones. In taking a look at it at that hour, and thinking about the broader context in which this is taking place, a few initial thoughts came to mind.
The first of these was that the site, despite what was probably a deluge of people trying to get in, held up well. It did not crash, I could get to the sections I wanted, and downloaded without any difficulty. The vast majority of the smaller brands, however, seem to be currently absent.
The second was that it is a simple easy-to-navigate website. There are no instructions as such, but because it sticks to simply providing information from the biggest exhibiting brands (the majority of 'smaller' brands are still to follow as I wrote this) in a standardised format, no complexity is really needed.
The third, and perhaps most important one, was that it is great to be able to access so much information quickly and in the one location, but this is no replacement for seeing new pieces launched at a physical fair 'in the metal' (or 'not metal').
This is not just because, as we all probably agree, watches are tactile objects and that much of their appeal, appreciation, and enjoyment is in the handling of them, but also because there is that extra element of surprise and the visceral reaction when you are at a watch fair, listening to a presentation, and being handed a new piece for the first time. This is the 'discovery' bit of shows – glancing into a display at a booth, sitting in a presentation and wondering what you will be shown next, going to an appointment and being shown something that wasn't one of the key pieces being promoted…
At fairs interaction between people is critical – someone points out something about a new piece that you might not have noticed at first glance, you can feel a new case material, trade thoughts on how a watch winds, test a repeater or a chronograph immediately, look at something under a loupe and compare it to how it looks to the naked eye. There are nuances. I write a lot about how wearable a watch is, how it sits on the wrist, and watches vary widely in whether they 'wear big' or 'wear small' for the stated size.
So it is that in looking at a digital fair, we still look for that element of surprise, and today's post is about three pieces that I am pretty sure would have generated this element, and which I would have probably taken to the nearest darkened room. Also, it is in a way 'related' to a recent post about a new watch which has a strap that is rubber mixed with a luminescent material.
Panerai is marking the 70th anniversary of the introduction of Luminor with host of new pieces, three of which I will look at in this post. The DMLS 44mm, Carbotech™ 44mm, and the Fibratech™ 44mm all celebrate the Luminor with what else but lots of lume? These boutique-only limited edition models (270 pieces each) come with a 70 year warranty. Some of you might remember the LAB-ID Luminor 1950 Carbotech 3 Days PAM0700 which was released with a 50 year warranty.
First up is the Panerai Luminor Marina DMLS 44mm PAM01117, which is the one in the photo at the top of this post.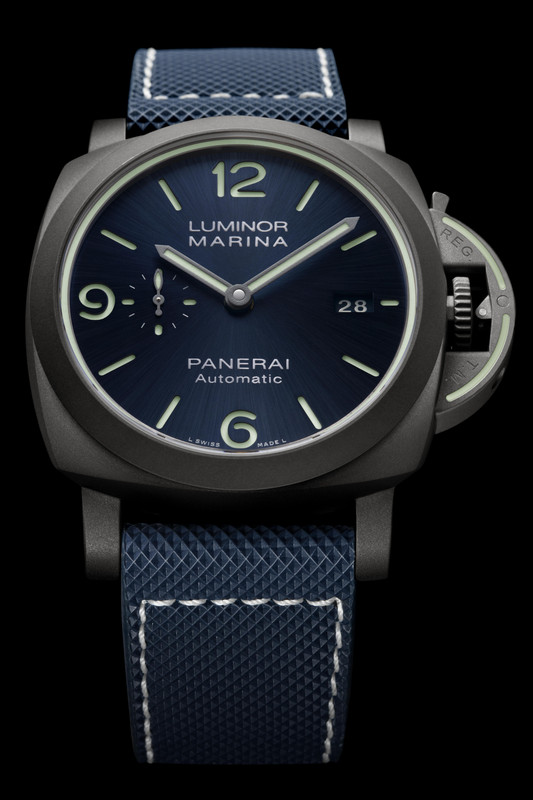 Super-LumiNova is generally the name of the watch lume game, and this (and the others) has it in spades – on the dial, the flange, crown, patented crown protection device, and the stitching on the strap, hence my mention above to another new watch with an illuminated strap. Super-LumiNova X1, to be precise, which they say glows more, and for longer.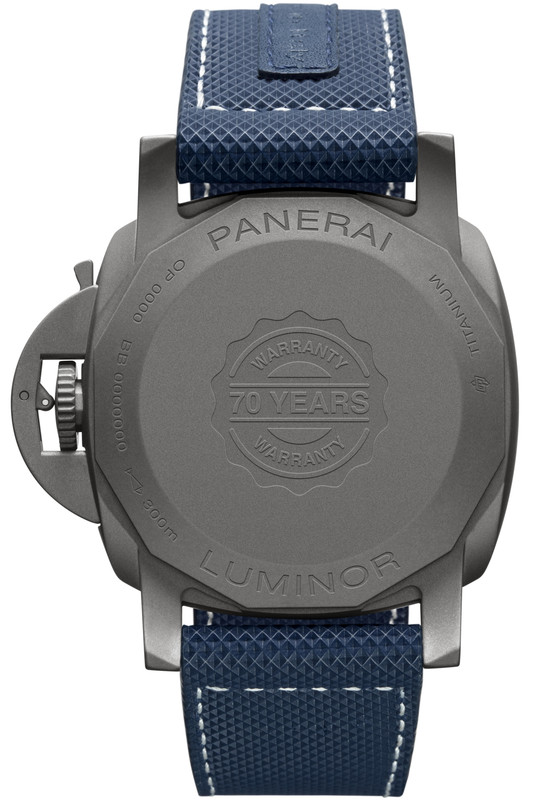 The case is micro-sandblasted titanium and 15.65 mm thick, with a water resistance of 300m. The back is screw-down micro-blasted titanium and engraved with "70 Years Warranty".
This new piece weighs, including the strap, 100g. The titanium case is created by Direct Metal Laser Sintering (DMLS). Developed jointly by Rapid Product Innovations (RPI) and Electro Optical System – Germany (EOS) in 1994, it is an additive manufacturing technology with 3D printing involving the sedimentation of titanium powder which is sintered layer upon layer using an optical fibre laser, 30 microns (0.03mm) at a time to bind the material and create a solid structure. Sintering is the name of this process of welding together of small particles of metal to form a solid mass by applying heat below the melting point.
Dial wise it's a sandwich with blue sunray (there's been a sunray theme of late), with Arabic numerals and markers in green Super-LumiNova.
Inside is the automatic Calibre mechanical, P.9010 Calibre which beats at 28,800 VPH and has a power reserve of three days.
The new PAM01117 comes on a blue Sportech™ strap with a brushed titanium ring and Velcro closing. There is also a second strap – blue rubber with a titanium buckle. Oh and if you can never have enough lume, the box has a luminous stylised representation of the Luminor Marina dial on its lead.
Next up is the Luminor Marina Carbotech™ 44mm PAM01118.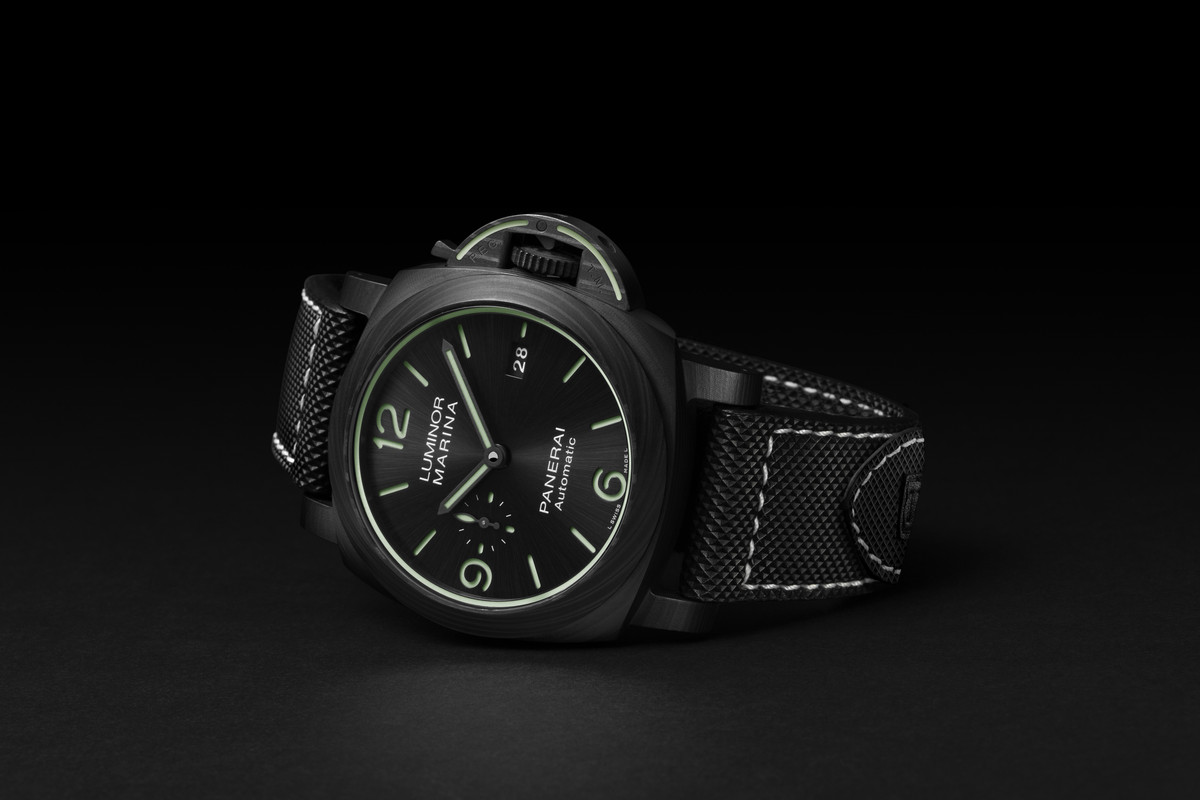 It features the same Super-LumiNova XI applied to the case, flange, dial, crown protection device, and stitching on the strap. The sandwich dial is black with a sunray finish, and the Arabic numerals and hour markers are green with similarly coloured Super-LumiNova.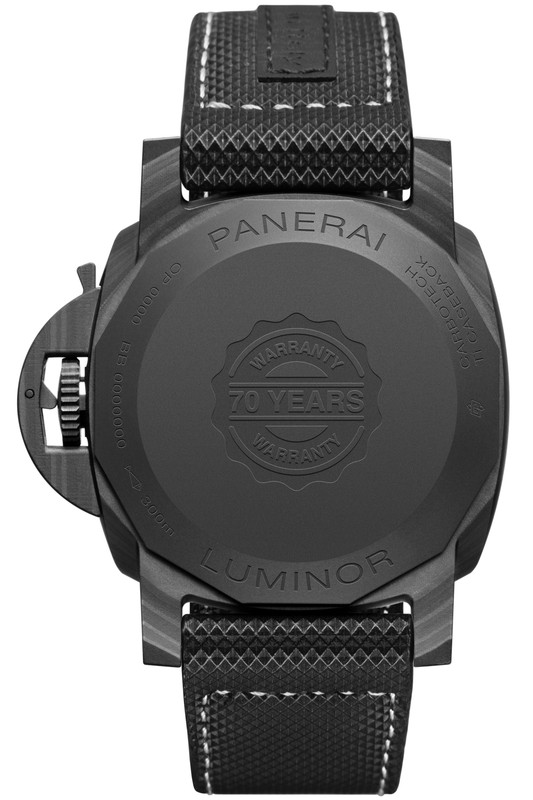 However, the case material is different. It uses their trademarked Carbotech, an almost 'grained' looking material that is made by compressing thin sheets of carbon fibre and a polymer together at high pressure to create a strong durable (and light) material. Because of how it is made and this 'graining', no two cases will look identical. The case is 14.5mm thick and water resistant to 300m. The back is screw-down, titanium with DLC coating, and engraved with "70 Years Warranty".
Inside is the automatic Calibre P.9010 which beats at 28,800 VPH and has a power reserve of three days.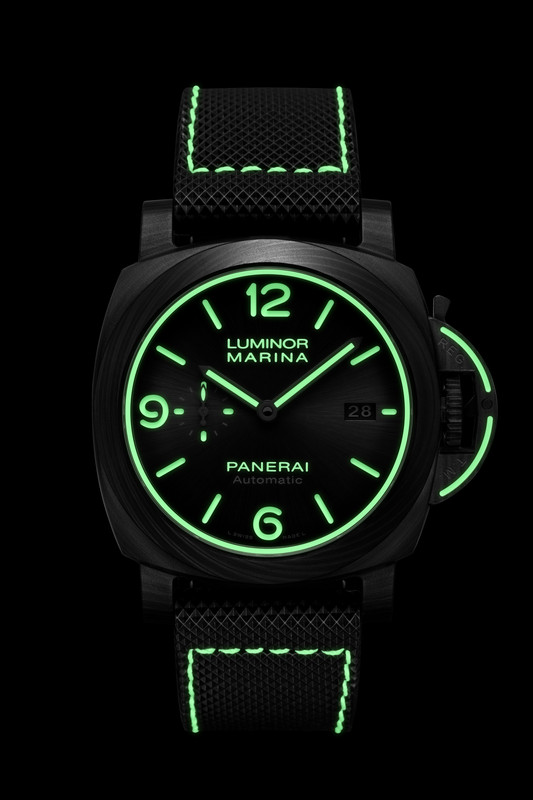 The new Luminor Marina Carbotech™ 44mm comes on a black Sportech™ strap with lumed stitching and Velcro fastening. The second strap is black rubber with a titanium buckle, and the whole package comes in a box with a lumed depiction of the Luminor Marina dial on the lid.
The final new Luminor Marina in this trio is the Luminor Marina Fibratech™ 44 PAM01119. It has the same 70 year guarantee, and the same limitation number of 270 pieces. It also features the same use of Super-LumiNova XI. For this piece, the sandwich dial is anthracite with sunray finish. The Arabic numerals and hour markers are green both in colour and Super-LumiNova.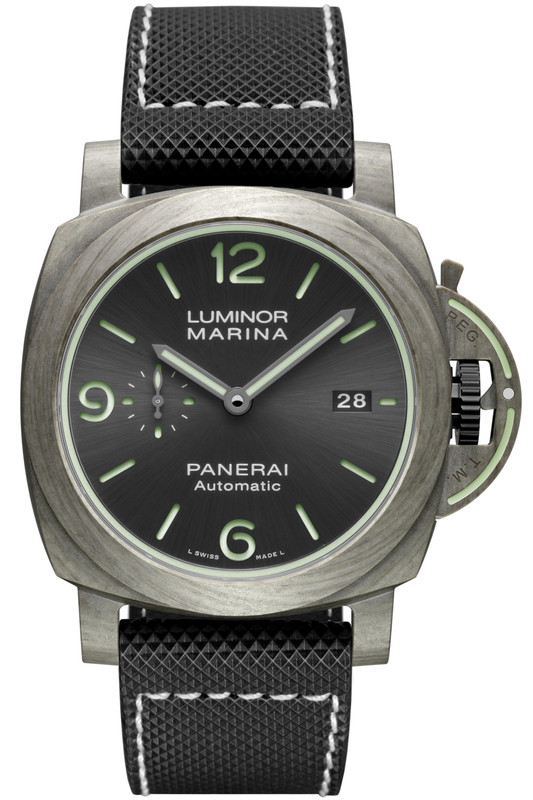 One of the interesting things in recent years from Panerai has been their steady pivot towards new composite materials. This time, the new case material Fibratech™ is a basalt-fibre composite. It is, as Panerai are wont to do, created to be light, strong, and durable. Basalt rock is formed into fibres which are then bound with a liquid polymer to, as the brand says, become thin layers which then undergo a process of being baked until the composite material is in a form that can be machined into the case. It is used in this watch and also in another one of the new releases, the Luminor Marina Fibratech™ 44mm PAM01663, which we will cover later.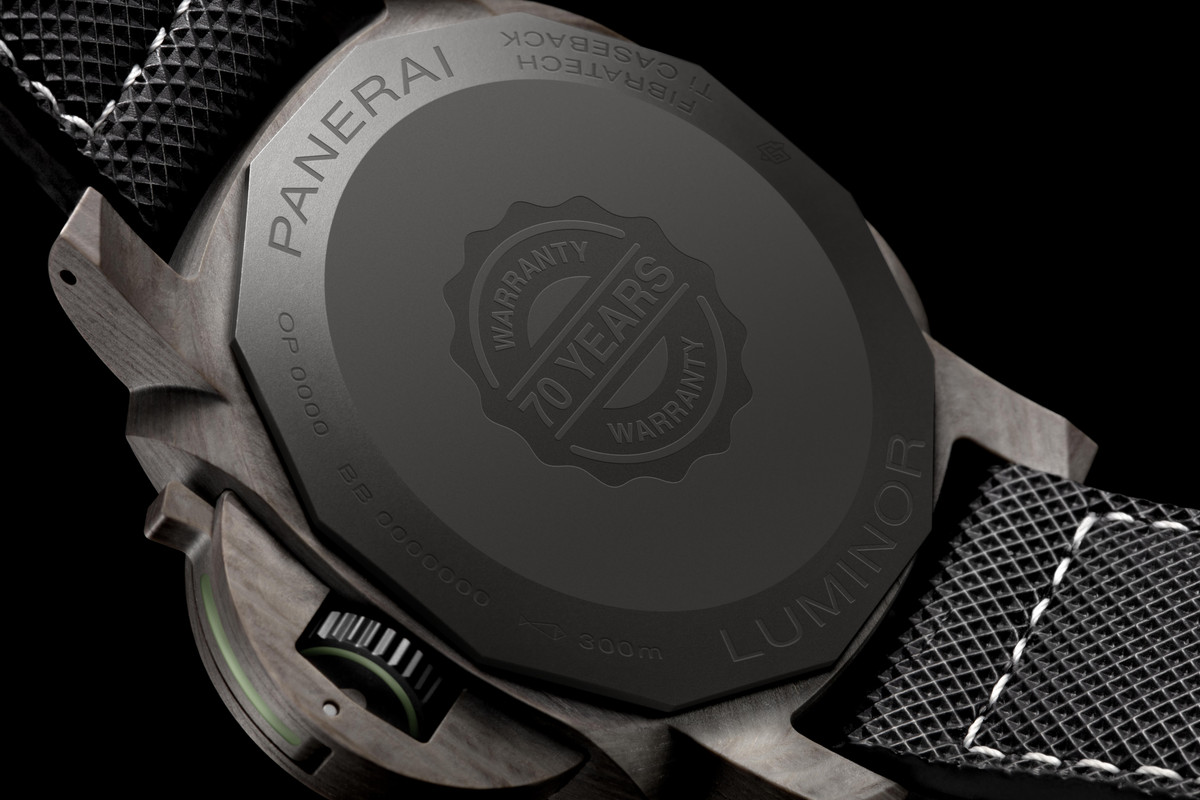 As is mostly the case for watch cases that are made of more unusual composite materials, the case back for the PAM1119 is titanium. Behind it is the same automatic Calibre P.9010 with a three day power reserve.
New composites are interesting and the liberal use of Super-LumiNova in different materials is fun and a boon for people who like to take lume photos of their watches. Now that we have a Panerai boutique here in Sydney, as of late last year, I hope that some will make it.
Pricing is $28,100 (incl tax) for the PAM01117, $23,800 (incl tax) for the PAM01118, and $28,100 (incl tax) for the PAM01119.
[Photo credit: Officine Panerai]
---
---
Categories: Divers watches, Limited Editions, Panerai, SIHH/ Watches & Wonders GVA 2020, Watch materials, Watch Profile, watches