Greubel Forsey recently hit the headlines for the rather head-exploding price realised by their first Naissance 'School Watch' (photo of the prototype below) at a Christie's auction : HKD 11,296,000. For details on what is so special about this watch, go to this link, but I would hazard a guess that even Messrs Dufour, Greubel, Forsey and Boulanger would not have guessed it would fetch such an astonishing amount.
The Naissance (full name 'Le Garde Temps – Naissance d'une Montre') project is one focused around the preservation and continuation of skills, and at SIHH 2016 Greubel Forsey introduced a new series called 'Signature', which continues this theme.
In a nutshell, for each of the Signature watches one watchmaker will be able to give full flight to his or her skills, with the assistance of Greubel Forsey, and the final watch will be co-signed by the watchmaker and Greubel Forsey.
The first model of this new series is the Signature 1. The creation of Didier J.G. Cretin, a long time watchmaker at Greubel Forsey, it is a simple manually wound watch with three hands, with not a tourbillon in sight.
Not only is it sans tourbillon, but at 41.4mm x 11.7mm it is also considerably smaller than the usual Greubel Forsey watch, and will be made in rose gold, white gold, platinum, or stainless steel.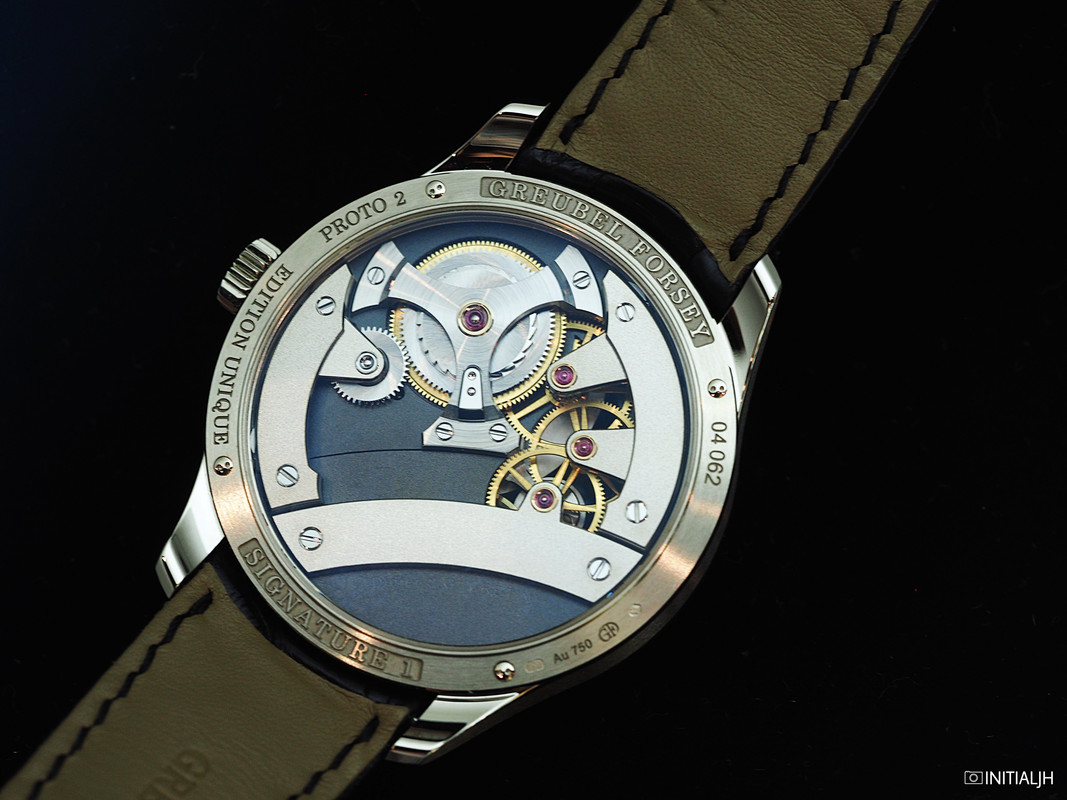 The movement of the Signature 1 has a power reserve of fifty-four hours and is notable for featuring a large new exclusively designed Greubel Forsey 12.6mm balance that beats at 18,000VPH.
The hands of the all-gold offset dial are finished and countersunk by hand, the indices engraved into the gold dial and then enamelled. Bridges are decorated with Geneva stripes (a first for a Greubel Forsey watch) or with a frosted black PVD treatment.
For those who have wanted a leaner cleaner Greubel Forsey watch, this may tickle your fancy. Perhaps it doesn't have the hallmarks of the brand to which we have become accustomed, but it is more wearable, and it is at a lower price point (although clearly still not inexpensive), and it is an elegant watch with a pure and simple aesthetic. As it was a prototype I saw, it will be interesting to see how the end product looks from a finishing point of view, since Greubel Forsey's watches are known for their beautiful high levels of finishing.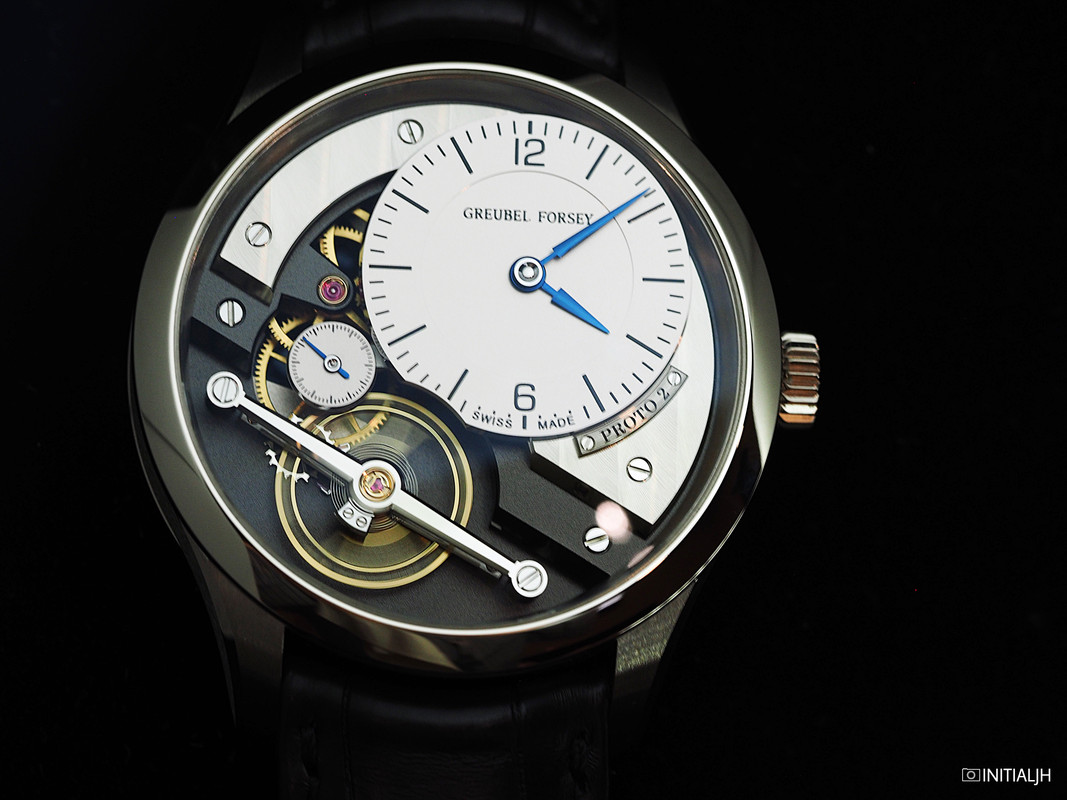 For followers of independent brands one thing that becomes evident is not just the collaboration that can happen between them, but also that it is not uncommon for the independents to support their own watchmakers in a public way such as this. Other recent examples are Kim Djapri (whom I met in Dresden in March and then at Baselworld 2016) who has been a watchmaker for Lang & Heyne and is now at the Tempus Arte boutique, who has had the support of Lang & Heyne and even assistance from their master engraver for his AHCI candidacy watch the Bélier (which those of you who follow me on Instagram will have seen already) or new brand Oscillon, whose founders are doing R&D and CAD work at Urwerk during the day.
There will be a total of sixty-six Signature 1s made : eleven each in rose gold, white gold, and platinum, and thirty-three in stainless steel (eleven of which will have a blue dial). Although these are more simple pieces than your usual Greubel Forsey, they are still Greubel Forseys with the commensurate prices, which start at 150,000 CHF for the stainless steel version.
---
---
Categories: Greubel Forsey, Hands-on, Limited Editions, SIHH 2016, Switzerland, Watch Profile, watches, Watchmaking