In January of this year, along with #thewatchnerd team, we paid a visit to De Bethune in Geneva, during which we saw two rather remarkable Milky Way themed watches – the DB25L Milky Way which we covered earlier, and this pièce unique – the DB28 Kind of Blue Tourbillon Meteorite (DB28TBM), which has just been formally launched by De Bethune.
I had the advantage of having handled their previous meteorite watch (Pièce Unique Dream Watch 5 Meteorite), a completely bonkers and unexpectedly tactile piece that I'd ended up liking considerably more than I had expected to based on photos. A watch that more than most needs to be actually touched to appreciate fully, it remains one of the most intriguing timepieces that I've had the privilege to see, for the reasons that I outlined in my post about it. At the time I thought that it was going to be a one-off use of meteorite for De Bethune, given the immense cost and effort involved in creating it, but I was clearly wrong.
This new piece from De Bethune finds meteorite again front and centre, but this time in a very different way, and one that is clearly not a case of just redoing what they did last time, which was the creation of a case, but of treating the meteorite in a completely different way to remarkable effect, in the form of a dial (and name) that reflects a 2016 release, the De Bethune DB28 & DB28T Tourbillon 'Kind Of Blue' watches (see below).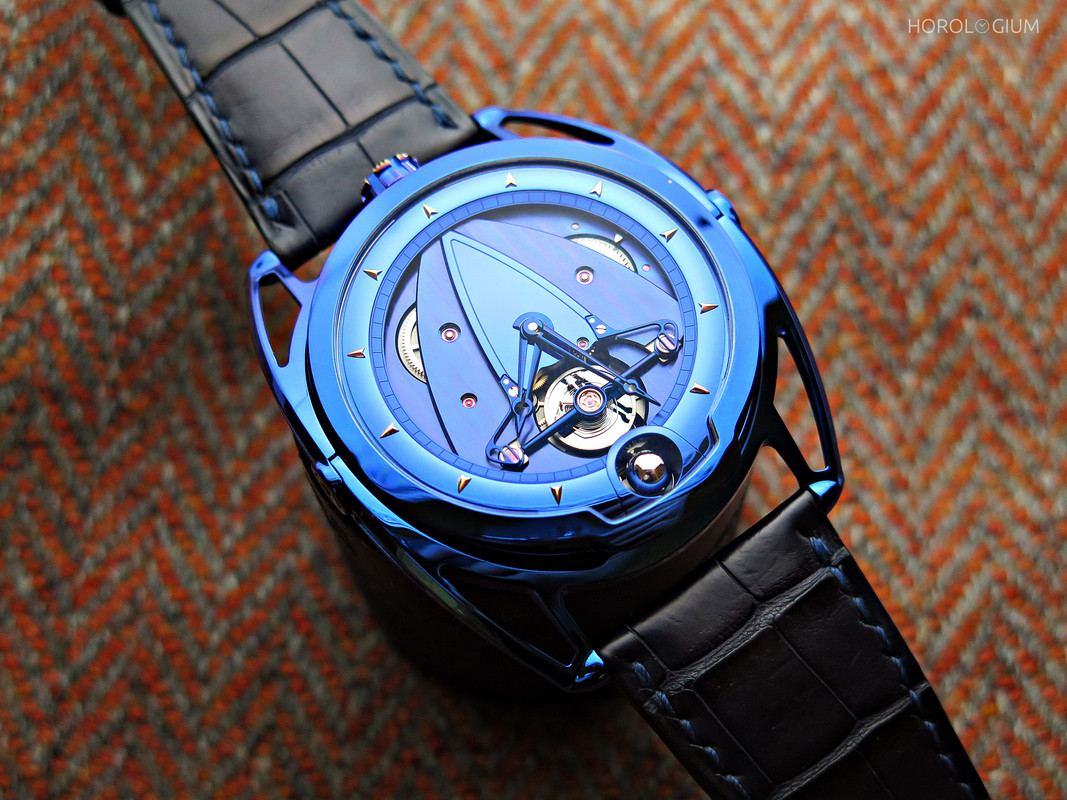 We have covered a few watches with meteorite dials over the last few years, but those were dials that focused on what are called Widmanstätten patterns or Thomson structures that are found in the octahedrite iron meteorites (the most common class of iron meteorites) and some pallasites (a class of stony–iron meteorite) and consist of fine interleaving of kamacite (an alloy of iron and nickel found on earth only in meteorites) and taenite (an alloy of iron and nickel found mosty in iron meteorites) bands.
The Dream Watch 5 had a case milled from meteorite; it took 2kgs of meteorite to get 500g of material to be used for the case. This De Bethune Kind of Blue Tourbillon again doesn't rely on the natural patterns of meteorite but on both the working and treatment (flaming) of the core material to create something in that unmistakably De Bethune blue, in a case of blued and hand-polished Grade 5 titanium.
As you can see, the meteorite dial features, as is the case with the DB25L Milk Way, gold drops depicting said galaxy. The dial is blued hand-polished iron meteorite with white gold stars. The hour ring is in Grade 5 polished and blued titanium with pointers in pink 5N gold. The minutes ring is in Grade 5 satin-polished and blued titanium.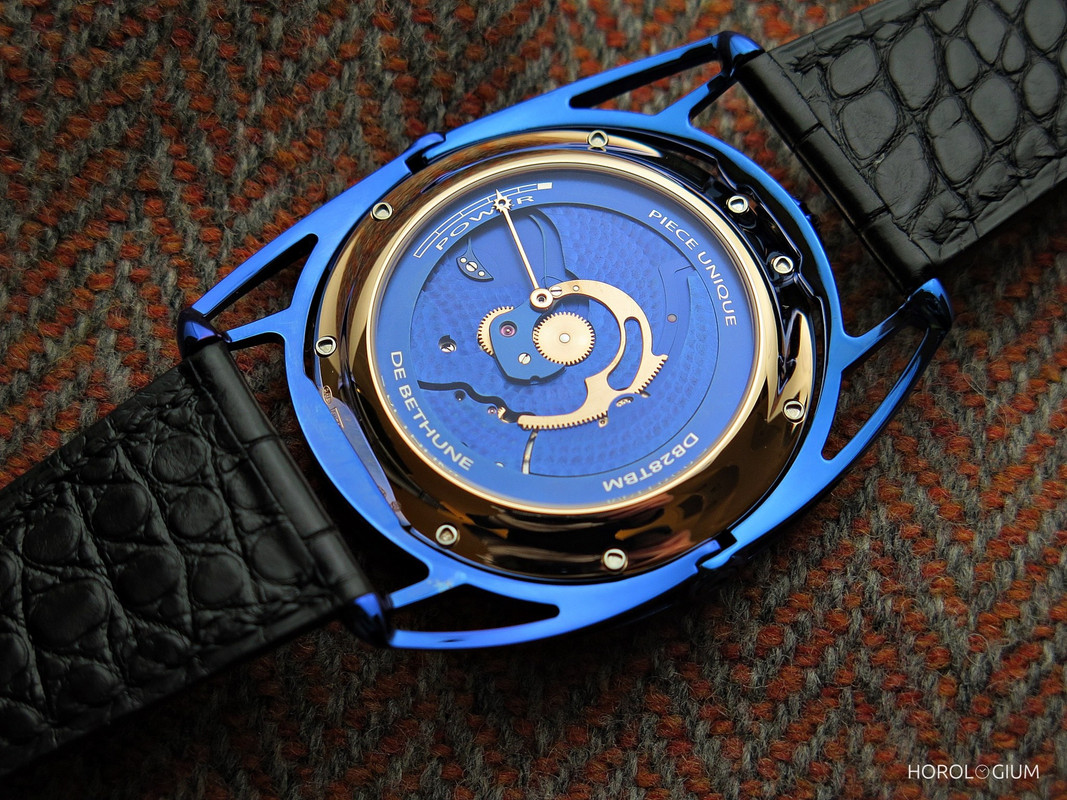 Inside the 42.6mm case and visible through the back is the manual-wind Calibre DB2019v3 with a 30-second tourbillon and five days of power reserve, with an indicator for the latter visible on the back of the watch.
The blue detailing extends to the buckle,with the alligator strap coming with a Grade 5 mirror-polished blued titanium and ardillon in pink 5N gold.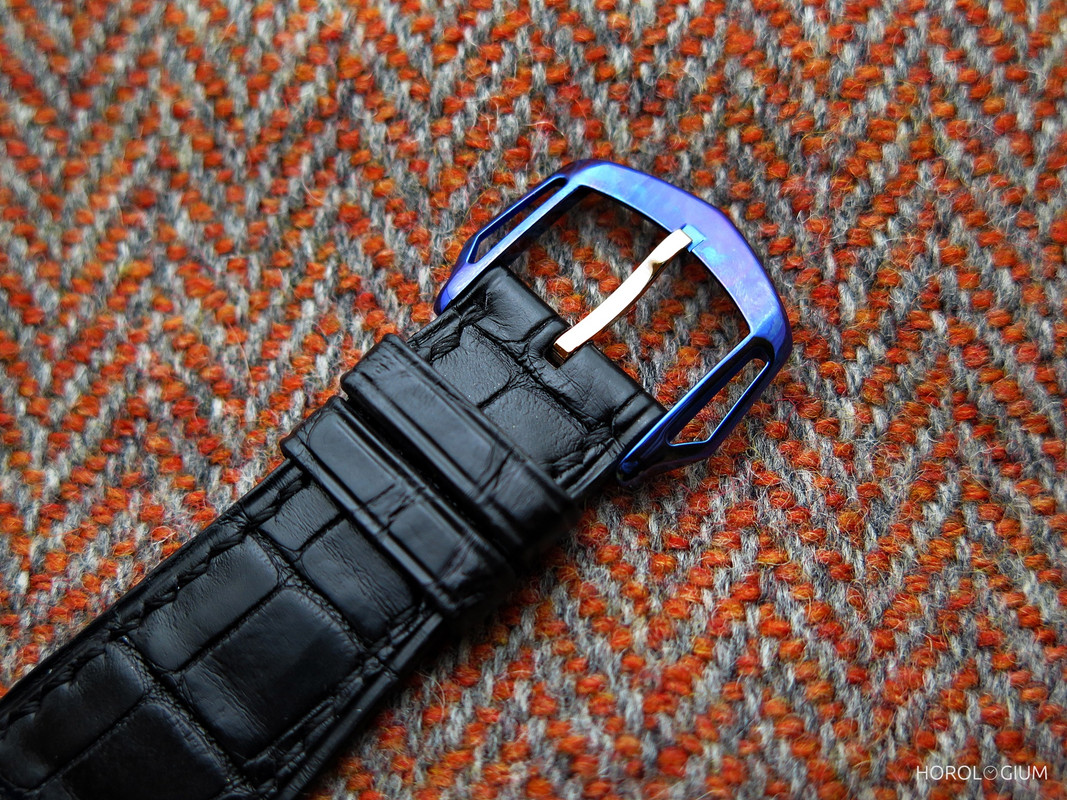 The pièce unique we saw was, as has just been revealed on his instagram account, bought by The Hour Glass' Michael Tay. However, the situation has changed a little bit. There will be a limited production version as well, for 280,000 CHF.
A watch that, like the Dream Watch 5, demands to be looked at and handled, the Kind of Blue Tourbillon Meteorite may not have the physical force of the former, but like it, it is a most singular watch. It may seem like the child of two other watches, but now having handled all three of them, I can say that each has its own distinct 'feel', both physically and in spirit.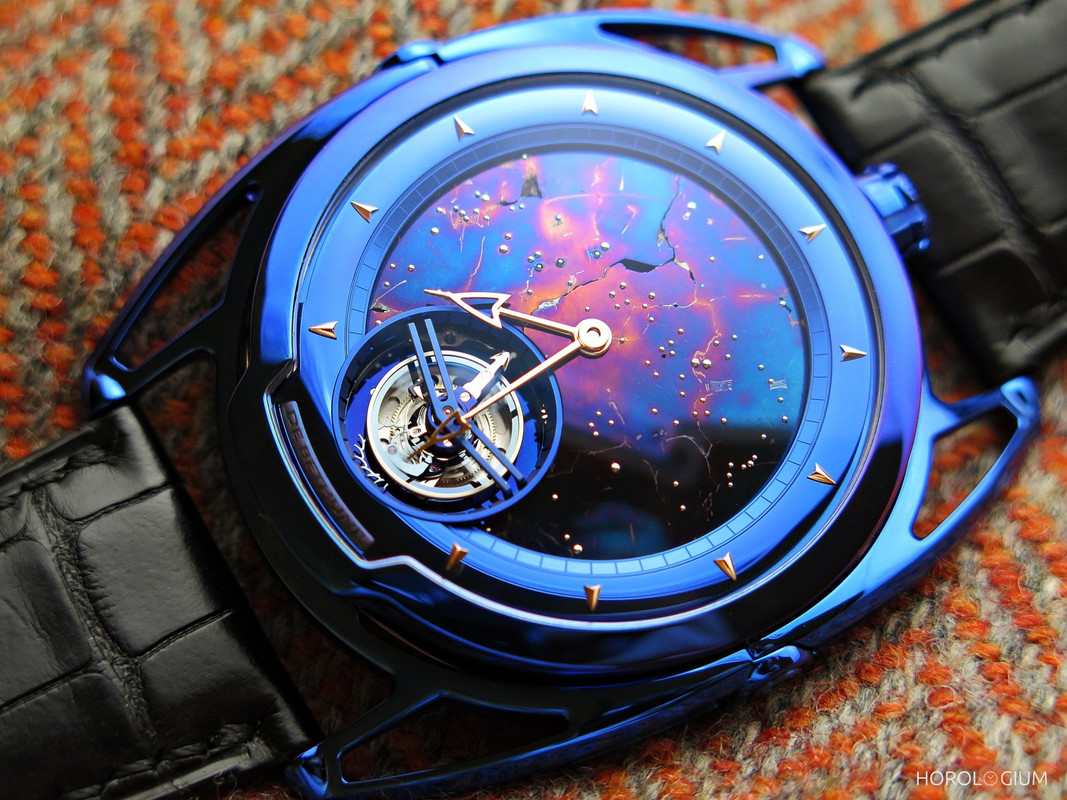 The Kind of Blue cases were a very De Bethune innovation, and the meteorite case was something that was so tactile, visually arresting and slightly crazy that in a way it couldn't have come from anyone else other than the Denis Flagollet and David Zanetta partnership. This? It's their interpretation of the galaxy, and it's a grand one.
---
---
Categories: Baselworld 2017, De Bethune, Hands-on, Switzerland, Watch materials, Watch Profile, watches