At SIHH 2016 we had our first opportunity to get some proper hands-on time with Christophe Claret's watches, including the extraordinary Soprano with its Westminster Chime, but more on that at a later date. Mr Clare is a titan of the industry known for his work with complicated movements both for his own brand (which was established in 1991) and others (Ulysse Nardin and Giulia Papi and Dominique Renaud for Renaud Papi Claret (RPC)).
We thought we'd ease into the brand by starting with one of Claret's women's watches, the Marguerite. Their most recent addition to their women's collection, she is a sister to Margot, Claret's first complicated women's watch which was characterised by a pusher activated 'game' (complete with a chime) where a petal (or two) would disappear from the dial's floral focus, revealing a randomised answer to that old picking-a-petal-off game of 'does he love me?' '…or does he not?'. In fact the Margot was awarded the Ladies High Mechanical Watch Prize at the GPHG 2014.
The Marguerite continues the floral theme, the love theme, and the 'surprise' theme, in four iterations (two types of metals), of which this is one. Click here for all versions.
The daisy is of course,the focus, its petals white lacquered and with two butterflies in blue, green or red SuperLumiNova depending on the iteration, attached to a matching ruby, emerald or sapphire pistil, as time indicators.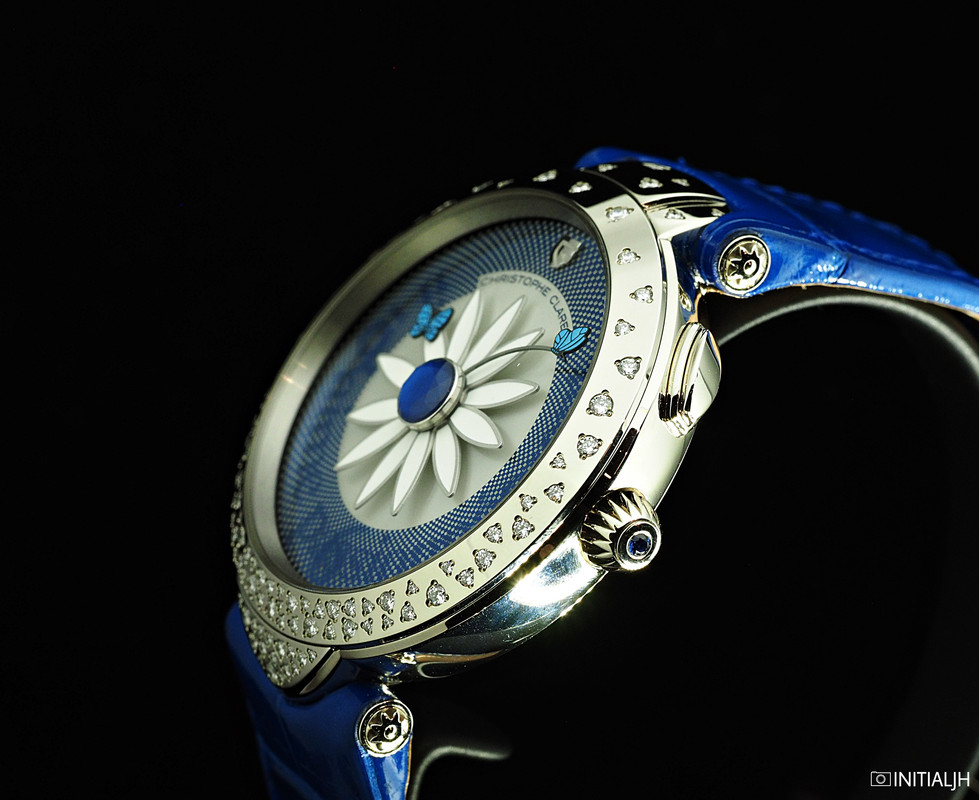 In addition to the Arabic numerals at 3, 6 and 9 o'clock the dial has something else on it, as per the Margot, which is made visible upon activation of the pusher at 2 o'clock – "Il m'aime passionnément" (He loves me passionately). This hidden component of the dial is done through the use of two superimposed disks, with a metallic transparent sapphire upper disk bearing a mosaic of transparent squares rotating over the fixed mother-of-pearl lower disk overlaid with another pad-printed black or blue varnished mosaic incorporating the text and the numerals. However, you are not beholden to this secret message; Christophe Claret gives the option of personalising it for an additional amount.
At 42.50mm in size and 12.07mm thick in white or rose gold, the bezels are bejewelled with two types of settings according to the variant – either what Claret have called 'flake' (as in snow), with a hundred diamonds attempting to mimic snowfall, or 'champagne' setting, which also features a hundred diamonds and is intended to reflect bubbles.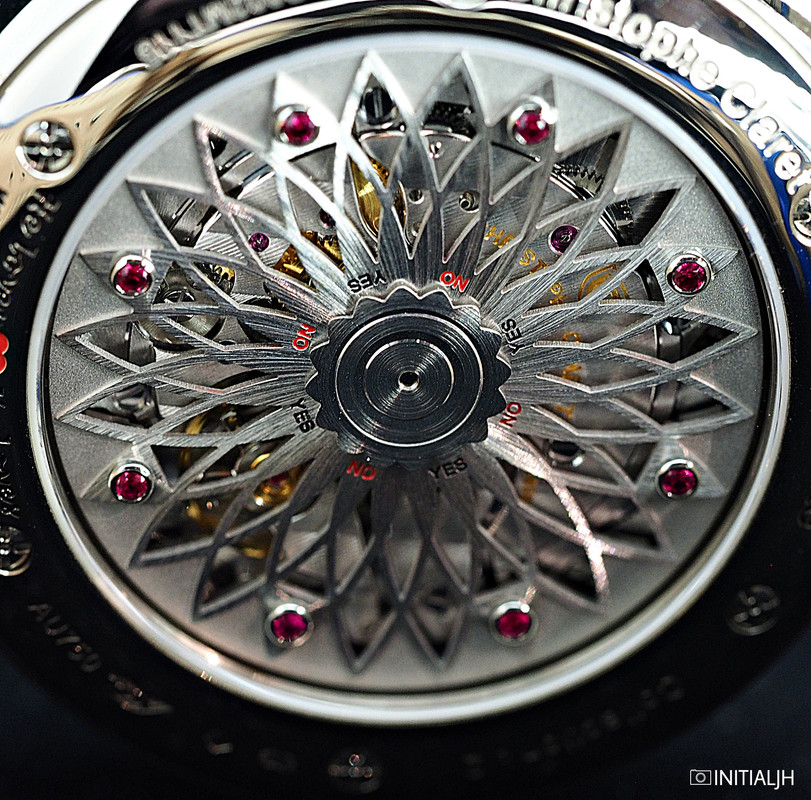 Inside is an automatic Claret movement with a 72-hour power reserve which can be seen through the sapphire case back. As you can see, the motif of the front has been carried through to the back, with the movement's oscillating weight made to resemble a daisy, albeit one set with eight rubies. As you can see, the same game mentioned above, is here. To play it in the Marguerite, you hold the watch horizontally to move the oscillating weight a bit. When it stops ten the ruby closes to the red-lacquered heart on the case gives the answer.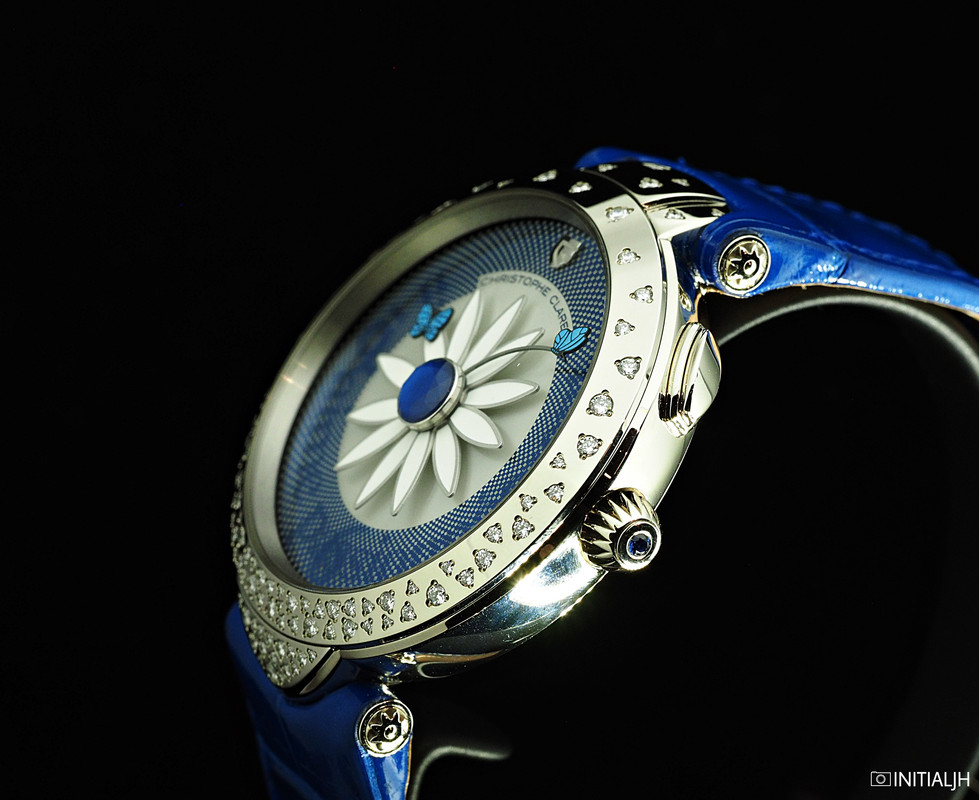 Whether or not the theme (or floral aspect) of this watch appeals to you will be just between you and this watch, but I am of the view that it's worth highlighting and acknowledging when a watch brand puts as much effort into complications, movements and unusual mechanisms for women's watches as they do for men's. That this is worth noting when someone try to do something different, as Claret are doing.
Each of these new watches is available in limitation of thirty pieces. This one will set you back 69,000 CHF and the cost of the message customisation if 5,000 CHF.
---
---
Categories: Baselworld 2016, Christophe Claret, Hands-on, Limited Editions, Switzerland, Watch Profile, watches, Women's watches