In 2015 the venerable name of Angelus found itself once again in the watch spotlight after a three decade odd hiatus. Arguably the domain of vintage watch enthusiasts, its name was most frequently uttered alongside nostalgia about its movements (both for themselves and others) in particular, with the occasional lamentation about how it was a shame that they were longer extant.
Then, the U10 Tourbillon Lumière happened.
Released in 2015, the re-emergence of the Angelus name (by La Joux-Perret, who have done the same with Arnold & Son and are in turn owned by Citizen) was startling enough, but the form in which this watch took was so bold and seemingly antithetical to the Angelus watches of old that the collective attention of the watch world was immediately grabbed.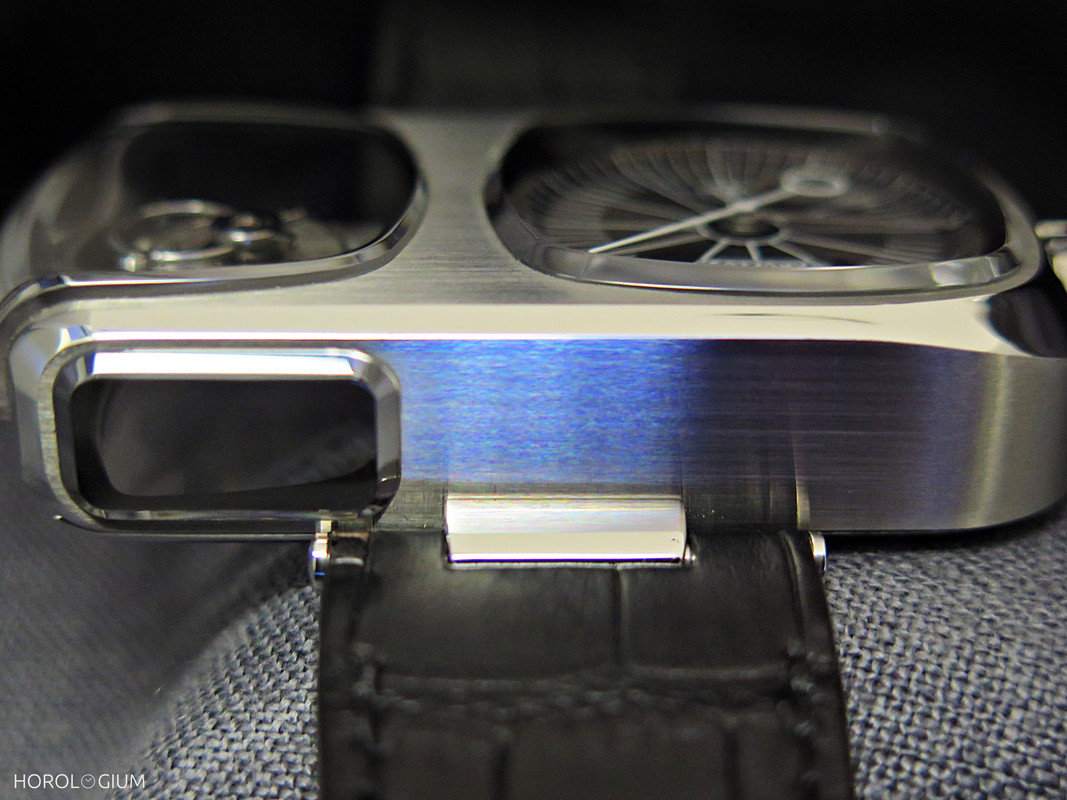 Apart from the retention of the original logo and crown design, the modern Angelus bears little obvious ties, especially design-wise, to the original, but in terms of wanting to be at the boundaries in terms of pushing themselves technically and be known for this, then it can be argued that the old spirit is there.
If their goal was to say "hello, I'm baaaack!" with a bang then the limited edition (twenty-five pieces) U10 Tourbillon Lumière, with its flying tourbillon and dead beat second, certainly did that.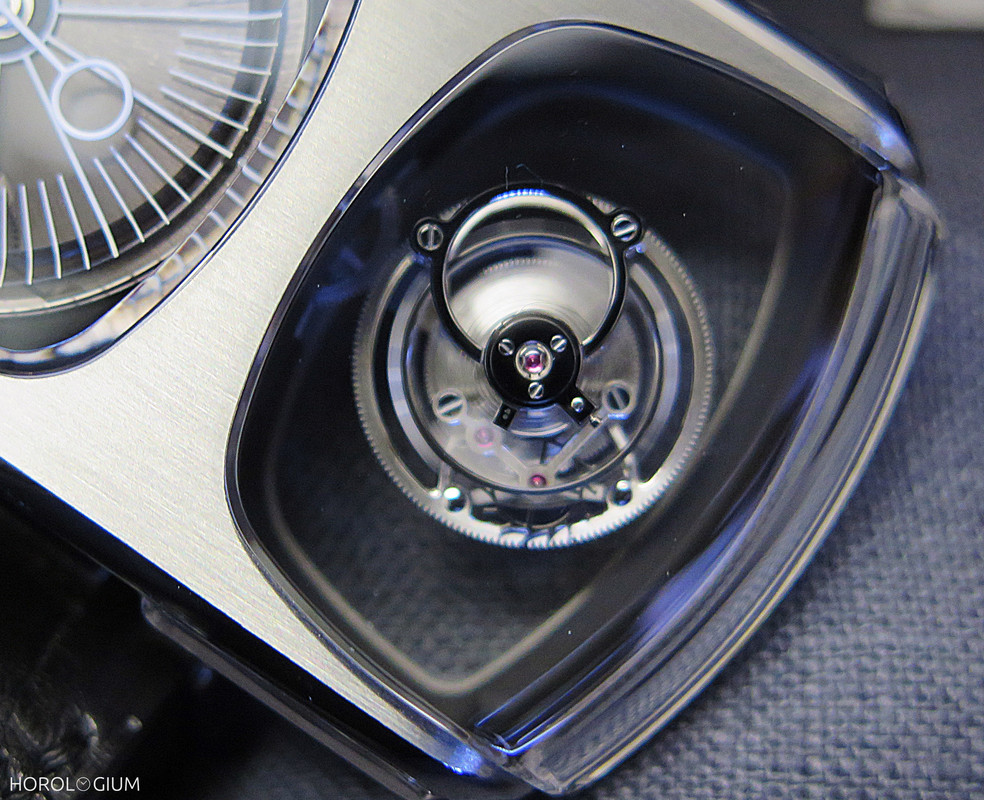 With a very 21st century look (not to mention sizing) that is glossily industrial and modern, its most distinctive characteristics are also the most obvious – the curved rectangular stainless steel case with the sapphire crystal wrapping around it. The one-minute flying tourbillon with its titanium bridge is highlighted through the use of four surrounding crystals through which you can see it from various angles.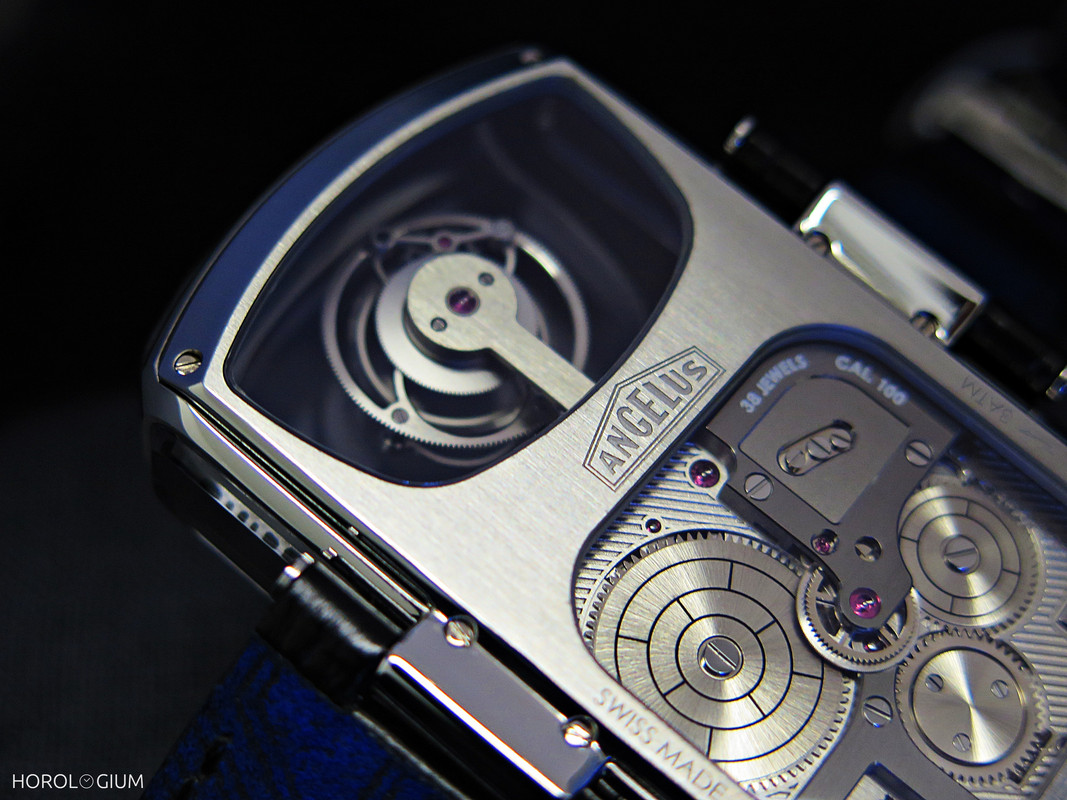 If you are wondering about the shape of the case, Angelus say that it was inspired by the multi-display travel clocks for which they were known between 1930-1960. It is made of annealed stainless steel, which has fewer impurities than the usual 316L steel and is more finely grained.
The case features a total of seven sapphire windows, including an open caseback that shows the manual in-house, 90-hour power reserve Calibre A100 movement powered by two mainspring barrels with laser-engraved plate pattern, hand-finished polished nickel-silver bridges and wheels. The size of the movement is 52.10mm x 30.40mm, in a case of 62.75mm x 38mm (thickness of 15mm), to give you some perspective.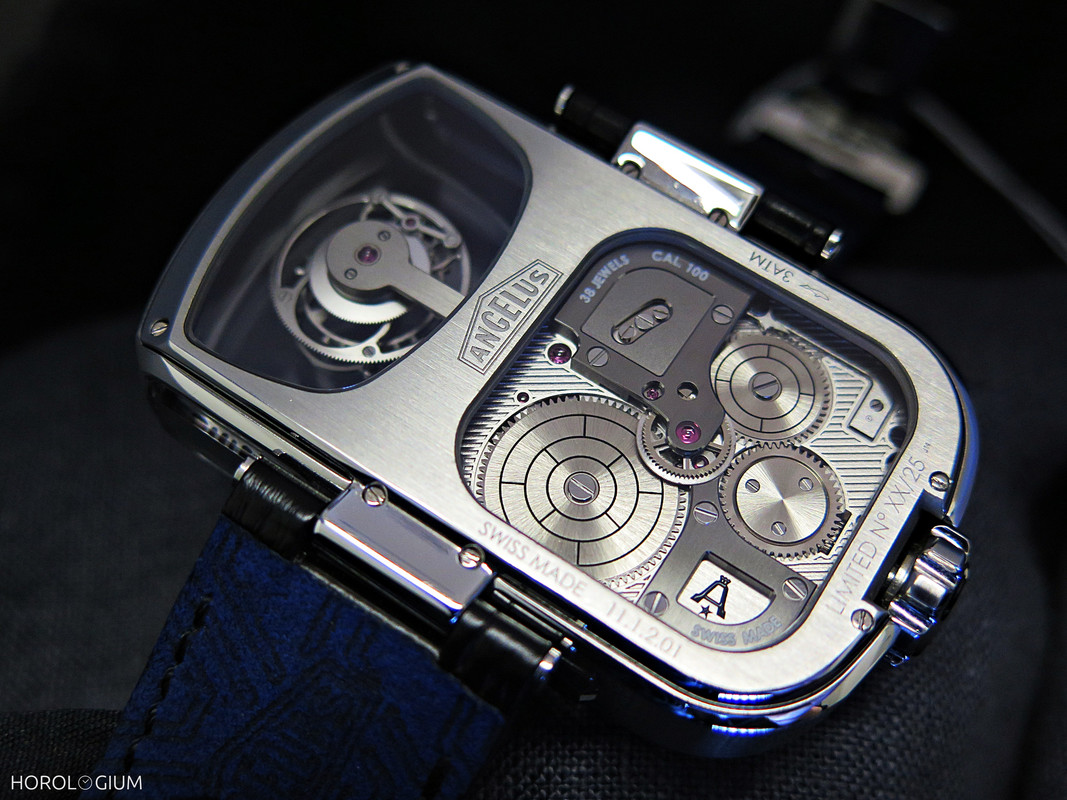 On the side you can see a linear power reserve indicator. On the left is a transluscent grey-coated sapphire dial with a hour, minute and seconds hand, with the addition of SuperLumiNova at 12, 3, 6 and 9 o'clock (white) and black SuperLuminova for the hands. The deadbeat seconds hand is white lacquered.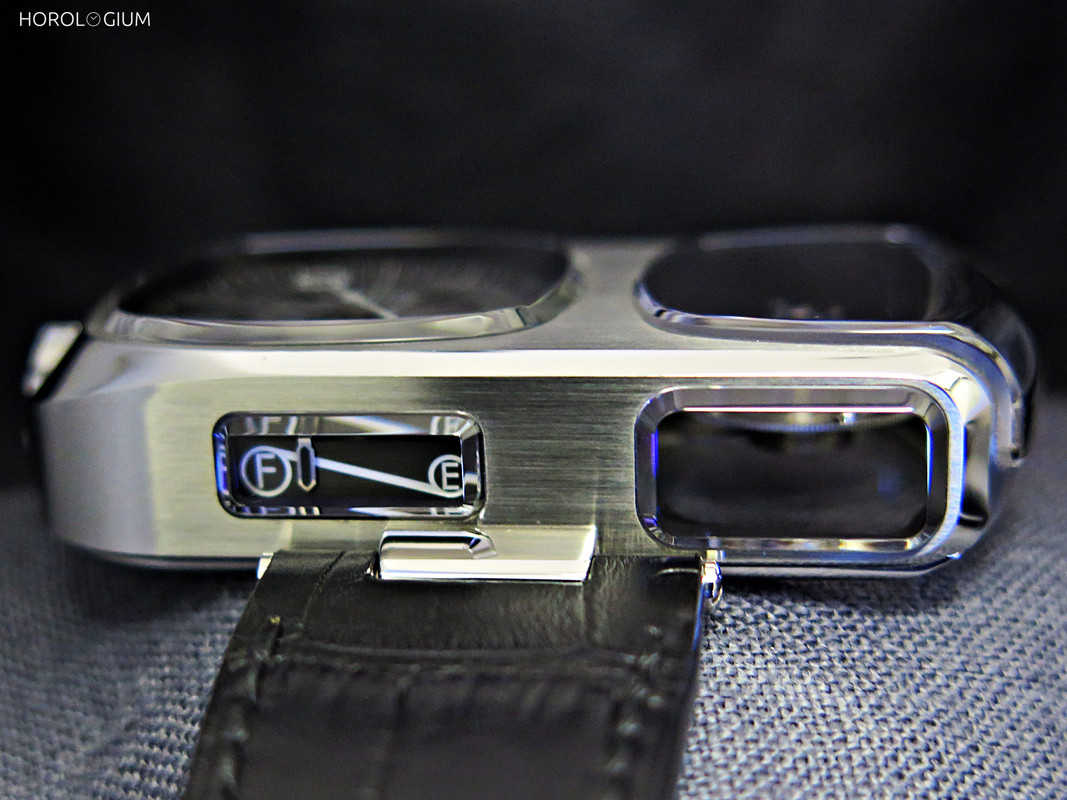 Because the movement is visible from so many angles in this piece you are treated to a variety of finishes from satin finishing of the mainplate with its laser engraving to the chamfered polished edges of the bridges, sunray satin finishing on the dial side of the plate, circular satin-finished wheels, bead-blasted and satin-finished tourbillon bridge, and the cage itself hand-chamfered and satin and mirror polished surfaces.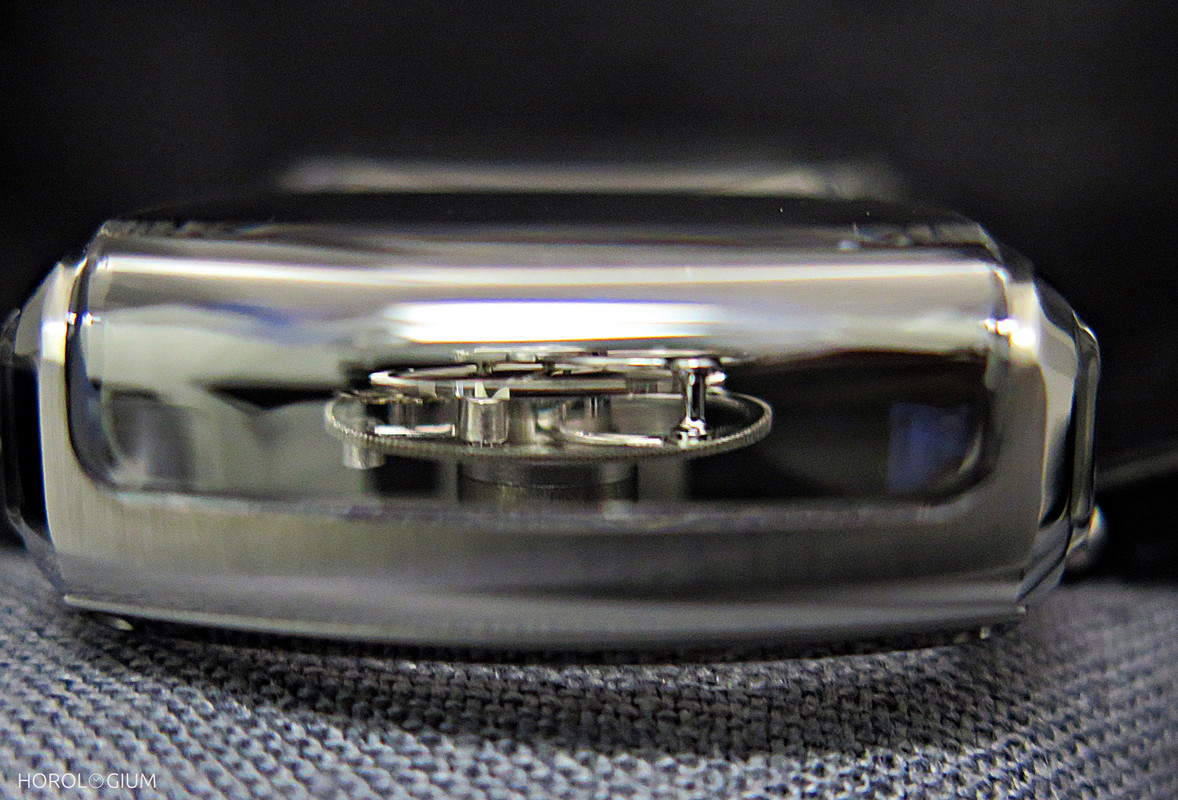 The overall impression of this is that it's all shiny and rather big. At 99,500 CHF it's going to rule a lot of people out anyway, but the size is something that needs to be experienced. It looks big on your screen, but it's a watch that is impossible to get an accurate grip on without handling it. Does the size detract from the watch? Well that's going to be something subjective, but when I saw it, it seemed bigger than I had thought it would be but it was also more likeable than I had anticipated. I thought that its sheer size would overwhelm all other impressions but it didn't; this is a slightly bonkers but attractive watch.
As a follow up from this, Angelus have released the more 'normally' sized U20 Ultra-Skeleton Tourbillon, the U30 Tourbillon Rattrapante and the U40 Racing Tourbillon to add to their Urban Collection. I do love a simple numbering system; it really can't be underestimated.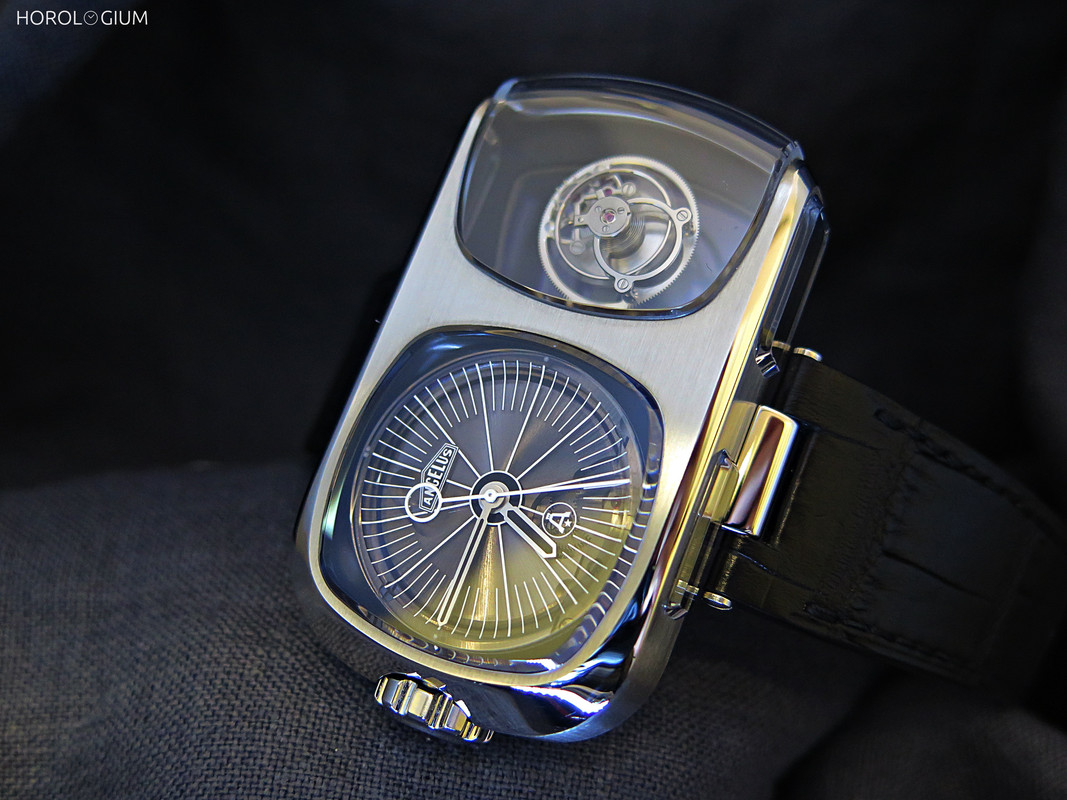 I didn't have an opportunity to see the U10 until Baselworld 2016, when it was also my first 'hands-on' experience with the modern Angelus. Rather than have all of them in the one post I thought that I would leave the other 2016 pieces I photographed to a second one, so look out for it coming soon.
To whet your appetite here is a glimpse of the U40 which at 26,350 CHF is quite frankly, not bad at all.
---
---
Categories: Angelus, Baselworld 2015, Baselworld 2016, Hands-on, Switzerland, Watch Profile, watches