You may recall that a year ago at Baselworld 2015 Zenith launched Elite Calibre 6150 ('6' for 'Elite', '150' for their birthday of the same), a movement with 195 components, a 100 hour power reserve, 3.92mm high, and released in a time-only eponymous 42mm stainless steel piece.
As I noted at the time, this appeared to be a better looking release than the Zenith Ultra Thin that in a way preceded it. One thing that did make me ponder was their decision to increase the case size to 42mm, 2mm more than their previously existing Elite collection.
This year at Baselworld 2016 not unsurprisingly, Zenith have added to the Elite 6150 range with a new rose gold model.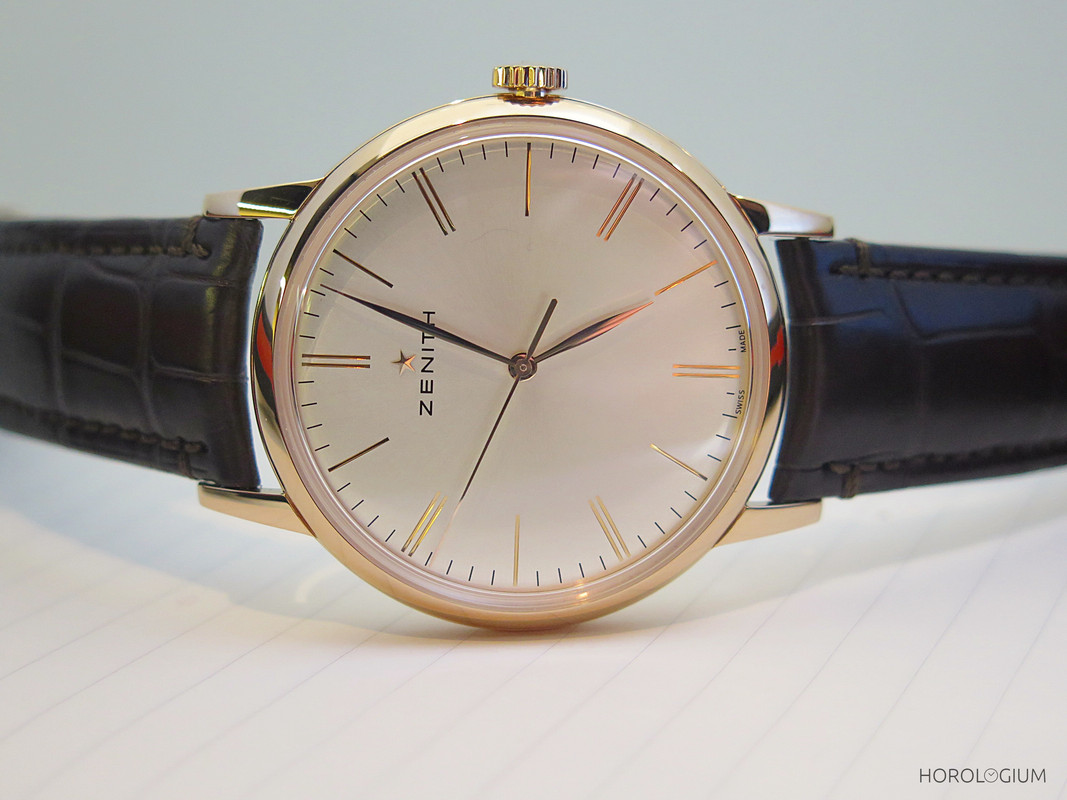 Now it was only recently (due to them not having been available in Australia) that I had even had the chance to look at the (highly successful) stainless steel model but now I have, and with it this new rose gold model.
My conclusions?
Well I have been asked in the last few days about how the watch wears, by those who prefer their dress pieces smaller than 42mm.
Firstly, it looks big at first glance. The dial seems expansive, due to the small curved bezel (there is also a rounded crystal, old acrylic-style). If you are used to or prefer smaller dress watches then your first response may be to think that it is too big for you.
However, appearances are deceptive. The rounded nature of the model mean that if for example you put it side to side with another 42mm Zenith (I compared it with the 42mm Chronomaster case) it looks smaller. It also sits, in that comparison, smaller on the wrist as well. Which is all just reinforcement of what I know I bleat on about a bit – don't get hung up on the mm numbers, try if you can, try a watch before forming an opinion about whether you can wear it or are comfortable wearing it. Each watch sits differently according to case curvature/ shape, and lug length/ design.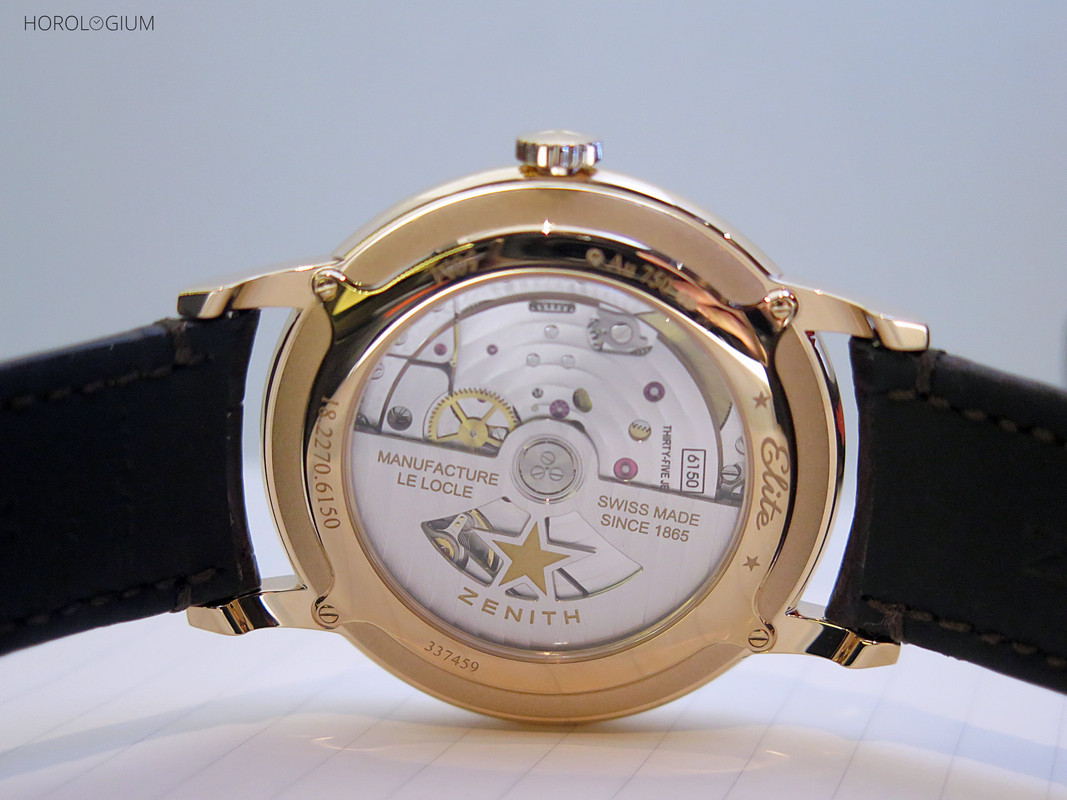 As I noted before Elite watches are characterised by conservatism, but there is an important role for this in the Zenith range. I must confess that I had really liked this watch in the press photos but been concerned that I might not like it as much (or at all) 'in the metal'; a plain time-only design can look elegant on paper (as it were) but in real life perhaps a bit well, 'flat' as it were, if that make sense.
It is with some relief that I have discovered that it's actually better than in the photos, with the proportions on the dial in terms of the lengths of the hands and markers in relation to the size of the dial etc spot on. If you are looking for a slim elegant time-only dress watch on the other side 40mm plus then this is worthy of your consideration.
The RRP for the Elite 6150 Rose Gold in Australia is $17,800.
---
---
Categories: Baselworld 2016, Hands-on, Switzerland, watches, Zenith