An early celebratory hurrah to Jaeger-LeCoultre's Reverso, which will celebrate its 85th birthday in 2016 with what will no doubt be many new models both historically influenced and modern.
What we have so far is that the new Reversos will be split into 'Classic' and 'Tribute' and that all sizes will pretty much be catered for. Here's a quick run down of what has been announced to date :
CLASSIC
There are two sub-categories here : Classic and Duetto.
Classic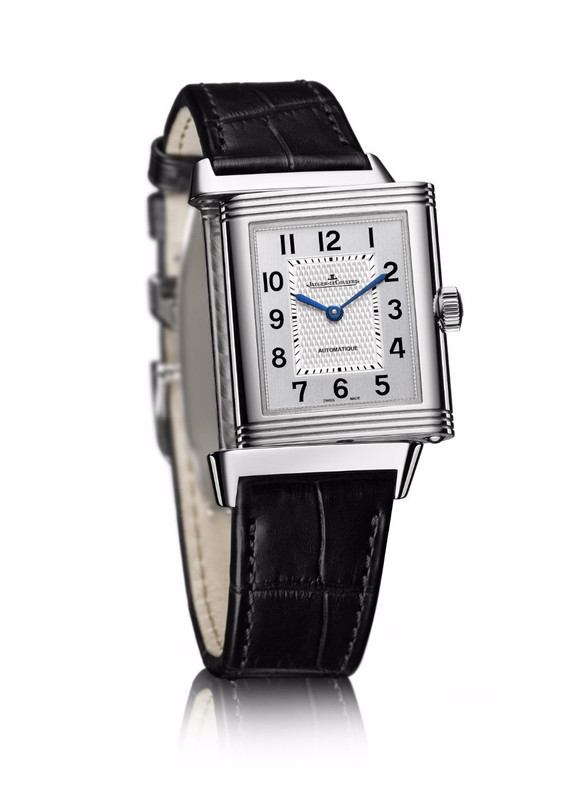 Three sizes : small (34mm x 21mm x 7.40mm); medim (40mm x 24.4mm x 9mm), large ( 45.6mm x 27.4mm x 9.7mm)
Two movements : Calibre 657 Quartz (small cases). Automatic Calibre 965 (medium and large cases).
The dial side is silver-brushed with guilloché, and heated blue hands. The verso is solid, with the usual Reverso engraving option available to you. Jaeger-LeCoultre have done an 85th themed one as an example.
All of the Classics will come on a black alligator strap with a folding buckle but there is a stainless steel bracelet option available for the small size.
Duo and Duetto
Duo :
The case sill be 47mm x 28.3mm x 11.6mm. Two versions in stainless steel and the rose gold. The case is 47mm x 28.3mm x 11.6mm.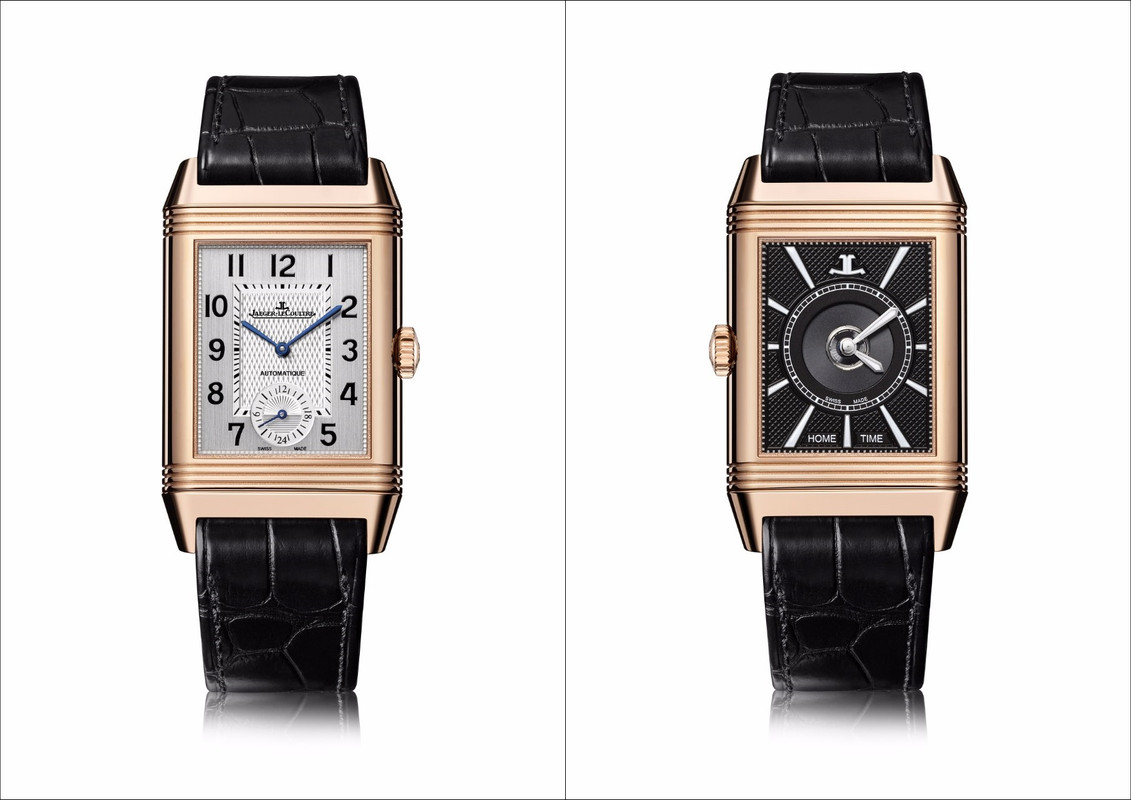 The dial side shows the hours and minutes, with day/ night indicator on the 24-hour indator at 6 o'clock on a silver-brushed and guilloché dial. The back side displays a second time zone on a hobnail guilloché dial.
The movement is the automatic Calibre 969 with 38 hours power reserve.
Duetto :
Two case sizes : small (34.2mm x 21mm x 8.7mm) and medium (40mm x 24mm x 9.6mm) in stainless steel or rose gold and bracelet and strap variants.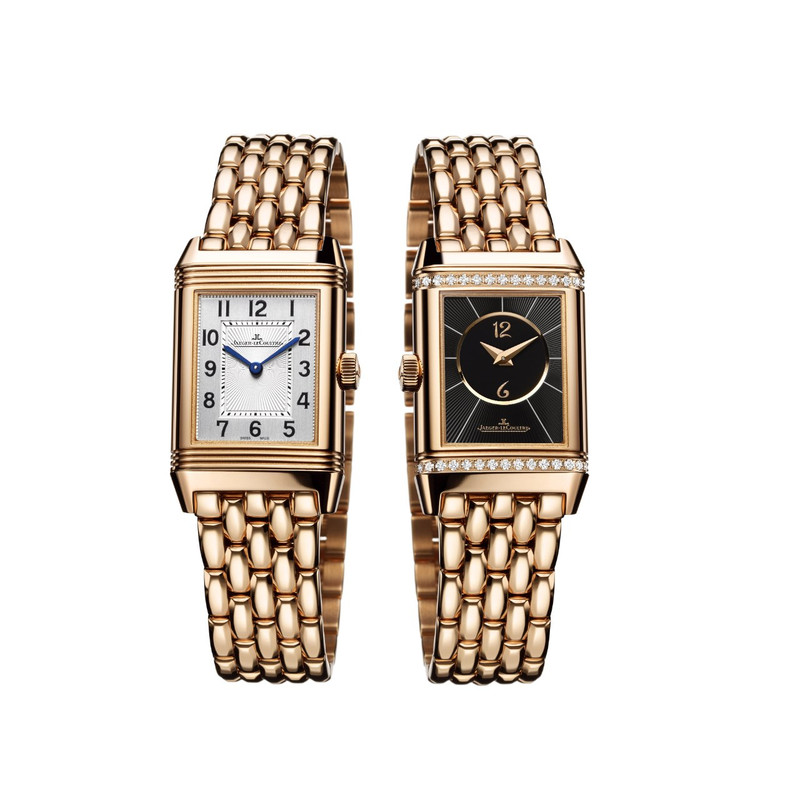 Movements are the manual-wind Calibre 844 for the small case and the automatic Calibre 968A for the medium case.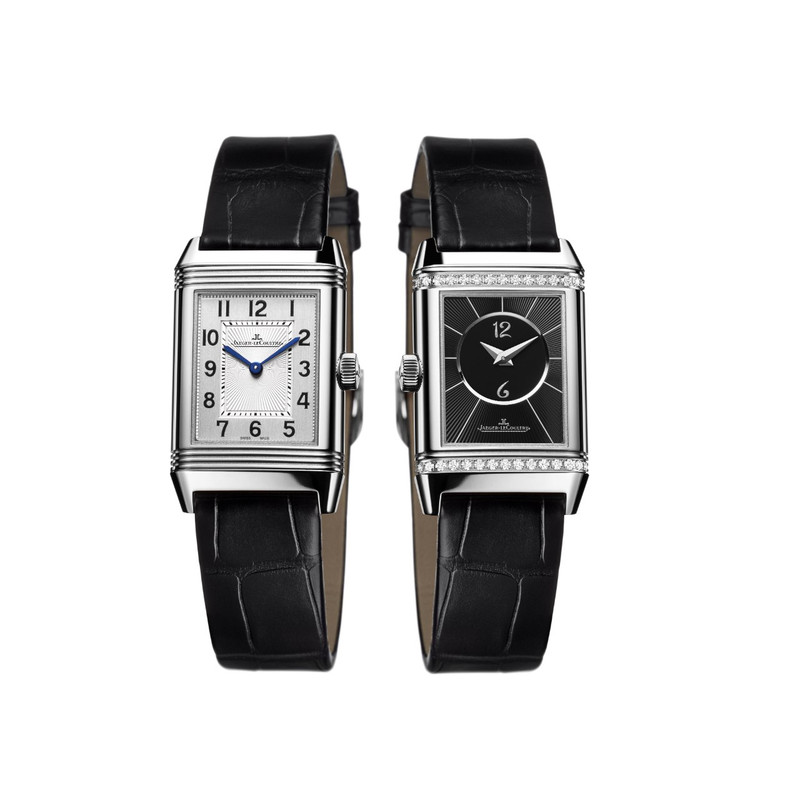 A dual time zone piece, with hours and minutes on both sides. Silver-brushed and soleillé dial on the recto, soleillé black and smooth black dial on the verso.
TRIBUTE
So far we have two announcements, the Reverso Tribuo Duo and the Reverso Tribute Calendar.
Reverso Tribute Duo
Base on vintage models, with its baton markers and dauphine hands, this has 'tribute' pretty much written all over it. With a dual time zone functionality (local time on the white dial, home and a 24-hour indicator on the dark blue hobnail dial), it contains the manual-wind Calibre 854A/2.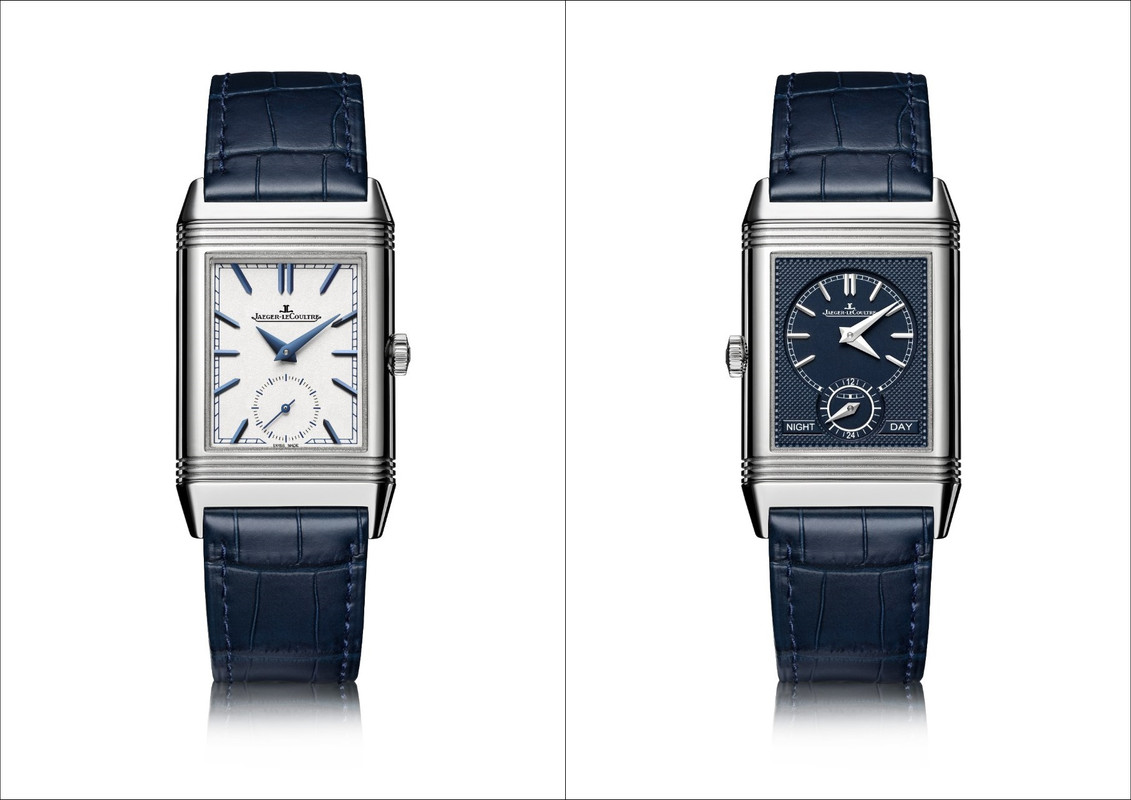 The case is 42.8mm x 25.5mm x 9.15mm and in stainless steel.
The white dial with the blue applied markers and hands is 'the' dial of the two, in my view. In fact of the ones released so far, I'm guessing that his will be the one getting the most attention and already getting orders.
Reverso Tribute Calendar
The most complicated new Reverso announced so far, this will be in rose gold only, and in a 49.4mm x 29.9mm x 12.06mm case.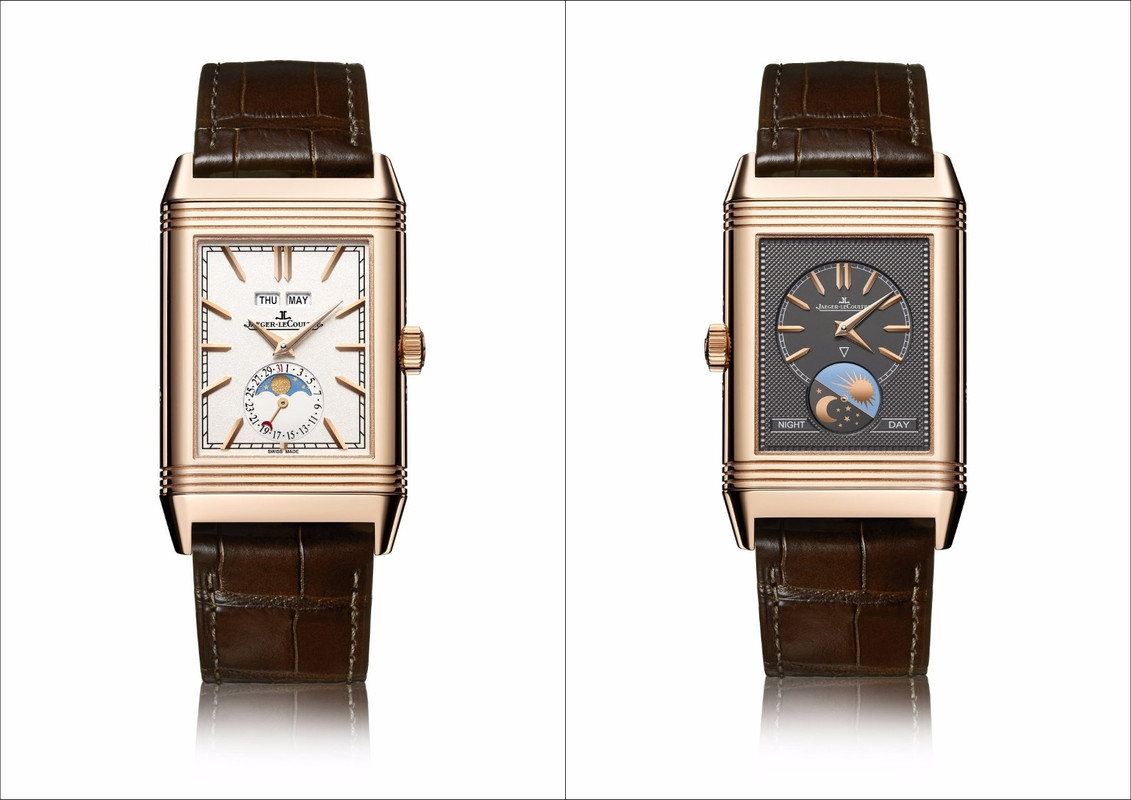 The recto dial displays hours, minutes, a triple calendar, and moonphase on an opaline grained dial with hand applied hour markers. On the other side is an anthracite hobnail dial with gilt hour markers on which there is a a second time zone with a day/ night indicator.
Inside is the manual-wind Calibre 853 with 45 hours power reserve.
So in summary : so far we have if not something for everyone, then pretty much close to it, but let's see what 2016 brings.
---
---
Categories: Jaeger-LeCoultre, SIHH 2016, Watch Profile, watches