In 2014 Urwerk introduced the manual-wind UR-105 via the Iron Knight and Dark Night, followed in 2015 by the automatic UR-105 TA (Turbine Automatic) Knight, whose movement is regulated via dual air turbines visible on its back. There were then some rather perplexing (to me) bright coloured versions in orange and yellow. I rather think that you either 'got' the colours or you didn't, and not being one for yellow or orange as a general rule, I fell into the latter camp.
In 2016 Urwerk has released perhaps an equally perplexing (but in a different way and probably to a different subset of people) variant – the UR-105 T Rex. This is one of two (the other being the EMC Time Hunter) that they launched at SIHH 2016.
This new URWERK UR-105 T-Rex is based on the UR-105 TA, with major cosmetic changes. Pretty much as 'major' as is possible. Rather than steel, titanium, gold or PVD, it's scaled up to full reptile mode and gone bronze.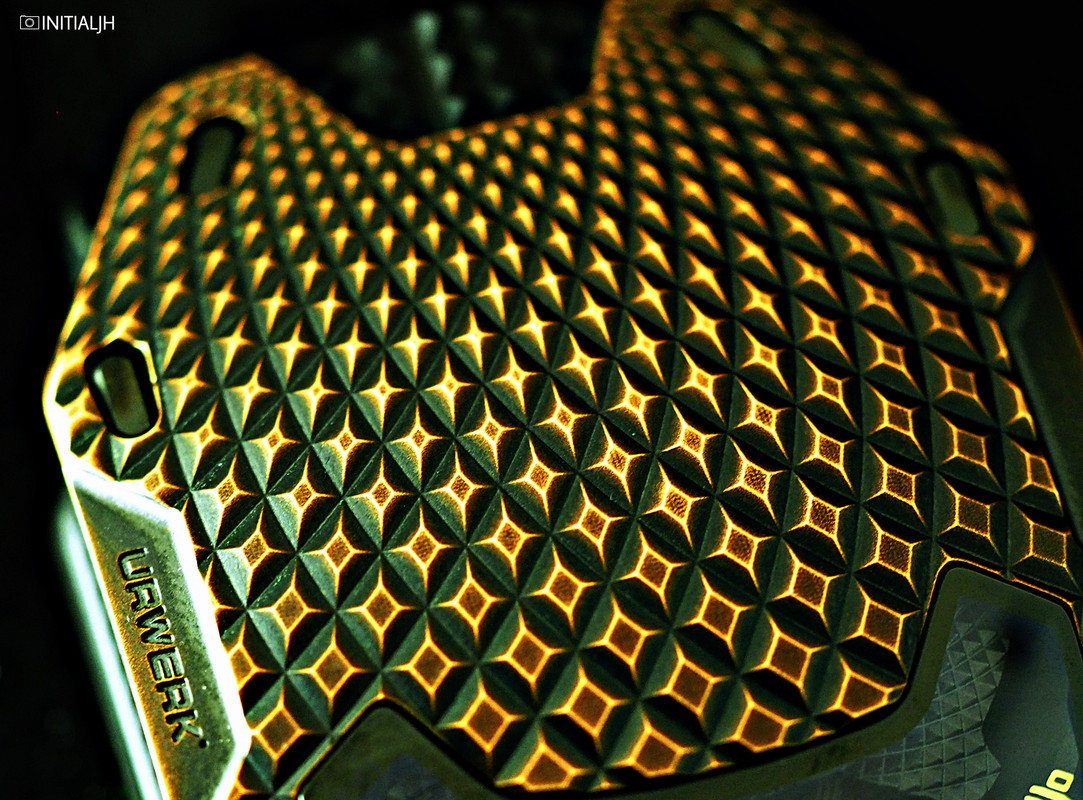 This bronze bezel is decorated, bead-blasted, micro-blasted, oxidised with a brush. Yes the patina on it has been quite specifically created, although of course if you end up being one of the 22 owners of this piece, the patina's development will be entirely up to you.
For the T-Rex the bezel (and I almost hesitate to call it this, in a way, as it somehow seems inadequate a descriptor when it comes to Urwerk at times) covers most of the top of the case, with only the 60-minute track and the lower part of the trademark satellites, visible. It has been meticulously engraved with a pattern intended to mimic that of a T-Rex of course. The rest of the case remains black PVD-coated titanium.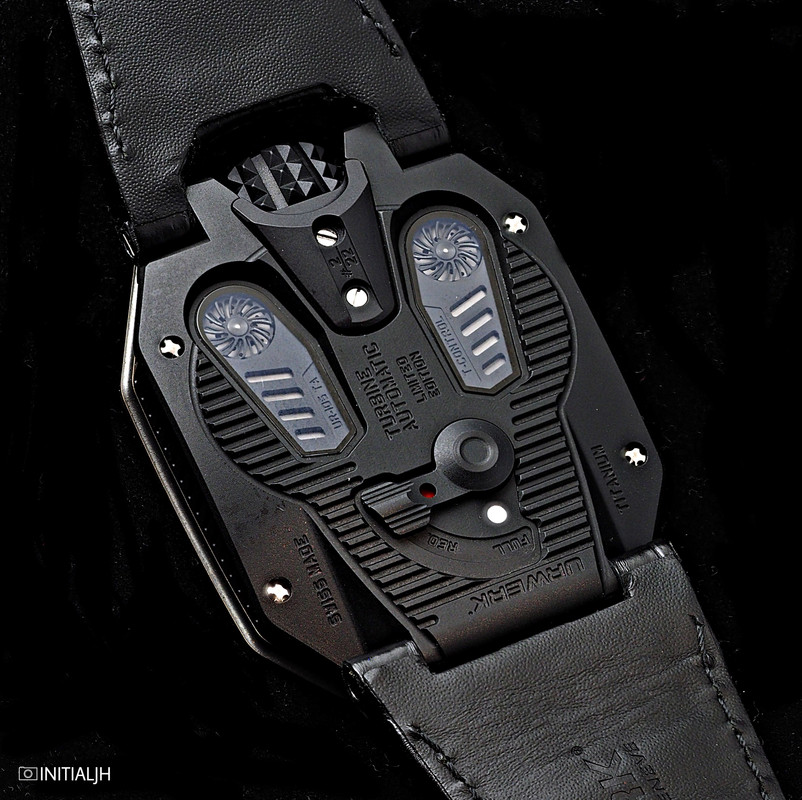 Inside is the same automatic Calibre 5.02 UR as used in the TA model, with a 48-hour power reserve. The time display features four satellites each showing three hour intervals, driven by a carousel rotating device and running over a 60-minute track. The satellite hours are bronze beryllium Geneva crosses and the carrousel and three mainplates in brass. Markers, dials, indexes and satellites all have Super-LumiNova.
On the case back we find Urwerk's usual 'interactive' component to their watches – turbines that allow regulation of the winding of the watch (with three positions: 'FULL', 'REDUCED' and 'STOP').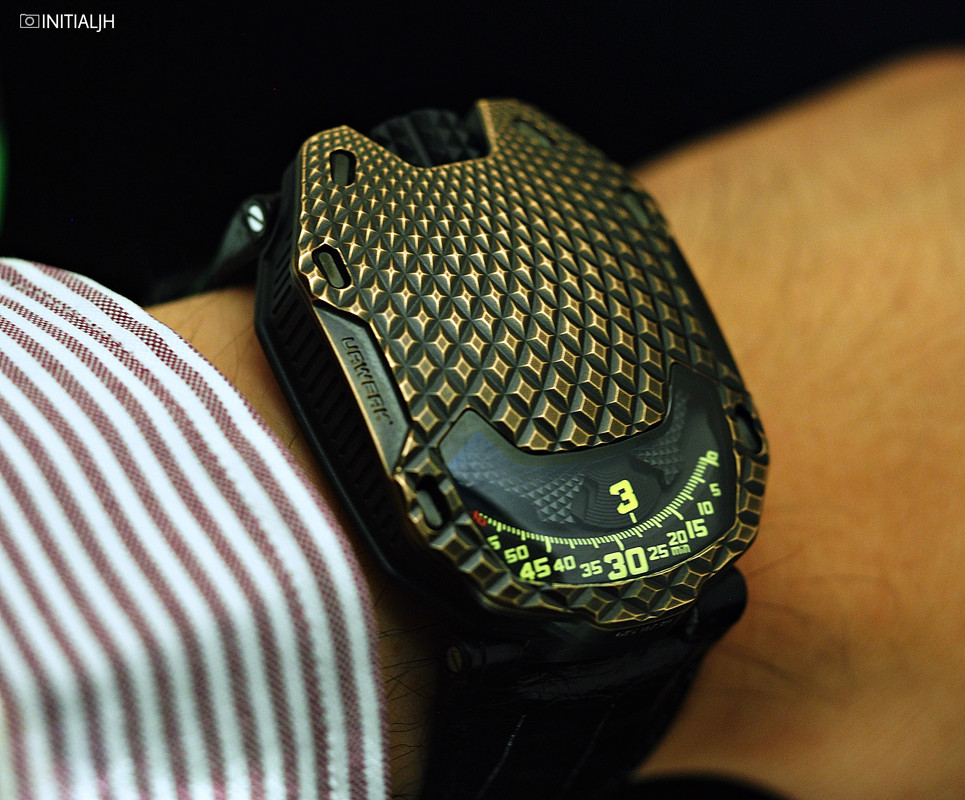 Having seen the watch in the press release before I handled it I have to say that it is better in the metal. I wasn't sure how I felt about it when I saw the initial photos, but ended up being rather taken with it, especially in terms of how tactile it is. There's something quite engaging about it 'in the metal'. Nonetheless, this is clearly a watch that will generate quite polarised views. However, if we take it as the latest addition in the 'bronze age' of watches, it's definitely one of the (if not 'the') more interesting manifestations.
Although a rather large 39.50mm x 53mm x 16.800mm on its black alligator strap with PVD titanium buckle, it sits surprisingly easily on the wrist, as you can see above (@initialjh's wrist errs a little on the smaller side). The price is CHF 65,000 before taxes.
---
---
Categories: Hands-on, Limited Editions, SIHH 2016, Switzerland, URWERK, Watch Profile, watches