First things first – for those who are in Australia Van Cleef & Arpels are coming very soon, with their first opening in Melbourne. So if you've ever been curious but not had the opportunity to look at the watches and jewellery, you won't have as far to travel now. With what appears to be a rather large number of watch brand boutiques that are slated to open in 2016, it is a nice vote of encouragement for the local watch market.
One of Van Cleef's major new releases this year is the Ronde des Papillons, the latest in the line of mechanically complicated and quintessentially Van Cleef & Arpels-styled 'feminine' Poetic Complication watches. In this instance, the time telling, something which Van Cleef & Arpels excels at playing around with for their women's watches, is done via three butterflies as indicators.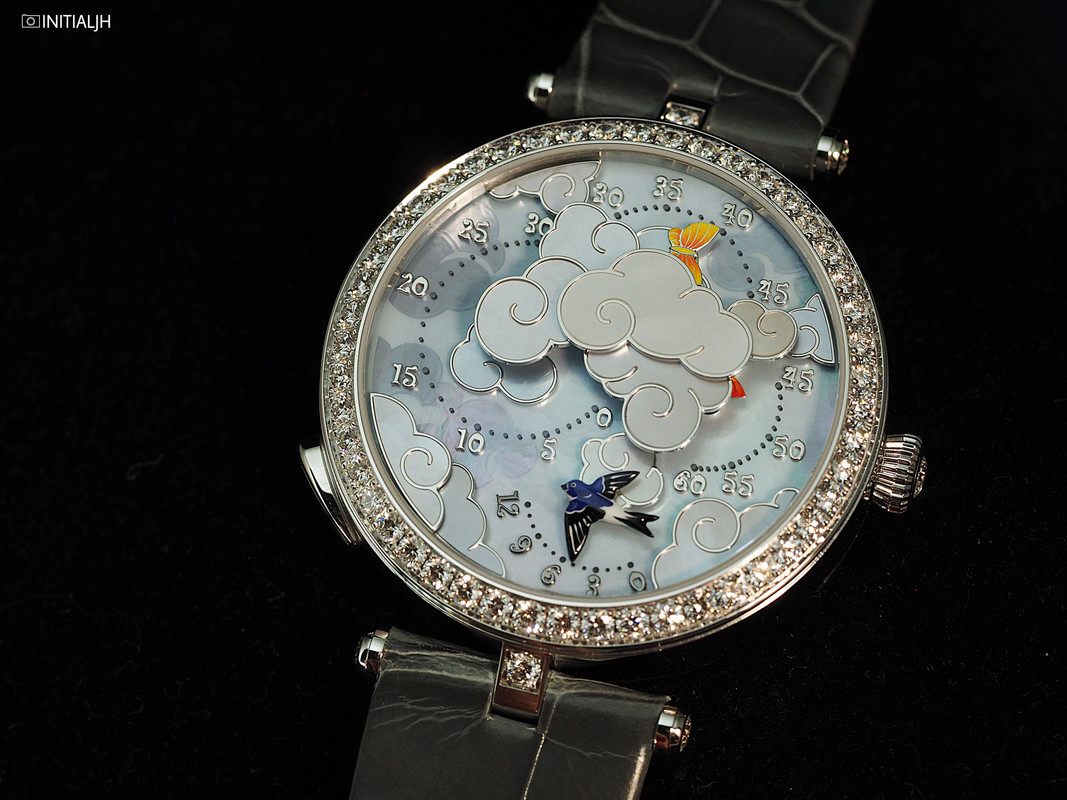 Now I'm the first to say that butterflies (real or imagined) are nice enough but not really necessarily something I would choose to have on a watch, but stop and look beyond them, as it is not just about the butterflies but it is also very much about what is behind them, what is driving them. To those who want to dismiss this watch out of hand because because they see butterflies and clouds and want to tune out, don't. Don't jump to conclusions, and take some time to really examine this interesting new watch.
The watch features an unusual retrograde display, with mechanical animation on activation. The hours are indicated by a swallow that acts as a retrograde indicator, starting at '0' and ending at '12' before jumping back to the beginning. More unusual is the minutes display, where the 'hands' are three differently coloured (pink, yellow, red) butterflies 'flying' at different paces thanks to an elliptical gear.
The dial has four fan-form dials. Clockwise from 12 o'clock : one for 30-45 minutes, one for 46-60 minutes, one for 0-12 hours, and a fourth for 0-30 minutes.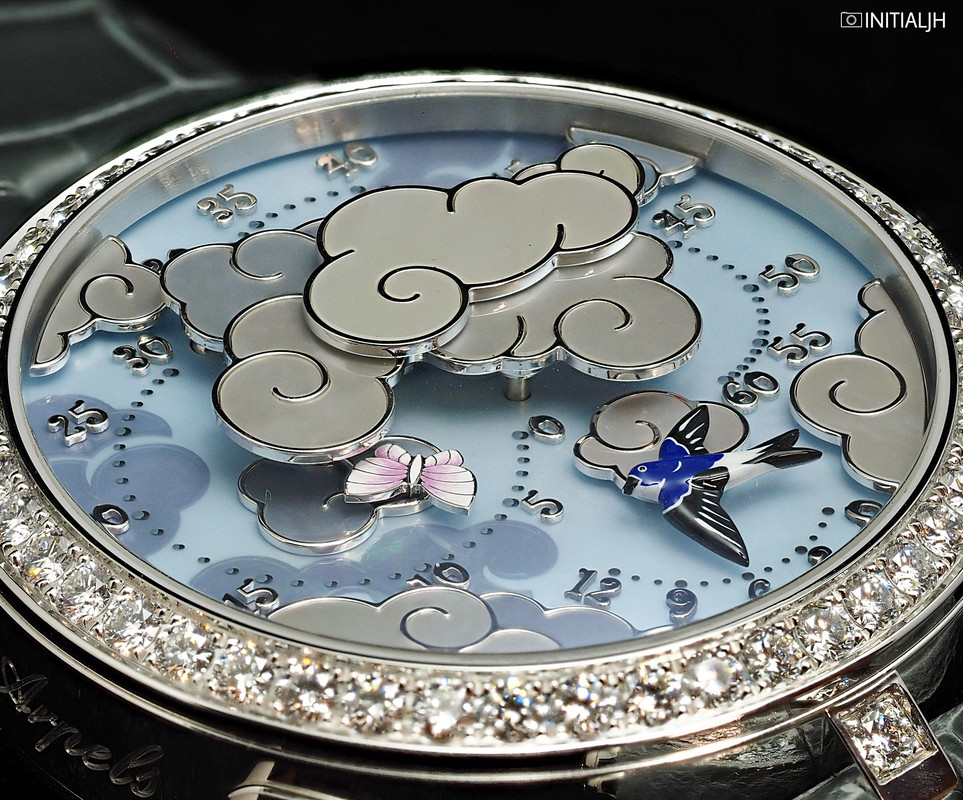 The swallow is always visible, moving across the display. The butterfly displaying the correct minute travels as time passes. Pressing the button at 8 o'clock will activate the butterflies, all of whom will fly through the clouds and, after ten seconds, return to their original (time indicator) position.
The base of the multi-layered dial is made of mother-of-pearl that has been painted a pale blue to represent the sky, with white gold discs with mother-of-pearl inlay clouds. The applied numerals are also white gold, as are the swallow and butterflies, which are hand engraved and painted.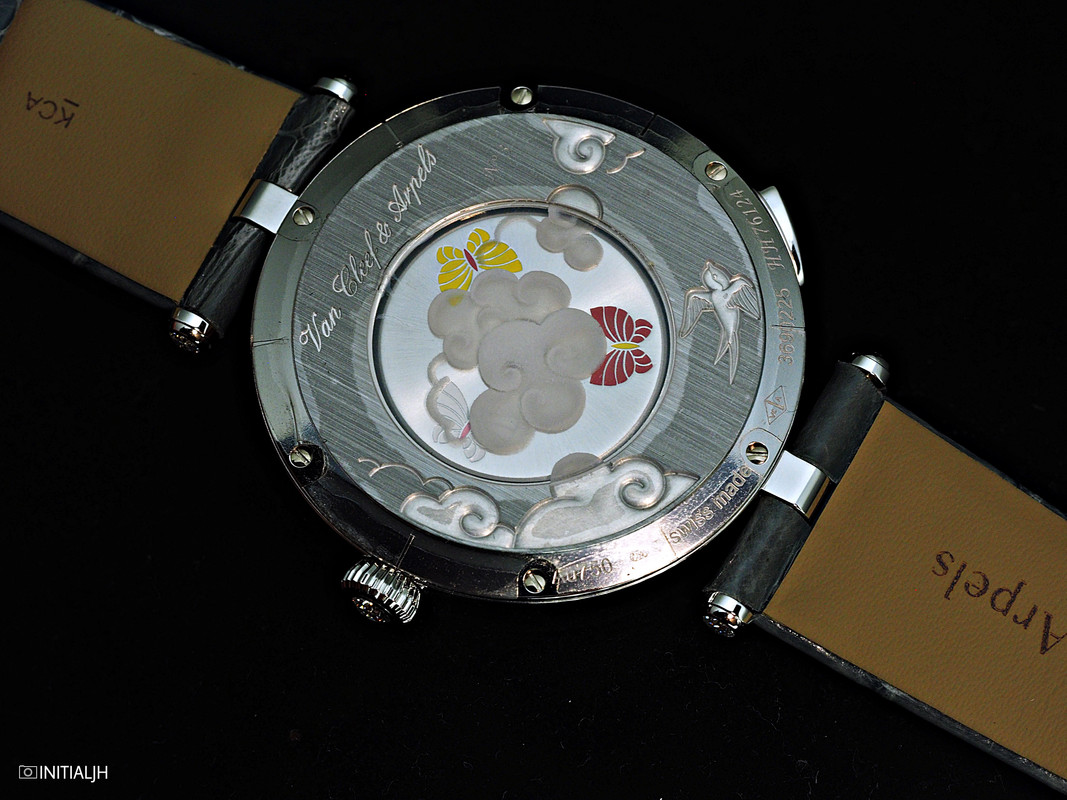 Inside the 38mm white gold case is an automatic movement developed for Van Cleef & Arpels, but that's all I know. However, given their strong ties with Agenhor, with whom they have worked closely, it is not inconceivable that could be them again.
As I said at the outset this watch, and in fact this is the case for the Poetic Complications in general, has its own whimsy and beauty of design which is combined with some serious watchmaking. If there is one watch/ jewellery brand that really seems to consistently go out of its way to do something really worth recognising in combining jewellery and some unexpected realisations of watchmaking into a themed watch, it's Van Cleef & Arpels, so welcome to Australia.
---
---
Categories: Hands-on, SIHH 2016, Van Cleef & Arpels, Watch Profile, watches