Late last year Urwerk announced what was a surprisingly 'old-fashioned' limited edition of their UR-110. Aptly announced during London's Salon QP, team Urwerk held a private launch of the UR-110 'Eastwood', a collaboration with English tailor Timothy Everest. I had the chance to see these new pieces at their 'salon' in Geneva a few weeks ago.
For those who are unfamiliar with this watch and for those unfamiliar with the brand, I did an interview with the brand's co-founder Felix Baumgartner which you can read here that will give you an idea of Urwerk's approach to watchmaking and why it has been such an influential brand despite its very small size.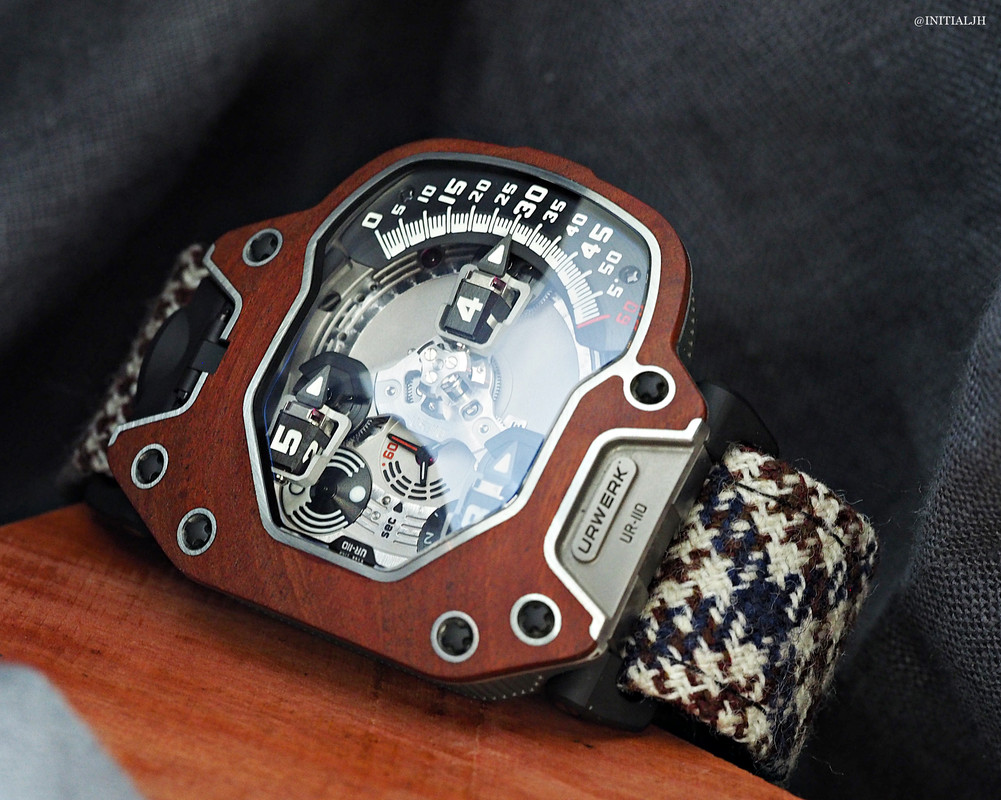 So why did Urwerk's Felix Baumgartner and Martin Frei decide on such an unlikely partnership? As those who have ventured into the world of independent watchmaking know, relationships and collaborations often have a very personal basis. The Urwerk duo have known Everest for a number of years, wear his suits, and Everest himself wears an UR-103, so perhaps in a way it makes sense for the UR-110 to depart the collection with such a personal piece.
When Baumgartner and Frei started developing the 'Eastwood', they decided to use an unusual material for the bezel, wood. This isn't by any means the only watch wood, and it doesn't pretend to be, but it sustainably sourced Macassar Ebony (Diospyros celebica) from Indonesia. Macassar Ebony wood is streaky brown and black, nearly always wide-striped, highly valued, and are seen mostly commonly in some guitars and furniture. It is a scarce, highly valued, and is difficult to work with due to its high density, blunting effect on equipment used to cut it, grain, and propensity to spliting during the drying process.
Basically, if you were going to choose a wood with which to create a bezel insert and wanted to make your life easy, this is not the wood you would choose. Urwerk aren't ones to take the easy option. Also, when you see these bezels in the flesh, handle them, run your hands over the wood and its texture, see its warm, you can't help but think that such a let's face it, wacky idea to combine an Urwerk with of all things an obscure wood from Indonesia, really works.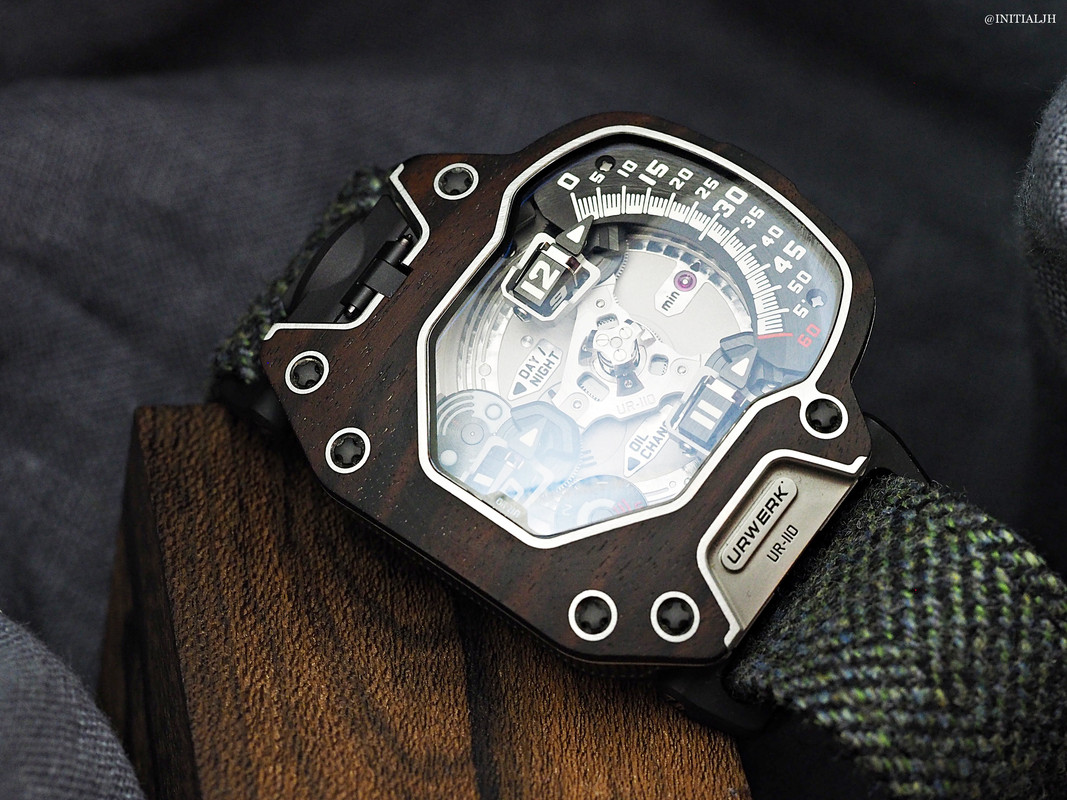 The 47mm x 51mm x 16mm case is Grade 5 titanium, with five pieces being made in the Macassar ebony bezel and five in South African Red (also called 'pink') Ivory wood, which grows predominantly in Zimbabwe, Mozambique, South Africa, is protected and sustainably maintained in South Africa.
So why tweed? As they tell the tale – it was a case of simply discussing options in terms of tailoring methods, fabrics, durability. They decided on tweed and then, perhaps showing a traditionalist streak that might not be expected in a brand like Urwerk, they went for a Prince of Wales check as worn by the Duke of Windsor and a Chevron tweed. To wear, the straps are incredibly comfortable and make an otherwise very bulky watch sit a lot easier on the wrist, but bearing in mind that it is a woollen strap, it is for Switzerland (or London) in winter, but not so much for an Australian summer…
For those unfamiliar with how to tell the time on the UR-110, with its revolving satellites, the time is on the right – there are three 'planetary' satellites for the hour that will travel along a minute (0 to 60) indicator in a downward motion. Each satellite takes its turn to indicate the hour ')(and thus the minute) as it travels down the right hand side.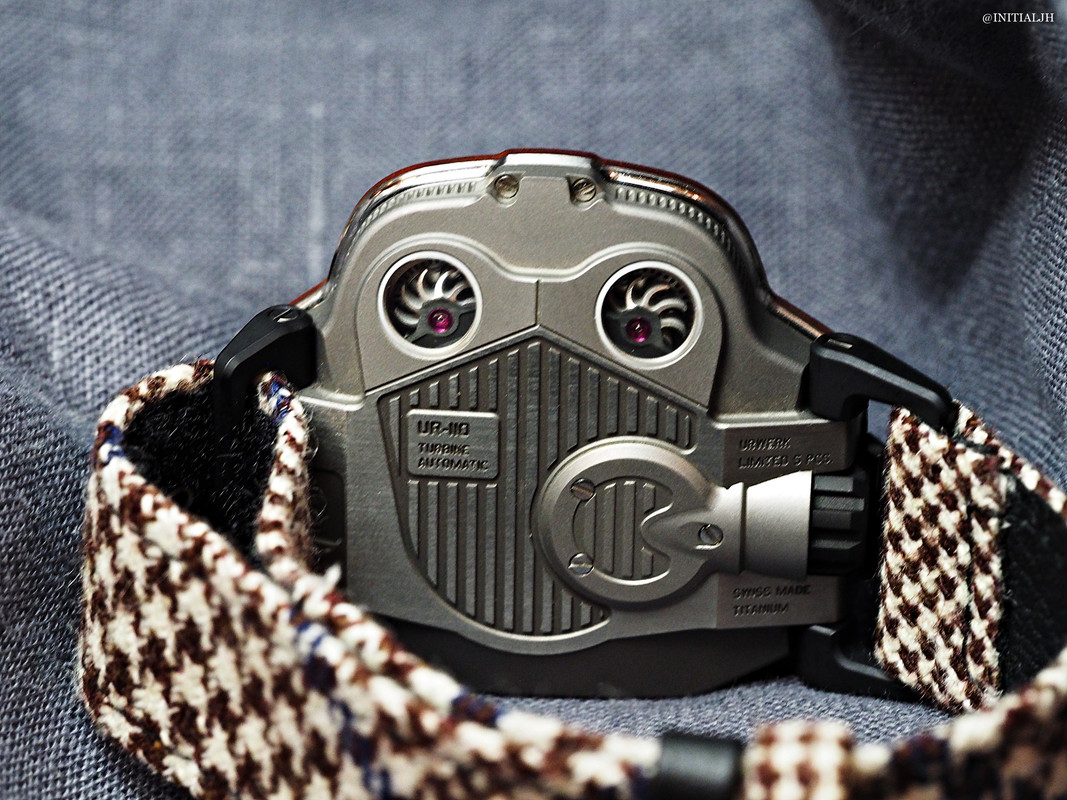 As well as indicating the hours and minutes, the UR-110 has, of course, the 'interactive' component so beloved of the brand, with the 'oil change' indicator reminding you when you need to service it.
The origins of the rather unusual model name of 'Eastwood' Apparently it's a riff both on the wood theme and Clint.
You can read about Urwerk's last new model the EMC, the black version of which won at award at the Grand Prix d'Horlogerie de Genève (GPHG) here.
---
---
Categories: Hands-on, Limited Editions, Straps, Switzerland, URWERK, Watch Profile, watches