At the end of SIHH 2015 I was asked, in a private conversation, what stood out for me during those four days. A part of the ensuing conversation was a comment by me that, upon further reflection a few weeks after the event, still holds true. Whilst there were many watches that I liked and some that I would wear, there was one piece that stood out as having a visceral 'WOW' factor.
If you'd asked me on the Monday from which brand I expected to have the most marked immediate response to a time-teller (I use this term deliberately), Van Cleef & Arpels would not have been my top guess, but if there's one thing I've learned about my own responses to SIHH during the last three years of my attendance, it's that VC&A is going to surprise me, and pleasantly so. For those who know me, that I should develop such a fondness is probably somewhat surprising.
Although not the focus of VCA's presentation, which was about to a large degree, reinvention of past models, a one-off piece simply called the Carp/ Koi watch bracelet dominated its booth, and justly so.
A jeweller first and maker of interesting timepieces second (including ones that I'd wear), perhaps, Van Cleef & Arpels is renowned for its bespoke and piece unique jewellery.
At the time I described, on instagram, the Koi piece as 'bonkers'. It is. A quite frankly enormous piece of wristwear that is probably more suited as a display piece not on a human arm, it is set with EIGHT THOUSAND stones (diamonds, spessartite garnets, yellow sapphires, tourmalines, black spinels) and took a 3,450 hours to create. The watch bit of it is hidden discretely in the koi's mouth. It's quartz of course, and on another day I'd probably say that this is unfortunate, but telling the time via the opening of its mouth (on its head) is almost superfluous.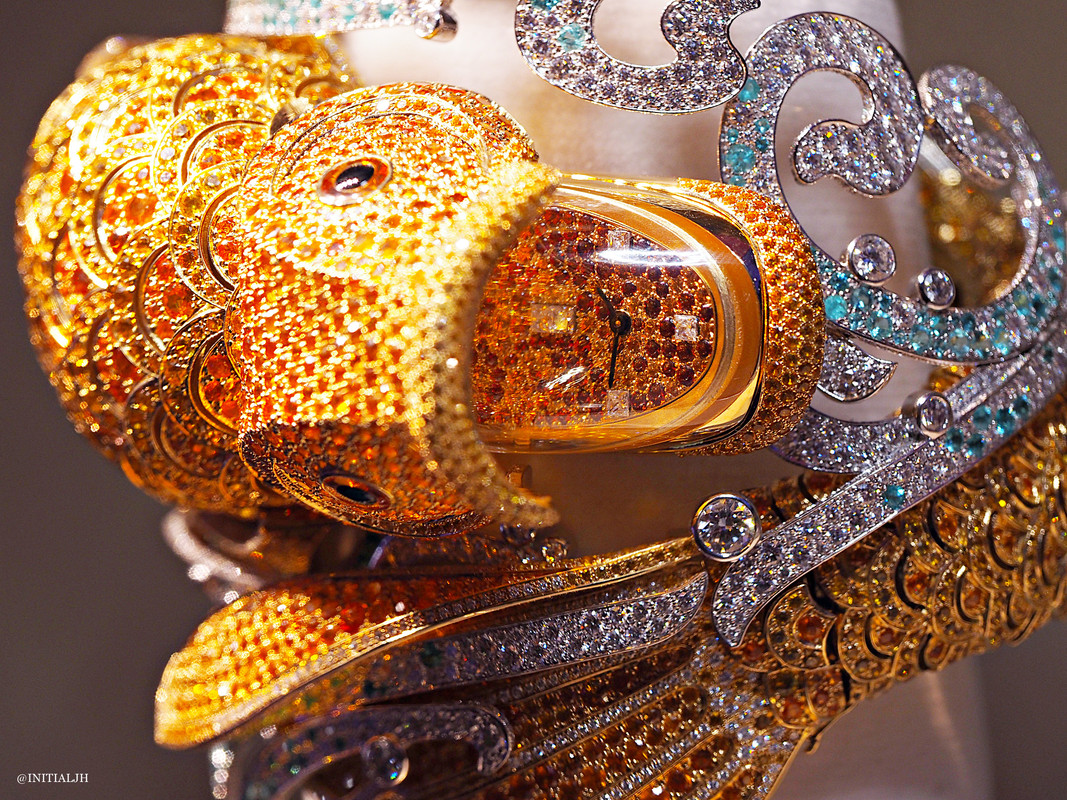 I'm not entirely sure I'd even call this a piece of jewellery; it is sculptural. Whatever you wish to call it, it is nonetheless quite astonishingly  beautiful, the result of incredible skill and artistry, and should the opportunity arise for you to see it, do.
Disclosure : when I was a child, at one point my family had six fish tanks and a pond which had koi. Perhaps part of me was, unknowingly, reminded of the pond.
---
---
Categories: SIHH 2015, Van Cleef & Arpels, watches