Following on from my previous post covering two Linde Werdelin SpidoLite II Titanium models, this second post is about a watch from the other main collection wing of Linde Werdelin's offerings, the Oktopus II Moon Gold.
As the next ste after 2010's Oktopus Moonphase series, 2013's Oktopus II Moon is in a edition of 59 pieces, available in two versions. The first 12 pieces are the Oktopus II Moon Gold and feature a rose gold and titanium DLC case with black ceramic bezel. The subsequent 47 limited pieces, presenting a full DLC titanium case with a ceramic bezel and striking blue detailing on the dial, are identified as Oktopus II Moon Black.
The Oktopus II Moon uses an in-house moon phase complication with a power reserve of 42 hours. As the moon moves clockwise through its cycle, more of its surface is illuminated. The moon phases themselves are indicated on the bottom of th dial, between 4 o'clock and 8 o'clock.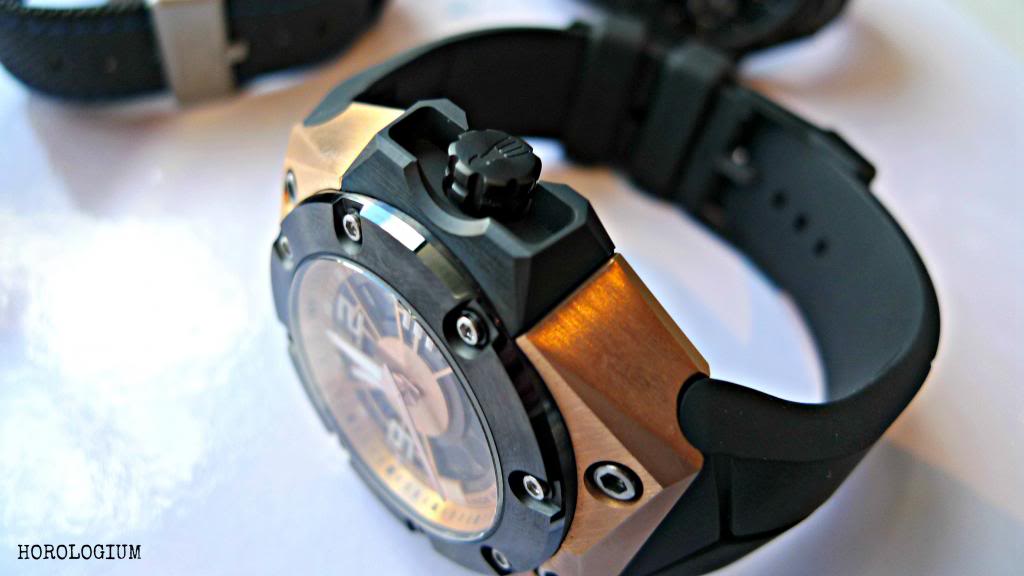 The dial consists of three skeletonised layers. On the bottom lays the moon disk, a metallic cut out surface resembling the night sky which is brown on the Oktopus II Moon Gold, with a luminous moon. The second skeletonised layer or lower dial bears a circular Côtes de Genève, whilst the third layer is skeletonised and features the Linde Werdelin logo, indices, numerals, and the three hands. The full moon is always indicated with a white mark visible through the lower dial.
The hefty 44mm x 46mm x 15.25mm thick case is five parts in 18 carat rose gold with titanium DLC, ceramic bezel, anti-reflective sapphire glass, and an octopus on the screw-in crown and case back. This is a huge chunk of a watch that is especially so because of its thickness, and as such, really needs to be tried before you buy. Which brings me onto the next part of this post.
You may or may not be aware, but Linde Werdelin has a try before you buy programme, which they call, simply, the "Try It Programme". As they put it, "We believe at Linde Werdelin that touch and sight are the most important of our senses. Since we started the company this has always been a service that we have offered. It is important that everyone should have the chance to hold our timepieces in their own hands, see the craftsmanship, feel the quality, experience it on your wrist, be surprised how light the instrument actually is and get to know its functions."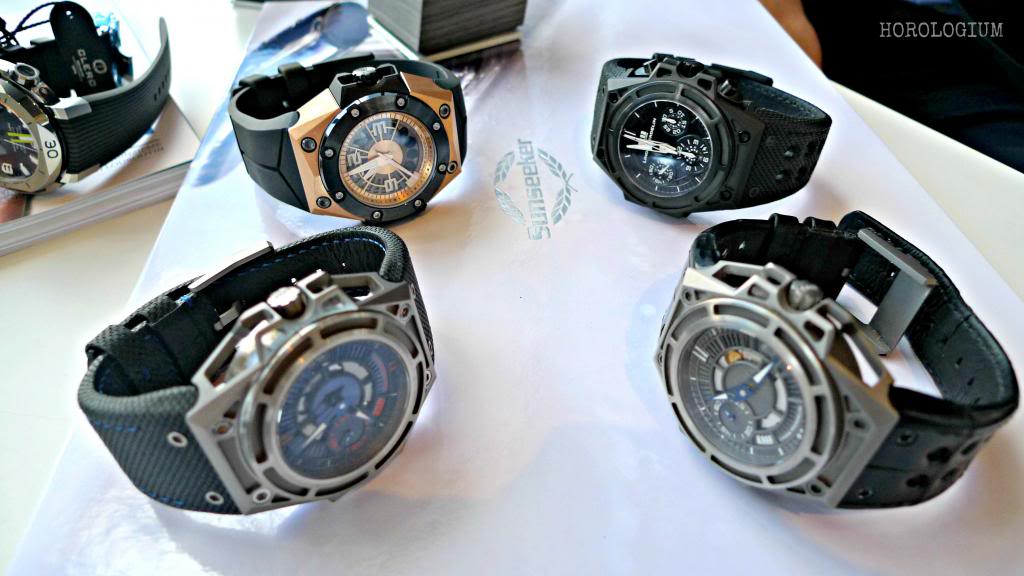 So how does this work, and why does Linde Werdelin have this programme which allows you to try their watches for five days at no cost or obligation except for £80 shipping outside of Europe that is taken off if you decide to buy a watch?
Well it is aimed at those who are not in a city or near a place where there is a Linde Werdelin retailer. You simply indicate your interest, wait in the queue, and when it is your turn, you provide a guarantee of 30% on your credit card as security. There are no country restrictions.
Linde Werdelin say that it has been a very successful tool for them, and there currently is a waitlist, but if you want to know more, go to their website.
---
---
Categories: Ephemera, Hands-on, Linde Werdelin, Sydney, Watch Profile, watches