Launched in 2006 by Morten Linde and Jorn Werdelin and specialising in limited productions of watches and sports instruments for skiing and diving, the Linde Werdelin brand, which many in Australia may not know has a distributor here, was the culmination of the horological dream of two skiing obsessed childhood friends.
The partners see watches as functional objects, and so it is important for them that the watches are able to withstand their preferred sporting activities as well as be distincitve. Morten Linde studied industrial design, creating for Bang & Olufsen, furniture and sports watches before the two of them combined forces.
Linde Werdelin not only make watches but also precision instruments (called 'The Rock' and 'The Reef', for skiers and divers respectively) that can clip onto the top of their watches, and also publish ski guides. The watches are divided into two core collections – Spidolite and Oktopus. During the Sydney International Boat Show, I had the opportunity to sit down with Troy of Cool Time, their Australian disributors, and take a look at a few pieces.
This post covers two of the watches I look at – two Spidolite II models.
The SpidoLite II Titanium and Titanium Blue are, as their name attests, crafted in titanium, largely for minimising weight reasons. These were designed, as Linde Werdelin watches are, to be (albeit high end) sports watches, and being lightweight is an important part of this for the brand.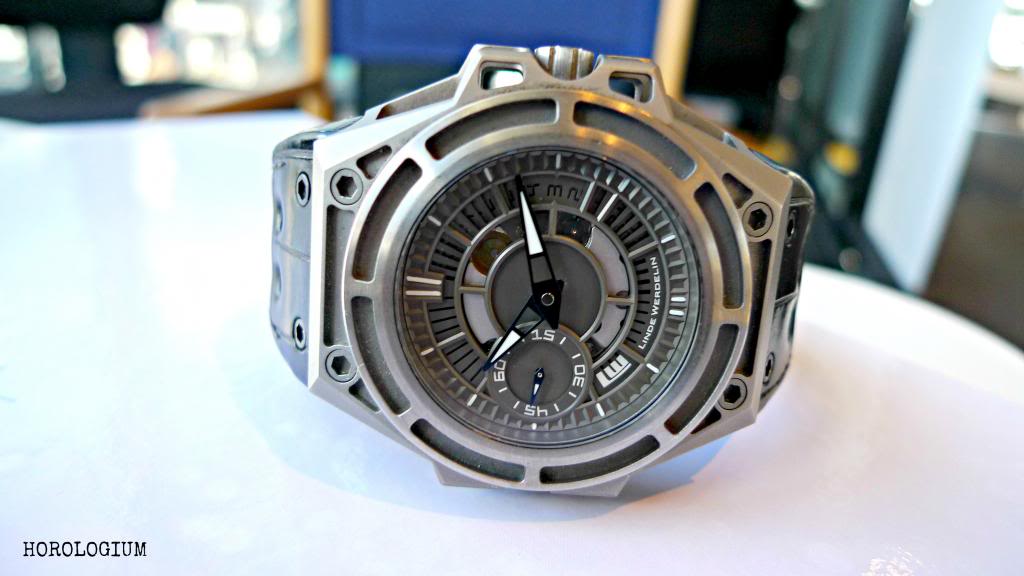 The Spidolite II Titanium is a rather large 44mm x 46mm in size with a height of 15mm, so any reduction in weight through use of materials is helpful from a comfort point of view. Its bulk is also reduced by Linde Werdelin's distinctive skeletonisation designs that extend beyond the dial to the watch case.
The SpidoLite II consists of two primary structures: a cylindrical chamber that carries the movement and locks on the sapphire crystal caseback, and a skeletonised outer case. The case itself is a three-part titanium construction comprising of nineteen components, and the dial consists of two skeletonised layers. The brand calls the case's engraving a 'spider web' style. The three dark blued steel hands offer a nice counterpoint and are coated with cool grey SuperLumiNova.
Movement-wise, Linde Werdelin works with the independent Concepto movement manufacture. The SpidoLite II is powered by a the LW 04 with a 42 hour power reserve that is visible through the dial and case back, the bridges modified to reveal the movement. Its water resistance is 100m. It comes with a black textured calfskin strap with ardillon buckle, but Linde Werdelin does take note that many watch owners love to change straps, so they have a range from which to choose. This model comes in a limited series of 100 pieces.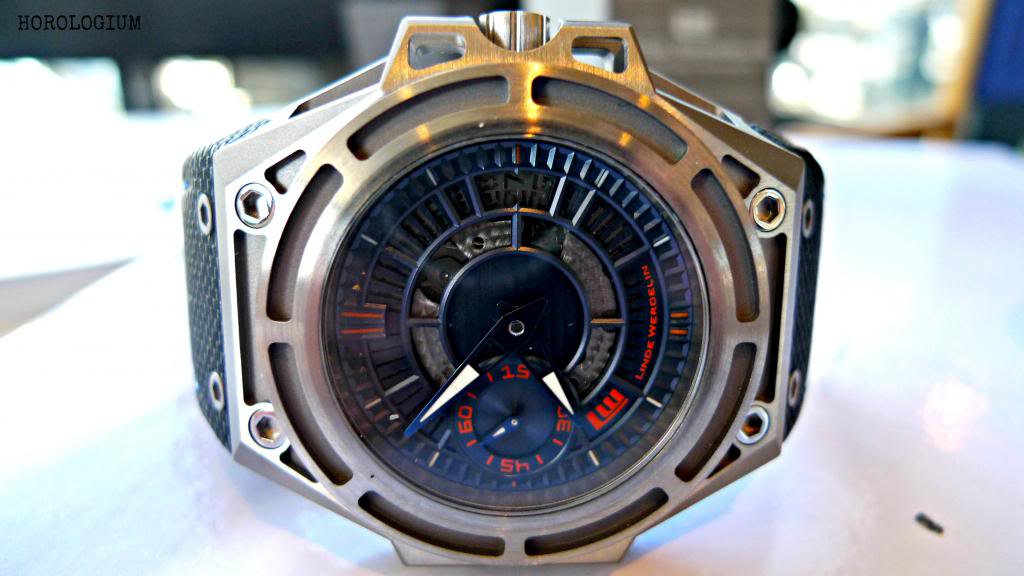 The SpidoLite II Titanium Blue is quite a different look, with a blue-orange contrast against titanium, the blue also being picked up in the black calfskin strap which has matching blue stitching. Its case is as per the previously mentioned Spidolite II, as are its general specifications. Its two part dial, however, is blue, and the indices orange and SuperLuminova, although the polished blued steel hands are the same cool grey SuperLumiNova.
This is in a smaller series than the Spidolite Titanium, and limited to 75 pieces. Of the two, which you prefer is simply down to colour choices; for me it's the plain titainium one.
In terms of general notes on the Spidolite II models, they are very interesting to look at and play with. Skeletonised watches are always a lot of fun, but this is a very strong and sharply angled design, all lines and corners, and very sporty and modern. The blued hands serve not only an attractive function (I do confess a weakness for blued hands) but also as a contrast to the dial, for legibility.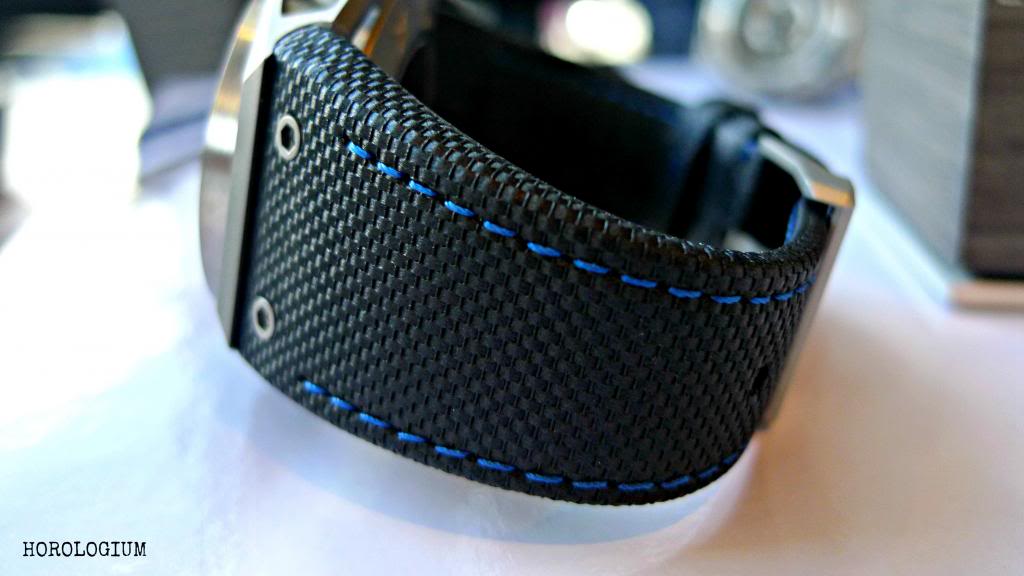 Insofar as wearability is concerned they are comfortable, and sit fairly well for watches of this size. As mentioned, the straps are intended to be swapped and changed as the owners desire, but the default ones were well made, durable, and not high maintenance, as befitting a sports watch.
This is a brand that walks their talk. Through their very active instagram accounts (for the brand and individually), Jorn Werdelin, Morten Linde and their team post a stream of photos of their watches in the great outdoors from around the world, with a particular emphasis on photos from ski trips, of course.
Linde Werdelin's distinctive designs are not for everyone, but there is a big element of fun to them, and for such a small brand with small productio numbers, it has a remarkably high high awareness level of the brand amongst watch enthusiasts and a dedicated fan base.
---
---
Categories: Hands-on, Linde Werdelin, Watch Profile, watches