The name of the watch brand Squale is derived from the Italian 'squalo' for shark, which forms part of the logo for the important dive watch brand that is the subject of today's post.
Squale's origins lie in a small Milan company established in 1946 which produced watch parts and with Charles Von Büren, who worked on the production of professional divers' watches from the 1950s through the 1960s. Initially, the 'Squale' mark appeared on numerous Swiss brands as a signifier of a dive watch quality, but in the 1960s, Von Büren started to make watches with the Squale name and logo on the dial in addition to supplying components to other brands.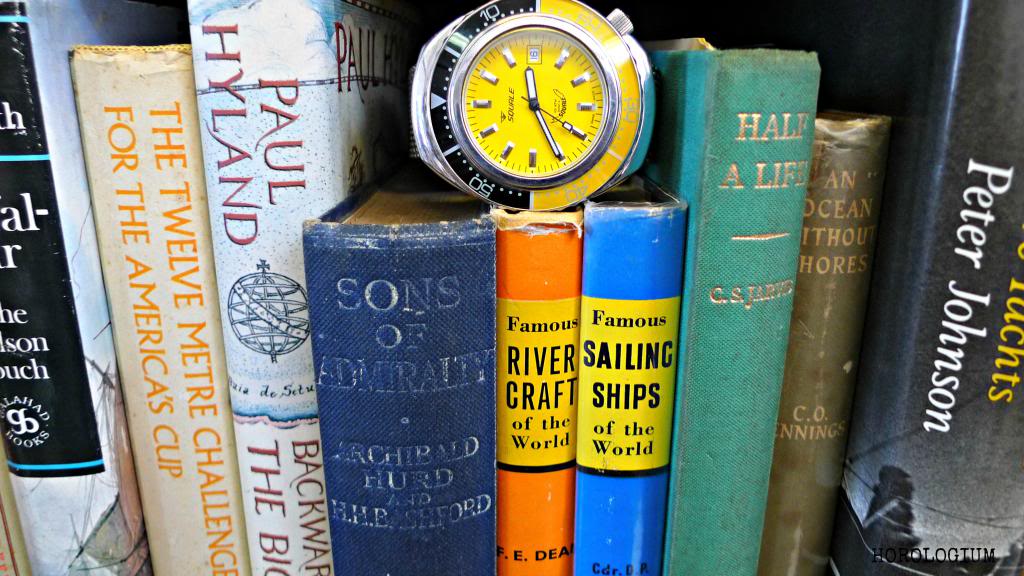 In the 1970s Squale introduced the first 1000 meters diver watch with sapphire crystal and with a bi-directional bezel that was operated by the wearer pushing it down before turning. In fact its 1000m cases were sold to many companies, most famously La Spirotechnique and Sinn, and its 500m cases to such brands as Blancpain, TAG Heuer, Doxa, and Dodane.
In 1974 Squale decided to take the plunge with their own branded watches based on the reputation they had gained from being a supplier, but a re-launching of the brand in recent years, with new production facilities in Grenchen in the Jura region, has brought them a new lease of life amongst watch enthusiasts who were not familiar with the brand or its history.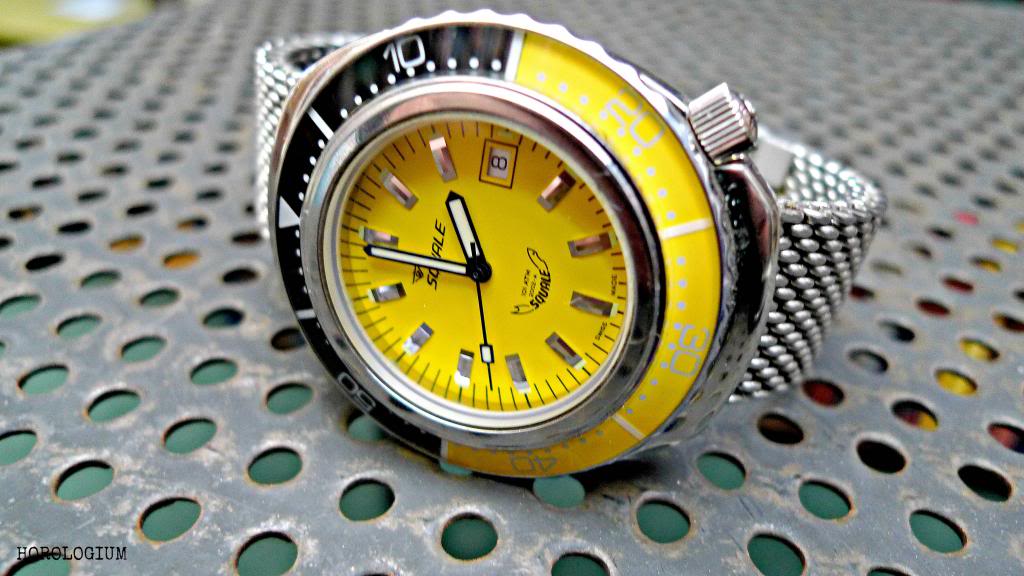 There are quite a few Squale models available now, with some of them having a more marked 'heritage' look to them. The one I am looking at in this post is the 2002A Yellow, yellow being a popular diving watch colour for its legibility under water.
With a water resistance of 1000m, it uses the ever robust ETA 2824-2 automatic movement in a 43x53mm stainless steel case with a thickness of 14mm. The flat anti-reflective sapphire crystal is 3.50mm thick and the crown is screw-down of course.
This is a large watch with a fair amount of weight and heft on the (very sturdy) bracelet. At first wear it requires a bit of adjustment, but having it on a rubber strap (which is an option) would work more comfortably for those unaccustomed to heavy watches, although if you've owned a Sinn in your time, you should have no problems with this watch. The bracelet itself is very comfortable and well made.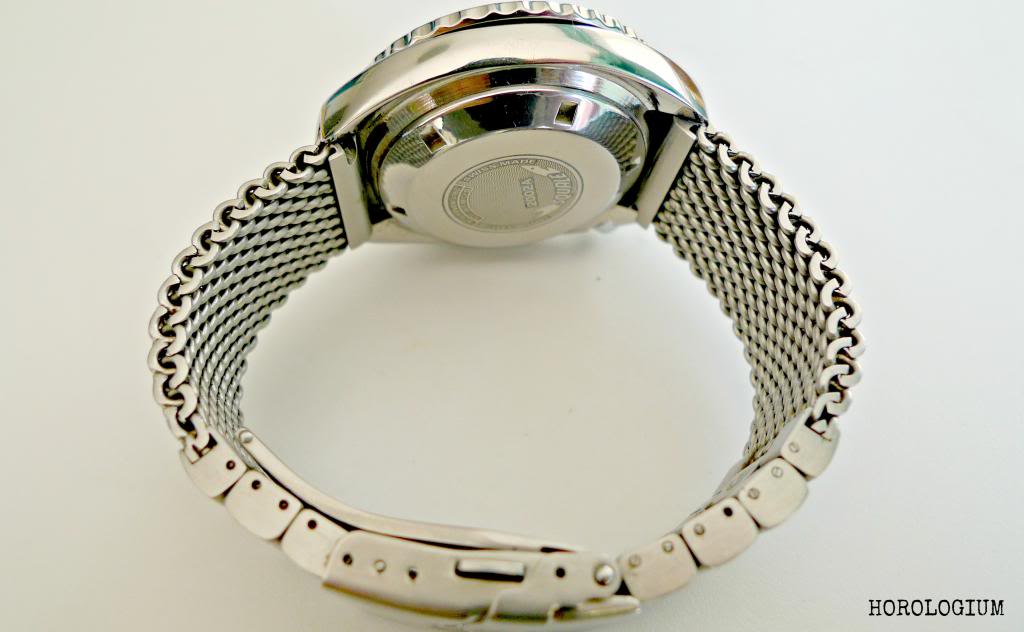 The dial is lacquered, with C3 Super-Luminova on the tips of the polished markers, and alsoon the hands. The lume is sufficient for use, but not of the 'lume nerd' variety.
The bezel, which is polished steel with an acrylic insert, is one of Squale's distinguishing features; snap-on, bi-directional, and designed to operate only when (firmly) pressed down. It can turn when it is not depressed, but in the 'clicky' way, whereas when you press it down, when the bezel movement becomes very smooth. From a practical point of view this may require some mental adjustment for those unaccustomed to having to press firmly and then getting such a smooth movement, but as it is still possible to use it without doing so, there is this option.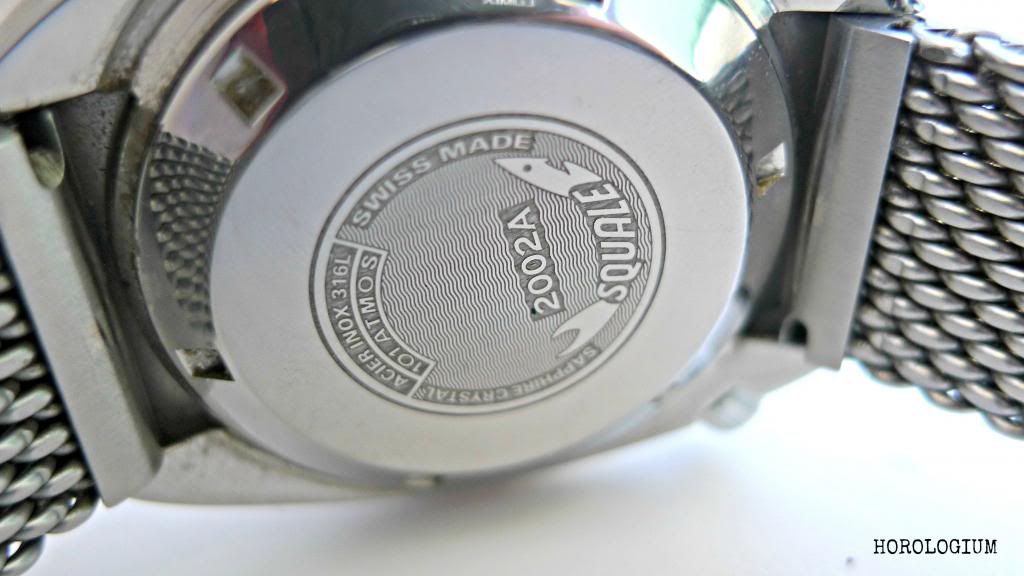 The Squale case is very distinctive and has that 1970s retro-cool that is starting to appear at the moment amongst watches, especially re-interpretations of models from that period. Similar case/ bezel designs can be found in a few other brands' models from the same period, such as the Jaeger-LeCoultre Memovox Polaris II.
This is a watch that has been on my 'want' list, albeit not in the yellow version, and having had the opportunity to wear it for a few weeks, I can confirm that it will maintain its place there.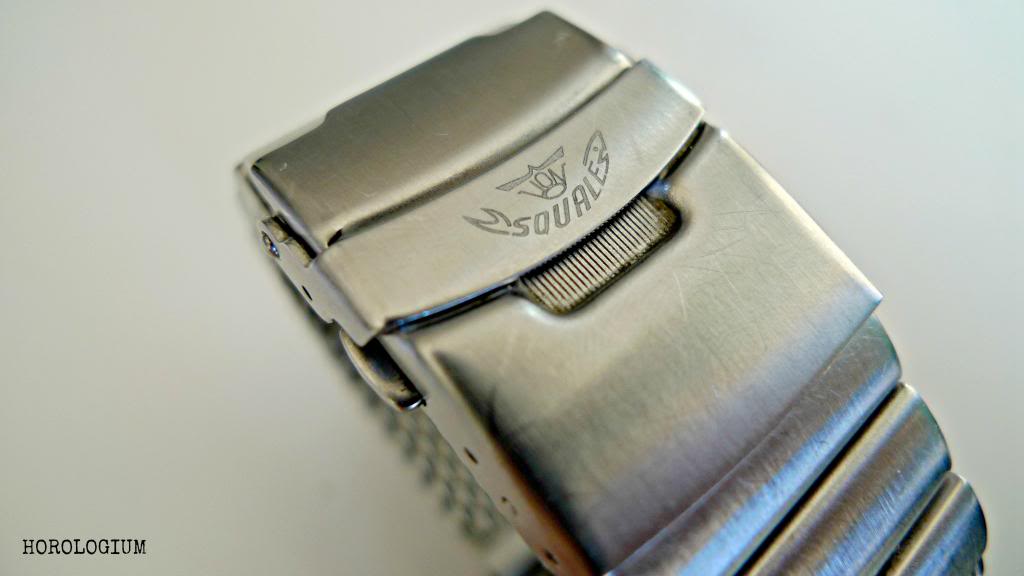 What appeals to me about this watch? It's a combination of things – the case design, especially the shape, its retro look, and the history of the brand. For me it would never be anything other than a 'desk diver', as I am sure is probably the case for most people, but in the black dial version, I think it is a good looking watch and more aesthetically versatile than the yellow dial model.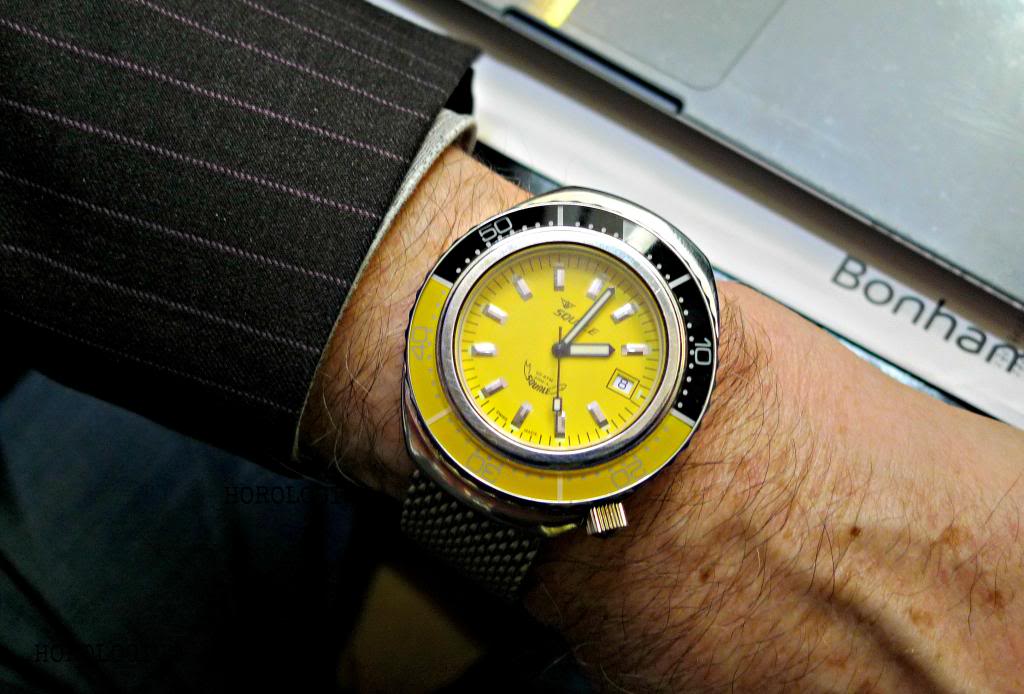 This brings us to a top professional diver of decades standing who is also a watchmaker, here in Australia. He has worn and loved Squale watches, and has brought the brand to a country where, with its heavy emphasis on an outdoors/ water culture, it should be right at home. He loaned Horologium the watch in this post, which he has used when diving. To go to look at the range of Squale models available in Australia or to make enquiries about any models, go to the Squale Australia website.
---
---
Categories: Divers watches, Hands-on, Squale, Watch Profile, watches