Brand partnership association is a very personal thing, even when it comes to watches.
For example some of us associate certain types of racing, car brands or sporting teams with certain watch brands, but which watch brands may be determined by our age, or when we first became aware of a watch brand – there are different 'eras', as it were, for some watch brands and partnerships. Especially for those (particularly car and racing) brands which find themselves in different commercial arrangements over time.
Today is about a new release from De Bethune which is a(very personal) nod to Formula 1 in the 1970s, called the DB28GS "JPS", meaning "John Player Special", the cigarette brand whose sponsorship and colours of black and gold were associated with the highly successful Lotus team's cars (and drivers) of the period.
The colour scheme was on the cars, the helmets, and suits. Basically, you couldn't escape black and gold.
Naturally, De Bethune have chosen their first 'sports watch' (insofar as a brand such as this has one), the DB28GS, as the model to carry the JPS theme. This new DB28GS "JPS" is in steel, titanium and zirconium. Finishing is a mix of polished and matte, and the 'base' colours are a dark grey and black, with gold accents achieved through the use of yellow titanium (i.e. oxidised to get this precise colour).
De Bethune uses DLC treatment only on ultra-hard tempered stainless steels. The hard DLC layer adheres perfectly to the hard material and is not destroyed by impacts (unlike a DLC treatment applied to an excessively soft material); on the contrary, it even improves the overall quality.
You may recall the DB28GS Blue Diver, which had an on-demand light feature. This new model has the same pusher at 6 o'clock which briefly illuminates the watch for a few seconds, and you can read more about how this is done, at the linked post.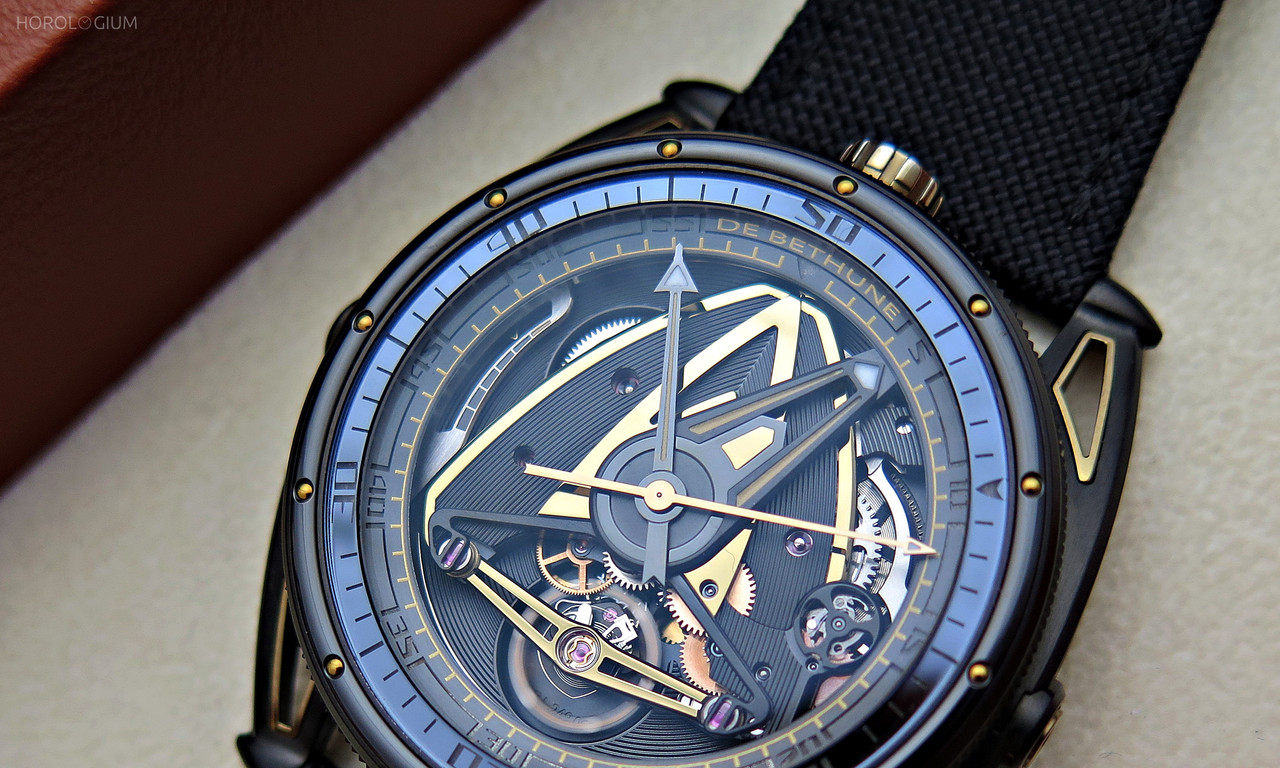 This new Db28GS "JPS" is 44mm (thickness of 12.5mm) with a water resistance of 100m. The case's black zirconium middle has the brand's "microlight" decoration and both the stainless steel case back and bezel are black with a combination of brushed and polished finishing. The lugs are black brushed stainless steel with yellow polished grad 5 titanium inserts.
It is, as you can imagine, a light watch to wear, but that is generally the case for De Bethune anyway.
The hours and minutes hands are black titanium with black polished steel inserts and yellow inserts. There are also lumed tips. The power reserve indication is between 9 o'clock and 10 o'clock, and the unidirectional bezel is crystal with a metalisized minutes ring.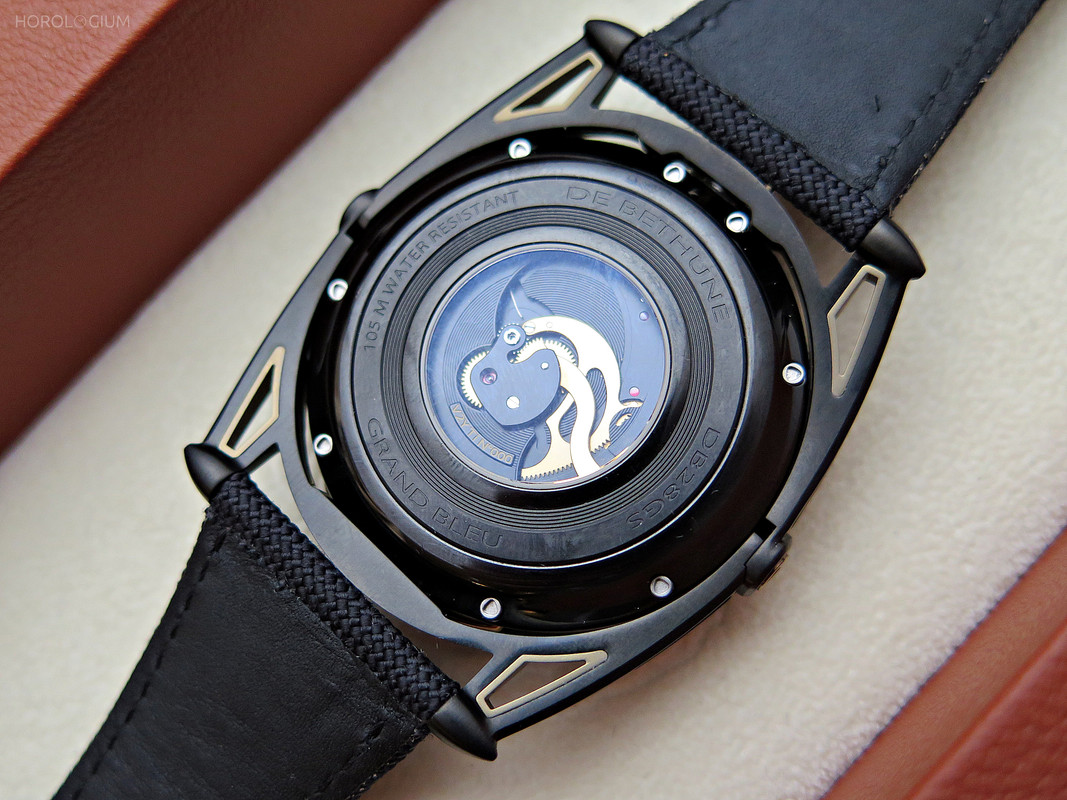 Powering it is the Calibre DB2080, which beats at 28,800 VPH and has a power reserve of five days. It has a yellow mirror-polished grade 5 titanium motion-work bridge, the plate and barrel bridge covers are in black grade 5 titanium and decorated with 'microlight' engraving. The barrels are hand-snailed, and there are hand-polished and chamfered steel parts. The dial lighting function is mechanical.
Coming on a natural rubber strap, with a further canvas/ leather strap, the DB28GS "JPS" comes in a limited edition of fifty pieces and has an RRP of CHF 105,000.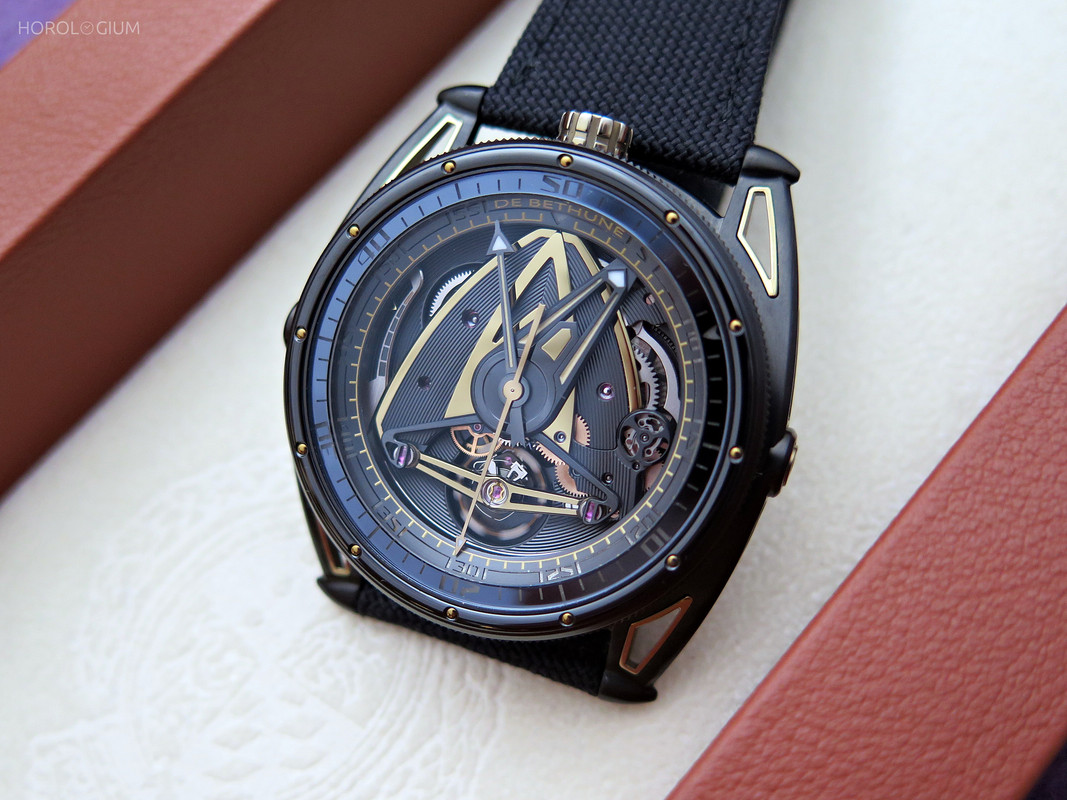 I mentioned how personalised brand associations can be – for many, John Player Special is associated with the success of the Lotus F1 team of a certain period. It was a bit before my time and my F1 knowledge is limited, so my historical 'reference point' when I read about John Player is that John Player Special/ John Player & Sons, was an English cigarette manufacturer (now owned by Imperial Brands), whose ads I remember seeing in old American magazines. Now, rather belatedly, I know of their ties with Lotus.
This is as discreet a nod by a watch to something else as you are probably likely to find, as it is perfectly possible to see it and not realise the personal significance of the colour theme choice.
---
---
Categories: De Bethune, Limited Editions, Watch Profile, watches, Women's watches