Yes it's another new addition to the UR-100V family, with the launch of URWERK's UR-100 Full Titanium Jacket, this time with a metal bracelet as well.
To remind those who don't know how the UR-100 works – using the brand's orbital satellite hours and minute 'hands' with an open-worked carousel, the UR-100 series displays both time (hours and minutes) and space (distance travelled). However, rather than the minute pointers on the hour satellites disappearing after 60 minutes to be followed by the next, the minute arrow passes beneath and between the subsidiary indications, reappearing to display the distance travelled on Earth, and distance travelled by Earth. The indications are orbital hours; minutes, distance travelled on Earth's equator in 20 minutes, distance Earth travels around the sun in 20 minutes.
The indicator at 10 o'clock relates to the distance in kilometres and is based on the average speed of the rotation of the Earth on its axis at the equator, covering a distance of 555 km every 20 minutes. At 2 o'clock there is the indicator for the distance travelled by Earth whilst orbiting around the sun every 20 minutes.
In the UR-100V Full Titanium Jacket, time and distance are on a par, the hours and minutes in blue, and the kilometres are bright white. The hours and minutes have Super-LumiNova.
The carousel is sanded and shot-blasted anodised aluminium, whilst the satellite screws have circular sanding. The satellites rest on a carousel of sanded brass plated in ruthenium. Both the carousel and triple base plates are an ARCAP alloy. The structure on top of the hours display is in sanded and shot-blasted aluminium. The satellite hours are on beryllium-bronze Geneva crosses.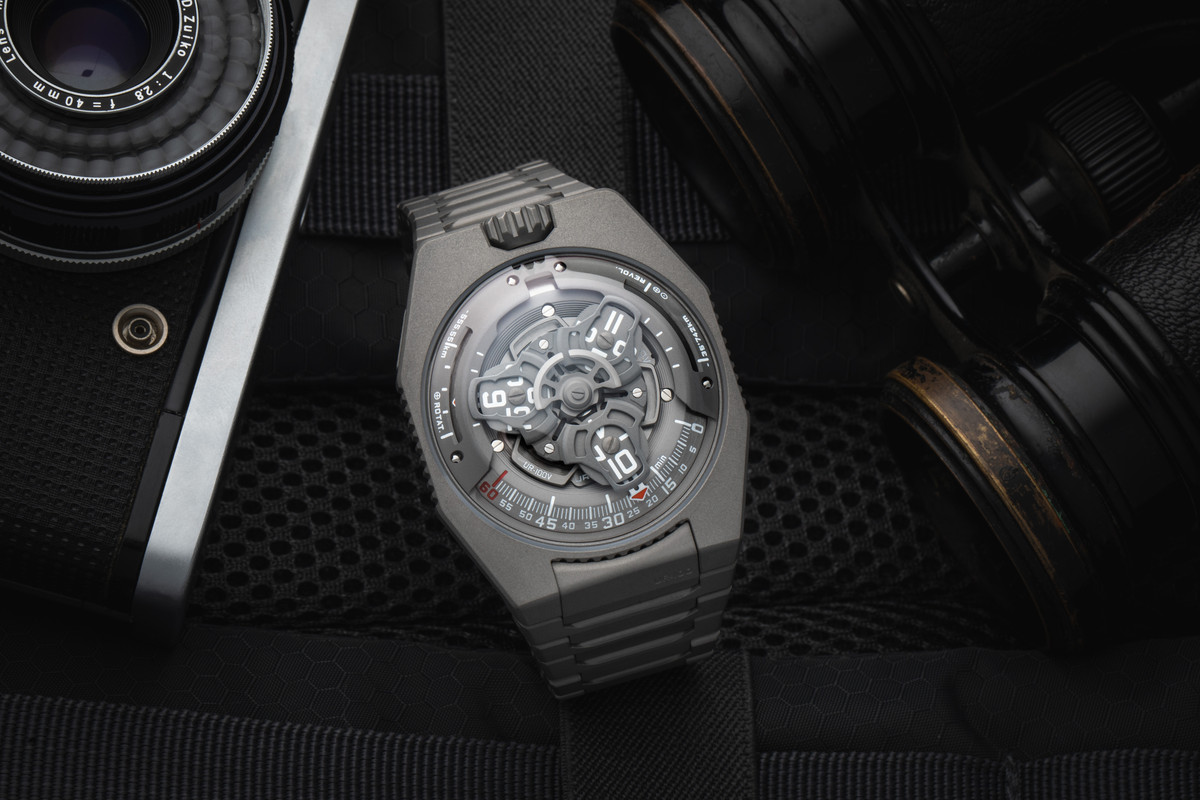 Driving the carousels and powering the watch is the automatic Calibre 12.02 that was also used in the other UR-100V models, beating at 28,800 VPH and with a power reserve of 48 hours.
Size-wise, the titanium case is 41mm x 49.7mm x 14mm, with a water resistance of 30m. The bracelet is composed of 32 sand-blasted titanium links.
Coming in a limited edition of twenty-five pieces, the price of the new UR-100V Full Titanium Jacket is CHF 55,000 (excluding taxes).
[Photo credit: URWERK]
---
---
Categories: Limited Editions, URWERK, Watch Profile, watches