Following the recent Alain Silberstein collaborative effort with Louis Erard, today we bring you another new Silberstein timepiece collaboration – this time with Philippe Lebru, the founder and director of the UTINAM Besançon clock manufacture.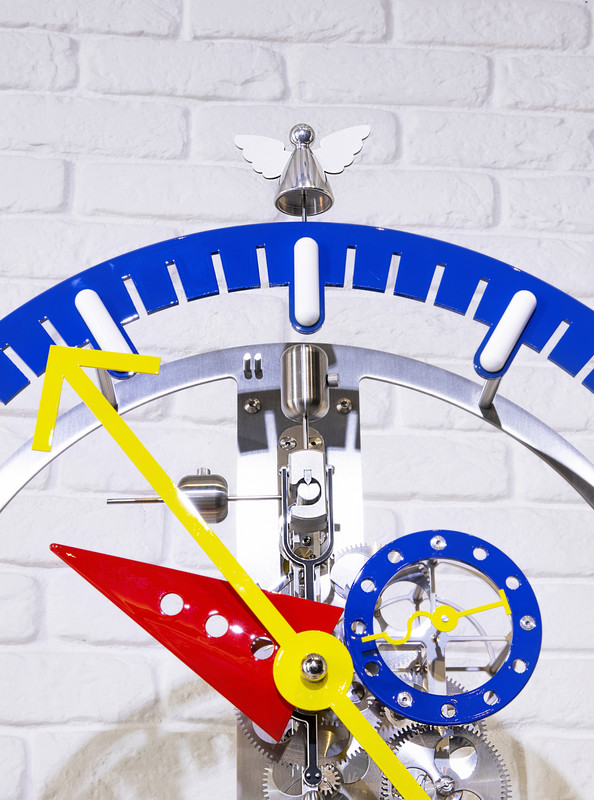 The stainless steel, brass and aluminium KB2 clock (short for 'Kontwaz Bauhaus 2') clock has the signature Silberstein use of primary colours and his favourite shapes. It is a thoroughly modern variant of what is called a 'Comtoise clock' a form of weight-driven clock originally made in the vicinity of Morbier in the Bourgogne-Franche-Comté region, the regional council of which sits in Besançon (its largest city being Dijon).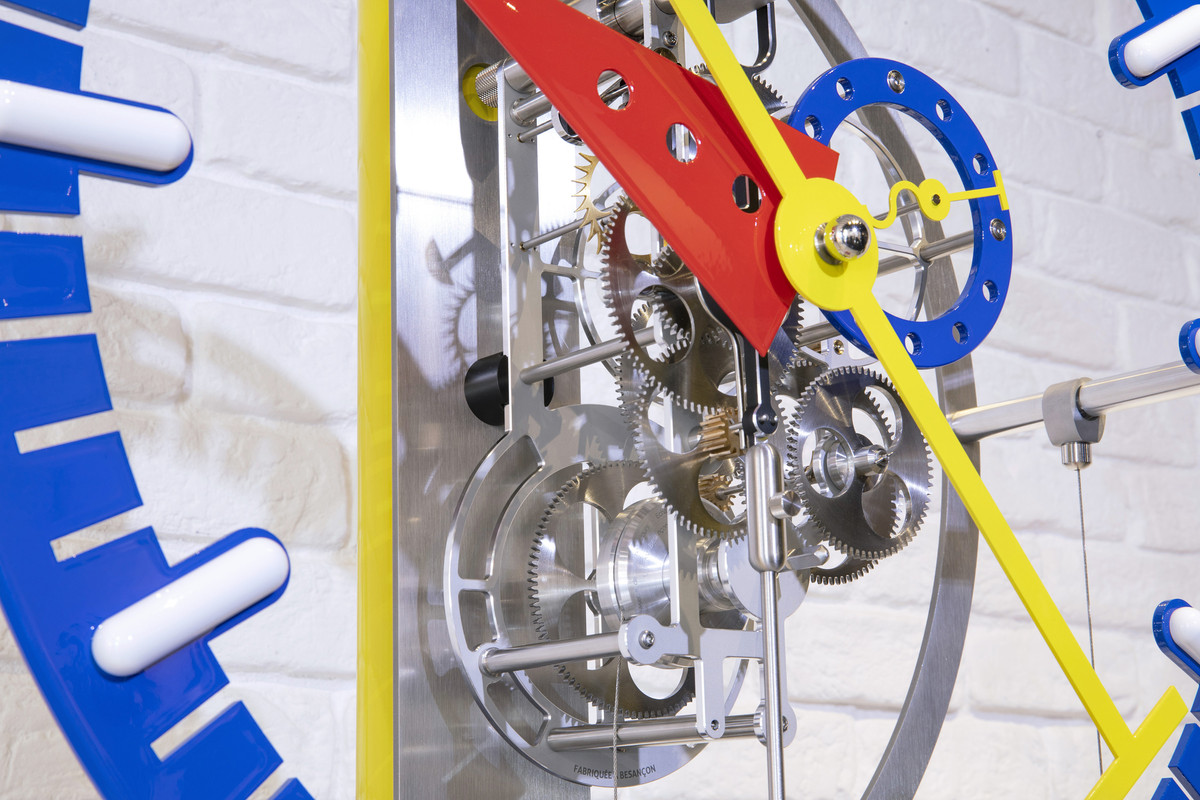 With an offset second hand, the UTINAM movement is designed by Lebru. It is skeletonised, has 161 parts, anodised plates, and beats at 3,600 VPH (0.5Hz).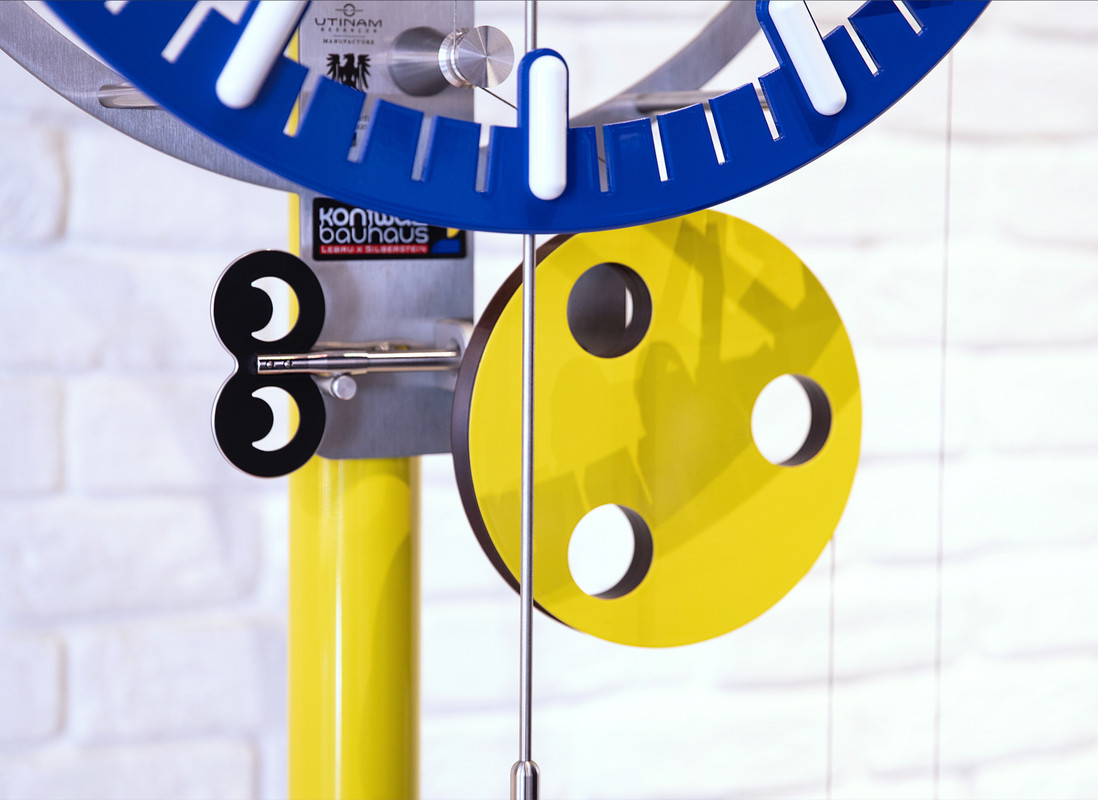 The movement consists of 161 parts, with 3600 vibrations per hour (0.5 Hz) and a seven day power reserve (wound with a key). It is skeletonised with anodised plates, a lever escapement, and offset seconds.
Limited to 88 pieces, the KB2 is available as either a wall clock or a tall clock. The former is 25cm x 53cm x 131cm and the latter, 38.5cm x 53cm x 200cm. They weigh 20kg and 50kg.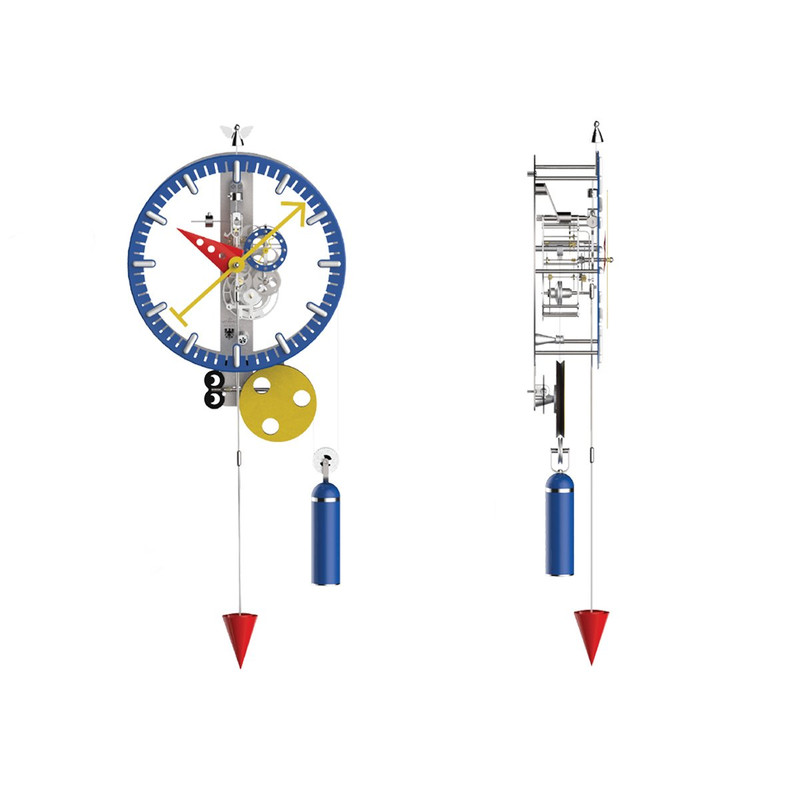 The prices are CHF 21,500 (including taxes) for the wall clock and CHF 26,900 (including taxes) for the tall clock. They are available through the M.A.D. Gallery Geneva.
A final bit of trivia – anyone who attended the SIHH 2018 will have seen one of UTINAM Besançon's largest clocks – it was the centrepiece of the IWC booth.
[Photo credit: M.A.D. Gallery/ UNITAM]
---
---
Categories: Alain Silberstein, Clocks, French