Today's new Watches & Wonders 2021 launch continues on a 'historical marine origins' theme linked to our last post about a brand whose namesake after which it is named, John Arnold, is of course, one of the most significant watchmakers in history. Arnold played a pivotal role in advancing precision chronometry and his inventions and technical advances enabled more and better marine chronometers to be used on board ships in the late 1700s.
To celebrate 175 years Ulysse Nardin, also with a noteworthy history in marine chronometers both in the provision of the same to navies and in winning competitions, has taken this and run with it not to the seas, but to the skies.
Meet the new limited edition UFO (Unidentified Floating Object) clock.
MB&F's Legacy Machines are Max Büsser's contemporary interpretation of early timepieces. The reasons for bringing this up will make themselves clear but for starters, what Ulysse Nardin say they are doing here is to not go from the past to the present, but to 175 years into the future, with marine chronometers in mind.
At first glance there is not much that is recognisable in a marine chronometer sense, but the inspiration is there. They were about precision and the particular demands of seagoing travel. The structure of the UFO clock is built on imbalance, in the manner of dealing with the movement of waves, to echo the water's movement.
The rounded base is blue aluminum, and contains a tungsten mass. The base and glass bell are joined by a bayonet mounting system, akin to the old systems of marine chronometers from which the glass could be unscrewed.
Marine chronometers were set on gimbals in wooden boxes to compensate for the ship's movements. Ulysse Nardin has flipped this on its head – it is the object that rocks when it is (gently) rocked. It reminds me of the toys from my childhood that re-balanced themselves after they are pushed. This is more of a toy those slightly older. The UFO swings up to 60 degrees from its axis, with an amplitude of 120 degrees and of course, unlike my toys of yore, the fact that this is a complex mechanical object means that they have had to ensure that the UFO's rocking motion does not negatively impact on the movement.
In going from the outside in, each of the glass bells is made by glass blower Romain Montero of Verre et Quartz, a technical glass blowing workshop located on the shores of Lake Neuchâtel.
To manufacture each 3 mm thick tube, the glass is stretched for more than 45 minutes when still hot, on a traditional glass maker's lathe at temperatures of up to 1,500 degrees. The process of cutting, blowing, stretching, measuring, furnace annealing, cutting, lamination, final checks and cleaning, takes half a day.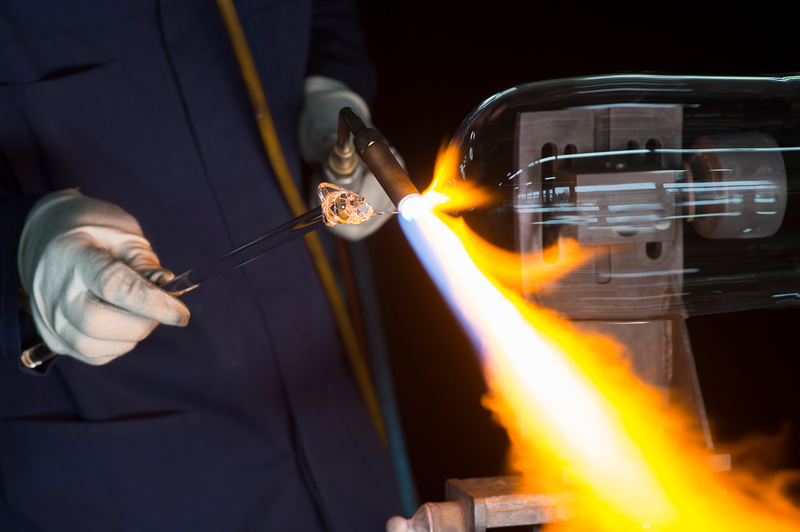 As Romain Montero puts it – "The biggest challenge was the overall aesthetics of the glass tube. To get 50 spotless glass bells, I had to blow out three times the number, 150 bells. You need to blow gently, as if you want to make a soap bubble Even so, the glass is imperfect at the base and is sensitive to micro vibrations during blowing, but there is beauty in those imperfections and small flaws."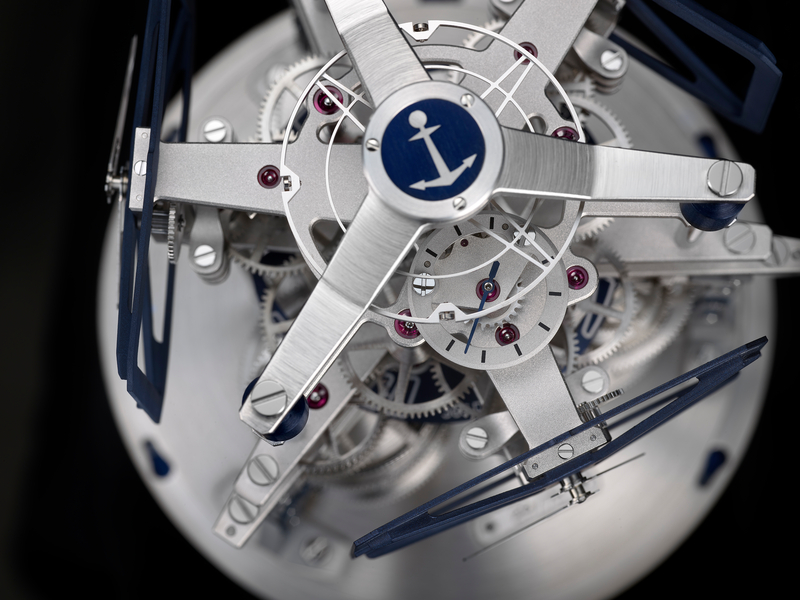 If you look down through the top of this hand-blown bell you will see the Ulysse Nardin anchor atop the movement as well as the blued 'Xs' which references their Blast pieces. UFO displays the time on three trapezoidal dials, which allows the owner to display three time zones at once.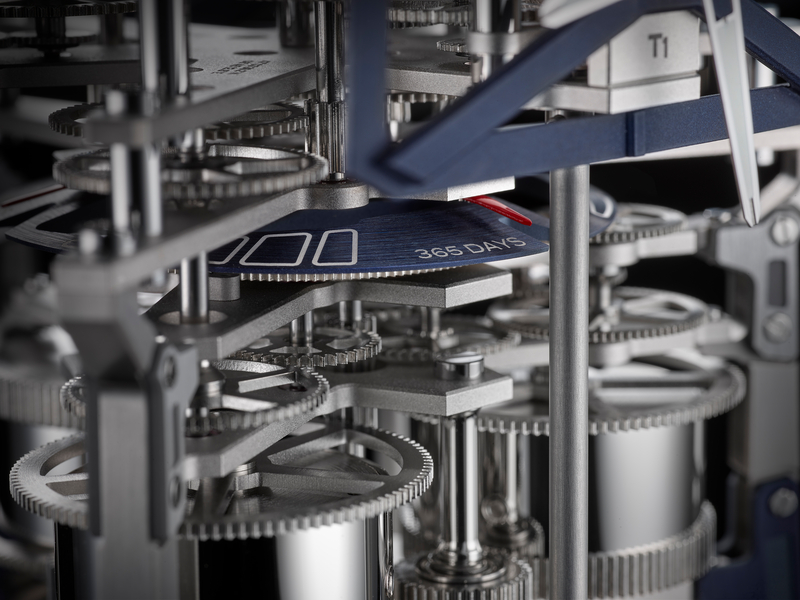 If by looking at this clock you already had a name pop into your head, then you are correct. Ulysse Nardin sought the expertise of L'Epée to realise their movement idea.
The manually-wound Calibre UN 902 comprises of 663 components, with one year of power reserve supplied by six extra large barrels and a balance wheel 49mm in diametre. The large brass balance wheel beats at 0.5 Hz, and there is a deadbeat seconds.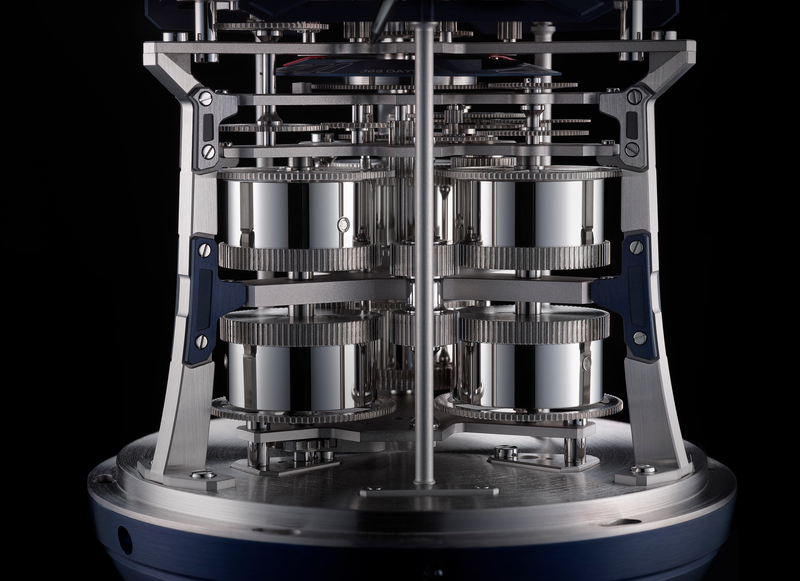 Like the marine chronometers of old, the UFO comes in a wooden chest, inside of which along with the clock, instructions, and the winding key. It takes forty turns to wind it up for a year. Each dial has its winding-up notch, which is also used to the set the time (four notches in total, one for winding up and one for each time zone wound up using a single key).
You may well ask how the UFO fits within a 'history of chronometry' framework – well perhaps in some ways it doesn't, but as they put it (name notwithstanding), the clock needs to be seen as a modern mix of the chronometer history combined with the Ulysse Nardin of our modern age such as the Freak and last year's Blast. Three time zones – past, present, and future. Whatever its inspiration, it is a cool thing.
At 26.3cm x 15.9cm with a weight of 7.2kg, the UFO is limited to 75 numbered pieces, and has an RRP of AUD 57,000/ CHF 39,000/ EUR 35,900/ USD 41,100.
[Photo credit: Ulysse Nardin]
---
---
Categories: Clocks, L'Epée 1839, Limited Editions, Ulysse Nardin, watches, Watches & Wonders Geneva 2021