Today's watch is green again, but more importantly, it is part of the building momentum by more watch brands to operate more sustainably and with increasing acknowledgement and awareness that they don't make watches within their own bubble. Another part of this is the recognition, in Switzerland, of the importance of using ethically sourced gold. The subject of today's post also touches on a recurrent theme when it comes to brands and environmental initiatives – water, be it oceans, seas, or rivers.
Meet Ulysse Nardin's new concept watch the Diver NET, with the case, back, bezel and strap made from recycled fishing nets. Also, a crystal that is not sapphire but ceramic glass.
As perhaps most of you know, fishing nets are a major source of marine pollution. It is not all about micro plastics or consumer plastics that find their way into our waterways. Some 700,000 tonnes of nets, lines, pots, and traps used in commercial fishing are dumped and discarded in the sea every year, out of a total of around nine million tonnes of ocean plastic.
What is known as 'ghost gear' and 'derelict fishing gear' (DFG), these abandoned nets and other fishing equipment kill and injure hundreds of thousands of marine life, including endangered or protected species, by entangling/ trapping them, or through being swallowed. They damage underwater habitats and cause harm to ecosystems.
Trying to remove marine pollution is both difficult and costly. Fishing nets, for example, like many plastic products, are often just sent to landfills or incinerated, both of which are not the ideal ways of managing them. But as with other of their brethren, there are attempts to recycle these nets into something else that can be used. To this end there have been both small localised programmes that help communities and large ones, such as the Healthy Seas global initiative, that both clears the ocean and recycles ocean plastic into textile products. You can buy socks made from these recycled nets.
Many watches/ watch brands have some sort of practical association with the sea for various reasons, and in the modern era this is most commonly in the form of wristwatches and diving. Ulysse Nardin is one of those brands whose history goes back a bit further than that, to marine chronometers. This new watch is not quite about diving or navigation, but it is very much about the relationship between humans and bodies of water.
This new watch is a follow up to a recent release. Last month Ulysse Nardin announced its 'R-Strap' for its Diver, Marine Torpilleur, and Freak X collections. A strap made of a polyamide yarn made of recycled fishing nets, this was the result of a collaboration with Ben Lacomte, the first person to swim across the Atlantic with a board. Lacomte completed a 300 nautical mile trip to maintain awareness of the levels of plastic pollution in the waters through which he finds himself increasingly swimming.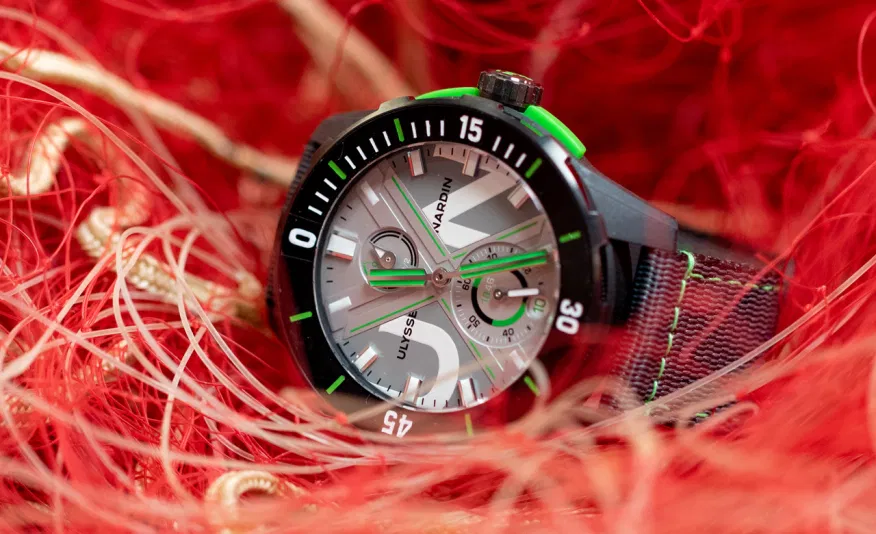 The Diver NET is a watch whose 44mm case, middle, back and bezel are made entirely from recycled fishing nets by French company FIL & FAB. They obtain their 'raw material' by placing bins in harbours into which fishermen can deposit broken nets. These are collected, after which the polyamide threads are removed, crushed, refined, and turned into pellets (Nylo®) which can then be turned into something else.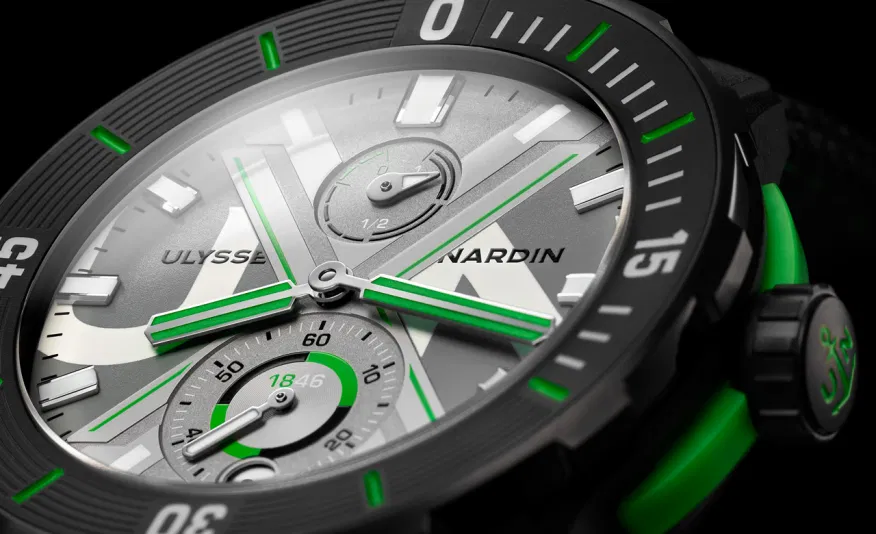 This is the first time the FIL & FAB product has been turned into a case, but it not just about the case but also the sapphire glass, has also been swapped for transparent ceramic glass. Ulysse Nardin says that ceramic glass, the process for which was developed in-house, has a smaller carbon footprint involved in its production. The strap for this piece is made from PET plastic and manufactured by Swiss company Tide.
Inside is the automatic Calibre UN-118, which as an escapement made of DIAMonSIL, a synthetic diamond grown on a silicon base. It beats at 28,800 VPH and has a power reserve of sixty hours.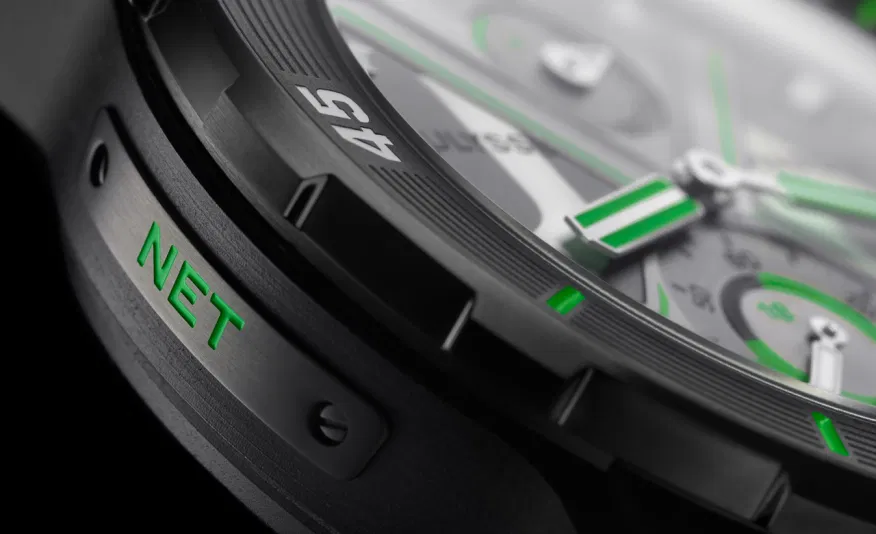 The Diver NET may be a concept piece at this point, but it is envisaged that it will be a production model, although there is no date set as yet.
Pollution of the marine environment by ships, including fishing vessels, is controlled by the International Convention for the Prevention of Pollution from Ships (known as MARPOL), to which over 150 countries, including Australia, are signatories.
[Photo credit: Ulysse Nardin]
---
---
Categories: Straps, Sustainability, Ulysse Nardin, Watch Profile, watches