If you had thought that there would be only one cocktail-related watch release this year you would have been wrong. But unlike the Angelus pieces, these new limited edition pieces from Seiko are more easily acquired.
They may be a niche interest, but Seiko does have a recent history of cocktail-themed-and-named Presage models. Examples are the five pieces in the Cocktail Time Midnight collection, and two collaborations named for Star Bar, including this year's honeycomb-patterned dial inspired by the bees of Ginza Star Bar 2020, a limited edition created in conjunction with its award-winning head bartender Hisashi Kishi.
It was another bartender (Shinobu Ishigaki, owner of Tokyo's Bar Ishinohana) whose name was associated with the first Cocktail Time (SARB065), which was launched in 2010 and featured a sunburst dial and polished stainless steel case. It was popular as a bang-for-buck dress watch and discontinued in 2017, but superseded by a collection of watches under the Presage Cocktail Time banner, with models named after specific cocktails and design/ colour elements associated with the relevant beverages. They focused on the same sunburst dial (with minor exceptions) with some updated tweaks and a movement change (which also resulted in a reduced power reserve) from the 6R15 to the 4R35, and more colour options. There was also a split into two branches – the regular Presage Cocktail Time (SRP series), and ones with a date sub dial/ power reserve (SSA series).
Today's post is about the new SRPE47 and SRPE49, both in limitations of 5,000 pieces each. They have embossed dials in either blue/ aqua or pink. The former is named for/ inspired by a Frozen Margarita and the latter, Tequila Sunset.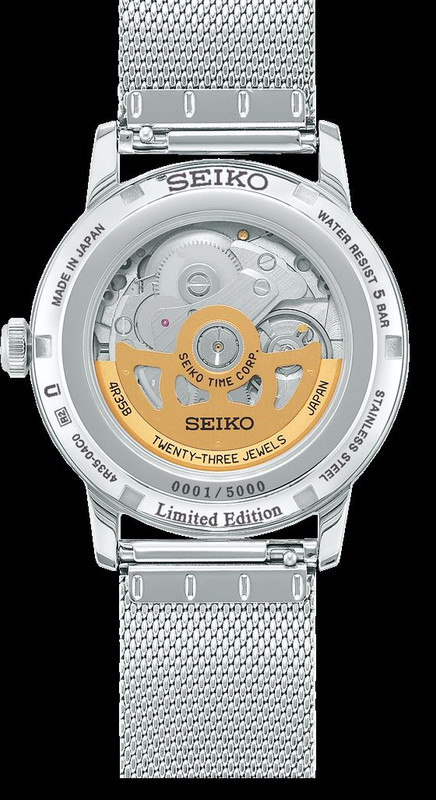 The stainless steel case is a multiple-wrist-size-friendly 38.5mm with a thickness of 11.8mm and uses the same box-shaped Hardlex crystal that features in the previous models. Its water resistance is 50m. Through the open case back, which features a "Limited Edition" engraving, is the aforementioned automatic Calibre 4R35, which beats at 21,600VPH and has a power reserve of 41 hours.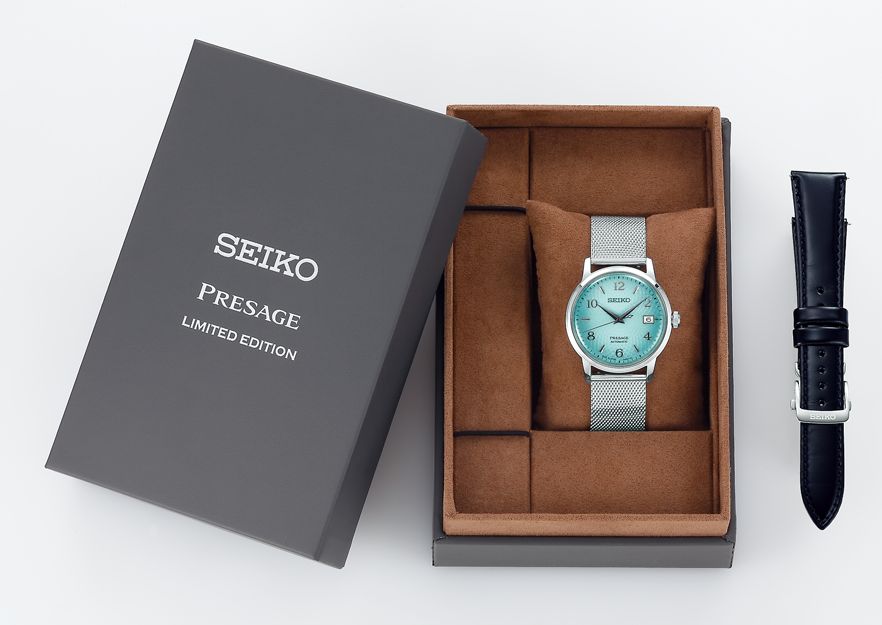 They come on a dressy attractive steel mesh bracelet with an additional calfskin leather strap, and the RRP is AUD 995. For those in Australia, you can either put your name down at a Seiko boutique, or click on either this link or this link depending on your colour preference, and sign up to be notified when it has is available.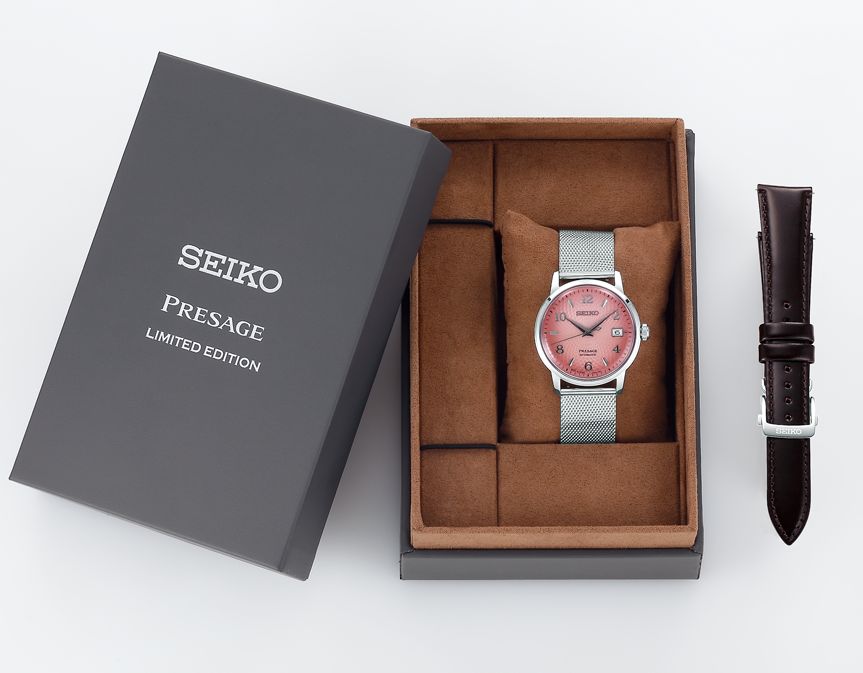 Although the focus today is on two new limited edition 'Cocktail Time' models, it has to be noted that there are also a couple of new Presage Cocktail Time regular production pieces with dark blue, red, or green dials at an even more accessible price point, plus a women-oriented range in a smaller size.
[Photo credit: Seiko]
---
---
Categories: Japanese watches, Limited Editions, Seiko, Watch Profile, watches, Women's watches