It is always an interesting experience visiting Roger Dubuis at the pka SIHH now Watches & Wonders Geneva, and with this year's having been purely digital in form, it's even more of a shame that we did not have the opportunity to see the subject of today's post. The Excalibur Diabolus In Machina is a pièce unique, and it has been sold.
Roger Dubuis are not above owning excess, and this piece, featuring a minute repeater with a flying tourbillon, looks like an extension of their more sober cases and designs. Easily identifiable as being a Dubuis from a distance by the Excalibur features, but upon examination, with the brand's often idiosyncratic way of doing complications.
This may look quite sedate for this brand, but 'sedate' still means pushing material boundaries for Roger Dubuis, who seem to delight in combining very traditional haute horlogerie with sometimes almost 'contradictory' (or counter intuitive) materials. In this instance, the 45mm case of this skeletonised watch is a type of cobalt chrome called CarTech Micro Melt BioDur CCM. The case's back is of the same material with a sapphire crystal. If you want to read about some previous use of Cobalt Micro Melt, go to this post.
However, the decision to use this wasn't just about the looks and material. The brand says that cobalt chrome is purported to have acoustic qualities that improve the sound quality of this minute repeater; they used it to make elements of the gong and say that they didn't even need to tune them. As I said, it is a huge shame that we did not get to test this for ourselves.
The dial has flange engraved with a minute track. The polished hour markers are filled with Super-LumiNova, and the familiar Roger Dubuis star has been reworked so that it is deconstructed onto multiple levels, with no two elements of the star being on the same level. Functionally, along with the hours, minutes, minute repeater, and single flying tourbillon, there are also indicators for the function and the chime.
For the repeater, the new owner can check the time using a traditional pusher which has what they have called an "all or nothing" safety mechanism that only allows the repeater to be active if the pusher has been fully depressed, so as to to minimise accidental activation. There is a low tone for the hours, high for the minutes, and two tones for the quarter hours.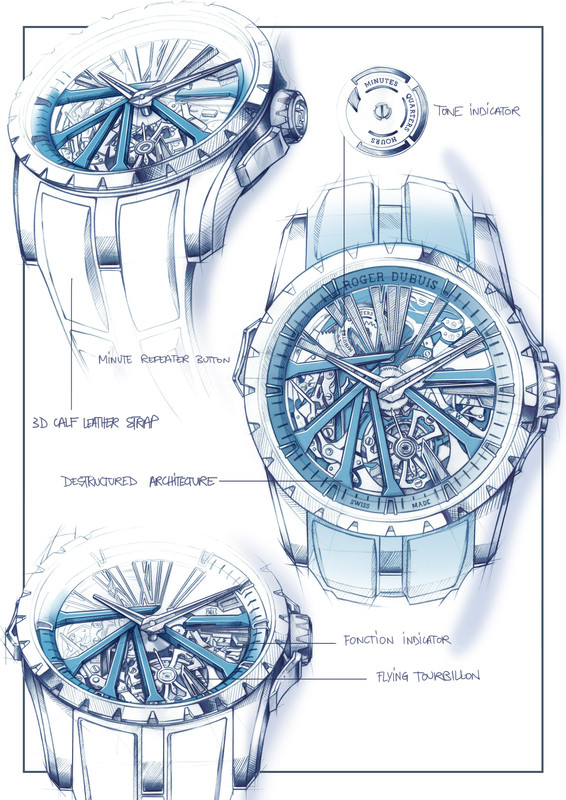 At 11 o'clock is a transparent disc hiding behind/ part of the Roman numeral. Marked with 'Hours', 'Quarters' and 'Minutes', it disc starts to turn as soon as the minute repeater is activated, visually indicating the time intervals being chimed. How did they do this? They attached it to the minute repeater's main feeler-spindle system.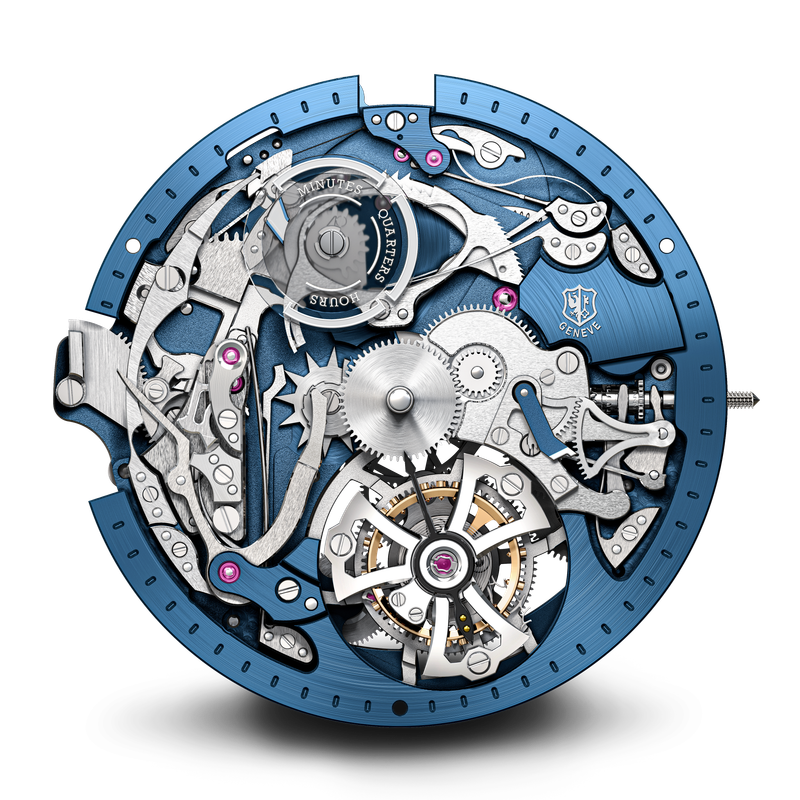 The second function indicator is a lever between 3 o'clock and 4 o'clock that lets the owner know if the watch is in 'manual winding' or 'time setting' mode so as to minimise damage to the movement.
These are all powered by the automatic Calibre RD0107, which beats at 21,600 VPH and has a power reserve of 60 hours. It features circular graining, shot-blasted surfaces, Cotes de Genève, and NAC-coated bridges and plate.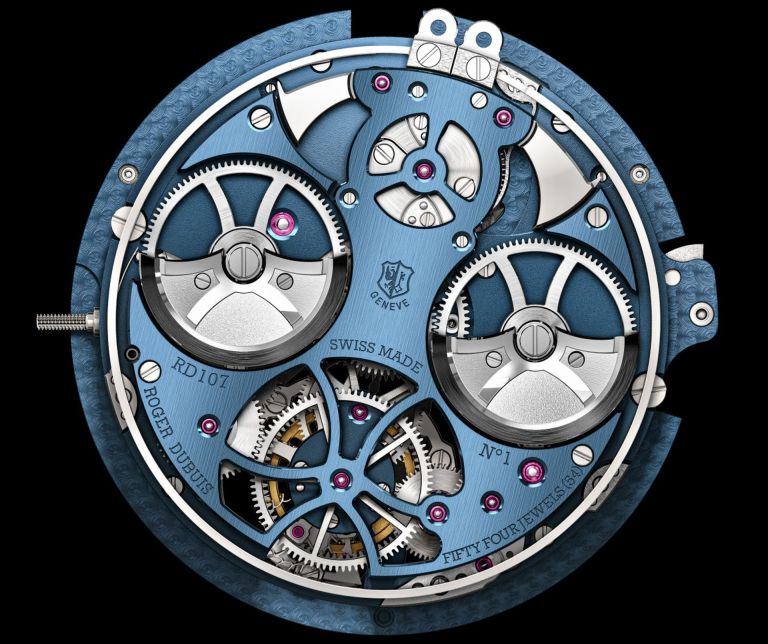 Roger Dubuis has chosen to tune this minute repeater to the sound the famous discordant 'Diabolus in musica' Tritone chord that has been been popularised across a wide range of music. To read more about it and listen to some examples of how it has been used, go to this link. In a way it makes perfect sense that this brand was the one who chose to do this for their Machina, since dissonance between form and traditional functions are key to their identity. It is tuned in this timepiece to C and G flat.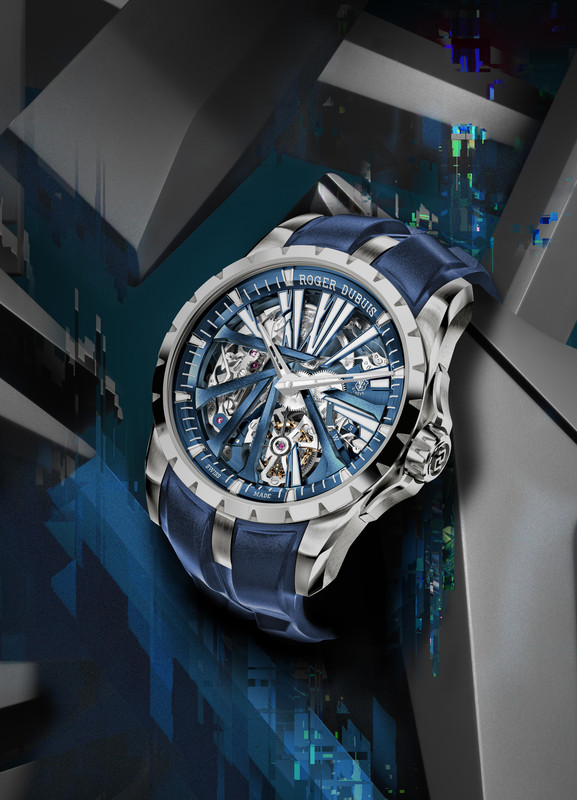 Given the material of the case, no the buckle is not of the same material but titanium, with a triple folding buckle, along with a calf strap.
So I mentioned at the outset that it has been sold. The price? USD 571,000.
'Diabolus in musica' has not been a term used exclusively for the tritone, although it has been applied to the interval since the late Middle Ages. Perhaps because of the combination of 'Devil' and 'mediaeval', I am reminded of the 'Codex Gigas' at the National Library of Sweden. The largest extant medieval illuminated manuscript in the world, it is known as the 'Devil's Bible' because of a full page portrait of the Devil, and the legend surrounding its creation.
With its earliest identifiable provenance being the early 13th century in the Benedictine monastery of Podlažice in Bohemia, the legend, which I was told by a local friend when I saw it, is that it was written by a single scribe during the course of a single night. He realised that one man alone could not achieve this, so he asked the Devil for help.
The Devil's Bible is 92cm in length and has 310 parchment leaves. It was not written in one night by a monk in a room, whether by himself or with assistance.
[Photo credit: Roger Dubuis]
---
---
Categories: Limited Editions, Roger Dubuis, SIHH/ Watches & Wonders GVA 2020, Watch materials, Watch Profile, watches