Last year saw the launch of the UR-100 SpaceTime by Urwerk in two variants – the Iron in titanium and steel, and the Black in titanium and black PVD-treated steel, both in editions of 25 pieces.
Featuring the brand's classic orbital satellite hours and minute 'hands' in beryllium bronze with an open-worked carousel, they featured displays both of time (hours and minutes) and of space (distance travelled). However, rather than what we are all familiar with i.e. the red-arrow-tipped minute pointers on the hour satellites disappearing after 60 minutes to be followed by the next, the UR-100 minute arrow passes beneath and between the subsidiary indications, reappearing to display the distance travelled by Earth's equator in 20 minutes, and distance travelled by Earth around the sun in 20 minutes.
At 2 o'clock is the indicator for the distance travelled by Earth whilst orbiting around the sun every 20 minutes. The indicator at 10 o'clock relates to the distance in kilometres and is based on the average speed of the rotation of the Earth on its axis at the equator, covering a distance of 555 km every 20 minutes.
Making all of this happen is the automatic Calibre 12.01, which beats at 28,800 VPH and has a power reserve of 48 hours. With three base plates in ARCAP, the movement's rotor is regulated by a flat turbine system, the Windfäng (Swiss German for "air trap") that minimises shocks to the rotor and reduces over-winding and general wear and tear.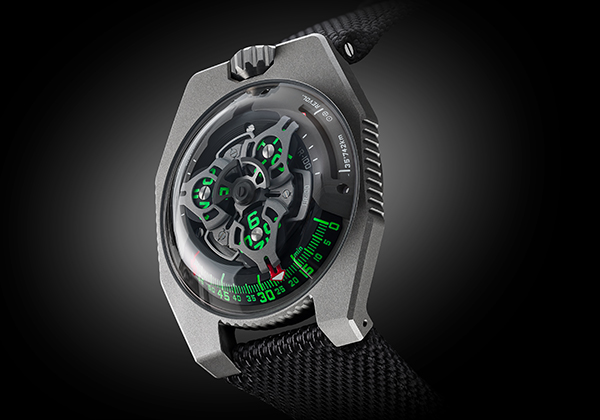 Now the collection has expanded, with the launch of a new variant called the GunMetal, also limited to 25 pieces. The case is made from titanium and stainless steel with a sandblasted 'gun metal grey' PVD finish and measures (the same) 49.7mm x 41mm x 14mm. Of the three, I have to say that this is my favourite, because of the combination of colour and texture/ finishing.
Each of the GunMetal's satellites is anodised aluminium that has been sanded and shot-blasted. The satellite screws are circular sanded. The carousel on which they are situated is sanded brass plated in ruthenium. The structure on top of the hours display is in sanded and shot-blasted aluminium.
The Urwerk UR-100 GunMetal comes in a limitation of 25 pieces and is priced identically to the two launch editions – CHF 48,000 (excluding taxes).
[Photo credit : URWERK]
---
---
Categories: watches