It remains the case that rectangular watches are less commonly made and less commonly worn, than round ones, so it is always interesting when a brand decides to launch one in this case shape. Today, we are looking at one of these, that was released in 2017. It is called the Georg, named after Georg the Bearded, Duke of Saxony, and it was the first rectangular watch from Lang & Heyne. Recently, we had the opportunity to see one here in Sydney.
The case, which comes in either rose gold (with blued hands), white gold (with rose gold hands), or platinum (with blued hands), is 40mm long, 32mm wide, and 9.4mm thick. With the distinctively Lang & Heyne triple lugs, the case is slightly curved, with fluted sides and a sloped bezel, to allow for better fit on the wrist.
In terms of its look, it is pure Lang & Heyne, featuring a white enamel dial with black Art Deco numerals, blue accents, and a large (14.5mm diametre) recessed seconds sub dial. The appearance is inspired by 1930s German wristwatches.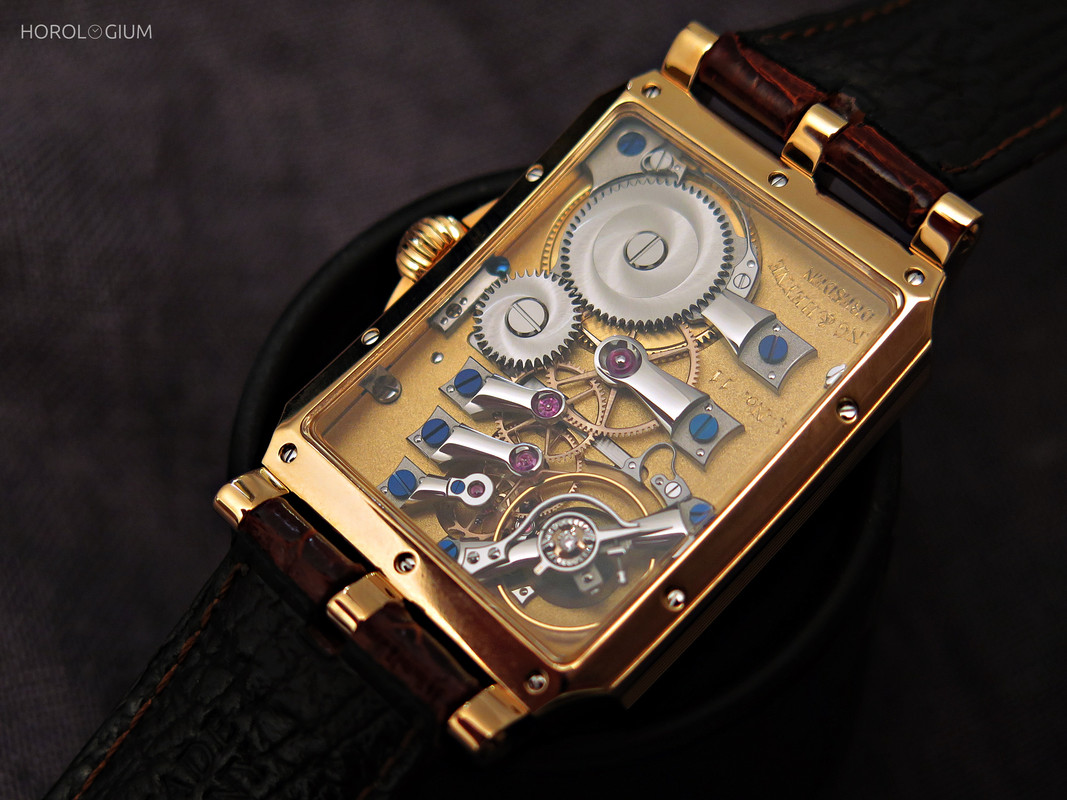 The back is where the Georg distinguishes itself from other watches, with the unusual and intriguing architecture of the new hand-wound Calibre VIII, with its case-matching rectangular-shaped base plate. It beats at 18,000VPH, and has a power reserve of 55 hours. It looks stripped back, with every detail starkly visible, including the finely finished golden wheels, the unusual steel bridges, the large polished stone countersinks. It has four steel cocks replacing bridges, holding the wheels of the gear train in place, with the balance and barrel having similarly shaped steel bridges. This is a movement that says, firmly but not stridently, 'look at me'. It is anything but ordinary.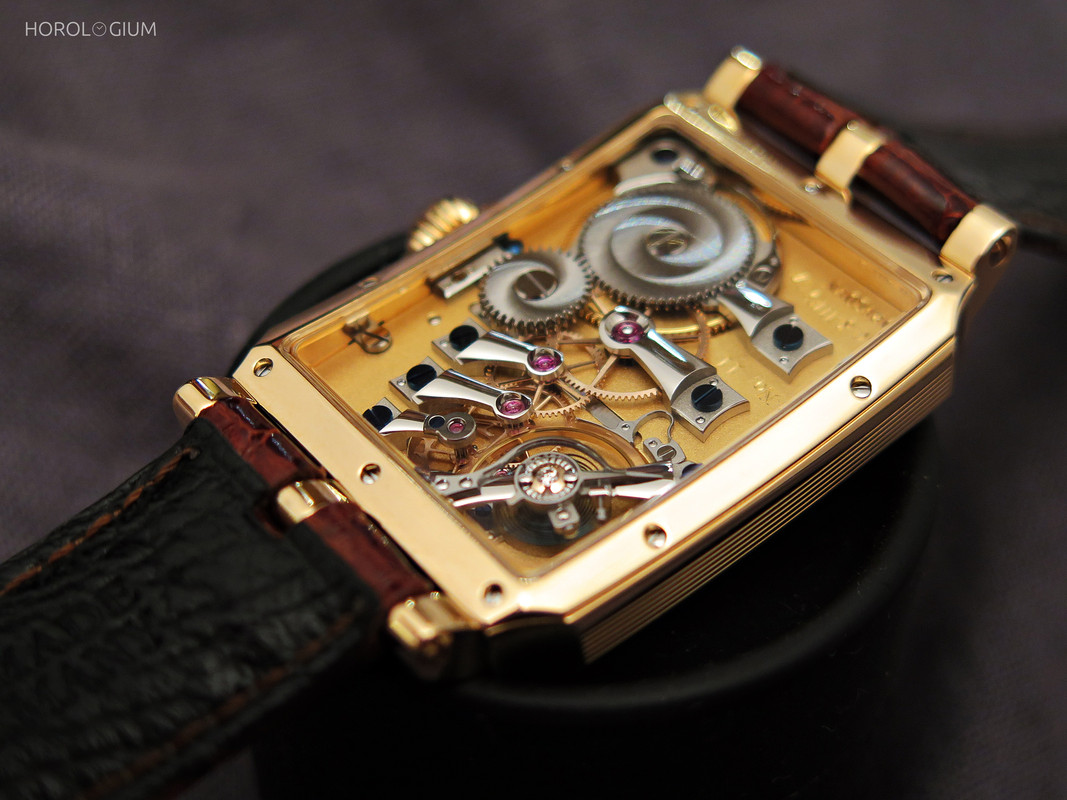 Another noteworthy feature is the stop-seconds mechanism, allowing for more precision when setting the time.
With its case dimensions and a height of 9.4mm, this is a watch with a decent amount of heft and wrist presence to it. Not prohibitively so, and it does sit comfortably, but for those who have a fondness for such a case shape and are used to slimmer rectangular watches, it is something that needs to be noted.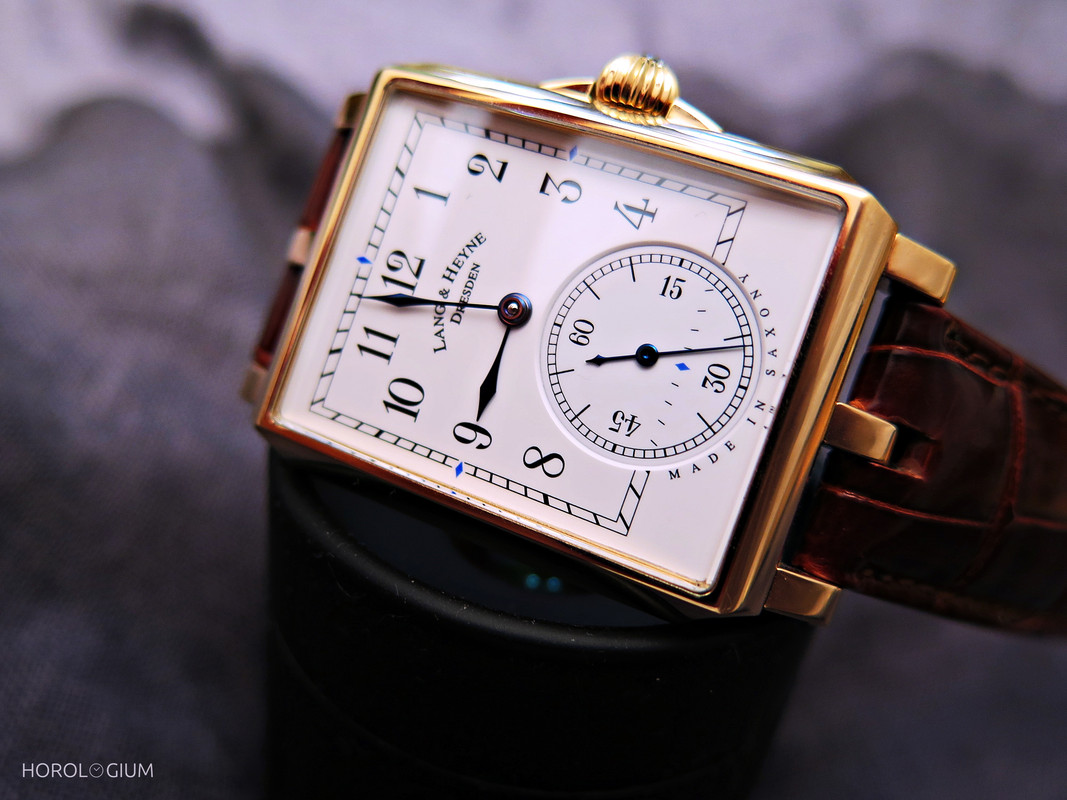 Coming on an alligator strap with pin buckle or a folding clasp, the (tax free) RRP for the Georg is at EUR 26,410 for the rose gold model, EUR 27,830 for the white gold, and EUR 33,490 for the platinum model. Prices do not include taxes. As I have mentioned before, Lang & Heyne are a very small brand, making only a couple of dozen or so watches a year, so be prepared for a small wait if you put an order in for the Georg (or in fact any of their watches).
---
---
Categories: Baselworld 2017, German watches, Hands-on, Lang & Heyne, Sydney, watches