MB&F's continued collaboration with clockmaker Epée 1839 to realise Max Büsser's horological dreams introduced its latest manifestion a few months ago in the form of a 'self-named' (of sorts, but more on that later) 40cm high robot-inspired clock called Balthazar that weighs in at an impressive 8.2kg.
Balthazar comes in a limited edition of fifty pieces in four colours (black, silver, blue or green) for the armour plates, and I had the opportunity to see the blue version at Marcus Watches.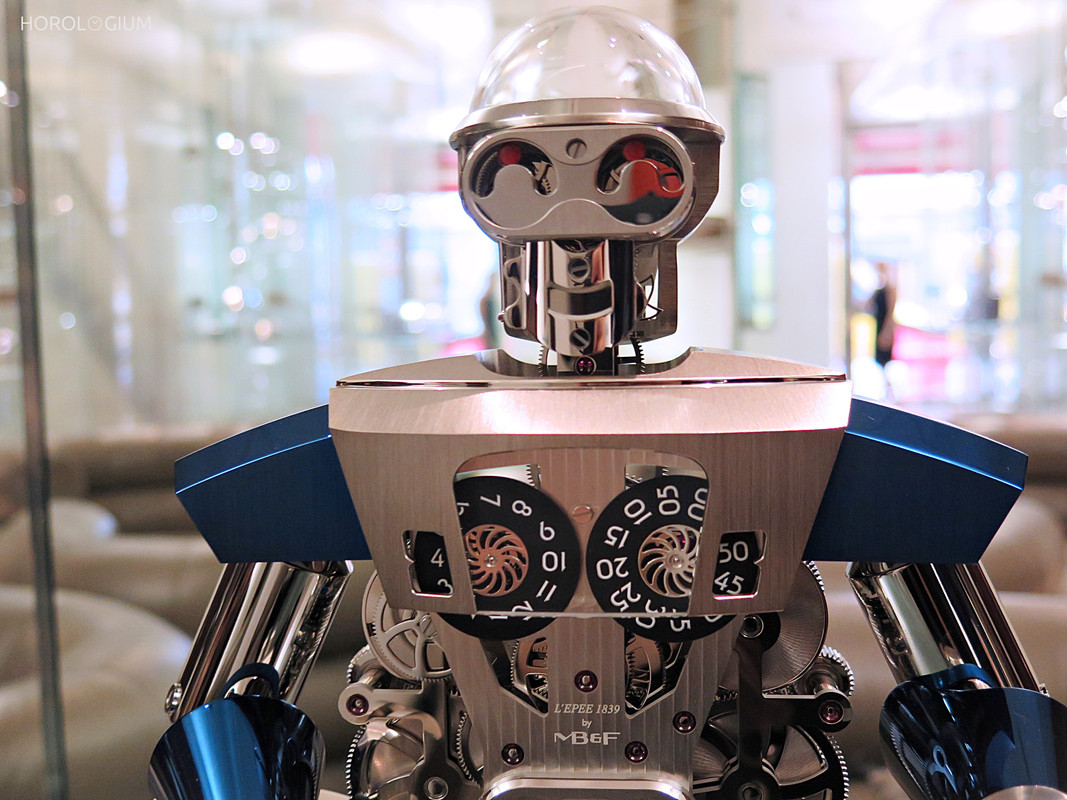 He is every bit as impressive as you imagine just from photos, and significantly taller than his robot-clock predecessor, Melchior. Next to him Sherman, MB&F's endearing creation from last year, seems even more petite.
Whilst I was prepared for his imposing presence, what I wasn't prepared for was that the non-skull facial side would be as cheerful as it is, 'in the metal'. He is positively beaming. He's not as quite frankly adorable as Sherman and has quite a different vibe to Melchior, but he is actually more engaging than I had thought he would be based on photos.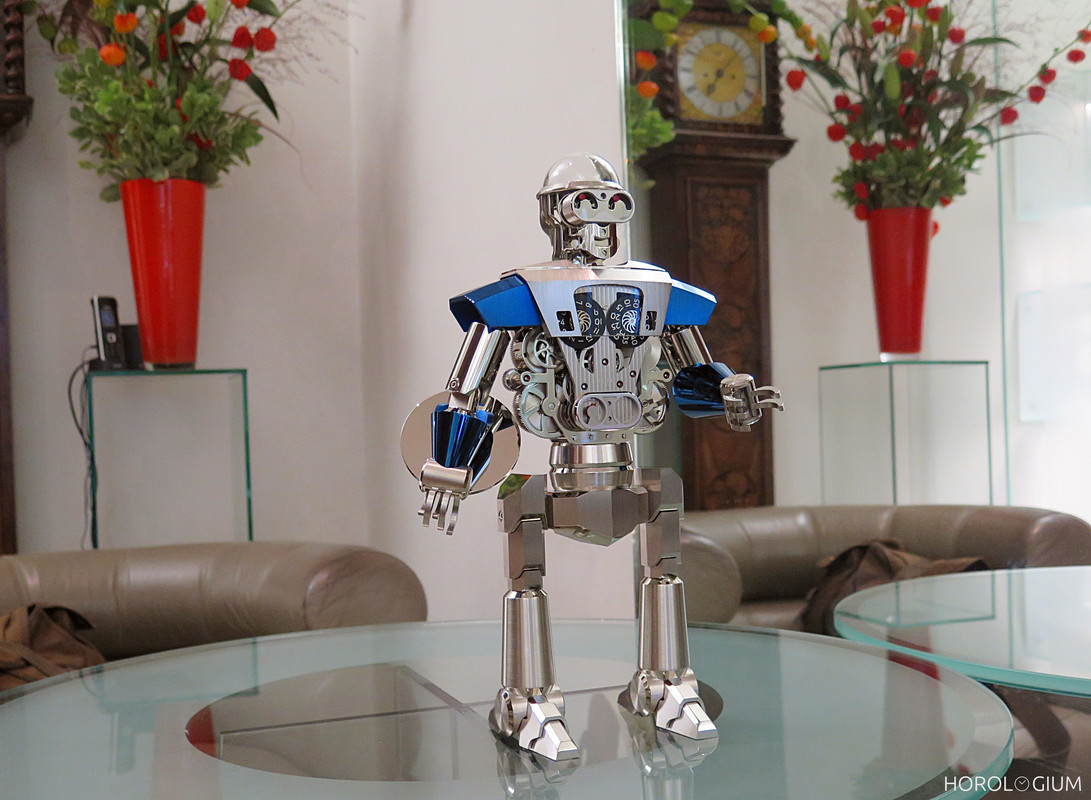 This very friendly side indicates the time via jumping hours and sweep minutes on the discs in the chest, with two red spheres in the eyes functioning as 20-second retrograde indicators. The 35-day power reserve is indicated on a smaller dial on the torso.
Balthazar's arms are, of course, articulated, so that either face can be used for all manner of poses. His hands can also hold objects, another feature that may be familiar from, most notably, Sherman.
You can rotate his torso 180 degrees, but on the 'other' side of his body you will find the less friendly Balthazar and a double hemisphere moon phase indicator disc (accurate for 122 years) on his torso.
You may remember Sherman's brain. Well Balthazar has one too. Under the sapphire dome sits the regulating organ/ balance wheel, protected with an Incabloc shock protection system to minimise risks when he is being moved about.
Balthazar is 618 parts of stainless steel, bronze and nickel or paladium-plated brass. His body alone has 213 components, with the remaining 405 parts making up the movement.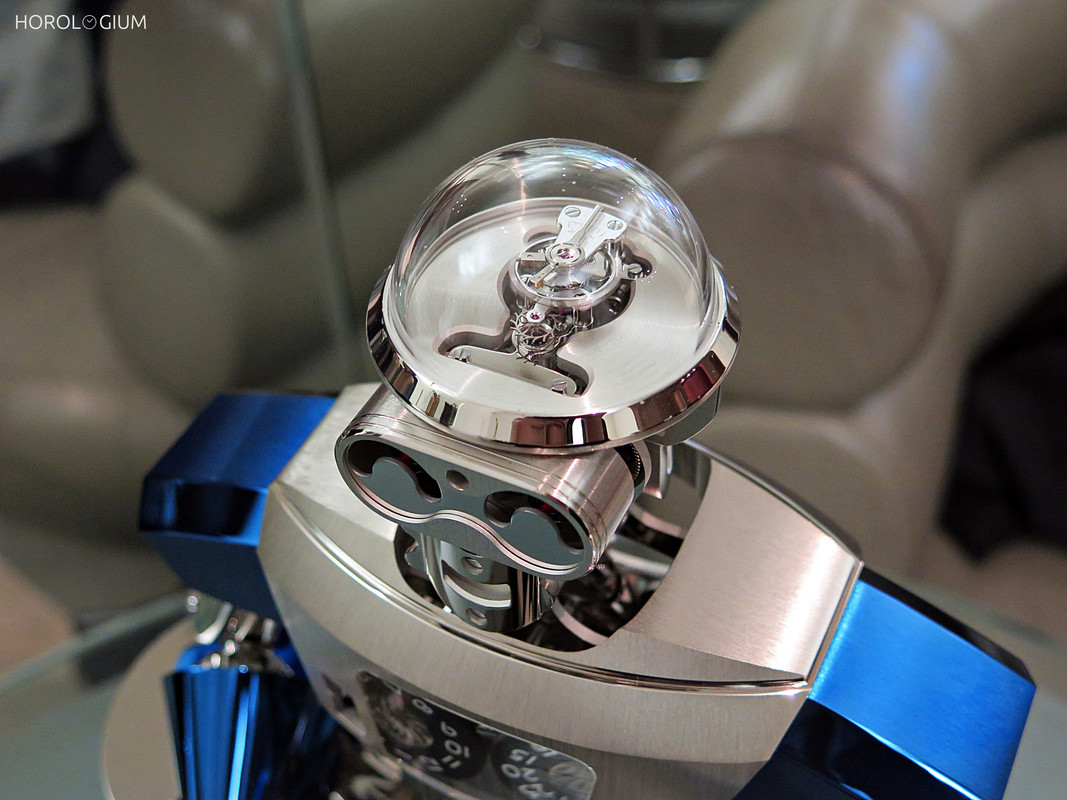 Naturally, his parts are hand-finished, with the familiar polished or grained surfaces, as well as bevelled edges. His movement has Geneva waves, anglage, mirror polishing, sand-blasting, circular and vertical satin finishing. All familiar to watch lovers.
Last but clearly not least, how is he wound up? Via his shield, which has both winding and time-setting key embedded into it.
So the fifty thousand CHF question – why 'Balthazar'?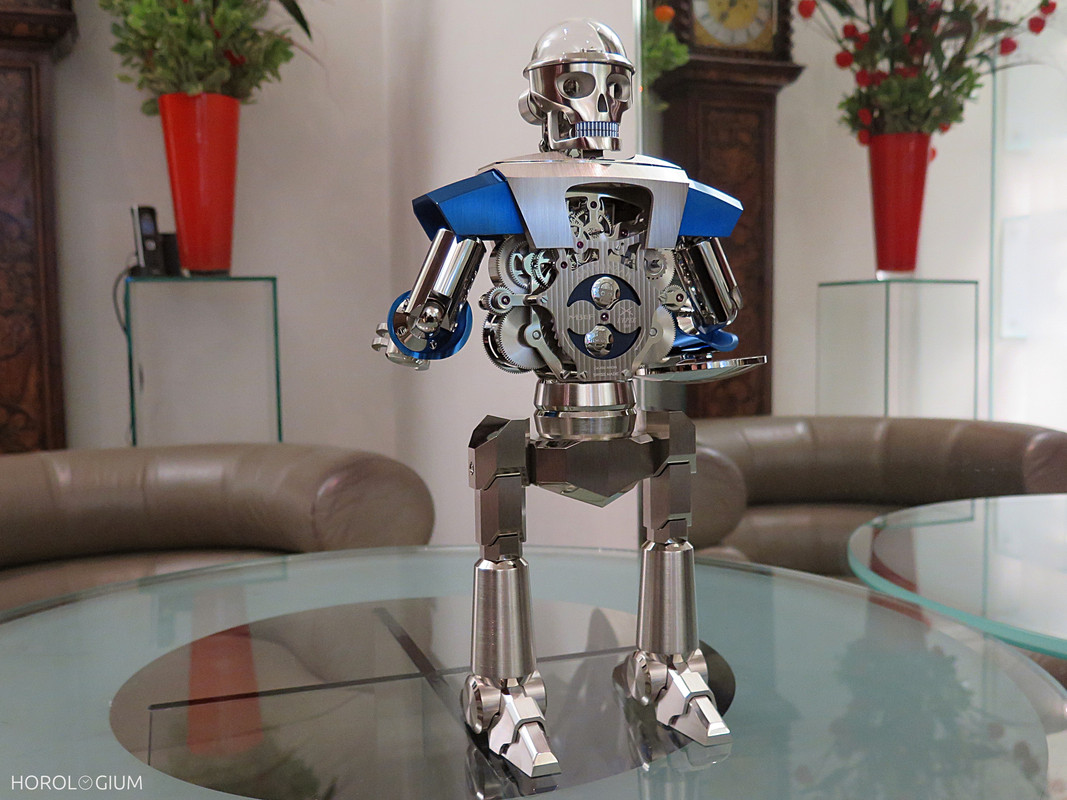 Perhaps not unexpectedly, the answer is personal, and the person is Maximilian Büsser. It is best explained in his own words – "In the Büsser family, for over five centuries from the 1400s onwards, every eldest Büsser son was either called Melchior or Balthazar. It alternated. My grandfather was called Melchior and he hated it, so he had everybody call him Max, which is how I became a Max. My grandfather hated the Melchior-Balthazar thing so much that he put an end to this 500-year-old tradition by calling my father Mario… Now, a century later, I happen to love the names Melchior and Balthazar!"
As mentioned, Balthazar is a limited edition of two hundred pieces in total. RRP is 52,000 CHF (excluding taxes).
---
---
Categories: Clocks, Hands-on, Limited Editions, London, MB&F