In our introductory post about Manufacture Royale we spoke of the influence of Voltaire on the brand. For today's watch, the 1770 Micromégas, Voltaire once again rears his head.
Named for the mythical hero of one of his short stories of the same name published in 1752, Micromégas was a young giant of a Sirian who was expelled from his home planet of Sirius for his dissenting ideas. An homage to Sir Isaac Newton (after whom it is said Micromégas was based) it is recognised for its significance as an early work of science fiction.
The 1770 Micromégas is their first watch containing an automatic in-house calibre and also has another first, double tourbillons with two different speeds as you can see captured in the photo below – the left is a six second revolution tourbillon and the right, a more common one minute one, connected through a differential which draws power directly from the same barrel (source of power).
Both are regulated through a patented system of torque stabilisers. The 'Micro' is 4Hz/ 28,800VPH and the 'Megas', 3Hz/ 21,600VPH.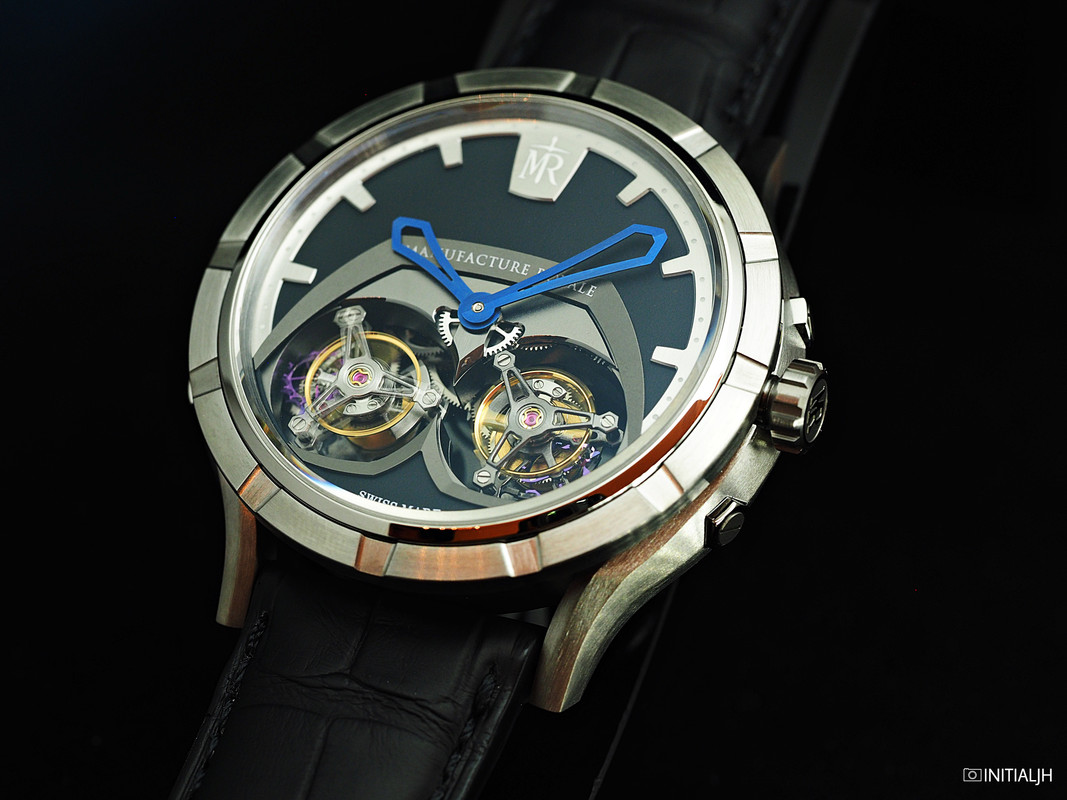 Two tourbillons may not be new, but they are still sufficiently unusual to be an exercise in haute horlogerie well worthy of mention. Two with different speeds? Something exceptional.
The 36mm-sized automatic Calibre MR04 movement driving this has a skeletonised rotor on ball bearings and an impressive power reserve of 80 hours.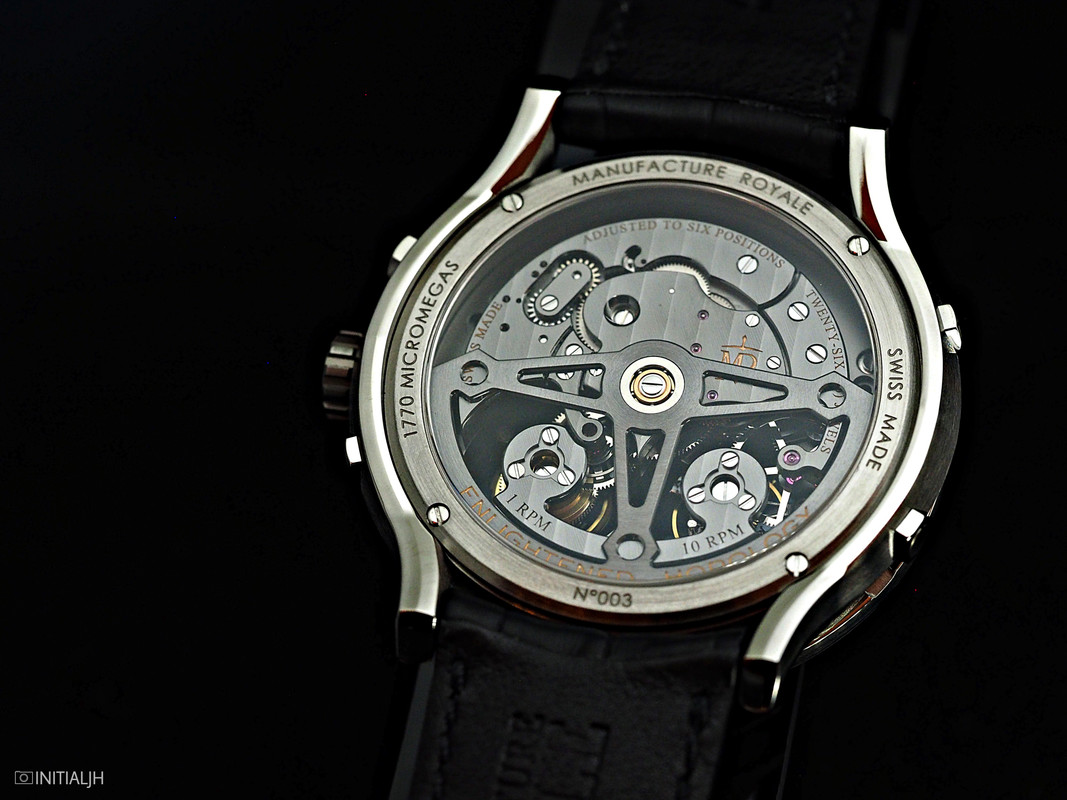 The case is designed by Eric Giroud and a riff on the Androgyne collection casing. The Androgyne case uses a set of short tubes that are both the sides of the case and its lugs. The tubes are affixed with screws to the case main body. In the 1770 the tubes are far more curved, making it a much 'softer' traditional looking watch as well as one that more may find easier to wear.
Coming in both titanium and rose gold versions, as you can see in this titanium cased one, both case and dial have a variety of finishes, with both polished and brushed matte surfaces that make the bold design codes of this watch even more marked. The 'cut out' for the tourbillons is contemporary and prominent, so this is not a watch for those seeking softer lines or traditional design notes, but it makes for a very sporty double tourbillon.
Titalyte is used a coating to harden the titanium dial for this model, and the flat black surface is lacquer with what they have called a 'rubber effect'. The blued hands are also titanium. Of course there is Super-LumiNova used as well.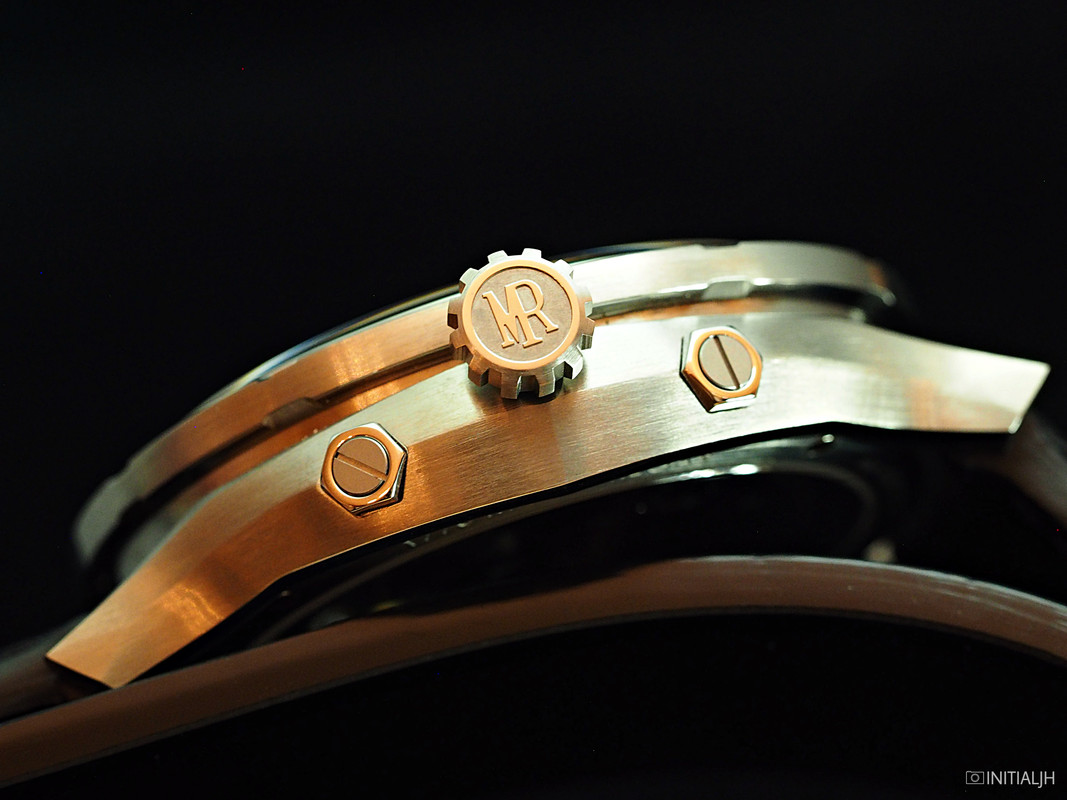 On the wrist, the watch is big but comfortable, but because it 45mm with a height of 11.8mm, the titanium models may be easier to wear for more people than the weight of the rose gold options.
With an RRP starting at 125,000 CHF for the titanium cased Micromegas and going up to 150,000 CHF for the rose gold, these won't be a limited edition, but there were be limited production numbers.
Published in 1752, Voltaire's 'Micromégas' after which this watch is named dealt with concepts and issues that are part of the human condition and very much a part of 21st century life – space exploration, humanity and the state of Earth, critical thinking, the similarities and differences of different sentient species, and the importance of understanding our quite insignificant place in the universe.
As mentioned at beginning, Micromégas is a rather tall (eight leagues) bright youngster who managed, for his sins of publishing the result of scientific experiments that were contrary to the beliefs of his planet, to find himself banished for eight hundred years for his heretical writings. Being a scientist, he sees his banishment as an opportunity for exploration and testing of theories, and even manages to pick up a travel companion whilst on Saturn. Together they travel throughout the Solar System before finding themselves on Earth, and it is here that both of them eventually discover and interact with some of the 'atom-sized' inhabitants.
Suffice to say that despite realising that their incredibly diminutive size humans have a level of intelligence which impresses them, they also find them rather bewildering for their in-fighting and sense of self-importance as a species.
A short story worth reading, you can find it at this link.
---
---
Categories: Manufacture Royale, Switzerland, Watch movements, Watch Profile, watches