When Hublot launched the MP-05 LaFerrari (named after the supercar of the same name) many minds were boggled not just by the size, but by the movement. Inspired by the LaFerrari supercar, this was a 'superwatch' to match (and with a price to match).
Earlier this year, three years after the first one (which was limited to twenty pieces for a cool £225,000 each), Hublot released the MP-05 LaFerrari Sapphire, the result of 18 months of development to create a new case machined from sapphire, and even more of a 'statement piece' than the four variants that came before it.
The Hublot MP-05 LaFerrari Sapphire's case has seven parts, machined from a solid block of sapphire crystal. Said to have taken 600 hours to develop, the case allows a view of the 637-part tourbillon movement with its striking eleven barrels. The concept behind this was to represent the LaFerrari V12 engine, and there's clear automotive 'power' vibe in both the watch's engine and in the ability to see it in the watch's design.
An astonishing fifty hours of power reserve can be had by this in-house Calibre HUB9005.H1.PN, and for those unfamiliar with the MP-05 watches, it is wound with a miniature electric drill and specially designed setting tool. If you're wondering, no you cannot simply decide to hand-wind it. There are 637 parts to this movement, and 108 eight jewels.
Function-wise, there's the time, seconds, and a power reserve indicator on rotating drums. The hour, minute and second displays that take the form of revolving, transparent cylinders.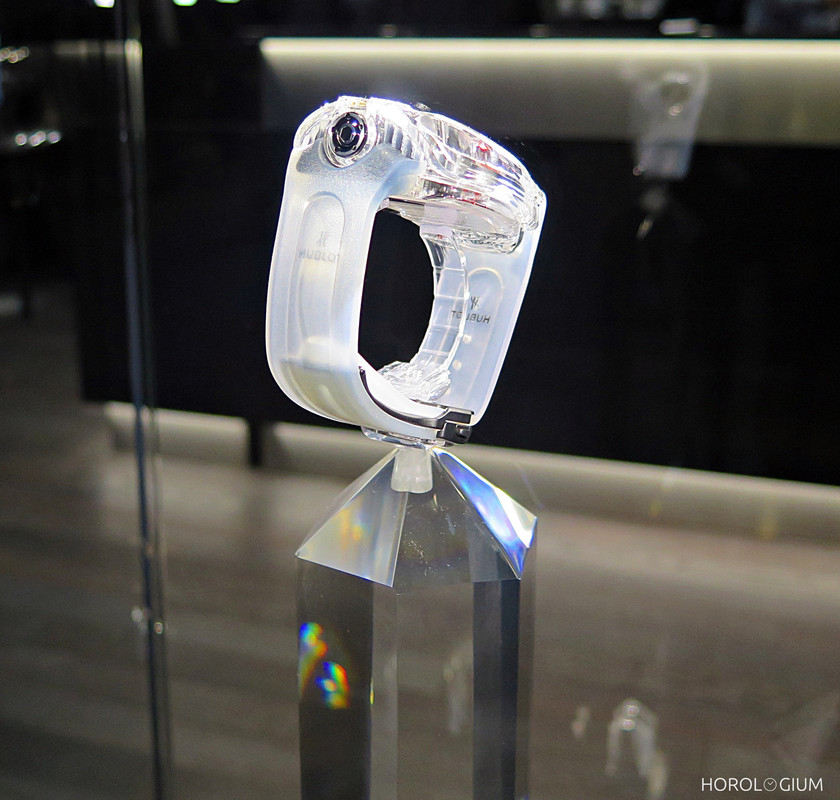 A sapphire case doesn't mean a change in the water resistance, though, this one has the same 30m as the previous versions of the LaFerrari.
The MP-05 La Ferrari Sapphire is a BIG watch. Its measurements are 45.8mm long, 39.5mm wide and 15.3mm thick, but it's the final point that makes it seem so huge. It comes on a frosted-look silicone strap in tune with the sapphire case's aesthetics, with a titanium buckle.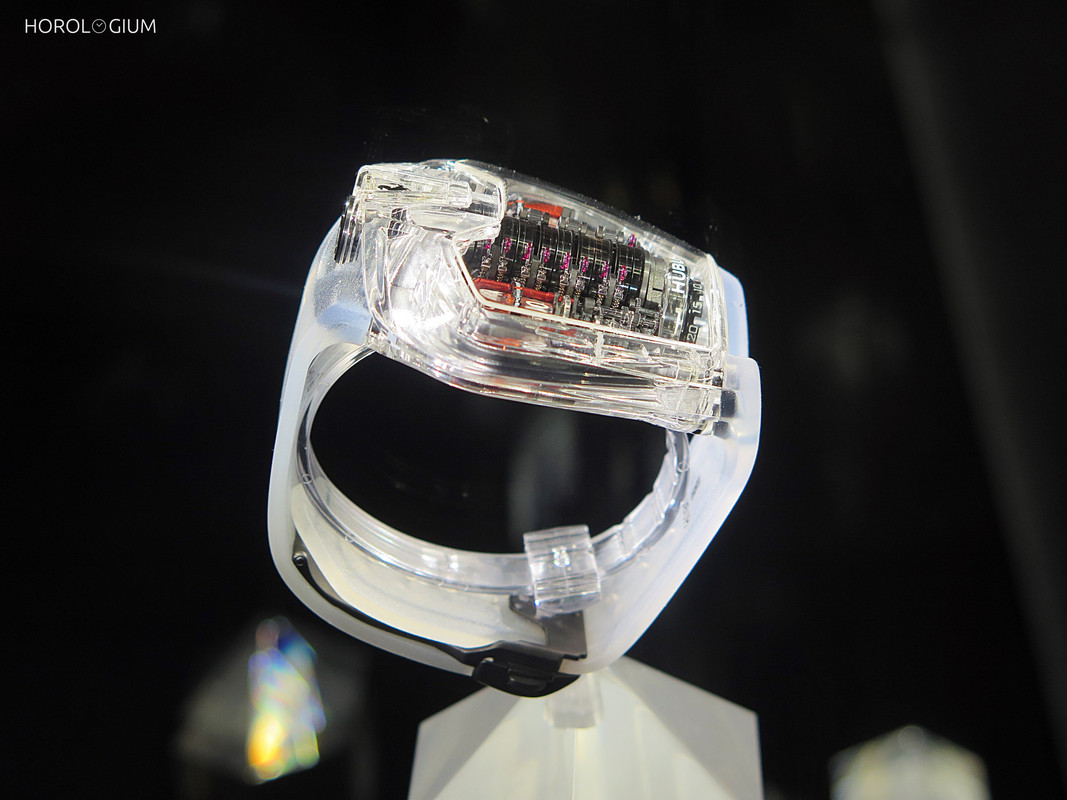 With a number of sapphire cased watches having been released over the past couple of years, most notably from Richard Mille, who even had one costing two million dollars but also including even Bell & Ross, who released one at Baselworld 2016, it will be interesting to see if this 'micro-trend' burst of sapphire is further picked up.
In the meantime, if this Hublot takes your fancy, and you have both the self-confidence and wallet to get one, the MP-05 LaFerrari Sapphire comes in a limited edition of 20 pieces, and with an RRP of 500,000 CHF.
---
---
Categories: Baselworld 2016, Hublot, Limited Editions, Switzerland, Watch Profile, watches