If nothing else Richard Mille can always be counted upon to present a talking point at SIHH. This year it was the RM 50-02 ACJ Tourbillon Split Seconds Chronograph designed in conjunction with Airbus Corporate Jets (above). As well as this, they also debuted their first fountain pen, made of carbon composite and featuring a mechanical retraction mechanism. We were asked to guess the price of this pen. Suffice to say we were deeply deeply wrong. I'm not entirely sure if it is a consolation that basically everyone was incorrect.
But more on those later.
For all the razzle dazzle the most interesting Mille release for me was the new titanium RM 67-01 Automatic Extra Flat, the brand's first extra-thin wristwatch in a tonneau shape (earlier slim watches were rectangular or round) and with a new in-house movement, the CRMA6. With a RRP of CHF 89,700 for the Ti model it counts as an entry-level piece for the brand.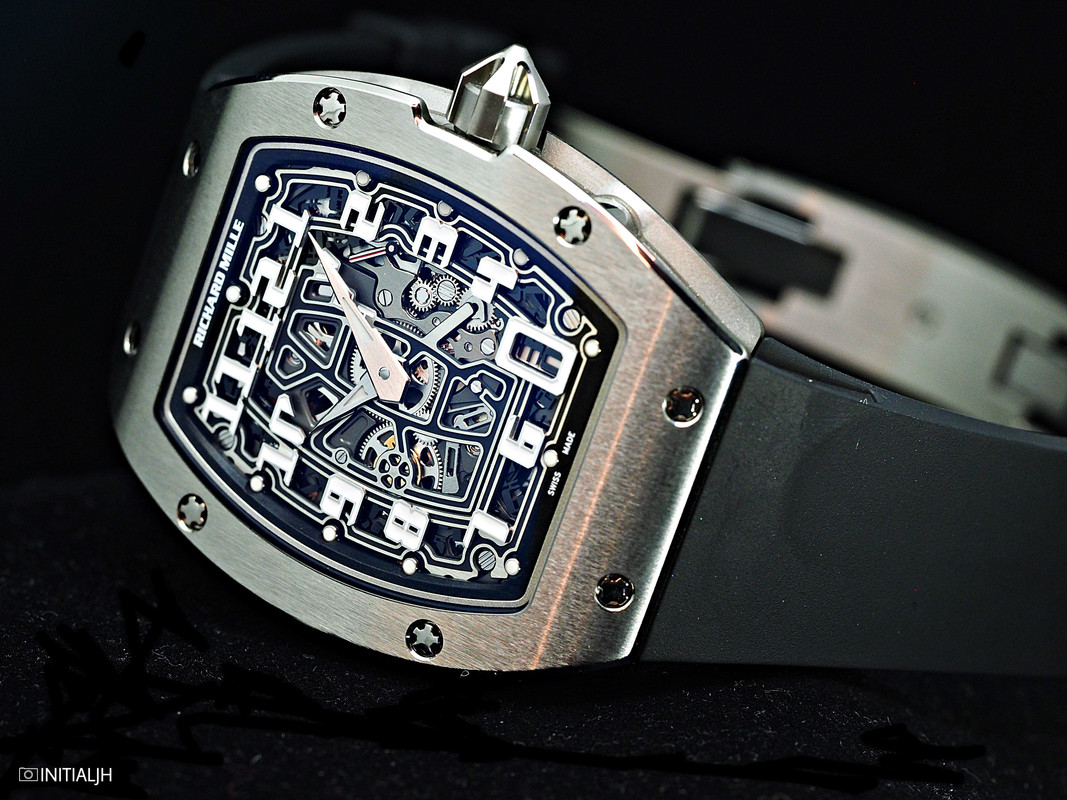 How ultra thin is it? Well the case is just 7.75 mm high. It's thin. Otherwise, it is 38.7mm x 47mm, and even with these specs, it wears incredibly comfortably on a smaller wrist.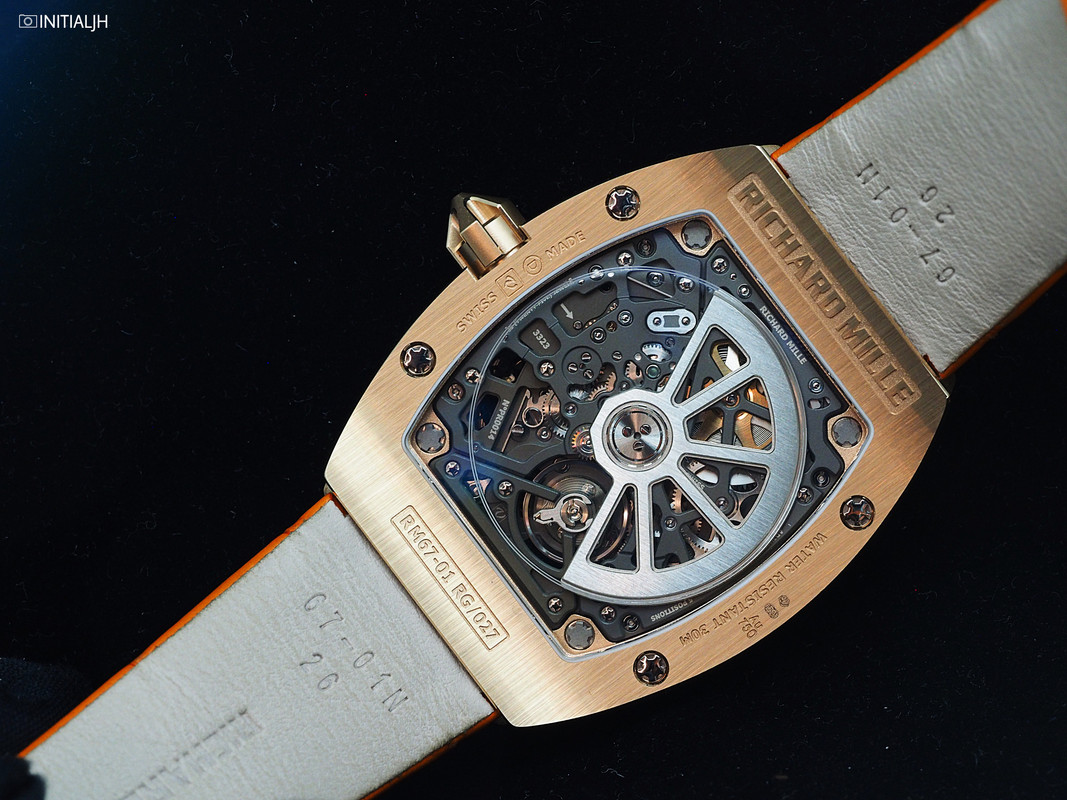 Inside is the automatic Calibre CRMA6, a new in-house movement. With its shape following that of the case, it has a platinum rotor and a 50 hour power reserve. The baseplate and bridges are Grade 5 titanium, sandblasted, hand bevelled, and finished with a matte black coating. The back shows extensive skeletonisation, as is Mille's wont, and adds to the lightness of this thin piece. If one looks closely one notices that the central part of the caseback is flat. The case's curves are at its edges.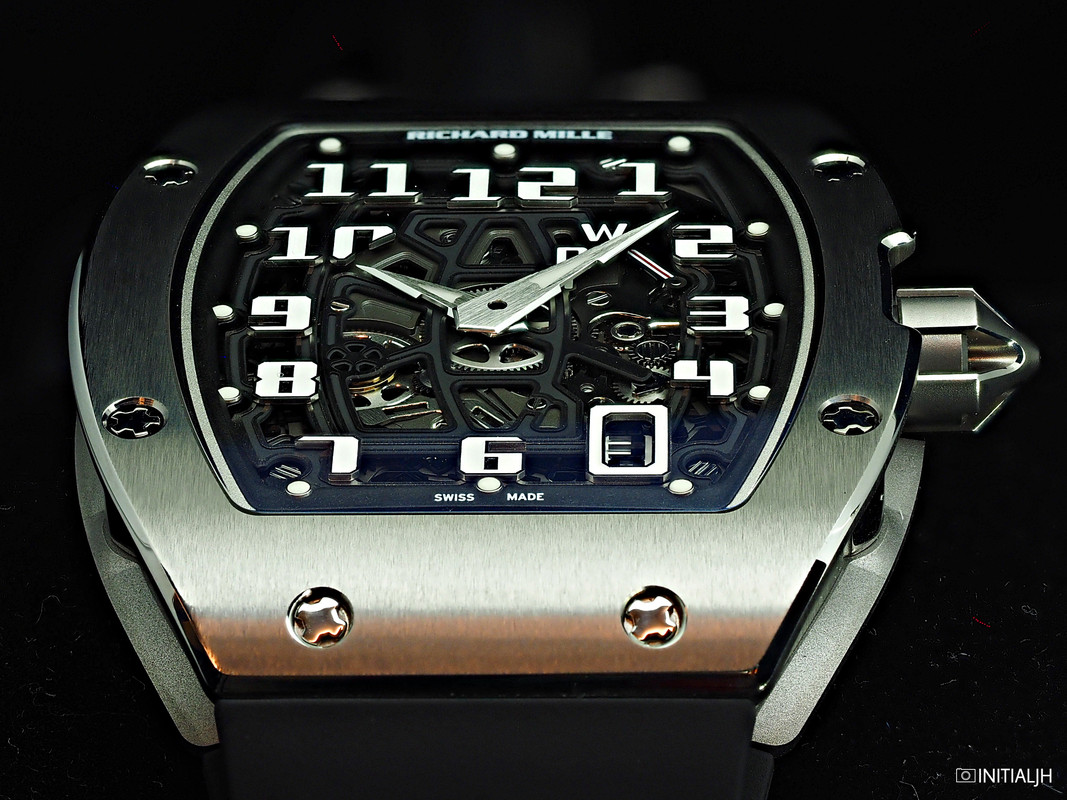 The dial is a characteristically open Mille layout, with a skeletonised plate and Super-LumiNova lumed numbers mounted on twin titanium rails that are attached to the movement. The vertical date window at 5 o'clock is also enclosed in a window with a lumed outline.
The RM 67-01 Automatic Extra Flat comes on a black alligator strap with rolled edges and a double folding spring buckle.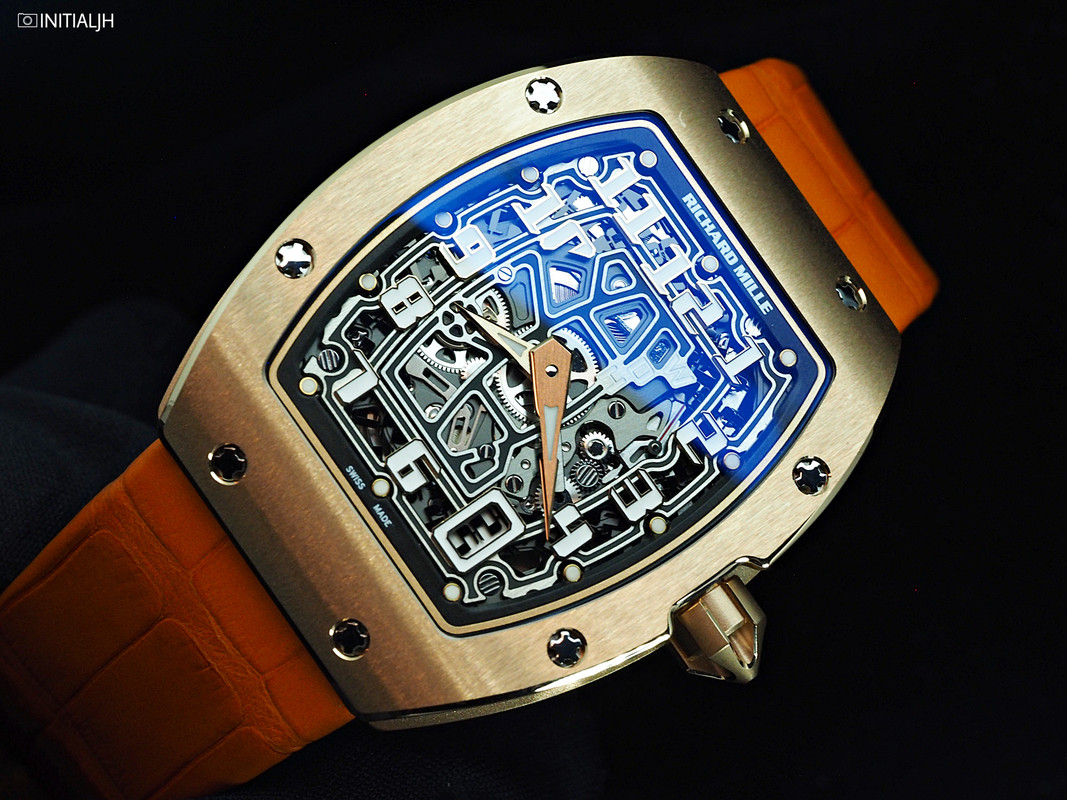 Several versions of the RM 67-01 will be available – titanium, white gold, and pink gold. Although Mille have a strong selection of watches that are aimed at women, there are women who wear Mille watches that were designed for men, and I feel confident that this new thin model will find its way onto both male and female wrists, as it would fit a large range of wrists.
So now to the other watch for today – the Airbus.
This new collaboration, the RM 50-2, is in a titanium alloy case and has many of the hallmarks of a Richard Mille, but basically looks like a plane window, with its wide white ceramic bezel.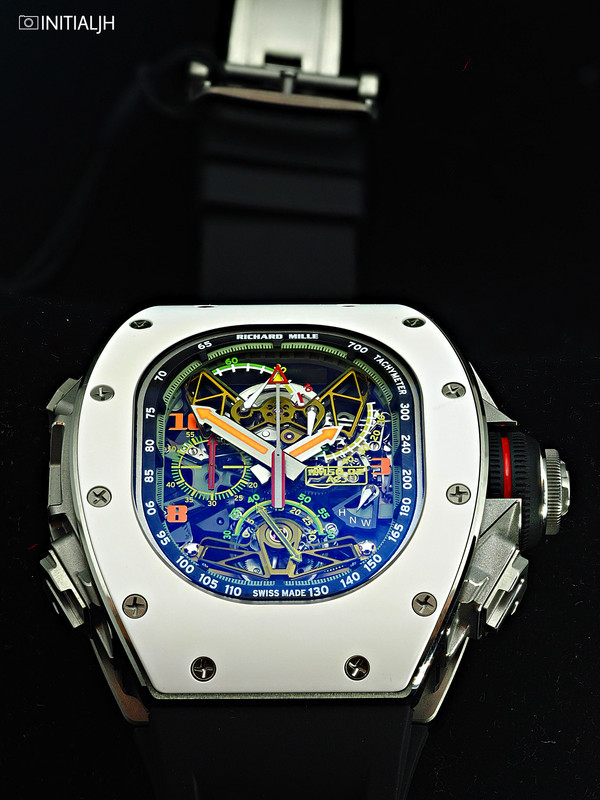 The other Airbus design cues are a case held together by Torq Set screws, which are used in Airbus planes, an engraved Airbus logo on the jet turbine shaped crown, and that several of the skeletonised bridges on the front and back have a dark bronze colour. This was achieved by the use of some sort of coating that is commonly used to protect aircraft engine parts from corrosion. Most of the bridges in the movement, as well as the base plate, are made of titanium. At 42.7mm x 50.1mm x 16.5mm it is a chunky watch but because of the use of titanium, a light one.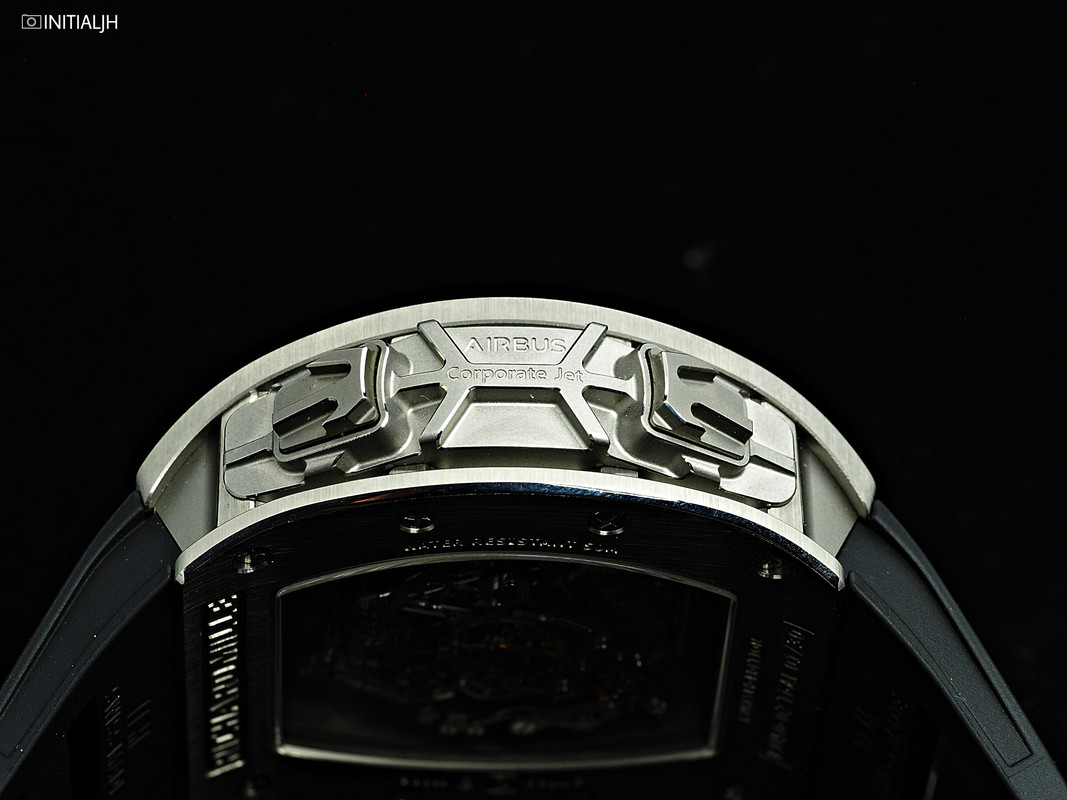 It's pretty much impossible to not let its design dominate this watch, but if you strip it to its essentials it has a Renaud & Papi manual-wind movement with both a split-seconds chronograph and tourbillon.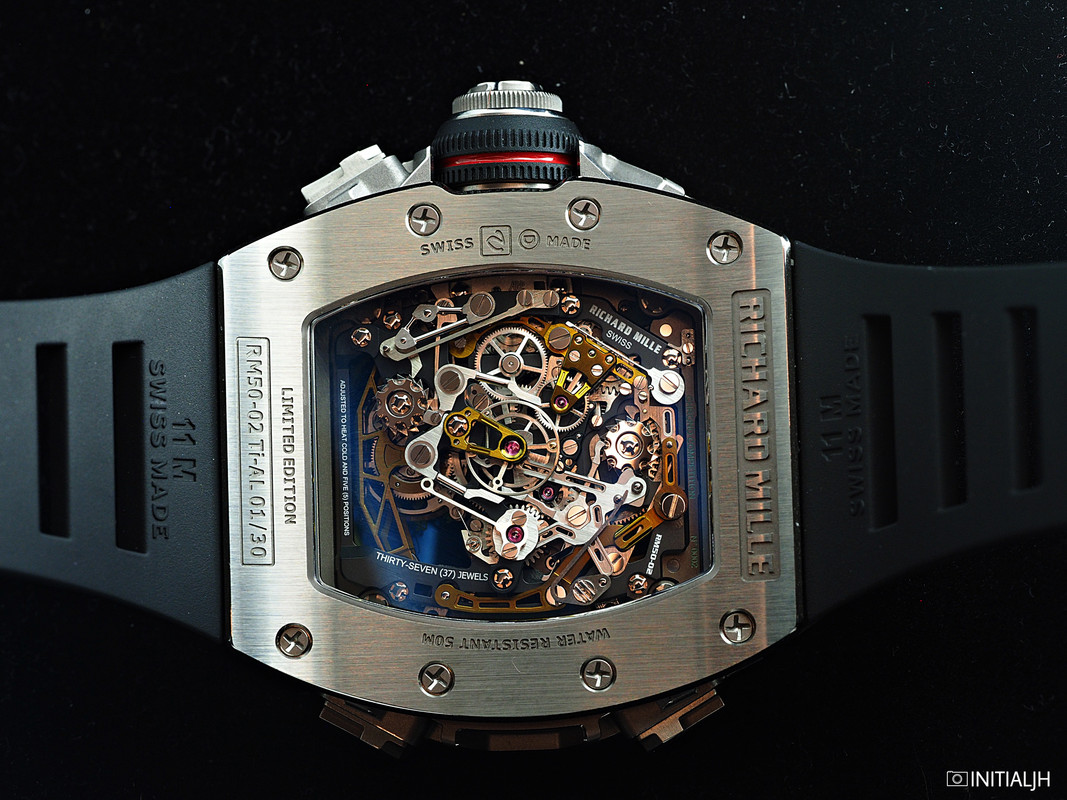 Made in a limited edition of 30 pieces, it is going to cost you a staggering one million CHF.
Yes. One million.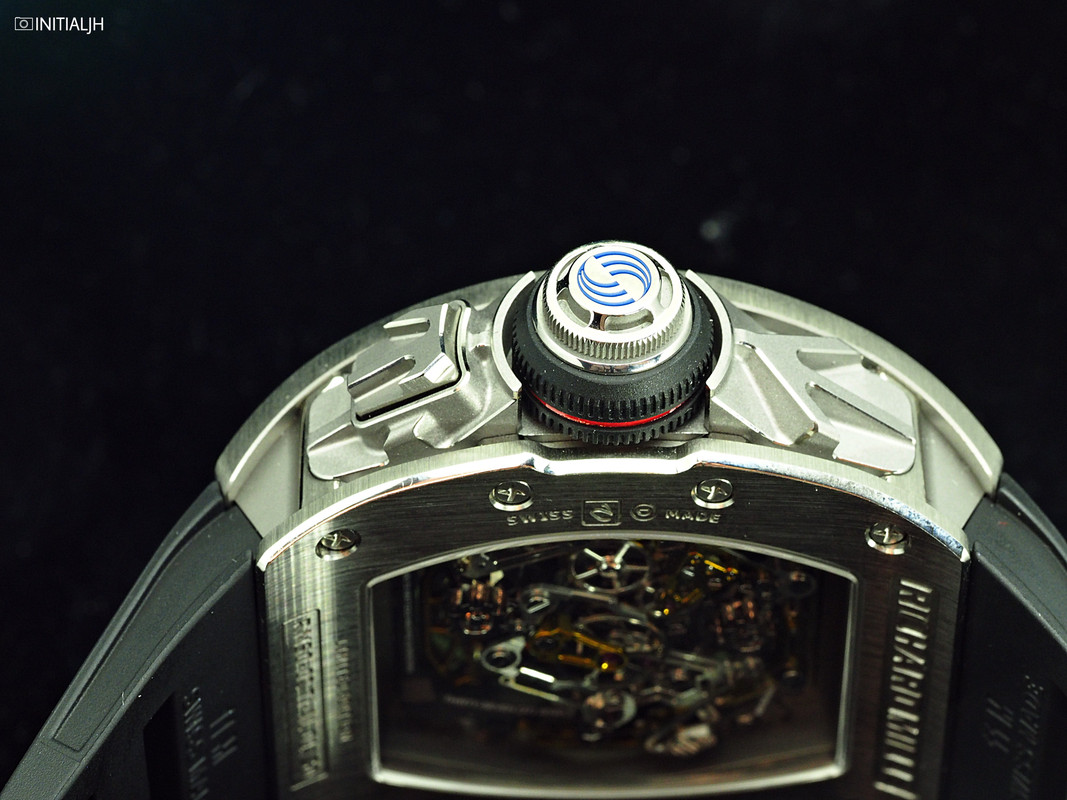 I didn't realise this when I was messing about with it and trying it on. Did it feel as though I was wearing a million dollar watch? Well, not having done so before, I can't make any comparative comments but hey it's a Mille, and if anyone is going to do a watch like this and ask a million for it, it's them. I'm not really the target market, being neither a squillionaire nor a devotee of Airbus windows, but there's going to be at least a couple of people out there who will want this for bragging rights.
Last but not least is the pen for which close to nobody managed to guess the price of, the RMS05 fountain pen. Made of titanium and carbon composite, is it more gadget and less pen?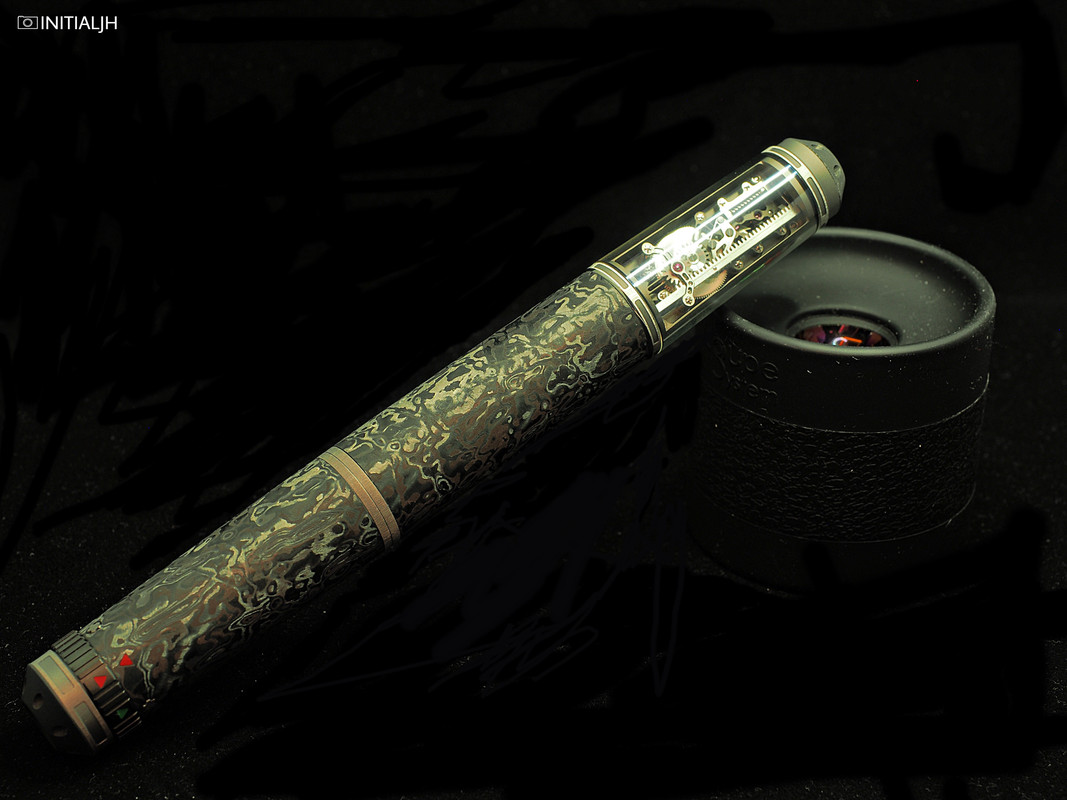 When 'locked', so to speak, the nib is tucked into the pen's barrel. The unlocking process is via a push button, which activates the rather nifty mechanism to push the nib out. Putting the cap on pushes the nib back in.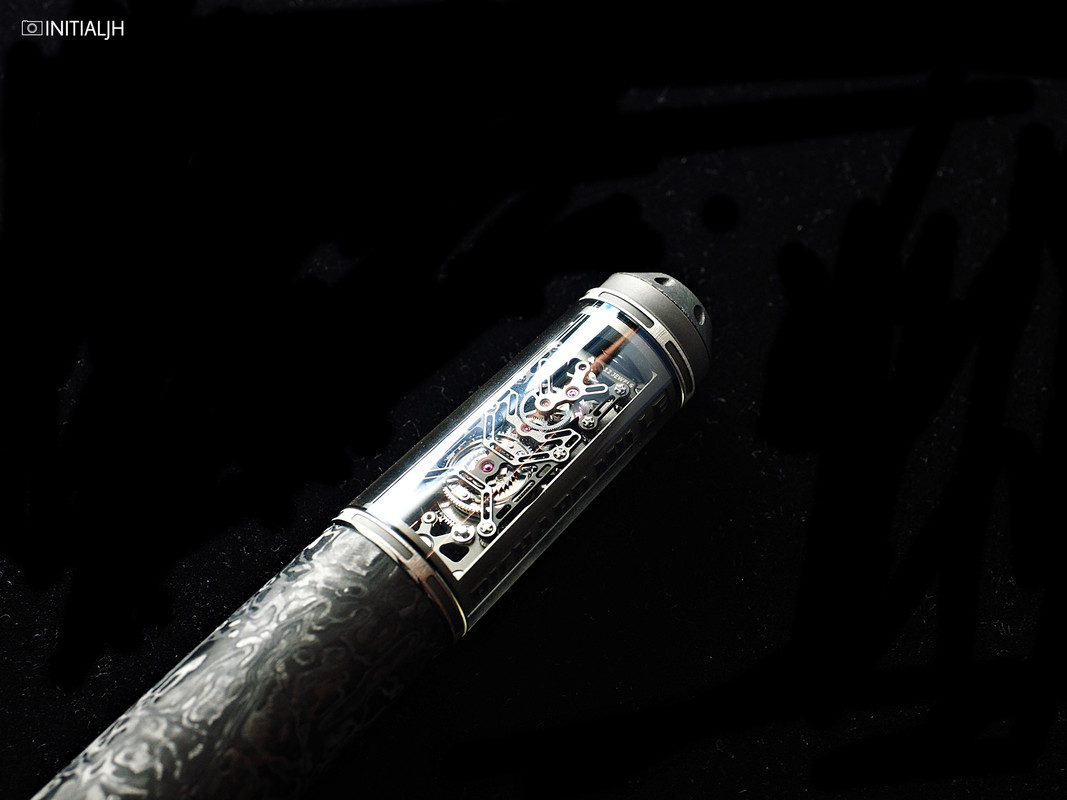 Said mechanism is at the end of the pen barrel and powered by a small mainspring that drives a set of gears regulated by an escapement. The mechanism has bridges made from titanium, and 12 jewels. This mechanical fountain pen is available in a limited edition of twenty pieces with a price of CHF 98,000.
Perhaps if you get the Airbus watch you should also get one of these pens?
---
---
Categories: chronograph, Limited Editions, Richard Mille, SIHH 2016, Switzerland, Watch Profile, watches, Women's watches