Today we have a guest post from collector/ enthusiast @crunchylatte in which he shares his horological adventures visiting some key Tokyo watch destinations.
Enjoy.
DISCLAIMER: These are merely the ramblings of one watch enthusiast, and all views expressed are his personal ones. Not everything is discussed in detail; these are a collection of what made the biggest impression on the author.
Tokyo and Hong Kong are places that are synonymous with watch enthusiasts and are filled with what Chairman of renowned Japanese watch retailer Shellman Mr Yoshi describes as 'insane collectors'. As such they are two of the most popular destinations for WISes to head when they want to see rarer watches that are not available at home.
I began my short trip at Tokyo's Narita airport where I immediately started musing about a possible connection between the population's efficient and structured mindset and their penchant towards collecting these small and fine mechanical machines. I also pondered about whether due to smaller dwelling sizes of metropolitan Tokyo, it would naturally make sense that they would shift more of their disposable income towards smaller more collectible items.
But philosophical meanderings aside, Tokyo definitely proved to the perfect place for any WIS.
My first stop was Seiko's flagship department store Wako, as it is also one of the first watch shops in Ginza to open on the weekends.
Upon entering you immediately see endless counters and counters of watches all with Seiko labelled back drops. Almost half of the ground floor is reserved for Seiko's sub-brands such as Grand Seiko, Galante and Credor as well as Seiko's more 'ordinary' lines; the other half is occupied by more familiar German and Swiss offerings such as Glashütte and Vacheron Constantin.
One thing that more Japanese-centric enthusiasts will notice is the huge variety of Grand Seiko special and limited editions available at Wako, with almost endless dial and case combinations as well as a complete line up of GS pieces from the crowd favourite 'Snowflake' (SBGA011) to the rarer chronograph models (SBGB003/ SBGB001) as well as Japan Domestic Market (JDM) exclusive special coloured versions.
As well as these, there is something special : a small glass display with Japan's independent watchmaker: Mr Hajime Asaoka's tourbillon piece. This was a piece that surprised me, as I had very high expectations, and it certainly involved a lot of workmanship.
Some brief background information on Asaoka reveals why this piece is such a landmark in watchmaking – it appears that he has not received any formal watchmaking training but that he has been self-taught through his reading of George Daniels' definitive 'Watchmaking'.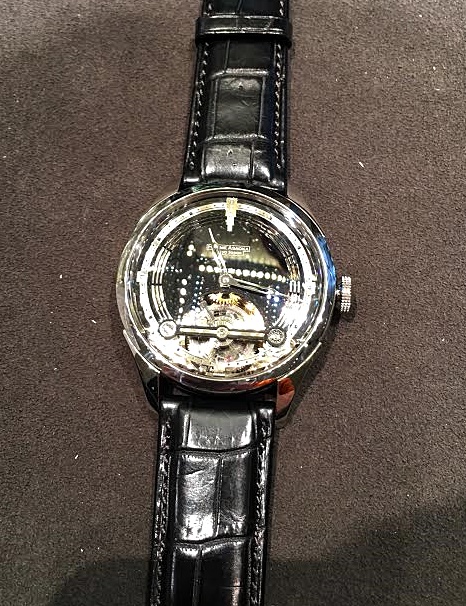 What surprised me was that workmanship aside, to my mind it seemed that the tourbillon piece lacked its own distinctive style. This is something I've also noticed in some of the newer brands at the moment; although the design is okay enough and original, there is still something lacking in terms of a distinct style or flavour that immediately identifies which maker was responsible for the creation of the piece. Perhaps this is a product of being 'new' and trying to find a clear artistic direction?
Wako is an easy place to shop at with specialised translation staff available to help ease the language barriers but overall throughout my trip to Tokyo most locals had very little difficulty understanding basic English and language difficulties didn't hinder my watch browsing.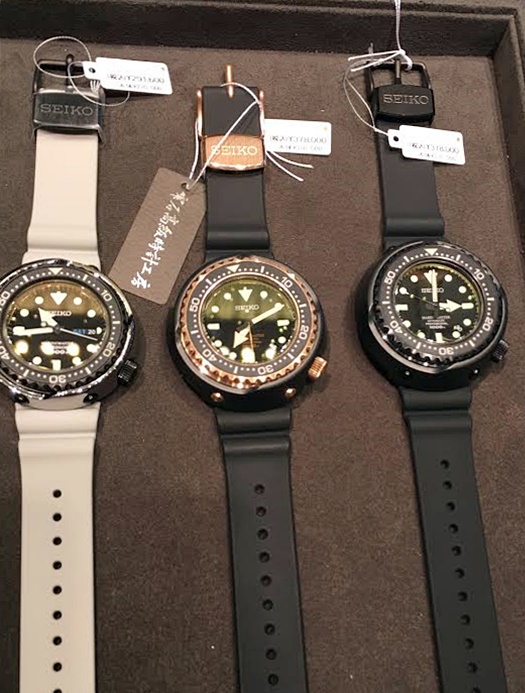 Pieces that caught my eye at Wako include two Seiko Prospex 'Tunas' (SBDX014/ SBDX011), both 1000m automatic divers running an undecorated Grand Seiko movement and were recently tested to operate at conditions up to 4000m. The biggest surprise in these pieces was despite the chunky looks, they both wore supremely comfortably on my tiny wrists. Without lugs they hug the wrist tightly and that in tandem with the super super soft Seiko proprietary rubber strap made them perfect daily beaters.
My second stop was the newly opened Seiko Premium Boutique in Ginza. This boutique was opened to feature only Seiko's three current premium lines of Galante, Grand Seiko and Credor, although within Credor exists three production pieces (GBLT999, GBLS998, GBLQ998) that are made in an independent studio aptly named the Seiko Micro Artist Studio.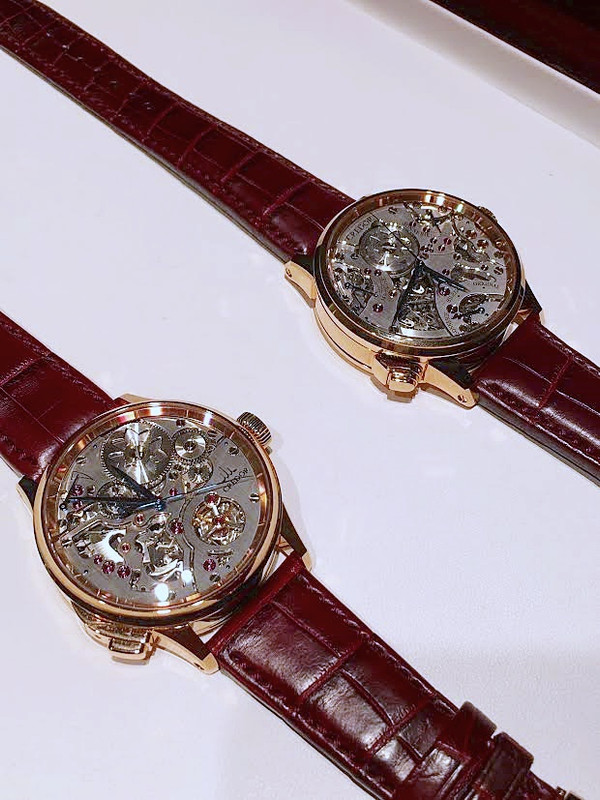 These three are labelled as Credor 'Masterpieces' and the studio in which they are made operates in the manner of the best of the independent watchmakers, but more on them a bit later.
This boutique also features a mini-display of Seiko's historical milestones including pieces like the first quartz and spring drive pieces which was a nice touch. Elsewhere the store was a tad cluttered (the cabinet displays could have been better laid out), with Grand Seiko, Credor, and Galante pieces. I also saw a limited edition Cherry Blossom skeletonised Credor which was a sight to behold, with fine engraving featured throughout as well as its extremely thin platinum case which gave the unassuming piece the solidity and heft of a much larger watch.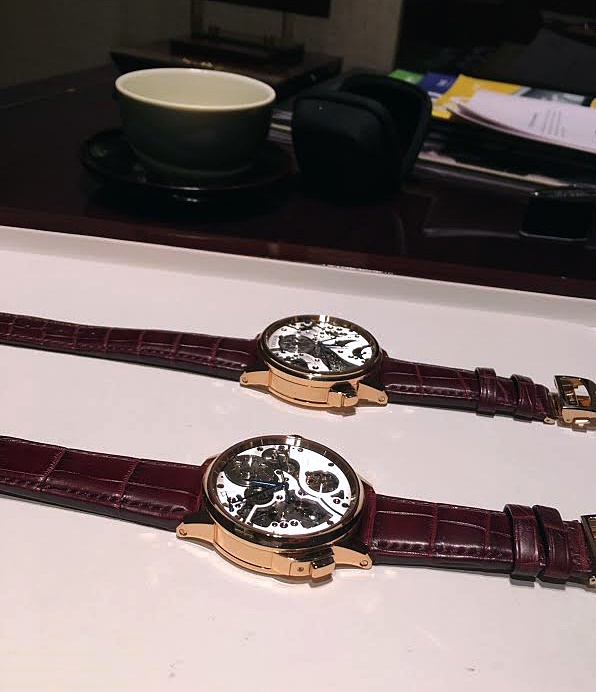 Now moving onto one of the main aims of my trip, the Micro Artists Studio masterpieces referred to above.
Walking into a separate salon within the boutique I was greeted by the Manager of the boutique (Mr Chiba) and on the walnut and leather display tray lay Seiko's three flagship models – the Eichi II (a porcelain three-hand watch, modelled upon Dufour's Simplicity), a Sonnerie (the first Micro Artist Studio piece designed and made by Mr Kenji Shiohara), and the newer Minute Repeater (a skeletonised decimal repeater with acoustics tuned by Japan's top wind-chime master).
Firstly, the Sonnerie and the Minute Repeater.
These two pieces are Seiko's only chiming watches, both semi-skeletonised and both finished to extremely high standards (a la Laurent Ferrier). The Minute Repeater features two cases, an outer case made of rose gold for aesthetics, and an inner steel case which has better acoustic properties. The acoustics of the watch are tuned by a Mr Munemichi Myochin, a 52nd generation master blacksmith whose wind-chimes are used by Sony to test their microphones.
The value of Mr Myochin's work really shows when you press on the switch located at the side of the watch, as the sound produced by the steel gongs is unbelievably crisp and gives you the feeling that it is coming from the walls of the room as opposed the more in-head experience of other repeaters I have experienced – the silent tri-synchro regulator of the Spring Drive as well as silent governor further the acoustic perfection of these watches. Furthermore, the acoustics of this watch appears to be even superior to F.P. Journe's steel case Grand Sonnerie piece.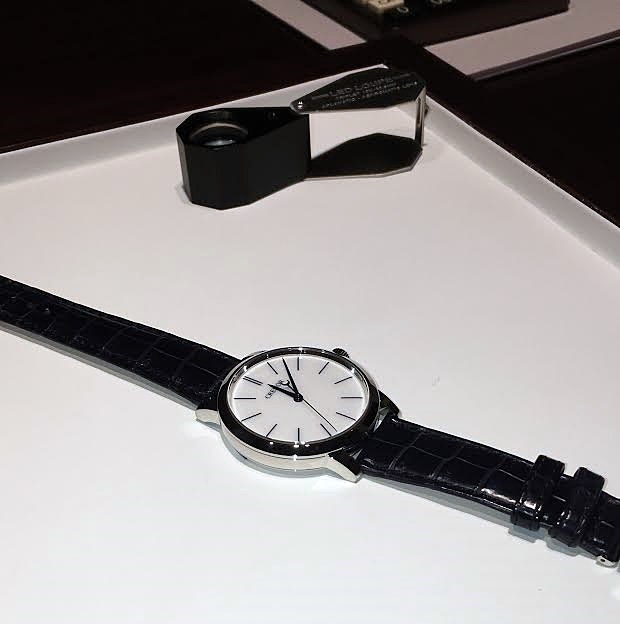 Conversely, the Eichi II is a piece that really has no mechanical function beyond the essential hours, minutes, seconds and for a manual wound piece like it, a power reserve on the back of the watch (the Eichi I featured a power reserve on the front).
The Eichi II is a second generation piece. Compared to the original, it features a more modern size of 39mm, the power reserve has been relocated on the back to clean up the dial, and the porcelain crown insert has been removed.
The dial (which is really the main attraction of the watch) is now made inside the Studio as opposed to the Noritake one on the original Eichi.
Now the DIAL.
I mean what a dial.
With sufficient light the porcelain dial exudes a warm and organic white that is unlike any other watch dial I have seen. The effect it gives is mesmerising and it's the only dial I've come across that feels like it has a soul.
Its finesse is also a highlight; towards the centre where the hands sit is a small concave dimple that is very subtle but adds great difficulty to the manufacturing process. The indices and all lettering on the dial is hand painted by Mr Koguchi and although this sounds trivial, it is extremely difficult when you consider that each marker has to be identical in width, consistency and colour. The result however, is absolutely spectacular, and it seems nigh on impossible for cameras to capture the life and warmth exuded by the dial.
Another highlight of the watch is the perfect finishing and polishing on the Spring Drive movement of the watch.
Having seen Mr Dufour's Simplicity (upon which the Eichi series was based, and Mr Dufour trained the staff at the Studio) I can say that in my opinion (and I know that this is likely to be a controversial one) that the Japanese have analysed his work very carefully and honed their skills to beyond that of Mr Dufour's.
This is especially exemplified in the width of the bevelling on the plates of the movements. Throughout my trip, as I will later explain, I saw many finely finished watches but none were as finely finished as the work done on the movement on the Eichi II. The entire watch is just amazing, and for the price they charge it could almost be described as a 'bargain' in the world of high-horology, especially since considering how much a Simplicity fetches these days on the pre-owned market.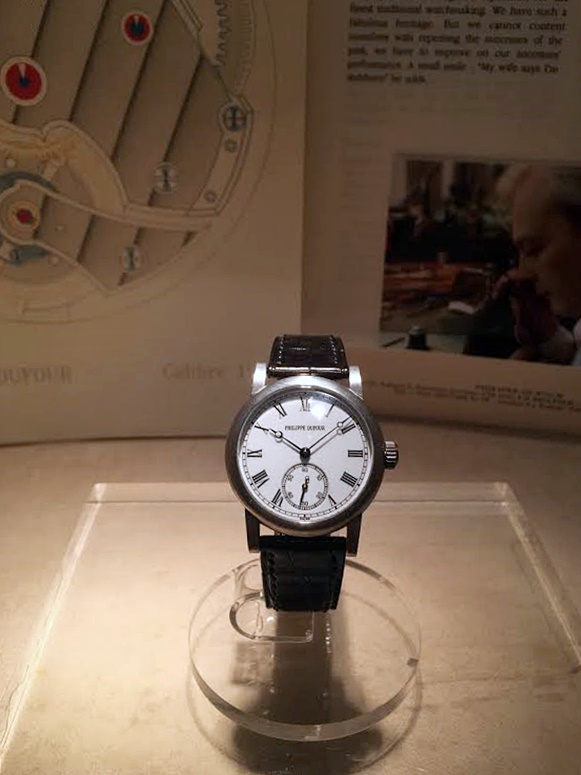 After the visit to Wako was a brief stopover at Ginza's giant Montblanc boutique. The boutique itself is laid out quite nicely with the usual mix of watches, pens and leather goods. Like any good high-end boutique there's also a separate watch salon and around it were Montblanc's Villeret (Minerva) pieces. These were somewhat disappointing, as although the Minerva chronograph movements are actually really nice, laid out in the traditional manner (as opposed to A Lange & Söhne's more metropolis-like architecture) and finished to a very high level, they felt somewhat let down by the case, dial and strap combination.
The reasons behind this was explained by the gentleman at the boutique. The current Villeret models only feature movements made by Minerva, all other components are sourced from Montblanc's other factories, and it did feel to me that there is a bit of a gap as a result.
Seeing my disappointment, the gentleman pulled an original white dialled 1858 (the first watch produced by Montblanc Villeret; some of you may remember the black dialled version which was known as the Pulsographe). This was the last available piece of the original Villerets, where the case and other parts were made by Minerva. The differences between it and the current models were immediately visible to me. All the components had the level you would expect in a watch priced like this, as well as a having a much more cohesive design in general. Overall another great piece and a free-thinker's alternative to a Datograph.
Following the Montblanc visit I also visited Tasaki's (Japanese jeweller) flagship boutique to see their Odessa (collaboration watch with Hajime Asaoka). I was surprised that for a brand that's mostly focused on jewellery that they had almost an entire level dedicated to watches. Even more intriguing was the fact that they only had a handful of pieces on display for such a large space occupied.
The Odessa, being their most extreme piece, sat centre-stage in a glass cabinet under a spotlight. Briefly looking through the glass I could immediately see the Tasaki influence on the design of the Odessa. Gone is Asaoka's monochrome theme, and replacing it is a beautiful dark mother of pearl dial. Sitting at centre stage is a beautifully curved tourbillon bridge and a pearl moon phase.
Now personally I'm usually against the littering of gemstones on watch dials, but the way in which everything is organised on the Odessa's dial is reminiscent of DeBethune's DB28 Skybridge, with small diamonds utilised to represent the stars in the cosmos. Overall the design (as I cannot comment on the working of the watch due to only looking at it from outside the glass) is extremely elegant and has a much more cohesive design language than both the Credor Repeaters and Asaoka's own tourbillon.
Heading away from Ginza I next travelled toward Shibuya to F.P. Journe's very first boutique. Walking down the suburban street from Omote-Sando station I was surprised to pass a collection of high-end boutiques of various luxury brands each with their own oddly shaped modernist buildings.
Opposite the Seinan Elementary School is F.P. Journe in an unassuming grey building with a few of their movements imprinted onto the shutters. Inside the focal point is obviously the intertwining dual spiral staircase (designed by F.P. himself) and various display cabinets featuring mock-ups (movementless watches) of their signature pieces. Upstairs is an abundance of space and a few couches where clients can comfortably view their pieces.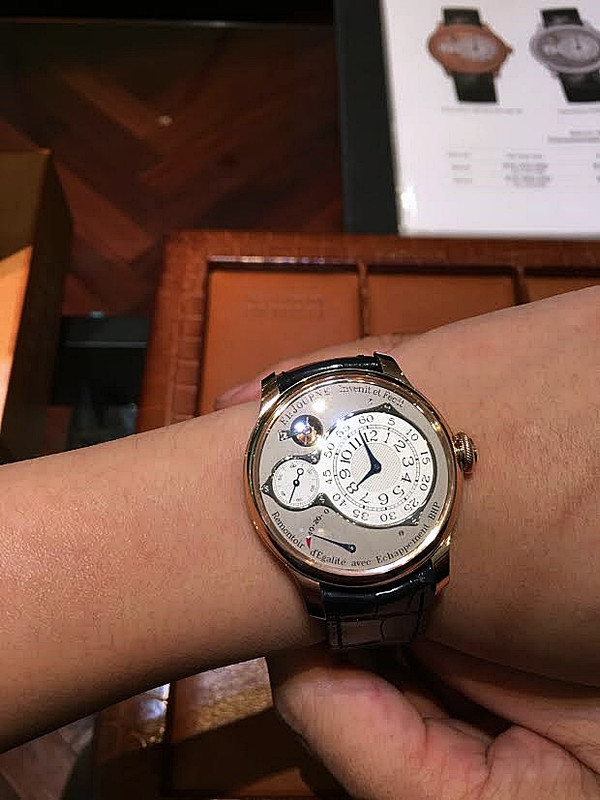 The two pieces I asked to look at are both FPJ classics, the Chronometre Resonance (the only resonance wrist watch of its type in the world) and the definitive F.P. Journe piece, the Chronometre Optimum.
But first, the Resonance.
The particular example I viewed was a third generation piece, featuring a parking-meter like display on its left dial. Now this watch is particularly impressive, as it features two effectively independent movements that beat perfectly in sync with each other. 'Why is this impressive?' you might ask. Well the answer is that that is there is no mechanical linkage (i.e. common gear train) between the two escapements, and they are only kept in sync through the resonance of the beating escapements.
What this means is that when one side of the watch runs slow, it will be corrected by the other side of the watch and thus the watch will almost always be running in perfect harmony. This sort of mechanism only previously featured in clocks and F.P. is to date the only watchmaker who has been able to fit a true resonance movement into a wristwatch (some may note that Beat Haldimann also makes the H2 'resonance' watch, but this piece features mechanical linkages between the two movements, as does the MB&F Legacy Machine 2″>.
To reiterate the importance of this watch, the late Grandmaster Dr. George Daniels was so impressed with this piece that he asked F.P. to trade one with one of his own masterpieces.
However, the Chronometre Optimum is arguably an even more impressive watch and is the result of many years of research. Within the Optimum you'll notice developments from his other pieces, including the double barrel mainspring from the Chronometre Bleu and Souverain as well as the Remontoir d'Egalite from the Tourbillon Souverain.
The main aim of this watch is to solve the biggest problem with mechanical watches : the escapement. Traditionally watches feature the 'Swiss Lever Escapement' (although it was an English design by Thomas Mudge) which has a fatal issue in that it requires lubricant to run properly. Over the years the lubricant used on these escapements dries up and solidifies, affecting the reliability and the accuracy of the watch.
Many watchmakers and big manufactures have come up with novel ways to solve this including the use of more modern materials such as silicon or designing lower friction escapement's such as Dr. Daniel's famous Co-Axial escapement which substitutes the rubbing motions of the lever escapement with a gentler pushing action.
Others such have Seiko have looked towards the use of small electrical currents and the use of contact-free electromagnetic braking systems as seen in their Spring Drive movements.
Mr Journe however, looked back through the pages of history and revived the natural escapement, an incomplete design by Louis Abaham Breguet. What Breguet couldn't work out was how the solve the natural escapement's requirement of a big 'kick' to start the watch, and what F.P. did was utilise the remontoir to amend this issue by gradually feeding the. escapement power. This has an interesting effect as the remontoir can be imagined as a water wheel; when there isn't enough power or water in this case the movement is more continuous than discrete and thus when viewing the secondary second hand at the back of the case, the hand will move in a sweep fashion at low-power and be out of sync with the ordinary seconds hand at the front but once the watch has been sufficiently wound the natural 'dead-beat' seconds kicks in as the remontoir would have started functioning normally.
All this means is that F.P.'s EBHP escapement is allowed to function properly without lubricants and the entire watch keeps extremely good time. It's definitely a landmark watch that is severely underrated and overlooked by many but is one that is extremely interesting to those interested in chronometry.
Another focal point of my trip was to see Mr Daniel Roth's masterpiece, the two-minute tourbillon made under the guise of Jean Daniel Nicolas.
This is a watch that is made entirely by Mr Roth by hand and thus a maximum of three are produced a year, making it exceedingly rare. Thankfully Mr Roth has kindly made a piece for his only dealer, Shellman Co. of Japan.
Shellman is an interesting shop located in Ginza. They specialise in vintage pieces and due to Mr Yoshi's (Shellman's Chairman) preference towards Patek Philippe, feature a large range of their watches. However, there is another side to Shellman's shop, which focuses on independent watchmakers. Represented here include pieces from Beat Haldimann, Svend Andersen, Philippe Dufour and of course Jean Daniel Nicolas (JDN).
An interesting fact that Mr Yoshi noted was that he was actually responsible for all ~120 Simplicities sold to the Japanese market and thus has a very intimate relationship with both Mr Dufour and the Simplicity watch itself.
As all two hundred or so pieces are sold, all that is left on display now is a movement-less model of the 34mm design with the other prototype that was previously on display gifted to Mr Yoshi by Dufour himself.
Now for the centre piece the JDN Tourbillon (it's odd that I keep talking about tourbillons considering my preference towards simple three-hand watches).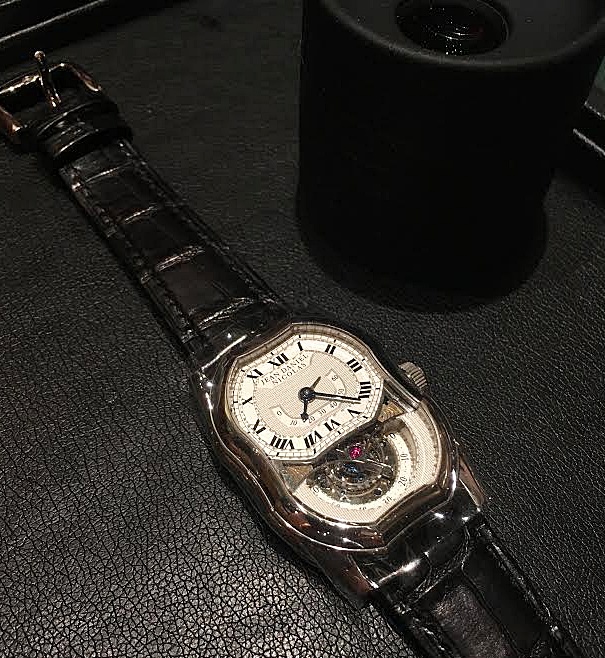 To understand the JDN Tourbillon one must understand the background from which Mr Roth comes.
Briefly – Mr Roth played a crucial part in the pre-Swatch revival of Breguet (the brand) and was responsible for implementing the designs and hallmarks of many of its current range. This I feel is an extremely important point, but it is neglected by their marketing.
Following his work at Breguet Mr Roth started his own company under his own name of 'Daniel Roth', with most of the pieces featuring his signature violin shaped cases. This venture didn't last long. The brand was bought out by The Hour Glass and then by Bvlgari, who still release a line of watches with the distinctive case-shape.
Following his stint at owning a brand Mr Roth decide to move into independent watchmaking and to avoid confusion and legal headaches created the brand 'Jean Daniel Nicolas' which incorporated his wife, son and his own name (all of them being trained watchmakers). Since then he has since only made these two-minute tourbillon pieces.
The tourbillon is available in two shapes (a traditional round case and also his signature violin-shaped case) with a violin shaped one being on display at Shellman.
The watch is unusual as it features a two-minute tourbillon with two sets of hands attached to it. This is as the tourbillon is used as a second's hands display and the two sets of hands are utilised so the time is still legible and continuous when the other is behind the bat-wing shaped tourbillon cage (which is black polished and chamfered to perfection).
Excluding the strap, dial, hands and case, all other areas of the watch are either hand-made by Mr Roth in his workshop or constructed using traditional (19th century era) techniques and tools.
This point can be emphasised by how the case is put together. Normally case screws are used to join the two halves of a case together, but Mr Roth uses his skill to machine the cases such that they clip together without the need of adhesives or screws, a technique that is very rarely if not used elsewhere in the world. Furthermore, the entirety of the watch is polished and finished using a variety of techniques to perfection. Even the parts which are not constructed inside his workshop are always given finishing touches by hand.
One of the most interesting areas of the watch is actually the way in which the case-back is finished. Turning the watch over, the case back is covered entirely by a single plate, probably giving the watch rigidity and strength (Roger Smith's favourite words). This makes it extremely plain at first glance. However, a closer inspection with a loupe reveals vertical striping with u-shaped patterns garnished all over. These u-shaped waves are Mr Roth's alternative to the Cote de Geneve, as they are more difficult to do and visually provide a cascading waterfall like effect, with the u-shaped waves at the top of the movement standing higher than those at the bottom. The result is spectacular and the waves dance with the light that hits it.
Trying to explain all of the fine details of the watch would fill a small book but it can be summed up like this.
Daniel Roth's piece is a very artistic watch; all the fine touches he uses are akin to Mr Dufour's Simplicity, but to my mind they appear to work a bit more harmoniously together to convey a very gentle and subtle message. A watch that you have to think about.
Overall, at the conclusion of trip I felt satisfied. There were some pieces that I had longed to see, and the many nuances I picked up when able to handle them, were invaluable. There's more to trip that I would have loved to share but unfortunately am unable to. Nonetheless I hope that I have provided you with some helpful hints.
An important note I should attach is that every watch is special and 'correct' in its own right, and any of the superlatives used here are merely my personal view of how certain pieces might be considered in a collection. In closing, I really can't recommend Tokyo (and Hong Kong) enough for watch enthusiasts/ collectors; the pieces and the watch culture as a whole are incomparable.
---
---
Categories: Daniel Roth, Ephemera, F.P.Journe, Guest posts, Hajime Asaoka, Japan, Minute Repeaters, Montblanc, Seiko, watches, Watchmaking