By and large handling a watch for the first time involves impressions about weight, size, lugs, how a watch feels on the wrist, thoughts about straps or bracelets, and overall impressions about how the watch looks.
Then comes a watch that challenges these standard 'steps' that one goes through.
There were a couple of watches I saw at SIHH 2016 which put me in the position of simply having to throw reason into the air and give in to the spirit of the thing. One of these was De Bethune's Dream Machine 5 Meteorite.
For those who have been visiting Horologium for awhile you may recall the original Dream Watch 5, which we covered here.
Yes we've written about a a few watches with meteorite over the last few years, but those were dials. This very singular watch has a case milled from meteorite. It took 2kgs of meteorite to get 500g of material suitable for this piece unique creation. The case was hand polished and then oven-baked. It took four months for the hand polishing alone.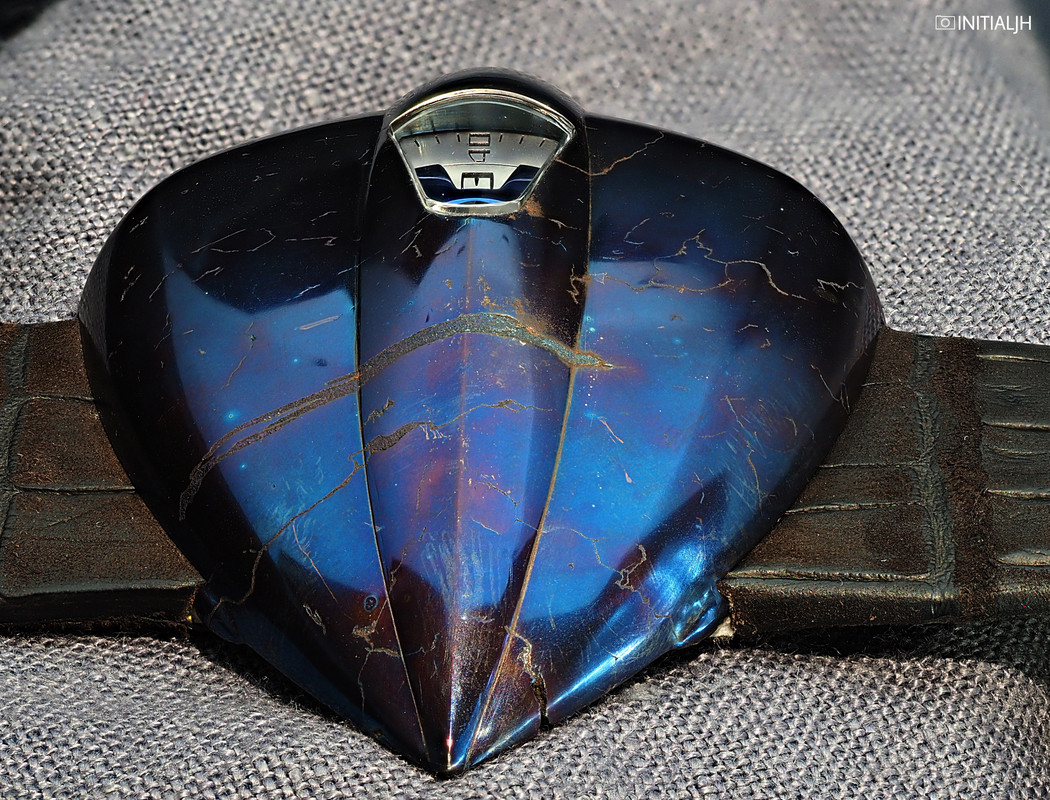 This watch is just eyebrow-raising.
You are given it, blink at it, wonder why/ how, and then start thinking at length.
Then you stop.
Why?
Because you realise that this isn't a creation that one thinks about; it is something for which you suspend all reason and recognise that it's a remarkable achievement, that it is about something more than it being a timepiece. Just go along for the ride. Treat it as an object of art or perhaps as something that is about pushing many different types of boundaries to do with what can be achieved, given the will and expertise. In this case, with a bit of meteroite. You can see a fragment of the piece from which this was carved and created, below.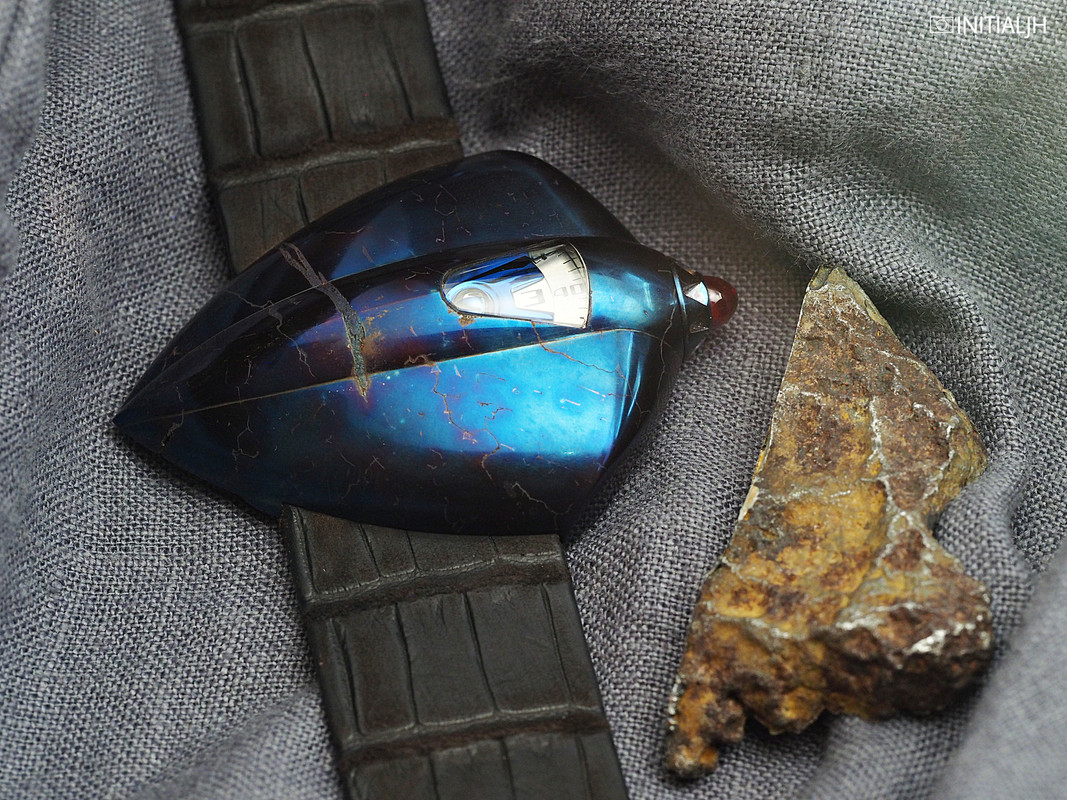 The previous Dream Machine in the link above was highly reflective because the case was mirror-polished grade 5 titanium. That made for a very difficult watch to photograph. This one, although not reflective, was also very challenging, but I think @initialjh has captured it pretty well.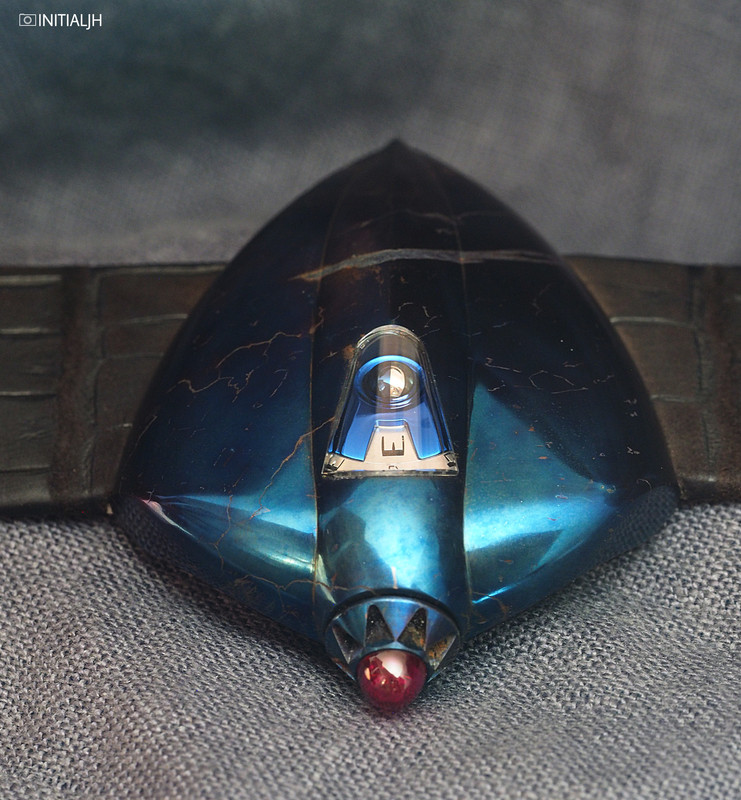 With its jump hour aperture at 3 o'clock in polished blued grade 5 titanium, minutes disc and the signature De Bethune moonphase indicator (the small globe), this is is as simultaneously futuristic and retro as the first watch but with added grit. Literally. There is still the one carat ruby in the crown and this provides a rather interesting 'glossy' counterpoint to the case.
Inside the original Dream Machine 5 was the manual wind DB calibre 2144 with five days of power reserve. As you can see at the back of this one, this has completely changed; it now has manual-wind calibre with a tourbillon.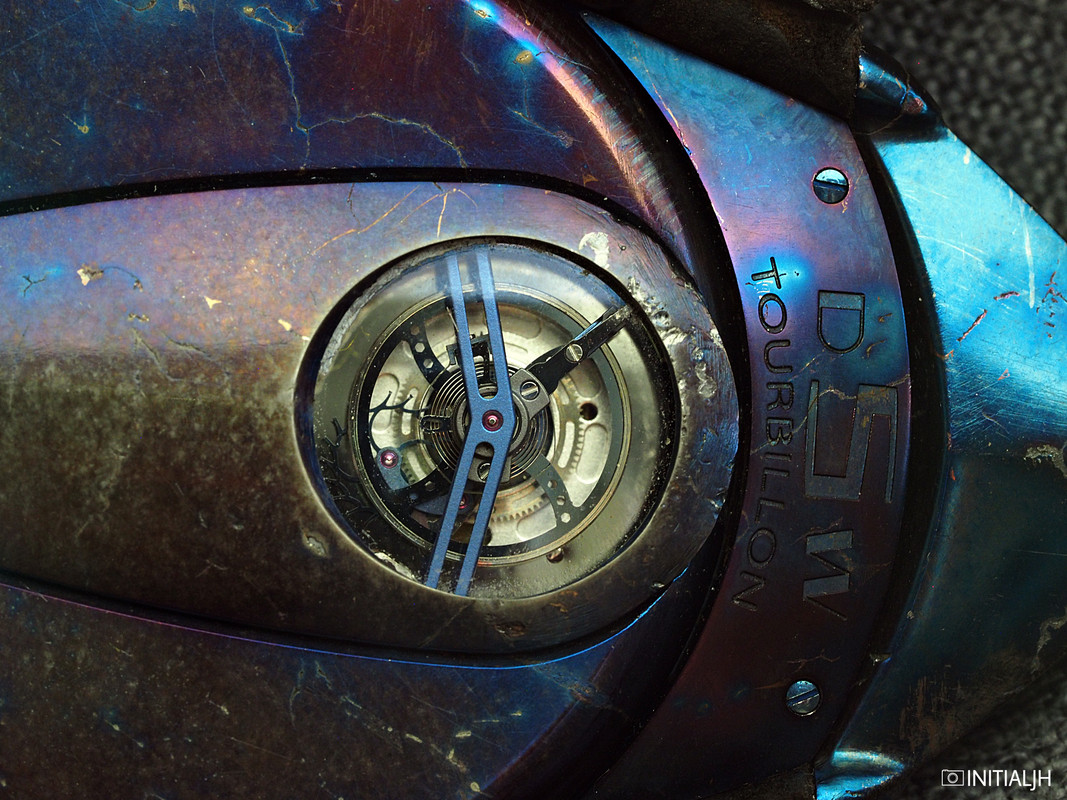 The texture of this watch and its temperature (yes you read correctly) is something that I didn't expect, and about which I find myself going back to repeatedly. It is remarkably smooth but not uniformly so, and isn't intended to be, but this is one of its strengths; you can tell that it was a huge technical challenge to create it, and the textures that remain turn it into a very tactile experience. As does its case temperature – it was slightly cold.
This is just an endlessly fascinating watch to play with regardless of how you might feel about its design, and I note that its design is not for everyone. It is full of surprises, and it would take many months to get even a cursory grip on its idiosyncracies. You can actually SEE the struggle to create this watch in its case, it is writ large, and it makes it more beautiful for that. Especially in contrast to De Bethune's usual high levels of mirror-finishing for example.
As I mentioned at the start the question I asked of myself and someone there when I first saw this watch was – 'why?' Then I realised that the answer was actually quite simple – David Zanetta. So with that answered in my own head I untangled my desire for some sort of order, let myself run free with it, and enjoyed this rather special and particular, creation. It's simply not wearable for me personally size wise, but this is almost an irrelevancy with this watch. Besides which this is probably wearable for some people, and as a piece unique with a price of CHF 450,000 CHF (excl tax), all it needs is a single wrist anyway.
After all, this IS a Dream Machine.
---
---
Categories: De Bethune, Limited Editions, SIHH 2016, Switzerland, Watch materials, watches, Watchmaking