This has been some tenth anniversary for MB&F, with releases such as the HMX and Melchior, but a few weeks ago a rather remarkable watch appeared, the Legacy Machine Perpetual, about which we wrote about here.
This time, the 'Friend' is Stephen McDonnell, whose importance to MB&F at its outset cannot be understated. To cut a very interesting long story short, without Stephen McDonnell (and Peter Speake-Marin), the HM1 probably would not have been able to have been made and MB&F might not be around today.
One of the things of which MB&F is most proud are the people who work on each watch, each robot, each music machine. Their names are on the pieces, their pictures and stories on the MB&F website, their contributions highlighted and acknowledged. If you've noticed how they have been speaking about the new Legacy Machine Perpetual then you will know that McDonnell's name has been at the forefront.
Last week MB&F Head of Communication Charris Yadigaroglou visited Sydney with the rose gold version of the new LM Perpetual for its Australian launch with their local authorised dealer, The Hour Glass. I was fortunate enough to be able to take a too-brief look at the watch earlier in the day before the launch night, to which Horologium and guests were invited, and took a few photos to share.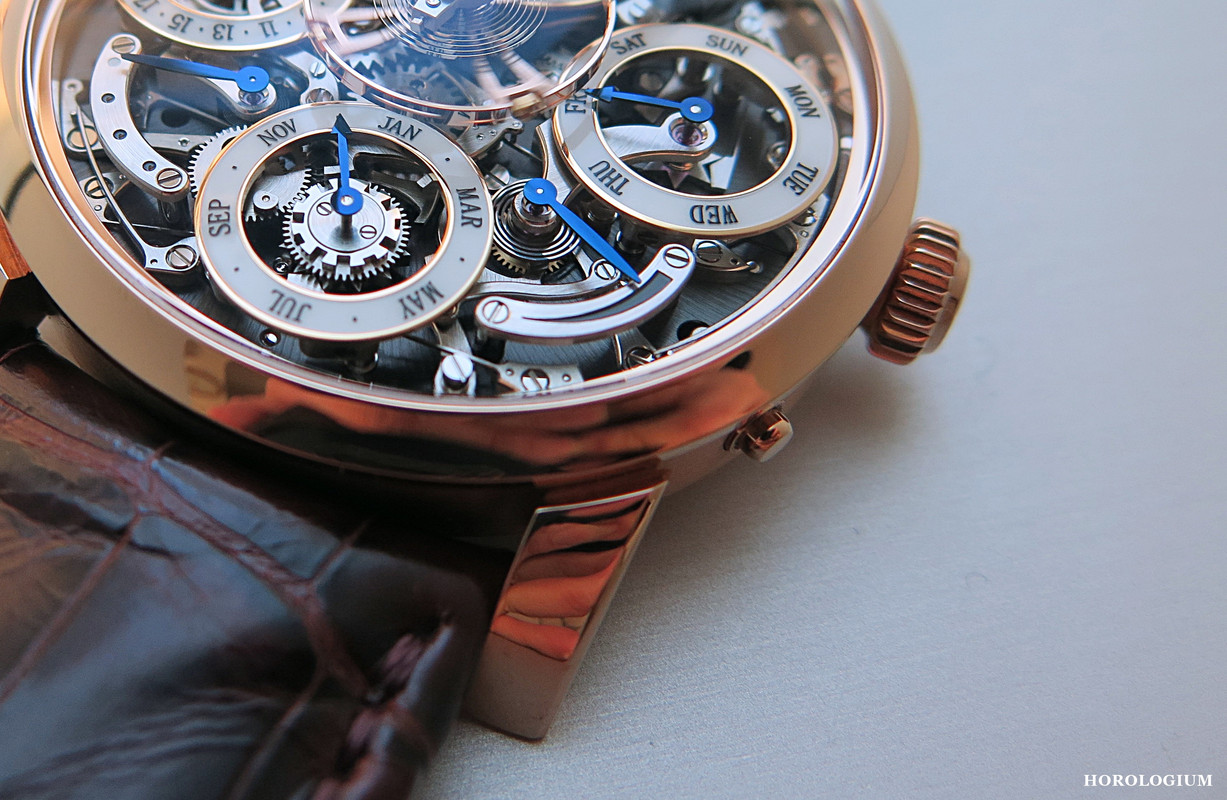 For the specifications and details about this new piece, go back to my earlier post but in a nutshell the latest Legacy Machine is, as the name indicates, a perpetual calendar, with a new movement by watchmaker Stephen McDonnell which has a patent pending 'mechanical processor'.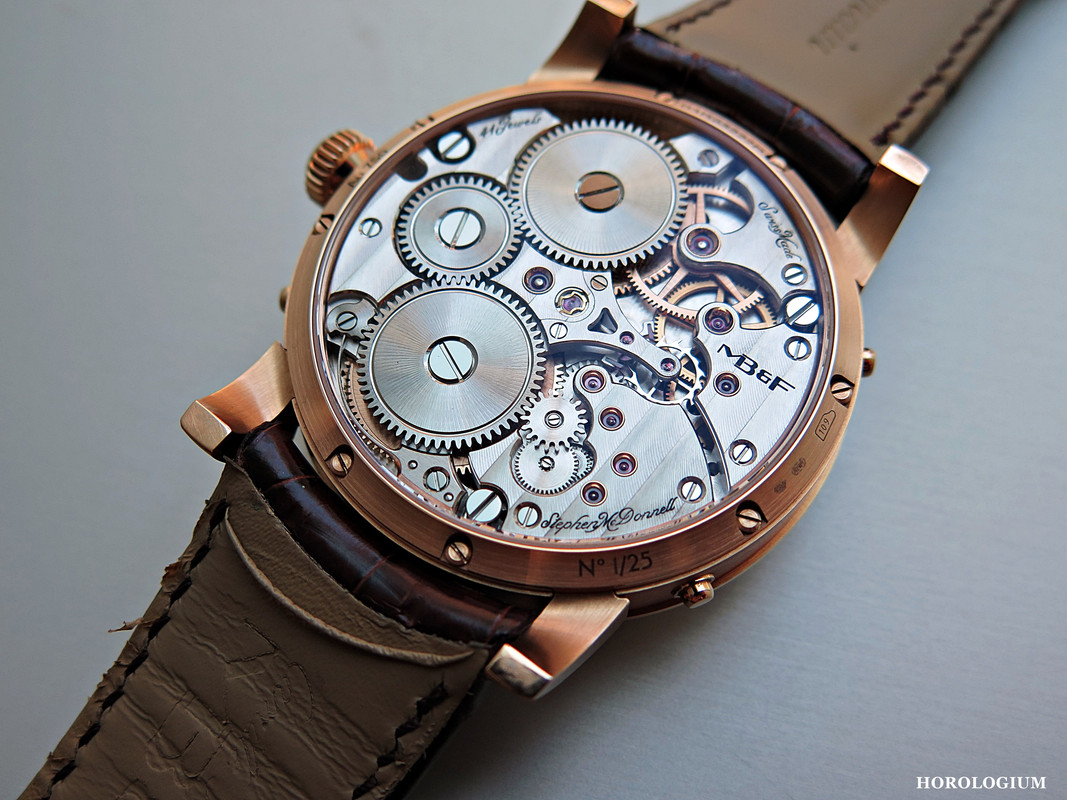 Rather than having a module, it is an integrated perpetual calendar, with the movement having 581 parts. Whereas the standard perpetual calendar is designed for 31 day months, his design works on the 28 day basis and skips past the extra days via a date lever, which starts 'reading' the days in the relevant month when it hits day 25.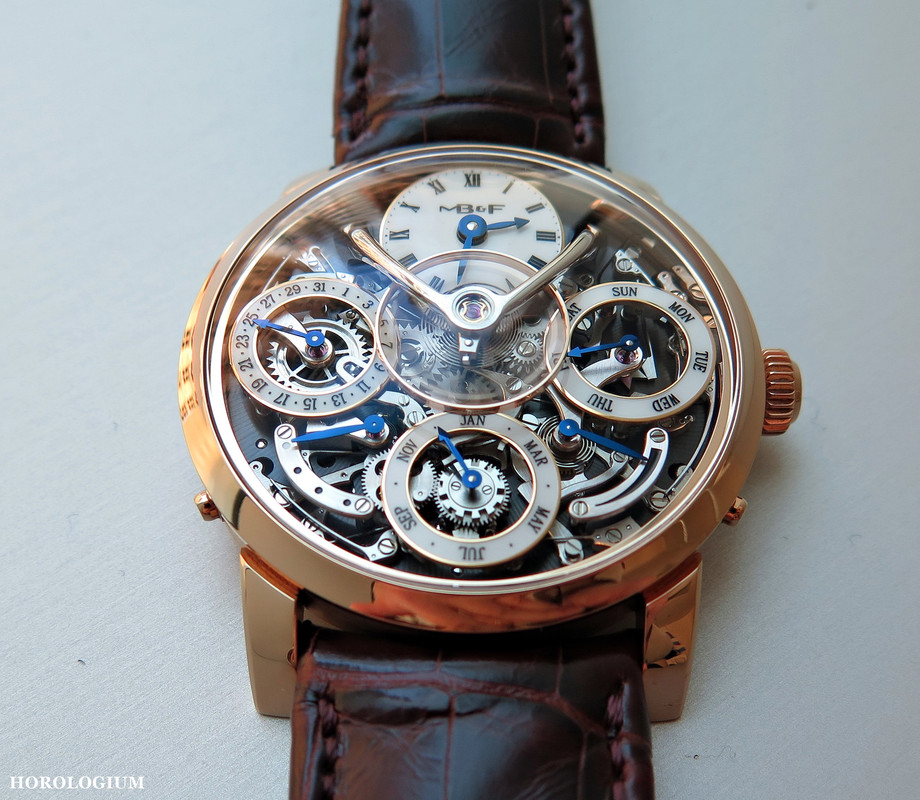 The distinctively MB&F Legacy Machine balance wheel flies over the movement. From the time at 12 o'clock we have the day of the week at 3 o'clock, power reserve indicator between 4 and 5 o'clock, month at 6 o'clock, retrograde leap year indicator between 7 and 8 o'clock, and the date at 9 o'clock.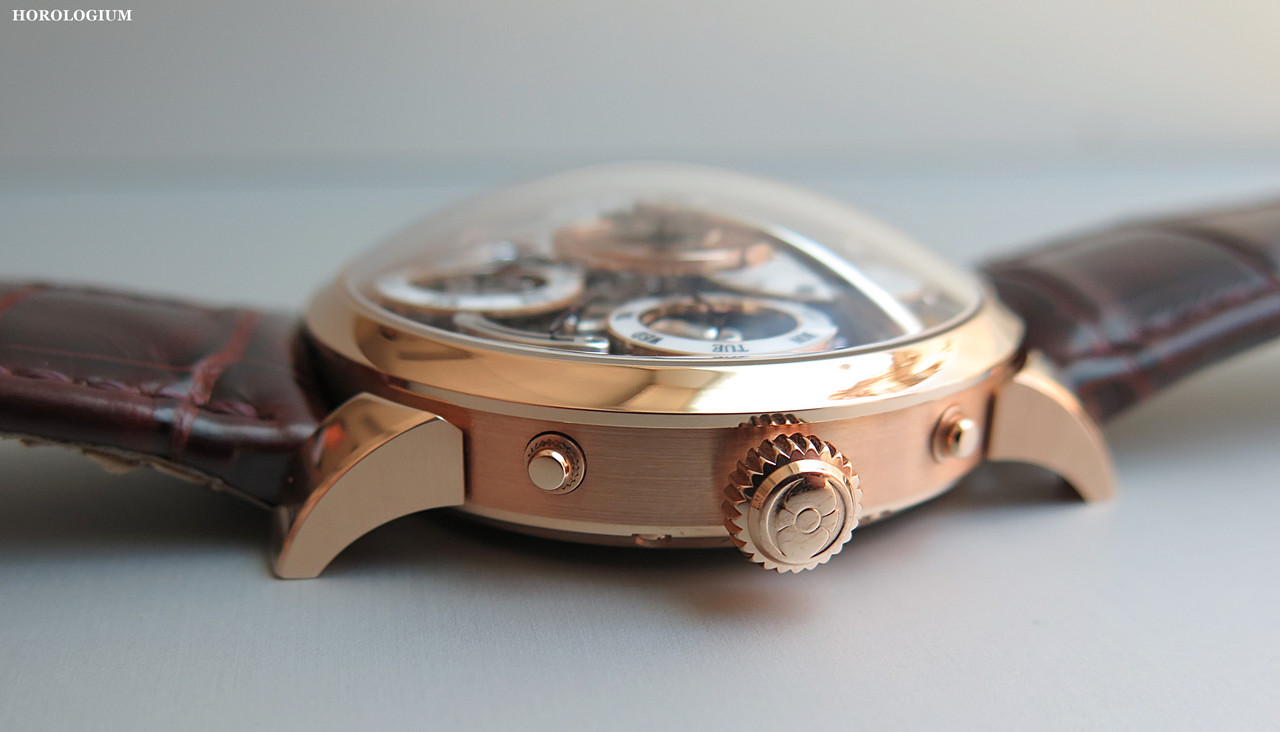 Those who haven't handled Legacy Machines generally worry about the high domed crystal. I did too when the first one was released, but now having handled a number of them, I can reassure you. The height of the Legacy Machine Perpetual is not overly high; you notice it of course, but it is not of such a height that you have to be paranoid about it being a scratch magnet, and you can wear it with a dress shirt cuff wise.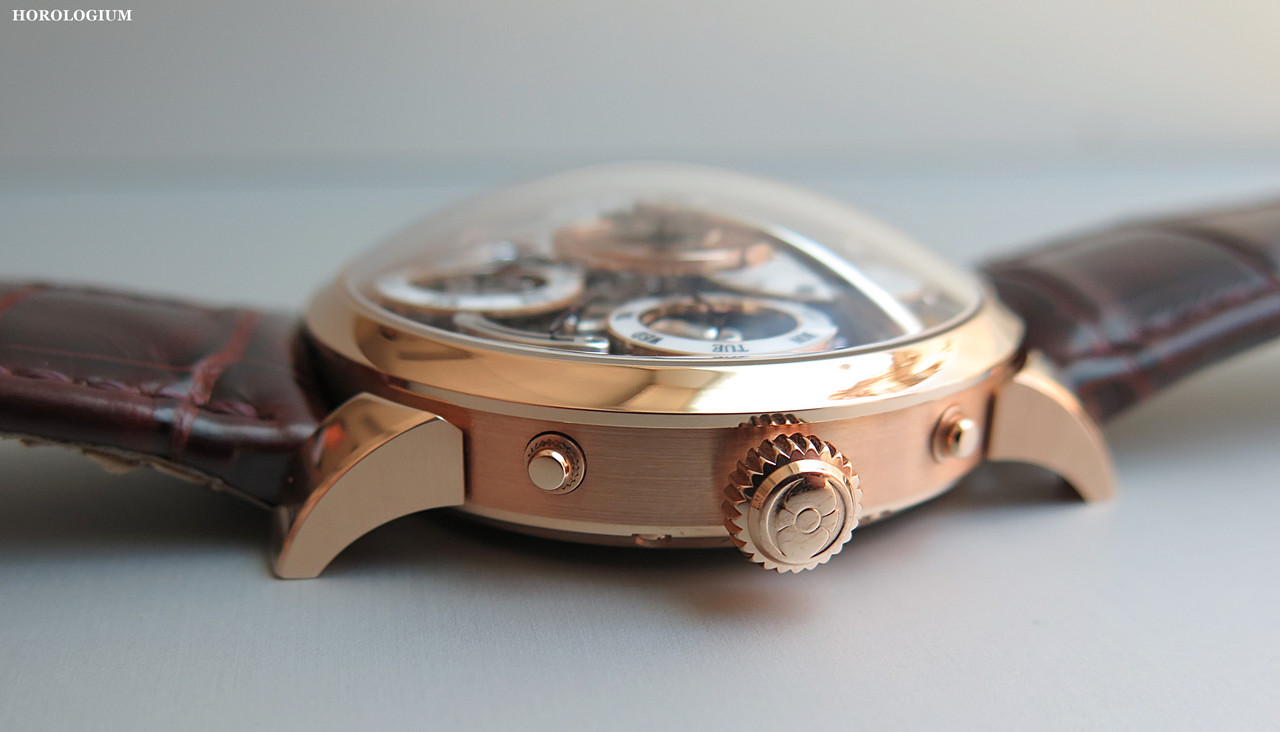 When the LMP was launched the idea of MB&F being involved in a watch with what appeared at first glance to look like a 'ordinary' (bearing in mind that really, no perpetual calendar is 'ordinary', it's an astonishing thing that it is possible to have such a function in such a small form) perpetual calendar seemed a conservative choice by such a brand, but as soon as the complexity and revolutionary nature of the movement became evident, this collaboration with Stephen McDonnell and how it fits within the MB&F boundary-pushing pantheon made sense.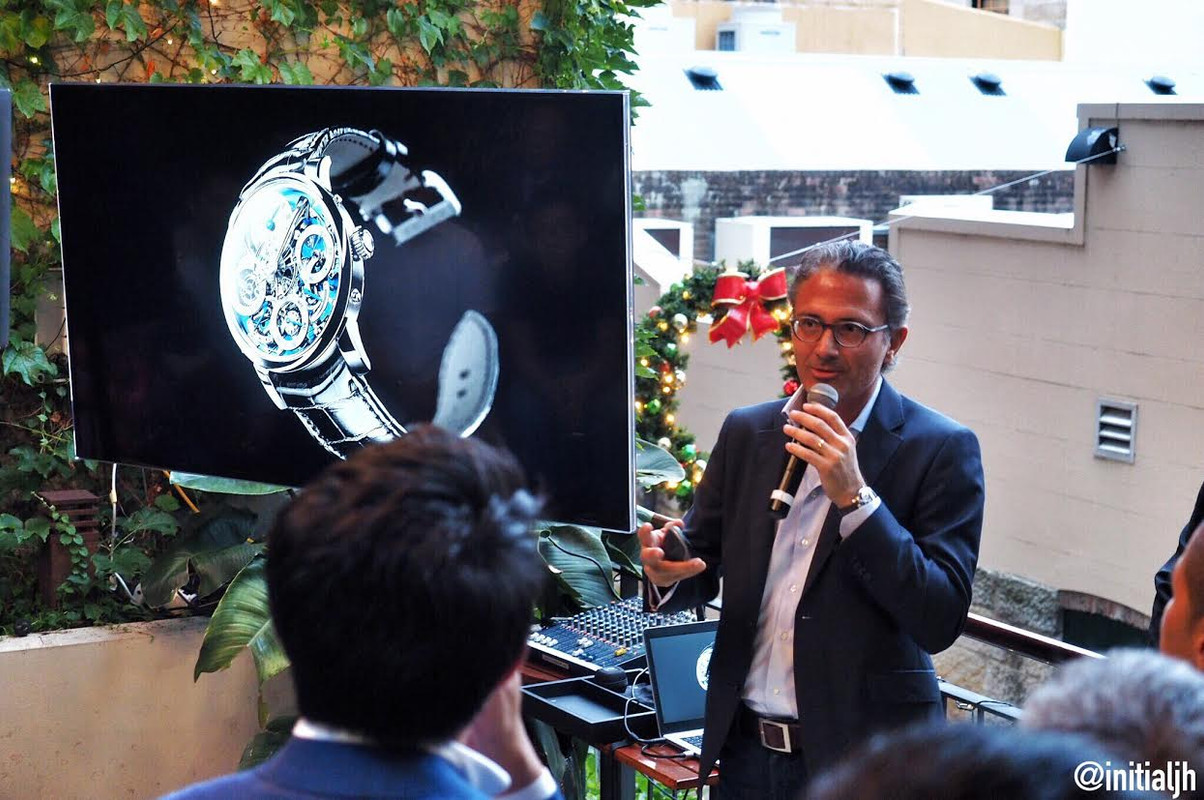 This is not a watch that you can spend half an hour with, and in discussing it with guests that evening, everyone I spoke to agreed that it is a watch to make you think and that its incorporation of movement and dial design mean that there is much that can be looked at and admired over a long time.
---
---
Categories: Events, MB&F, Sydney, Watch movements, watches, Watchmaking