In thinking about this newly launched mechanical art from MB&F one wonders whether words are, to some degree, superfluous. The connection between Melchior and someone who looks at it is of course partly to do with his mechanical wonder but perhaps he is, above all else, a chap (saying 'creature' somehow seems wrong) to whom one has an instinctive, visceral response. The timepiece part, itself quite remarkable, almost seems secondary at times.
But perhaps that's just me.
In another collaboration with renowned clockmakers L'Epée 1839 and based on a concept developed with designer Xin Wang, with whom MB&F have worked before (Starfleet Machine, Music Machine 2, Music Machine 1), Melchior is one of MB&F's 10th anniversary pieces with the underlying theme that "A creative adult is a child who survived".
I've been thinking about this anniversary motto since I found out about it during our visit to the M.A.D. Gallery in late January; about whether it refers to resilience, or whether it refers to the creative adult being born of the creative child who does not lose that receptiveness amidst the often enclosing nature of the adult world.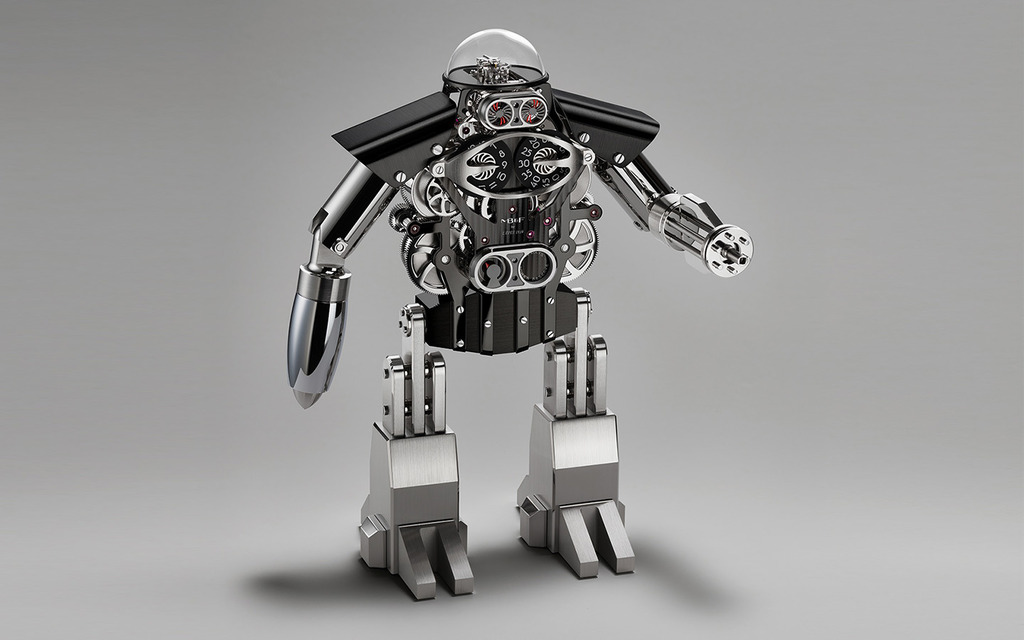 But back to Melchior.
This 480-component mechanical table clock looks like a walking (alas not talking) movement. In fact the movement was redesigned to become his head and torso. Melchior's eyes are double retrograde 20-seconds counters, his protective dome-covered brain is the movement's balance and escapement. Discs bearing numerals display jump hours and sweeping minutes on Melchior's chest, whilst a dial on the abdomen constitutes the (forty-day) power reserve indicator.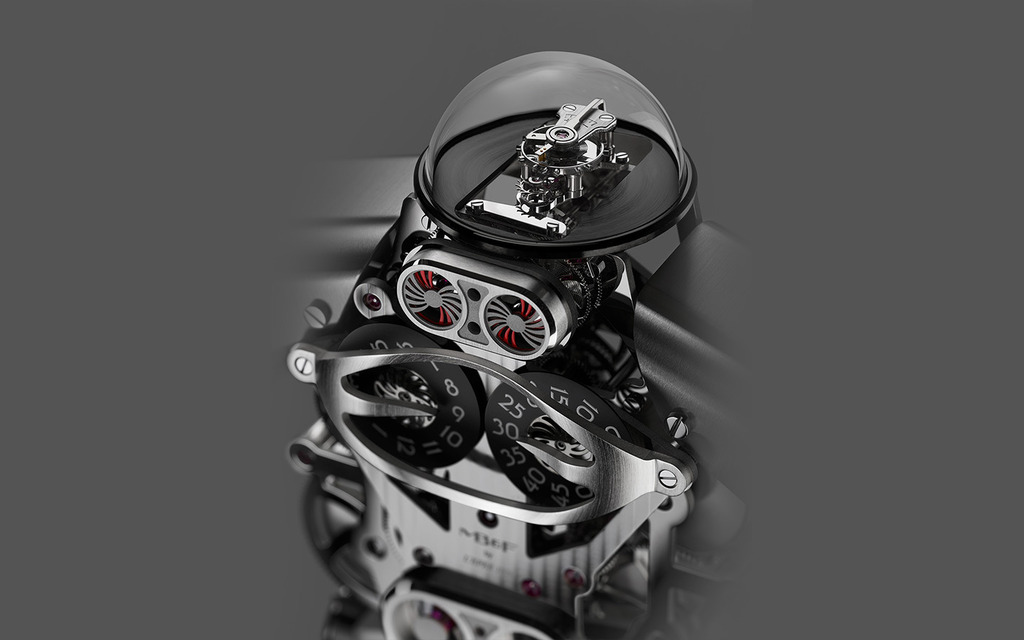 He holds a rocket launcher and Gatling gun in his moveable steel arms that can be detached to play with as well as use as the winding/ setting key for the clock's features.
Melchior is limited to 99 pieces and is available as 'Light' or 'Dark and Light'. The difference between the two is that 'Light' is stainless steel and brass, whereas 'Dark and Light' is stainless steel and brass with black PVDd components.
Specifications are as follows :
DISPLAY
Jumping hours and sweeping minutes:Twin discs forming part of Melchior's breast plate, one disc displaying hours, the other disc minutes, both featuring MB&F's signature numerals
Retrograde seconds: Flyback discs mark 20-second intervals behind a steel mask
Power reserve indicator: Dial on abdomen providing intuitive view of remaining energy
MOVEMENT
L'Epée in-house designed and manufactured movement
Balance frequency: 18,000 bph / 2.5Hz
5 barrels in series which provide a power reserve of 40 days
334 movement components and 50 jewels
Incabloc shock protection system
Mechanism in palladium-plated brass
Manual-winding: double-depth square socket key sets time and winds movement
Movement finishing: includes Côtes de Genève, anglage, polishing, sand-blasting, circular and vertical satin finishing
MELCHIOR'S BODY AND ARMOUR
Dimensions: 30.3cm x 21.7cm (depending on position of the arms) x 11.2cm
Weight: 6.3kg
Body/armour components: 146
Head dome: polished glass screwed via polished and bevelled palladium-plated brass bezel
Breastplate and ribcage/spine in palladium-plated brass
Abdomen (power reserve indicator frame) in stainless steel
Hips, pelvis, thighs, shins and feet in stainless steel
Shoulders, upper arms and lower arm sockets in stainless steel; magnet in left arm socket
Right forearm: screwed-in rocket with chrome-plated brass body and stainless steel warhead
Left forearm: Gatling gun/detachable stainless steel winding key with palladium-plated brass
Body and armour finishing includes anglage, mirror polishing, satin finishing, circular satin finishing, sand-blasting, polishing. 'Shoulders', 'pelvis' and skeletonised mainplate treated with black PVD for the two-tone 'dark and light' edition of Melchior.
Although Melchior isn't 'convertible' into anything, he still reminds me of the robots of Japanese cartoons past, some of whom had more than one form. I didn't watch them but had friends who did, and I am reminded of Gundam, of Robotech, of Transformers. It's a strange sort of nostalgia, that for childhood friends' favourites.
As Melchior is both clock and robot, perhaps his multiple identities are just of a different type. He may have been a surprise release from MB&F, but if you look at him within the broader context of all their other pieces, you can the continuity and how Max Busser's touch is in everything.
Perhaps the best way of getting a feel for what Melchior is like, apart from being able to meet him of course, which is the preferred method of getting acquainted, is this MB&F video.
The price is CHF37'800 including VAT for both versions.
---
---
Categories: Baselworld 2015, Clocks, L'Epée 1839, Limited Editions, MB&F