Launched in 2013, the HM3 riff known as the MEGAWIND has proven to be a popular variant for MB&F. Today MB&F launches the final edition of the HM3, a MEGAWIND with added C3 SuperLuminova.
If you want proof of the popularity of the HM3, which was introduced in 2009, a full one-third of what MB&F has done to date has been HM3s – nineteen references in total. In number terms, 500 out of 1,500 timepieces. One of the iterations was the MoonMachine, made in conjunction with Stepan Sarpaneva, whose inspiration it was for the large rotor and the MEGAWIND name.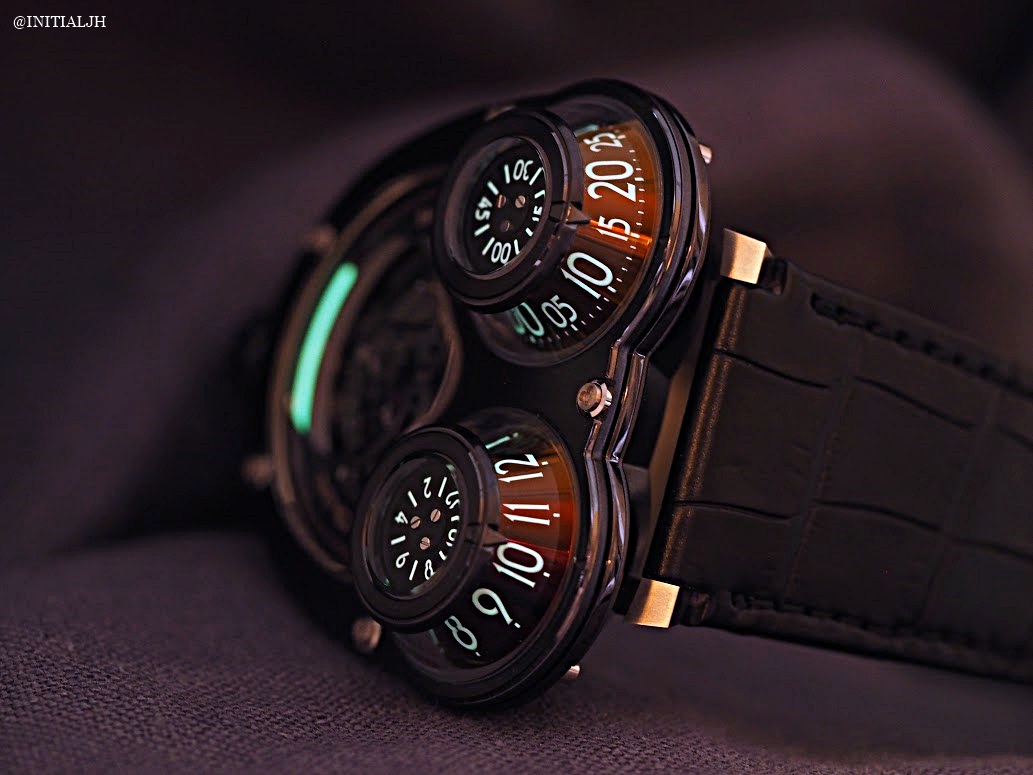 The core differences between the traditional HM3s and the MEGAWINDs were a bigger battle-axe rotor (hence the name), the absence of a day/ night indicator, and bigger numbers on larger cones. For those who are unfamiliar with MB&F, it is not as complicated as it may appear at first glance in terms of time-telling. There are pointers on each of the cones to indicate hours (left) and minutes (right). The revolving time hour/ minute cones are machined from solid blocks of aluminium.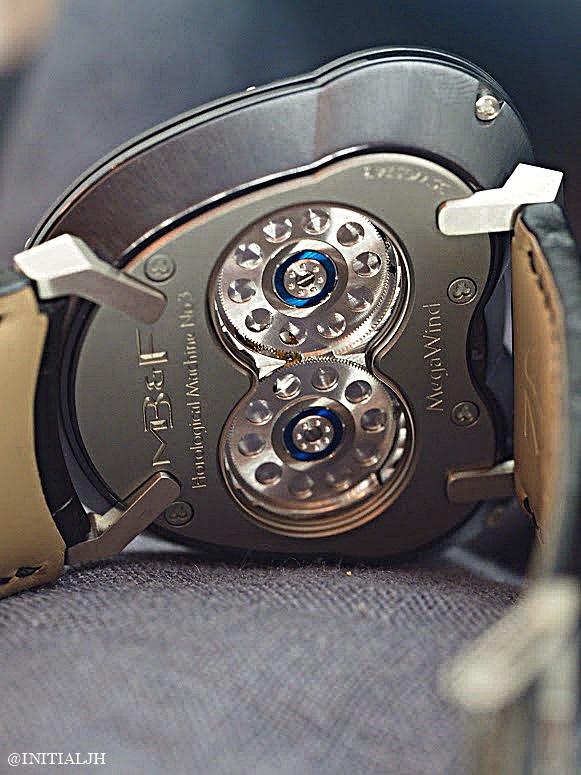 The movement, with its 22 carat gold and titanium rotor, was designed by Jean-Marc Wiederrecht/ Aghenor and the Mega's case, which is made of fifty-two separate components, measures 47mm x 50mm x 17mm and is black PVD-treated 18k gold.
For a look at the previous versions of the MEGAWIND click here. So why are MB&F now easing out of the HM3? Well that's the thing with small independent brands. Popular as a model may be, there comes a time when it's time to retire a model and focus on new things. With limited resources, they simply cannot afford to keep on producing even their most popular models, forever, so if you have always yearned for one, get in quick. The MEGAWIND – Final Edition will have a limitation of twenty-five pieces and is priced at CHF 84,000.
---
---
Categories: Baselworld 2015, MB&F, Switzerland, watches