Last week Jeager-LeCoultre CEO Mr. Daniel Riedo paid his first visit to Australia. One of the purposes of his visit was to talk about the Maison's women's watches, and a dinner was held at Quay Restaurant in Sydney in honour of this. For those who are unfamiliar with it is not only one of the world's top restaurants but has a view facing both the Sydney Opera House and Sydney Harbour Bridge. Perhaps he was captivated by the view, but for whatever reason, those of us who were lucky enough to be there that night were privileged to be the first in the world to look at and handle, the Rendez-Vous Ivy Minute Repeater, formally launched this week at Watches & Wonders 2014. To those who follow me on instagram, you will have already seen some photos of it, from that night.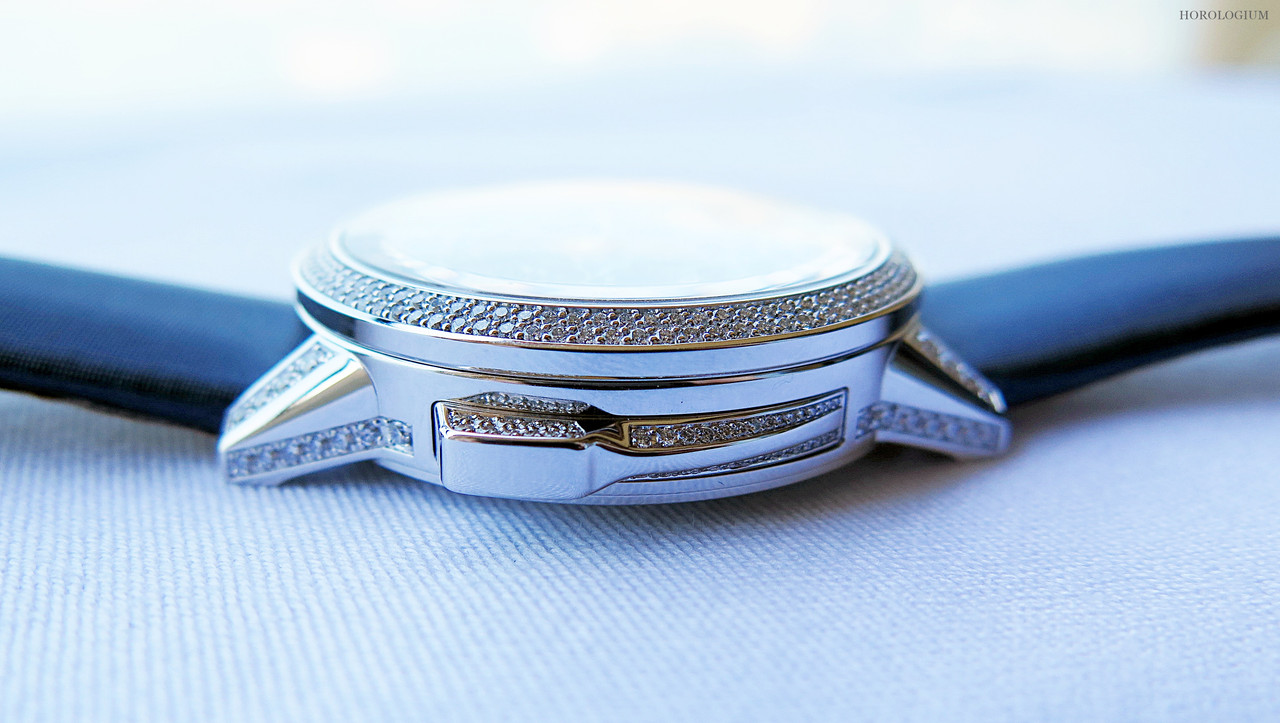 During the last few years Jaeger-LeCoultre has released a number of complicated Rendez-Vous models such as a tourbillon, Celestial and Perpetual Calendar. The paucity of complications, let alone grande complications in women's watches, is a rather big hole that is just desperate to be filled, and the new Ivy Minute Repeater is an unexpected and splendid addition to their highly successful Rendez-Vous Collection. Amongst those attending the dinner that night were guests who had never experienced a minute repeater, and they learned to count the hours and minutes by the gongs. It is difficult to explain why repeaters and sonneries retain an almost mythical level of magic amongst many watch collectors and enthusiasts that goes beyond 'mere' admiration of the technical skill that goes into them. Perhaps there's a touch of the sheer wonderment that it can be done at all, and in such a small form.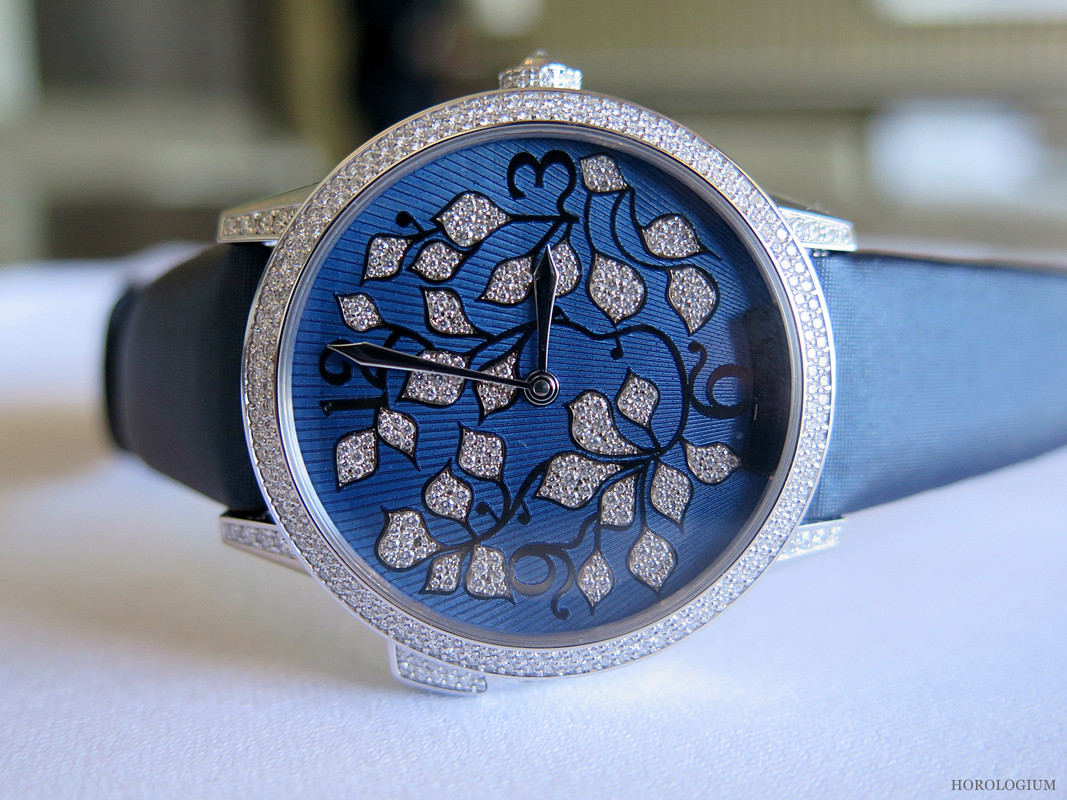 The new white gold Ivy Minute Repeater uses the new Calibre 942A which is automatic, has a 28,800 VPH, and a 43-hour power reserve. The new movement was designed to adapt to a 39 mm case, which possibly makes it a unisex size. Imagine it on a blue alligator strap instead of the blue satin one, perhaps…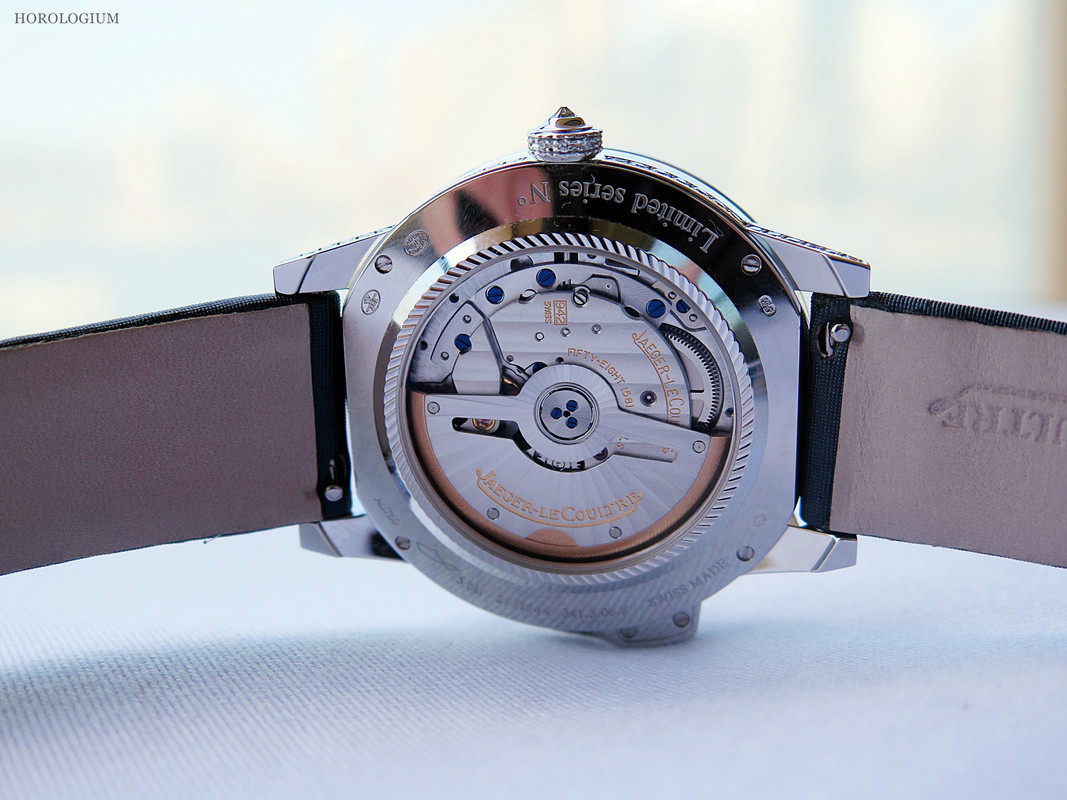 One of the key aspects of minute-repeaters is, of course, to do with how sound is transmitted from the vibrating gongs through the watch, as the case, dial, movement and caseback all affect the amplification and nature of the sound. In a conventional minute repeater the gongs are attached to a metal foot that's part of the movement plate. That means that when the watch is on the wrist, sound has to travel through the movement plate, dial and crystal, as well as laterally through the flanks of the case. Here is a short activation, and my thanks to Mr. Daniel Riedo for his assistance with this.
On the Hybris Mechanica Grande Sonnerie traditional hammers were replaced by what are called 'trebuchet hammers', and the new Rendez-Vous Ivy Minute Repeater has two patented trebuchet hammers which strike two crystal gongs connected to the sapphire crystal harder and just once, producing a loudspeaker effect. To read about trebuchet hammers, go to this link. It is also equipped with a silent regulator to reduce any peripheral sound disturbance of the mechanism.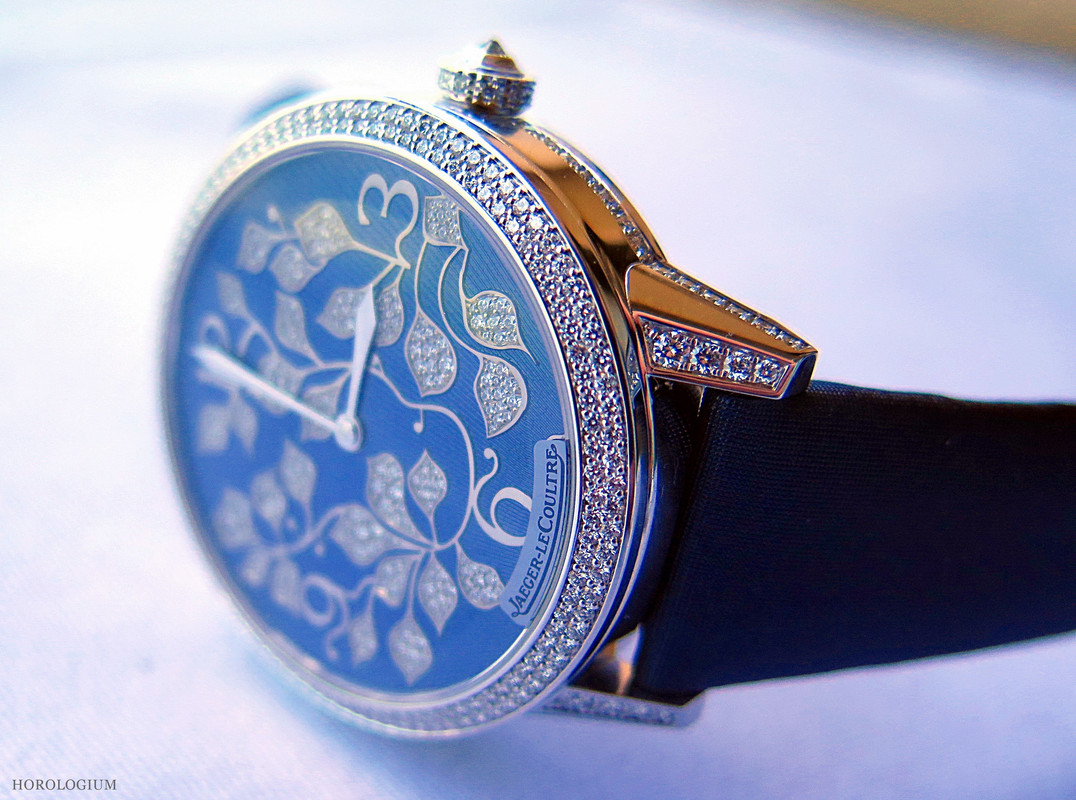 There are two distinguishing features of this new piece : firstly, the repeater is operated by a pusher and not the traditional slide. Secondly, it has a safety system which ensures that even if the button is pressed again while the minute repeater is already in action, the mechanism does not start working again – thereby preventing any damage to the movement. A minute repeater is impressively well and good, as they say, but how about its looks? The dial is white gold with a sunburst guilloché motif, grand feu enamel is then added, to achieve the blue, which represents the night sky above the Vallée de Joux. The ivy is also a reference to the Vallée; with the use of diamonds representing the first frozen ice crystals on the autumn leaves announcing the arrival of winter. The 'vine' like numerals, which become a part of the decoration, are also incredibly attractive.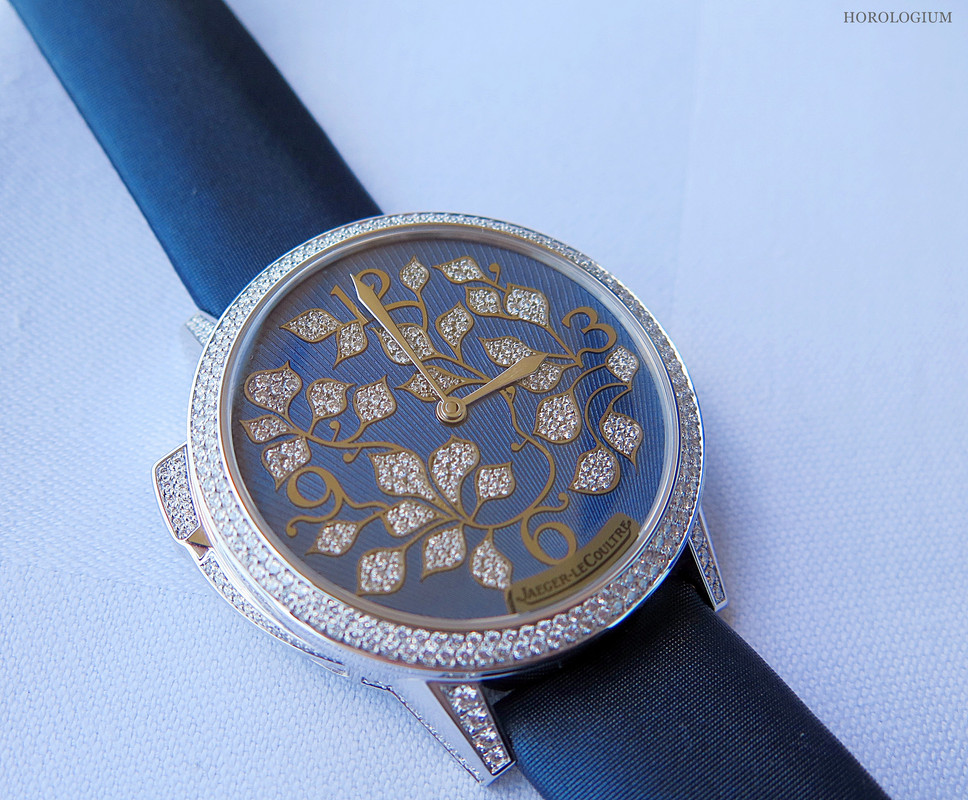 There are also more diamonds on the bezel and the repeater pushpiece, as well as the crown, with a total of 548 diamonds, of which 255 are on the dial. When I first viewed this piece it was at night in a light-dimmed restaurant, and the diamonds were quite reflective. I expressed certain views at the time about the popularity of adding diamonds to women's watches, including concerns regarding how 'bright' it would be during the daytime.
When I saw it again the next day, during what could only be described as a perfect sunny Sydney day, I was somewhat taken aback, and had to retract certain views that I had expressed. It was a far more discreet (yes I mean 'discreet', whilst acknowledging that an enamel and diamond bejewelled watch isn't inherently discreet and will never be as discreet as a piece sans precious stones) than it was the previous night, and it was surprisingly and remarkably wearable for day time. It really is a watch that comes into its own in daylight, as it is only then that the dial seems to come alive. The diamonds on the bezel, pushpiece and crown, however extravagant, also seemed to make a lot more sense in the light of day. This was quite unexpected.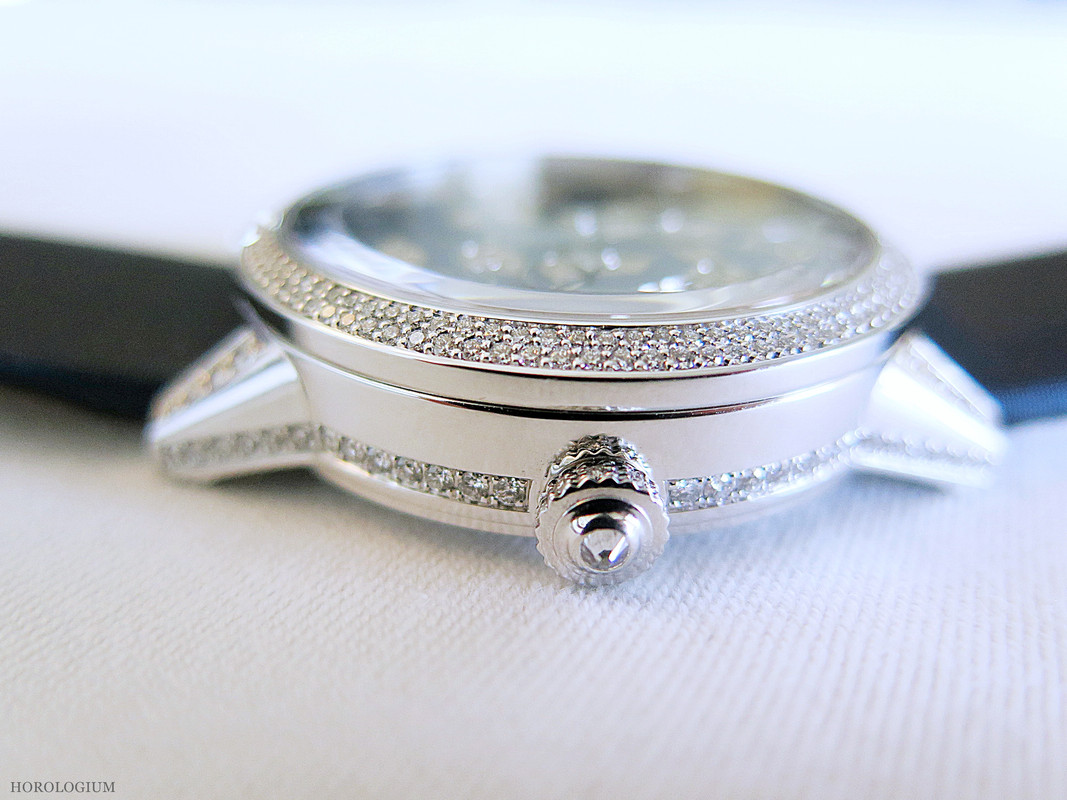 This is a very attractive and intriguing watch and above all, the fact that there is a minute repeater in a women's watch collection (and it was designed and conceived by a team of women) is itself worthy of many cheers. It will be produced in a limited edition of 88 pieces with a price of 202,000 EUR without VAT.
---
---
Categories: Hands-on, Jaeger-LeCoultre, Minute Repeaters, Sydney, Watch movements, watches, Watches & Wonders 2014, Watchmaking