Would I like to see a 'simple' watch from Thomas Prescher? When I met Thomas and Heike Prescher earlier this year and was asked this question by Heike, I was momentarily struck silent, as my mind tried to quickly think of what options 'simple' in the world of Prescher might actually mean. Very possibly still something that I would not be able to get my head around at first glance. Very possibly something that I would need to sit down and think about.
Well it turned out that I was correct. I didn't quite get my head around it at the time, and it has been periodically surfacing in my mind since then. I admit hesitation about doing this post, as the photographs weren't taken under ideal lighting conditions, and I don't wish to do the watch an injustice, but the more I thought about it, the more I realised that it was better to share it. So here it is, the Mysterious Automatic Double Axis Tourbillon, the 'simple' watch. You can wear one too, if you wish. Or if you are looking for something more 'complicated', how about the Triple Axis Tourbilon Sport?
Thomas Prescher speaks of time in terms of vision and sculpture. These are terms that pop up regularly when the sources for watch design inspiration are discussed, but they are never quite done in this sort of a way. For this model, his focus was on visibility – visibility of the tourbillon, visibility of the calendar, visibility of the oscillating weight.
There is a lot of 'empty space' in this watch, but it serves a purpose – to draw the eye to the remarkable swinging object. What is this object? Well the idea was to create an automatic movement with a horizontal swinging oscillating weight, with the movement hidden on the left and right sides of the case, inside the bezel.
It was this which lead to my utter confusion when I saw this watch – swinging bits, things that I couldn't get my head around. Oh and it's also a double axis tourbillon with constant force, too. So yes – only the time, the tourbillon, calendar and oscillating weight are visible.
Thomas Prescher wouldn't be Thomas Prescher if there wasn't at least a double-axis tourbillon, and so it was in the design and realisation of this watch – a flying double-axis tourbillon with constant force would be added, as would the calendar. In his words, the idea to add a calendar to this creation came whilst observing how people getting onto a giant swing could move on its surface. Why not create an oscillating weight with integrated calendar indications and allow simple gravity to ensure the calendar on the oscillating weight is always horizontal?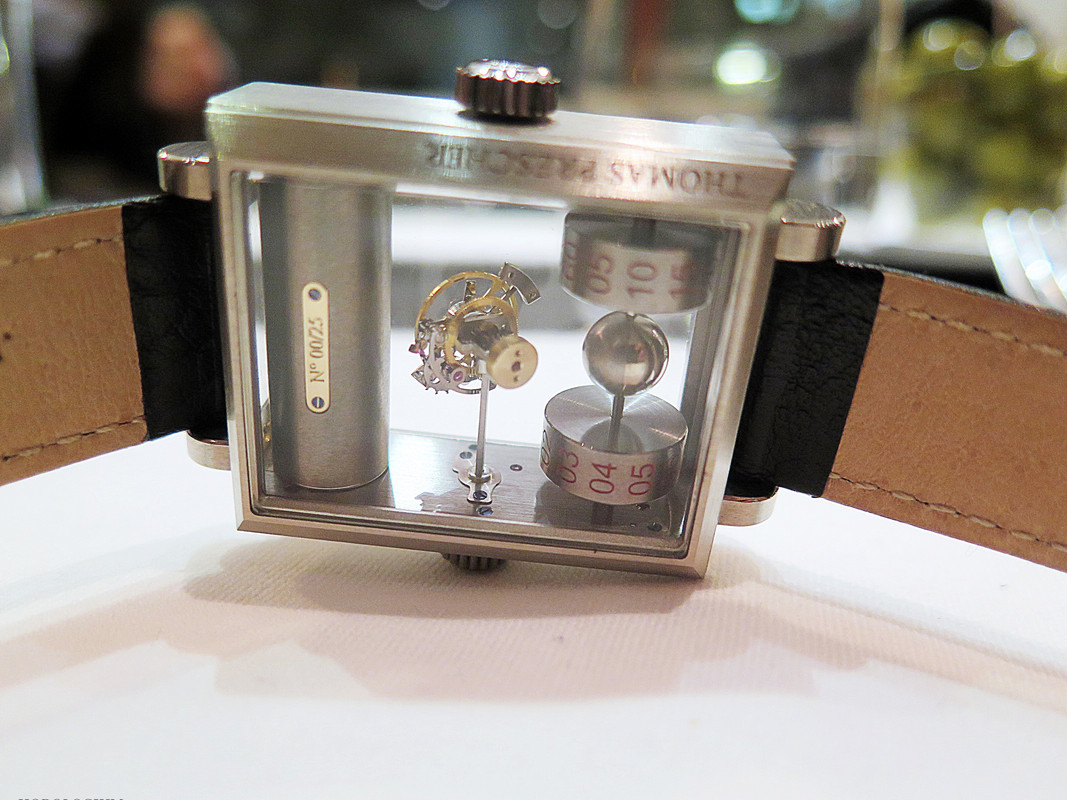 With the calendar located on the flat side of the oscillating weight this indication is always facing upward. This means that it can always be read regardless of which side of the watch is up. You will note the presence of two crowns – one is for winding and the other, for time (right) and calendar setting (left). You may also notice their placement – they build the main symmetry axis.
This theme of 'symmetry' then appears again, with a three-dimensional moon placed between the two barrels indicating hours and minutes. The hours and minutes are on a rotating barrel.
Finally, the bi-axial tourbillon is placed on a turning axis, held by a carrying arm and rotating around itself.
There are watches for which the immediate response is a variation on the theme of 'wow' but that you can 'get' immediately, or within a few minutes. Then there are the watches where your response is 'wow' and the more you learn about it, the more the volume of 'wow' increases. This is one of those watches. It is only with time, learning, and repeated exposure (yes I would love to see it again if the opportunity arises) that the achievement is fully realised, and as I do not yet feel fully confident that I do understand the intricacies of its operation, I am hoping that my path will again cross with the Preschers.
It is a mindboggling work of horology, and as a friend of mine says – "that watch is seriously nuts, I have no idea how it works". As for the 'specs', this 36.75mm wide, 41.20mm high and 16.50mm thick watch comes in platinum 950 or 18 carat gold. Inside is an in-house 38 hour power reserve Calibre MANDAT NO1 automatic movement that is hidden on both sides of the case. The watch consists of 250 components. The plates and bridges are grey rhodium plated. The one-minute revolution tourbillon is 13.5mm high and weighs 0.347g.
Oh and yes, you will notice that it is numbered 00/25. That's because it's Heike Prescher's.
[20 July 2015 : to see the 'mystery' behind the 'Mysterious', click on this link.
---
---
Categories: Hands-on, Limited Editions, Switzerland, Thomas Prescher, watches, Watchmaking