Swiss brand Arnold & Son recently extended what it calls it Instrument Collection with the addition of two new versions of its UTTE tourbillon. In fact the 'UTTE' of the name is an acronym for 'Ultra Thin Tourbillon Escapement'. They say that it wasn't intentional, but with its A&S8200 movement measuring just 2.97 mm thick and the final cased watch 8.34 mm, the UTTE is one of the thinnest tourbillon watches available, if you happen to be admist a hunt for one.
The Instrument Collection is chracterised by an off-centre hours/ minutes and an additional complication, which in this instance, consists of a tourbillon.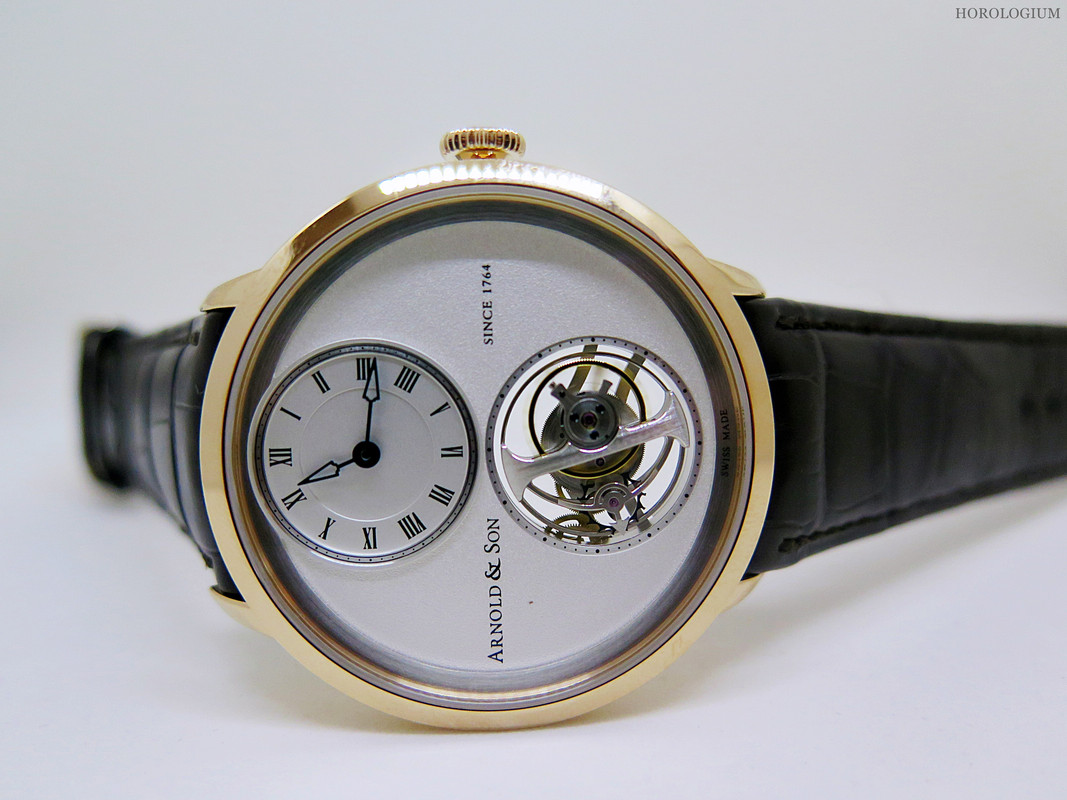 The new calibre A&S8200 was developed, designed and manufactured at the brand's La Chaux-de-Fonds workshops. As mentioned, with a thickness of 2.97mm (and diametre of 32mm) the tourbillon is incredibly thin, but not only is it this but it's also a one-minute flying tourbillon. The tourbillon cage is 14mm, stain-finished and with chamfered and polisehd edges. With a power reserve of some ninety hours and 21,600VPH, the Cal.A&S8200 is nickel-silver, rhodium treated, with hand-chamfered bridges with polished edges, circular graining and blued screws with bevelled and mirror-polished hads.
There are two versions of this 42mm watch, an 18 carat red gold version and a palladium one, but both only produced in a limited run of fifty pieces. The palladium one comes with has a light grey dial and the red gold, slivery white, with the red gold version being the more expensive.
For fans of blued hands, the deep blue arrowhead-shaped minutes and hours and Roman numerals on the time sub dial have an old-school classical charm.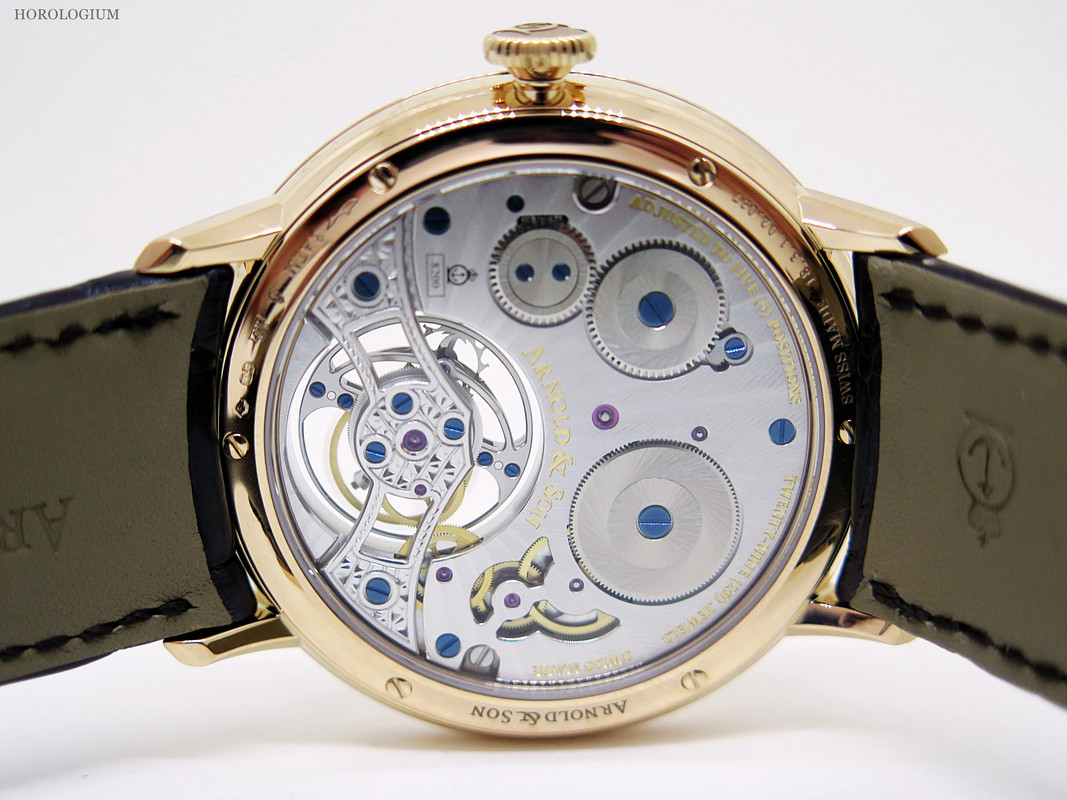 The ultra thin UTTE movement, visible through the open caseback, is finished with the traditional straight Côtes de Genève pattern on the palladium model, and Côtes de Genève rayonnantes (i.e. sunray) on the red-gold version. It surely must be a sign of commitment to the UTTEs that Arnold & Son have gone to the effort of not just metal and dial differentiations but also extending this to the movement as well, instead of just putting the same dial and visually identical movement into two different types of cases.
It is a flying tourbillon, which means that rather than being supported by a bridge, or cock, at both the top and bottom, the tourbillon is cantilevered, only supported from one side – thus 'flying'. If you look carefully you will see that the tourbillon cage isn't set into the movement but rises from it. This not only gives it a clear point of difference but it is also really rather aesthetically pleasing. In fact the entire watch is really rather good looking; elegant, and with a nicely balanced clean dial.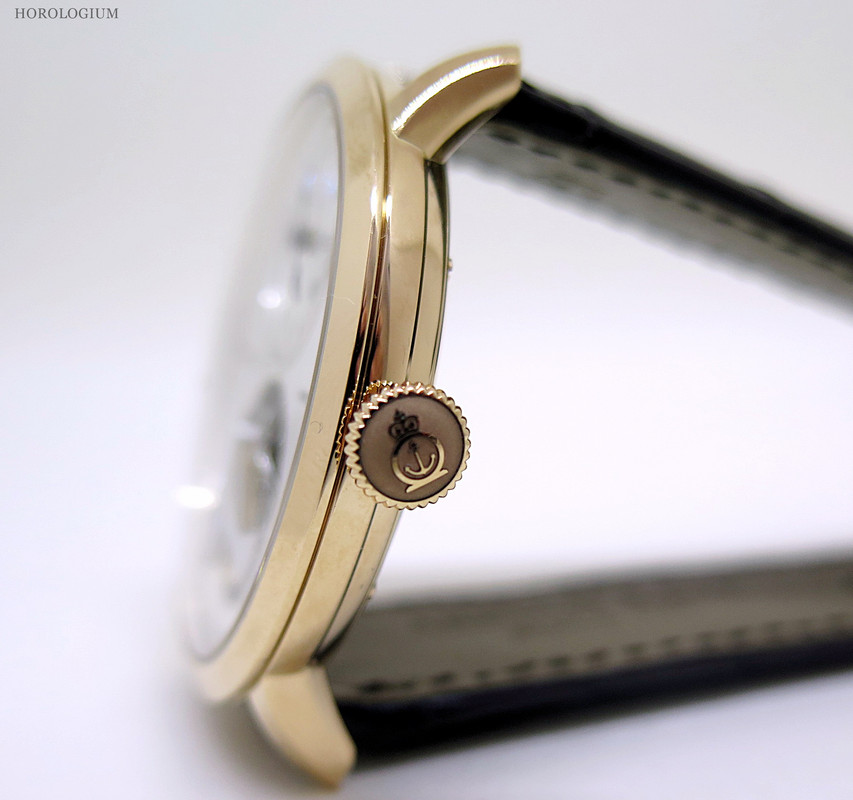 With an increasing number of tourbillons on the market, and whether this is for better or worse can be debated, the ever-expanding variety means that you are spoilt for choice but paradoxically, it can also mean that it is harder to find one that is 'you' admidst all the tourbillon 'noise', as it were. If you are on the hunt for a 'tourbi' then this one is worth taking a look at. If you are in Australia, there is not yet an Arnold & Son retailer, but you can email Nick Hooper of MAD Associates, who is the brand's Australian distributor at nick@madassociates.com.au if you want to take a look or get one.
---
---
Categories: Arnold & Son, Limited Editions, Sydney, Watch Profile, watches