Earlier this year I had the opportunity to interview Mr. Hannes Pantli, Board Member (and ex Executive Vice President) and living icon of IWC, with whom he has been associated for decades, a period during which both the watch industry and IWC have been through some huge changes. It is rare for someone to stay with a brand for so long, and it is also uncommon for someone to be in the industry for not only such a length of time but covering a period of immense challenges and growth. Enjoy his insights.
Q : IWC's tagline is "Engineered for men". You used to produce women's watches. Even though there are many (and increasing numbers) of women who wear men's watches, men's IWCs, does the brand have any plans to revisit watches for women?
Well it's a very complicated thing. In the 1980s we were taken over by the German group VDO, then by Richemont. Within the (Richemont) group we said that perhaps the French speaking part of the Group has more of a 'feminine touch' than we the Germans, so we said yes, we'll split that. We also changed our approach to the market and changed our advertising and stated clearly that we're a man's watch. We are doing quite well, but there's always the temptation, because over 50% of the world's population is women. When we compare our turnover with the other brands in the group, it's not fair, because we're not servicing more than 50% of the market. Things have changed a lot. Most of the more up-to-date ladies are wearing men's watches. Perhaps not the biggest we make, but bigger watches. What would be interesting would be to have a mid-sized watch, and I think that this is something that will come in the future. Perhaps we will make smaller men's watches, which may make it easier for women to wear them. The temptation is always there.
Q : In your four decades at IWC, what are the most significant changes that you have seen in the watch industry?
The most interesting period was of course the 1970s, when quartz watches came and nobody knew what the future would bring. We decided in Shaffhausen that we would never be able to compete with Seiko etc, so we decided that in a worst case scenario, we would have 20-25 watches and only make complicated watches for collectors. Fortunately, IWC is now almost one thousand people. But that was one of the most difficult periods, and we took the right decision.
Sizewise of course there are changes. When I started, Italian men were wearing women's Rolex watches over their cuffs. We are into big watches, we were the trendsetters. In 1993 for our 125th anniversary we re-launched the Portuguese watch. People weren't keen to launch a watch of that size, I had tried and failed three times, but I felt that it was important to launch a watch totally made within our four walls. The only movement that we had that was 100% IWC at the time was a pocket watch movement. So we made a limited series of the old Portuguese watch, and nobody knows why it became a real success.
Also, why do people buy watches? This has changed. When I joined, we had very high quality basic automatic watches. People bought a watch that they wanted to be accurate. Now it's a piece of jewellery, people don't need their watch to tell the time.
Q : In another interview I did recently, we had a discussion about whether consumers are more demanding nowadays, and whether watch owners are more specific than ever before about what they want from a timepiece – any thoughts?
I think, thanks to you people, that end users know more about watches than they used to. Twenty years ago, there weren't magazines that dealt solely with watches. Now they are widely spread, in many languages. We see it in retail stores. Quite often, people who come and want to buy an IWC know more about the product than the sales people. People know much more about watches than they used to. Years ago there were very few collectors, and normally people bought the watch because they wanted to know the time.
It's more demanding for the sales staff, nobody can know all the details. I think this is also one of the reasons why in our case, we often open up our own flagship stores and boutiques.
People spend more time on watches – online, in magazines, in catalogues.
Q : There are many IWC collectors and enthusiasts, both of your current and vintage pieces. How important to IWC is the relationship with collectors?
We have a collector's day (including a dinner together) during SIHH. It is very important. Sometimes it is difficult to convince younger people of this. Collectors also buy interesting new pieces, and this is very important for us. If you look at our forum, you often see photos of our collectors with our latest watches. In my opinion they are very important.
Q : What are the future directions of IWC?
There are no plans for new collection lines. We'll stick to what we have, this is our big advantage. Sometimes people ask me who our direct competitor is. I tell them that we don't have one, because we have these different groups (collections) of watches. For each group perhaps we have a competitor, but not as a brand.
The target is clear. A new factory, and by 2017 we will be 100% in-house again, as we used to be. There is no doubt that this is the trend. For us, in a way, historically, it's not new.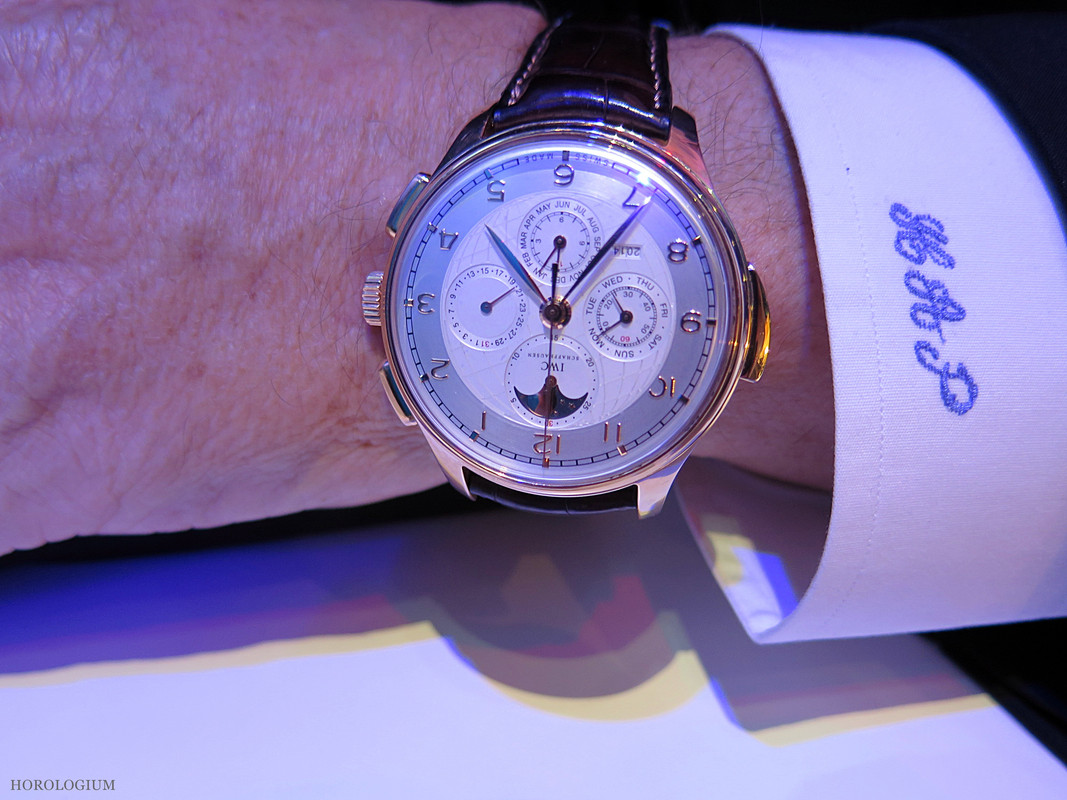 Q: Do you think it's partly because this is what the market has been seeking?
Yes. It's like the size of watches. Ten years ago, nobody talked about size. People didn't care about mm. Now, everybody is talking about it. What's so important about it? But people know much more about it. If people know more, are more into collecting, it's great for us.
The average IWC customer, and I'm not talking about collectors, has 3.7 IWCs. So we have a very faithful clientele. Naturally, our collectors have considerably more.
Q : When you aren't at IWC, what do you enjoy doing?
Hunting watches, but also hunting. I'm an old-fashioned hunter. We have our special area, in a forest. We have a certain area which we get the rights to for six years, for which we pay. There are wild boar and deer. In Austria I also hunt goat. You're responsible for the area, for the animals. It is not shooting at Bambi, the local government tells us how many deer we have to shoot per year. If we don't shoot enough then we lose the license. The license renewed every six years, and we have to meet the quota. The owners of the forests say there's too much damage to the forest and to the vegetation from the boar and deer. We have to pay the expenses, and then we have a butcher who prepares everything; it's healthy lean meat.
Q : You've been a significant watch collector yourself, with an interest in pocket watches. Are you still actively collecting?
I still collect them, but the thing is – three months after I joined the company, I bought my first pocket watch. It was from Russia, it had been sold to a nobleman there. It's a state of mind, being a collector. When the company was sold to Richemont, they thought that the IWC Museum was part of the deal. But it was my private museum. When they finally found out, they said they wanted to buy the collection, so I sold my 310 pieces, all IWCs, to them. I said to myself that this was the end of collecting. I have over a hundred pieces. The most beautiful ones that are in the Museum I didn't sell to Richemont, I lent them.
I bought some very important pieces from the U.S. In the early days of IWC there was a very strong market in the U.S. I found an antique dealer in New York and got some really interesting pieces through him. I also bought one in Sicily that was originally purchased in 1886 that was one of only two.
I am not a typical collector. The aesthetics of the piece are important to me, I am more interested in the looks and beauty of the piece.
As someone for whom the aesthetics of a watch probably come first, this final point particularly resonated with me, but it was a great honour and privilege to be able to spend some time with Mr. Pantli, so my many thanks to him and to IWC for this opportunity.
---
---
Categories: Interviews, IWC, watches